Introduction
Business and business environment is a combination of different factors that are present in the external surroundings of the businesses. It is important that same are managed in a way that the effect of such factors are minimum on the corporate operations (Bryman and Bell, 2015). The following report will discuss the different types of organisations along with the details of same as how they differentiate from one another. PESTLE and SWOT analysis will also be done to analyse how one of these enterprise gets affected due to the various internal and external factors of business.
Task 1
P1 Types and purposes of organisations, public, private and voluntary sectors and legal structures
Various type of organisations are there that operate in business environment with their own purpose and legal structure. Private, public and voluntary are the three main type of enterprise which carry out various business operations in order to achieve their set goals and objectives. Different type of enterprises with their legal structure, objectives and purpose can be understood by the following points:
Private firms: These are the organisations that are operate and control by the individuals with the purpose of generate profit. These type of firms cannot sale their shares in market and they require to comply with all rules and regulations formed by government. TESCO, a multinational groceries and merchandise retailer is an example of private organisation. Limited company, partnership and sole proprietorship are mainly the three categories under which private organisations can operate.
Public company: Business firms that are operate and control by government and those that are formed under the company law of nation is known as public company. This type of firms have a separate legal entity from its business owners. These organisation do various efforts to ensure development of society. NHS, that offer variety of health services to million of people is come under the category of public company. Legal structure of these organisations are form with three bodies known as central government, state government and local government.
Voluntary organisation: Business companies that carry out various business activities with the aim of betterment of individuals living in society are the ones who known as voluntary organisations. These types of firms are mainly control and operate by unpaid trustees. Oxfam is an example of voluntary organisation that as company do various efforts to remove poverty from the world.
P2 The size and scope of a range of different types of organisations
Different kind of business entities perform their commercial activities in business environment with their own size and scope. Size and scope of different type of entities can be understood by following points:
Size and scope of TESCO:
This organisation is a multinational grocery as well as a large retailer of merchandise in United Kingdom. On aspect of profitability TESCO is declared as the third biggest retailer. Company has more than 6000 stores in more than 12 nations across Europe and Asia and work with more than 476000 workers are presently work in its different stores.
Size and scope of NHS:
This is a public organisation that offer wide variety of health services to large number of individuals. Company offer its services its different areas of world including England, Wales, Ireland and many more. Further, more than 690000 nurses work in NHS. Mainly firm is involve in offer proper and effective medical services to the poor individuals of society.
Size and scope of Oxfam:
this organisation is a mix of more than 15 independent charitable firms that run under the name of Oxfam that are involved in perform various activities with the sole purpose of ensure development of society and people living in it. Mainly all efforts of Oxfam are related with remove poverty from all over the world. Further, company offer different kind of services such as disaster relief, and offer food services to poor people.
Task 2
P3 Relationship between different organisational functions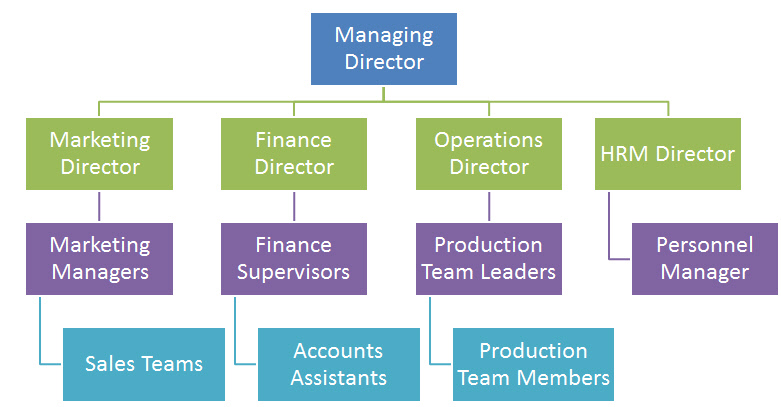 (Figure 1: Organisation chart)
Tesco is a huge enterprise and is carrying out its daily operations using the organization structure. Every department has their own function to perform which is also linked with the other sections and together the overall objective of the firm is achieved. It is important that proper communication is there among the various division as only than the full capacity utilisation of resources can be made. The interrelation among them are discussed below in detail:
Marketing and finance department –
The core function of the promotion department is to promote the products and services of the brand in market so that overall sales can be improved. It is a crucial function as through same the customers are made aware about the new product launch by the brand. In order to do so many activities have to be performed which requires excess of capital. Same is allotted by the finance department. Periodically budgets are made for the various activities which are fixed through communication between the finance and marketing director. Therefore, in this way it is clear that the work of marketing department cannot be carried out without the assistance of finance team.
Finance and operations –
Operation department is responsible for caring out the daily activities of the business specifically core work of the brand that selling. It needs finance at every step as to make the payments for the different operations that are performed. At the being of the accounting year the limits are set by the finance team for the operations and it has to be ensured that the same is maintained while performing the task. In case if due to some external change the work is not done in the given limit then the leaders of the two sections communicate and accordingly find the best possible solution.
Operation and Human resource department –
The HR department of Tesco or any other organisation is one of the most important section who ensure the availability of required personnel on time and at the right position (Aterido, Hallward-Driemeier and Pagés, 2011). Work force is hired as according to the job role needs and capabilities of an individual to perform same. This way the operation department has great dependency on HR section to maintain continuity in its daily work. It is because maximum personnel is demanded by this section and hence the requirements are communicated on regular basis and it is ensured that the deserving candidate is working on the right position.
HRM and marketing –
These are the two crucial sections of Tesco and work in coordination towards the attainment of companies prime goals. It is important that the vacant seats in the firm are filled on time and for same advertising the vacancies in the most appropriate manner is required so that maximum potential personnel can be attracted to apply for the job post. In context of same the marketing department helps HR to find the right candidate by advertising the job on most effective portals and hence it is clear through this that there is direct connection between the two divisions.
The head of different spheres works on the same level and communicate directly. In order to different decisions they have to communicate among themselves and then with the combine consent a collectively a judgement is given. It becomes difficult in every case as this is a long process and needs much patience. Sometimes overall quality of the results gets affected due to the delay caused. Apart from this getting same solution by all the heads is not necessary as everyone has their own perspective and reacts as per their own understanding level.
Project Part 2
TASK 3
P4 PESTLE analysis of TESCO
In an organisation there are different factors that has their indirect influence on the operations of the firm. These are not in the control of the firm and management needs to make alteration in own working as per these requirements. Tesco is affected by these elements in both positive and negative manner. Discussion of same is as below:
Political factor/ Legal –
It consist of those factors which are associated with the government. As Tesco is operating in distinct part of the world it is widely affected by the politics. Change in their policies towards the retail business has its influence on the operations of Tesco. It is important to have balance in the decision that are taken by the government towards such organisations in order to maintain the operations. As the present world is facing great instability in its financial conditions the government of distinct nations take their decisions as per the current situations.
Positive impact –
As TESCO deal in consumer goods there is less fluctuations made by government in context of the polices and this way stability in the working is maintained.
Negative impact –
In case if there is overall change in the tax rates then it has its indirect impact on Tesco also. They have to pay more to the government and hence the overall margins for the shareholders is reduced. U.K. government in order to control the overall obesity rate in people has made restrictions on the sale of some merchandise through imposing heavy duty on them. It has a negative impact on the company's overall sales and they have to work on bringing more of those products which are healthy to use and are favoured by the government. Apart from this while operating at global level it is crucial that the laws associated with the business in that particular country are maintained while carrying out the business operations. This way it restricts the scope of the company.
Economic factors –
It is another element that is related to the economy of the country. It affects much to the business and consist of factors like the employment rate, inflation, interest rates consumer confidence etc. Tesco gives much attention to these factors as it has a direct impact on the company's overall output. The purchasing power of the buyers depends upon the current economic status of the country and if it progressive then this is a favourable factor for the firm and vice versa. When there is a positive change in the economy customers spending power increases and they spend more on the daily and luxury products which brings an increment in the sales.
Positive impact –
When there is recession in the market there is less trend of going out and eat and people prefer to have food at home only. It further boosts up the sales for the groceries and hence it is a positive move for Tesco daily product although the sale of other commodity may get affected to some extent.
Negative impact –
There are number of stores that Tesco has in different locations. In order to operate its various operations there is much need of labour and cost of same has major effect on the overall business of Tesco. Excessive demand of labour increases their value and getting work force at reduced price becomes difficult. This way company has to bear the expenditure of appointing the human resource and make compromise with their profit margins.
Social factors –
It is that section of the outside surroundings which is associated with the trends and fashion and other aspects which society has. It keeps on fluctuation and hence needs close monitoring by the organisation so that any change if required at any point of time can be made and no potential opportunity is missed out. Due to continuous change in the retail sector there are both favourable and unfavourable changes that take place and effects the business accordingly.
Positive impact –
in the present trends people prefer to do bulk shopping instead of getting the products in instalments. Tesco stores are made on huge land areas and offers almost all the variety o products to the customers. It is an important factor why this brand is favoured by most of the people and this social trend further add ore opportunities to business for expansion. By offering variety in the items long term customer relationship can be maintained and hence growth is ensured. Apart from this now people are more concern for their health specially in UK and this has used as a base for new product development by the Tesco brand. It focuses on coming up with products that are fit for health and this way attracts a new customer base.
Negative impact –
Customers now are more active and take their buying decision very carefully. It is very important for them that whatever brand they are buying is delivering whatever is claimed by the same and failure of doing so may reflect clearly on its future sales. for example, in 2013 Tesco was found to be guilty for using the Horse-related puns in its burgers. It affected much to the brand image and hence it lost most of its loyal customers at that time. this way the media puts much pressure on Tesco to manage its operations as a small mistake may spread in no time in the society and hence the overall business gets affected.
Technological factors –
It is a trend which is related to the change in applications that are used in Tesco. In order to compete and establish the competitive advantage this is crucial that latest tools and technique are used by Tesco.
Positive impact –
Whenever there is change in the present working technologies are made it helps the management in doing work in more appropriate manner. it improves he efficiency level and resources are therefore used to their full capacity.
Negative impact –
A new technology comes with the requirement of training and development of the work force as they have to be made familiar with the working and it is a time and cost consuming process. Management has to bear this expenditure and there are chances that the same working style again become outdated till the work force become comfortable with the prior change. Apart from this installation of this new application may not necessary always profitable and in case of its failure Tesco may have to bear heavy loss.
Environmental factor –
All the concerns related to the surroundings fall under these criteria. Companies has their duties towards the protection of environment and if it fails to do so then government may take action against same depending upon the severity of the harm which brand is making to the environment.
Positive impact –
Customers these days are concern for their surroundings and supports such brands which are fulfilling their duty towards the environment. Tesco is bringing control over the carbon footprints and hence creating a good brand image in the eyes of customer which reflects on its sales.
Negative impact –
There are many products in the store which cannot be sold without using plastic which is not an eco-friendly product. This way it contributes in polluting the surroundings and hence criticised by the users.
P5 SWOT analysis of Tesco
In order to evaluate the key strength and weakness of the organisation along with the associated threats and opportunities use of SWOT analysis is done. It is an effective measure through which it can be identified that what segments company is doing good and what areas need to be improved.
Strength –
The major competency of Tesco lies in its brand image as it has received many awards in retail industry for delivering excellent services to its customers. It is one of the most popular retail store and is continuously in profit. It has the appropriate amount of reserves with it along with the properties which are yet not fully developed. The formats of the stores are kept attractive and comfortable for the clients which gives them good experience of shopping
Weaknesses –
There are different stores of this brand and not are all doing equal business. Some of its subsidiaries are prone to the external factors and are not performing as per the requirement. Also it has much rivalry from the similar type of companies which force Tesco to follow the competitive pricing policy and limits its total profit. Apart from this there is high dependency on the market of UK and Europe only as it does not focus on expanding much to other areas which further limits it overall capacity to do the