Introduction
A business organization is a different entity that is derived in several forms, that can include a person, partnership of two persons or a group of individuals, and they all shares same liabilities in commercial interest(Allen and Kraakman, 2016). There are different kinds of ventures such as sole proprietorship, limited liability companies, corporations, partnership that consists of general, limited and limited liability. In this report, Tesco Plc is originated in England, United Kingdom, is going to expand in Brazil, which is the largest country in the South America, its a multinational grocery and general merchandise retailer. To expand its business in Brazil, company must be registered with Board of Trade under Foreign Development Investment through which a company can access many benefits and tax incentives granted by Brazilian government and also offers opportunities of jobs. To understand the possibilities of launching anew venture in Brazil there is a need to analyse outside factors through PESTEL and Porter's Five Force Model, that will give an overview to examine the country considering these issues.
Background Information
Tesco Plc is commercialised as Tesco, which is one of the biggest retail grocery supermarkets,a company must have a transparent background with some worth as that has most value in commercialized marketplace. Below are some relevant information about the company, which includes its size, economical state, international operations and legal or ownership structure on which a firm stands, operate its activities(Follett, 2013). Every business organization has some values that lift it up and increases it courage to grow more and more,as Tesco is single ownership firm so before it initiates in new country it should look at some points carefully, this will give an aim to establish with a certain goal and objectives, that relies on the responsibilities, managing, and operating activities, there are some component that should take under consideration, such as :
Owner's vision – Where a businessman assumes a firm in future.
Level of control – An owner wants to run a business personally or want to share ownership with others in terms of equal rights and responsibilities.
Level of structure : An organisation should be very structured or informational.\
Acceptability liability disclosure – Is owner is ready to take risk and has courage to accept the accountability of others actions.
Tax implications – There are tax implications as an owner is desired to pay business income taxes and then personal income tax on behalf of earned profit.
Sharing of profit – Is owner wanted to share profit or wants to keep it personal?
Finance : Can provide the entire finance need or it needed outside investors? How easy it can go?
Basic information and size
The firm founded in Hackney, London, England almost 99 years ago, in 1919 by Jack Cohen, and lies under sole proprietorship, because it has an individual right of one person. It headquarter is located in England(Foss and Knudsen, 2013). It is one of the third largest retailer across the world in terms of profit and on ninth position by revenue. It has almost in 6,553 stores across with almost 476,000 plus employees and along with these assets it is serving in United Kingdom, Ireland, India, Malaysia, Thailand, Czech Republic, Hungary.
Financial performance
Tesco's major products are Supermarket, hypermarket, superstore with approximate revenue £55,917 million, operating income around £1,280 million, and net earning around £(54) million. Along with products it has some subsidiaries such as Tesco Stores Ltd., Tesco Bank, Tesco Mobile, Tesco Ireland, Tesco Family Dining Ltd., Dunnhumby, Spenhill, Booker Group which are increasing its net income.
Current international operations
When a business enterprise prosper businesses in other country than its current operations matters to represents its growth and new possibilities to grow in next level, as it shows the profit that are hypothetical, but cab be achieve in nearest future. That sets a goal to reach out that establishes a new benchmark, as Tesco has already done(Bae, Rowley, Sohn, 2012). Company has emerging its operations across eleven countries, in pulled out the USA in 2013, but it continue to seeking growth in new expansion, by entering into local ventures, it contract to joint ventures with local partners as it did with Charoen Pokphand in Thailand to make Tesco Lotus. Besides, these there are several international operations including South Korea, Dubai, Poland, UAE, Ireland and Japan.
Legal form/ownership structure
Every business organization has legal ownership, that must be selected throgh considering various factors. Ownership may vary as sole proprietor, partnership and corporation but they has some certain aspects that includes some specific reasons that affect long term decisions, and ownership must consult to a lawyer and an accountant to deal with circumstances whether to tax options or other legal matters.
Sole proprietorship is owned in Tesco as it is derived by single entity, and that must consider the above elements, as sole proprietorship is the oldest, simplest, and inexpensive business relation as there is no legal agreement between the owner and others, and no legal distinction made between intraindividual owner and company, and that consists of liabilities that are beyond limits, because only one person has answerability for debts of the business, there is only one tax that has pay on profits no corporate taxes are involved in it. There are some advantages like only owner can take all profits without any sharing, tax breaks, easily to begin and dissolve, flexibility, pride of ownership, and there is no need to disclose business information(O'shaughnessy, 2013).
Business Environment
Business environment refers to external and internal environment factors, that has various elements through which they influence a business. A company impacted by exterior aspects such as PESTEL and Porter's five force model, and intrinsic aspects include SWOT(Schlenker, 2012). In PESTEL analysis political, economical, social, technological, environmental and legal are involved and Porter's involves get in affect by competitors, bargaining power of suppliers, bargaining power of buyers, threats of new entrants, threats of substitutes. First, in this report PESTEL is described as below:-
Political analyses : As Tesco is is operating worldwide, though political issues has a great impact on its performance, that includes tax rates, legislation and stability of the current country in which the company processing. As there are many financial fluctuations in the world, government construct the opportunities regarding the firms for domestic populations, that should available in the purpose of company which is increasing its business. When in the year 2011, the United Kingdom government increased in Value Added Tax from almost 17.5% to 20% with a view to increase revenue, that leads to decrease in customer demand. The raised in tax rates slow down the sales which is the main source of profit, that's why political decisions are essential for a business as it may have negative effect on businesses. The UK government also imposed a fat tax to reduce obesity to control medical problems which is because some of its products that related to food.
Economical analyses : Economical aspect is most crucial as leverage costs, demand, profits and prices. Therefore, a company must be aware about such policies which can make changes in policies and taxations cause that have an availability of finance. In the UK, there is a higher growth in finance, and this growth indicates positive for the company because of its supermarket industry which is heart of Tesco for operations. It also had contrary effects to when it drawn to economic recession that becomes a sad reason for unemployment. This results in low income in Britishers, customers decreases their purchasing power(Galaskiewicz, 2016).
Social analyses : There is a huge variety of social activities including the lifestyles of populations, trends, culture, and therefore the goods and services are required by consumers because of their beliefs and attitudes, the social influenced on them. People are changing their choices for food concerning their health and other needs and Tesco is also adopting these demands and availing organic food, for the better health(Drucker, 2017). The customer preferences quickly changes with respect to quality and price, service which is provided to customers. The firms image can even break its customers due to its crises and that can declines its sales, and even increase its goodwill if it is serving quality of services.
Technological analyses : Tesco has supply chain management with technology, in order to attain rivalry advantages, this help to determine something which is difficult to imitate for competitors. Technology is always beneficial because it has some advancements that generates opportunities, one of that is introduction and development, of facilities. Another one is self services checkouts and reducing labour cost. In Tesco, there are huge range of modern technologies as it integrated in online shopping with home delivery and self services checkout with computerized billing there is no need of human resources and that also saves the costing of ground staff. It is also exceeding its range of distribution such as mobile technology, through which users can select a wine of their choice(Grandori, 2012).
Environmental analyses : In environmental factors, companies have to reduced their carbon and wastages that are caused to damage of environment, that will turn to perils, as global warming is burning issue across the world. To reduce the global warming or to contribute to environment Tesco is committed to reduce carbon footprint, consumption of energy and utilization of greenhouse gases. Environment is precious to save it Tesco has initiated to save the planet with low energy consumption that aid to save some fuel for future that will also reduce the generating heat which is a reason for melting glaciers(Argyris, 2017).
Legal analyses : There are certain rules and regulations which are constructed by government and that have to be followed by owners of the company, because if they would avoid in any circumstances then it bound to pay the fine as offensive activity. Company must follow the laws, for example, consumer's law under which a firm can't changes the price of good and services with out any prior information to the customers. It also has agriculture policies, that refers to allocating subsidies to farmers, that enables them to meet the agriculture standards, and financial services are also offering by it such as loans, credit cards, savings, mortgages, etc. a Financial Services Act has cleared some specific guidelines for this restrict the violation of laws(Galbraith, 2017).
Porter's five force model
In globalized market, there is a vast pool of competition, that put force to low down a business in various ways, there are some other components which impacts a business directly, through its suppliers, buyers, competitors, threats of substitutes and threat of entrants.
Threat of substitute : There are already some substitute are available in market, they are the giants like ASDA, Sainsbury's Morrison's, if one product is capturing at high cost, then customers will search for the low cost products with quality in food retail and this comes when there popular brands are located in the same geographical area. Therefore, one need to produce some exceptionally products with less cost price that can allure people(Baltzan, 2012).
Competitive rivalry : There is a high competition in food and grocery retail, though Tesco faces an intense rivalry from Asda, Sainsbury's, Waitrose and Morrison which are competing on price, promotion and products. There is a threaten of position to lose its rank among the giant leaders in marketplace. It has to maintain its products and quality with affordable price so that it increase its sales with maximum profits(Bisdikian, Branch and Pappas, 2013).
Bargaining power of buyers : The right to negotiate of the purchaser is very high, when there is a difference in set price and standardized rate, then a buyer has the power to negotiate it. Because users drastically attract towards the low cost products. The availability of a wide range of products awake them to compare items and give a sense to select according to price level, where the costing of products is slightly distinct then switching is so easy from one brand to another.
Barraging power of suppliers : The bargaining power of suppliers is low, as they don't want to lose their contract with large supermarkets which are aid to major food and grocery providers. Hence, the large business organizations like Tesco, Asda, and Sainsbury's has strong power to discuss the order at lowest possible price against suppliers(Korhonen, 2014).
Threats of new entry : New entry is not a big deal as they take a time to get a rank, but it may get a quick hike to get sustainable position, so it would be better for an existing company that it can keep motivating to increase its potential sales. Although, threats of new entry in food retail is low, cause it requires a huge amount to invest as capital and to build a brand name as Tesco, Asda, Sainsbury's and Morrison's. So it needed to put some extra efforts to bring out some extraordinary products with low cost that can capture the attention of customers to establish marketplace(Weske, 2012).
Analysis Of The Business Scenario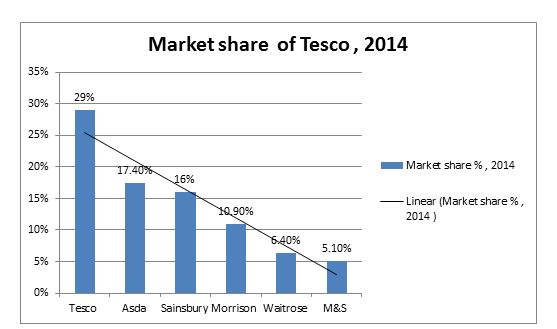 (Source :- Management Principles: Tesco Plc, 2016)
As it is shown in the above figure, that there are all the big tycoons have a tough competition in acquiring market share in 2014, namely, M&S, Waitrose, Morrison's, Sainsbury's, Asda and Tesco(Bubb, 2014). Tesco became the leader by sustain at 29% of market share, and the lowest market share occupied by M&S with 5.10% and then it raised swiftly by Waitrose 6.40%, Morrison's 10.90%, Sainsbury's 16%, Asda by 17.40%. Tesco leads the market with and intense flow of work.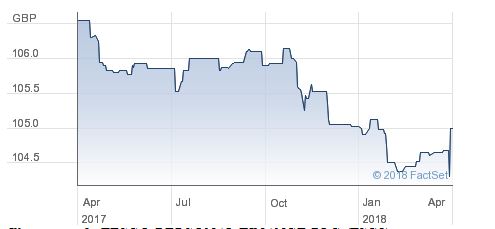 (Source :- TESCO PERSONAL FINANCE PLC (TSC5), 2018 )
In this above figure, the current financial position is going to drop regarding sell and buy, as it buy on approximate £105.75 and sold on £104.25.
Conclusion
At the last of the report it is analysed that this report was conducted to know the various aspects regarding expanding Tesco Plc in Brazil with identifying the opportunities under Foreign Direct Investment and considering the background information of business including its existing expanded geographical area, size, current international operations, financial performance and business environment that includes its political, legal, environmental, economical, technological and social analytics under PESTEL analysis and in Porter's five force model it involves competitors rivalry, threats of new entry, threats of substitutes, bargaining power of suppliers, bargaining power of buyers.
References
Allen, W.T. and Kraakman, R., 2016.Commentaries and cases on the law of business organization. Wolters Kluwer law & business.
Follett, M.P. 2013. Freedom and co-ordination (RLE: Organizations): lectures in business organization(Vol. 15). Routledge.
Foss, N.J. and Knudsen, C. eds., 2013.Towards a competence theory of the firm (Vol. 2). Routledge.
Bae, J., Rowley, C. and Sohn, and et.al., 2012.Managing Korean business: Organization, culture, human resources and change. Routledge.