Introduction
Successful Business decision is the outcome of quality of information it is based on. Information plays a vital role in business strategic planning and its implementation. In the current report existing Restaurant chain of London, Murano is aspiring to open second restaurant in London which in indeed is a business friendly city and a centre of attraction for world therefore opportunity for a restaurant is high. Further primary and secondary data are collected to understand the customer preferences and choice in respect to food industry. Measures of Central tendency and dispersion are applied to analyse the relationship between sales and profits forecasted. Various graphs and spreadsheets are presented for ease of understanding the trends over the period of time. Moreover the project is tested under the financial microscope using investment appraisal techniques. Later in this report, information processing tools applicable in the restaurant business are briefed.
Task 1
1.1 Collection of Primary and Secondary Data
Data collection is referred s gathering the relevant information from the sources to analyse and evaluate in a manner to create a meaningful piece of information. The data collection process is broadly divided into two categories based on their sources which are explained below:
Primary Data
Primary data refers to data which is collected directly by the researcher from the respondent. It is also known as first hand data. There are various methods to collect the data from primary sources through survey, interviews, questionnaire(McLaren, 2016). This is original and unique data which is collected for the particular purpose. However it takes substantial amount of time as it is collected from the individuals. In the current scenario of Murano, to know the feedback of customers and their preferences, Questionnaire is selected as a method of data collection. Questionnaire is set of questions with multiple choice answers which are distributed to the individuals and their answers are evaluated and summarised to draw valid conclusions about consumer taste and preferences. Questionnaire should be framed with clear and short questions so that extra efforts are not required to be put in by respondents.
Secondary Data
Secondary data refers to collection of data which is already collected in past. This is also known as second hand data as it is not exclusively collected for the current situation. However these data can be secured from government publications, magazines or newspapers. The data demonstrating statistics relating to number of customers preferring restaurants or frequency or average income data would be helpful in analysing the eating habits and preferences of the citizens in a particular locality and therefore targeting the customers for new restaurant(Ashraf and Khan, 2016).
1.2 Survey Methodology and Sampling frame
Survey Methodology
Survey methodology refers to procedures adopted for collection of information. Since it is not a practical approach to collect information from each and every individual of the population therefore simple random sampling is preferred(Rossi, Wright and Anderson, 2013). Although there are several other methods for survey methodology such as stratified sampling or cluster sampling. Simple random sampling refers to drawing a sample representing the whole population and study and analysis is conducted on the same. Further, in random sampling every individual of the population has chance of getting selected and therefore free from personal bias of the researcher. Questionnaire will be sent to the individually selected randomly from the overall population.
Sampling Frame
Sampling frame refers to the individuals selected for the analysis and research to be conducted(Levy and Lemeshow, 2013). In the present scenario of Murano, 20 individuals should be selected on random basis. Questionnaire are to be sent online due to massive use of internet and to save the postal cost. Moreover online sending is more quick and cheap and follow up is very easy and fast. Customers and non customers of Murano can be selected randomly for the data collection and various tools are to be applied on collected information to create a meaningful information and perform the necessary modifications to the planned new restaurant.
1.3 Designing a Questionnaire
Questionnaire is a set of printed questions to analyse the preference and opinion of the respondents to whom the same are distributed for conducting the primary survey and information collection(Patten, 2016).
QUESTIONNAIRE
Name :
Age :
Gender :
Occupation :
Q1. How often do yo visit a restaurant for your meals?
a) Daily b) Weekly c) Monthly d) Quarterly
Q2. Have you visited Murano?
a) Yes b) No c) Regular Visitor
Q3. How do you like the services provided?
a) Satisfied b) Dissatisfied c) Needs improvement
Q4. How do you like to rate the quality of food?
a) Hygienic b) Different c) Tasty
Q5. What is your preference regarding location of food joints?
a) Near by b) Far c) Adjoining locality
Q6.How frequently do you prefer home delivery of your meals?
a) Rarely b) Often
Q7. How do you like the ambience and music of Murano?
a) Excellent b) Reasonable c) Poor
Q7. How much do you prefer spending on food joints per meal?
a) below £50 b) £70-£150 c) More than £150
Q8. How do you rate the prices of Murano?
a) Expensive b) Reasonable c) very cheap
Q9. Would you recommend Murano to your friends and relatives?
a) Yes b) No
Q10. What annual income range do you fall ?
a) less than £20,000 b) £20000-£50,000 c) more than £ 50,000
Q11. Please provide suggestions for improvement in Murano-
2.1 Extracting valid conclusions
Primary data is analysed on different perceptions to perform the thematic analysis on the basis of the data collected through the Questionnaire.
Theme 1: Frequency of visiting the restaurants
| | |
| --- | --- |
| Particulars | No of individuals |
| Daily | 2 |
| Weekly | 10 |
| Monthly | 5 |
| Quarterly | 3 |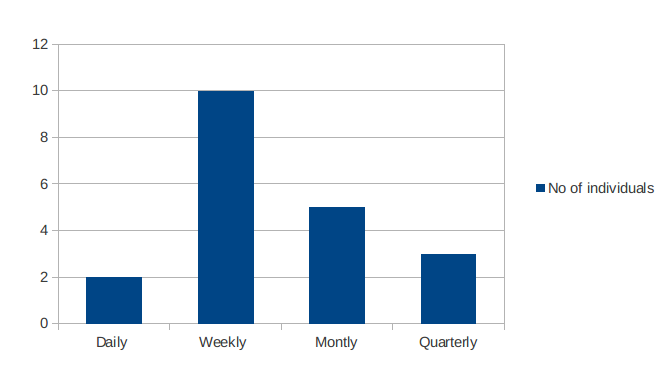 From the survey it can be observed that majority of the individuals prefer eating at restaurants at least once in a week. However only two customers are enjoying daily meals in restaurant. There are very few people who are eating outside once in a quarter despite the fact that 5 individuals out of twenty individuals are eating into a restaurant on a monthly basis in London. Therefore there is a great scope for opening a restaurant as majority are preferring food joints.
Theme 2: Spending Pattern of Individuals per meal
| | |
| --- | --- |
| Particulars | No of individuals |
| Below £ 50 | 12 |
| £70-£150 | 5 |
| More than £150 | 3 |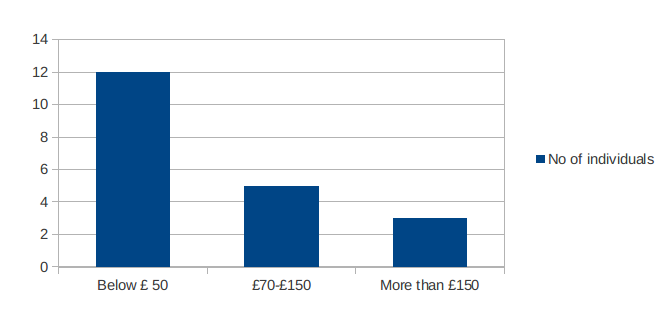 From the above table it can be depicted that majority people are ready to spend below £ 50 on the meals. However 25% people are happy to spend in the range of £70-£150 despite the fact that only few want to spend more than £150 on the restaurant expenses per meal.
Theme 3: Opinion of individuals regarding prices charged by Murano
| | |
| --- | --- |
| Particulars | No of customers |
| Expensive | 3 |
| Reasonable | 15 |
| Cheap | 2 |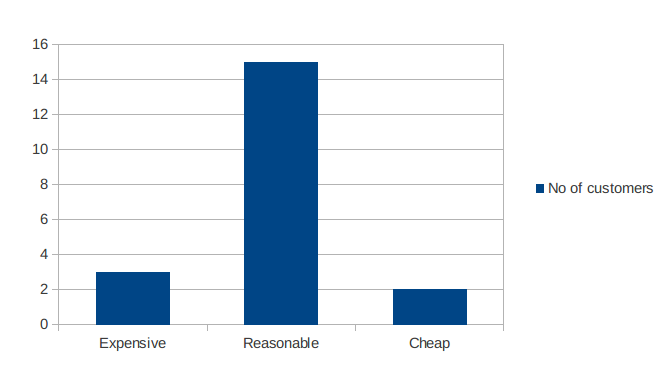 It cab be concluded from above table and graph that 15 customers ranked the prices charged as reasonable which is a positive sign for Murano. Therefore same or slightly changed prices should be adopted by Murano for new restaurant.
2.2 Summarisation of Information for decision making
Table 4: Sales and Profits figures for Murano Restaurant
| | | |
| --- | --- | --- |
| Year | Revenue (Amount in £) | Profit (Amount in £) |
| 2008 | 1220 | 305 |
| 2009 | 1250 | 312.5 |
| 2010 | 1390 | 347.5 |
| 2011 | 1500 | 375 |
| 2012 | 1675 | 418.75 |
| 2013 | 1790 | 447.5 |
| 2014 | 1900 | 475 |
| 2015 | 2200 | 550 |
| 2016 | 2450 | 612.5 |
Descriptive Statistics
Table 5: Calculation of Mean, Median and Standards error
| | | |
| --- | --- | --- |
| Particulars | Revenue (Amount in £) | Profit (Amount in £) |
| Mean | 1708.33 | 427.08 |
| Median | 1675 | 418.75 |
| Standards error | 140.91 | 35.23 |
Mean refers to the average of all the observations(Tantrigoda, Boralugoda and Perera, 2016). From the above calculations it can be concluded that Murano's average revenue throughout the period of 9 years is £ 1708 and profits earned are £ 427.08 which is a good sign of growth. Further median divides all the observations into two equal parts, therefore it can be observed that half of sales were above the median level of £1675 and remaining below it. Further profits were divided at £ 418.75 which clearly reflects that sales and profits are improving and growing continuously.
2.3 Analysis of data using Measures of Dispersion
Table 6: Calculation of various measures of dispersion
| | | |
| --- | --- | --- |
| Particulars | Revenue (Amount in £) | Profit (Amount in £) |
| Standard Deviation | 422.73 | 105.68 |
| Sample Variance | 178700 | 11168.75 |
| Range | 1230 | 307.5 |
| Minimum | 1220 | 305 |
| Maximum | 2450 | 612.5 |
Standard deviation measures the deviation of observations from the average of all the observations(Özdemir, 2016). It depicts that observation differs from the mean of £ 1708.33 to the extent of £ 422.73 whereas deviation in the profits is limited to £105.68. Range is the limit within which all the observation falls. From the above table it is clear that range of the sales is £1230 and that of Profits is £ 307.5. Therefore the maximum and minimum limits of Sales during past 9 years is £2450 and 1220 respectively and that of profits is £612.5 and £305 respectively.
2.4 Evaluation of Quartiles, Percentiles and coefficient correlation
Table 7: Calculation of Quartile
| | | |
| --- | --- | --- |
| Particulars | Revenue (Amount in £) | Profit (Amount in £) |
| Quartile 1 | 1390 | 347.5 |
| Quartile 2 | 1675 | 418.75 |
| Quartile 3 | 1975 | 493.75 |
Quartile divides the data into four equal parts and then finds the mid value of each quarter. Quartile 1 is mid value of median and the first observation . The increasing quartile range from £ 1390in first quarter to £ 1975 in third quarter reflects the profitability graph of the restaurant. Further increasing profits compliments the same and indicates that opening a new restaurant will help Murano to achieve organisational goals and profitability.
Table 8: Calculation of Percentile
| | | |
| --- | --- | --- |
| Particulars | Revenue (Amount in £) | Profit (Amount in £) |
| 25th Percentile | 1390 | 347.5 |
| 75th Percentile | 1900 | 475 |
| 100th Percentile | 1244 | 311 |
Percentile divides all the observations into 100 equal parts. It can be concluded from above table that 25% of the sales lie below £ 1390 and profits below £347.5.
Table 9: Calculation of Coefficient correlation
| | | |
| --- | --- | --- |
| Particulars | Revenue (Amount in £) | Profit (Amount in £) |
| Sales | 1 | 1 |
| Profit | 1 | 1 |
Correlation coefficient provides a detailed insight into interrelationship between variables(Cleland and Revenue, 2013). From the current table it can be observed that sales and profits are into perfect positive correlation which implies that with every increase in sales there is exact proportional change in profits in the same direction.
Task 2
3.1Preparation of Graphs and spreadsheets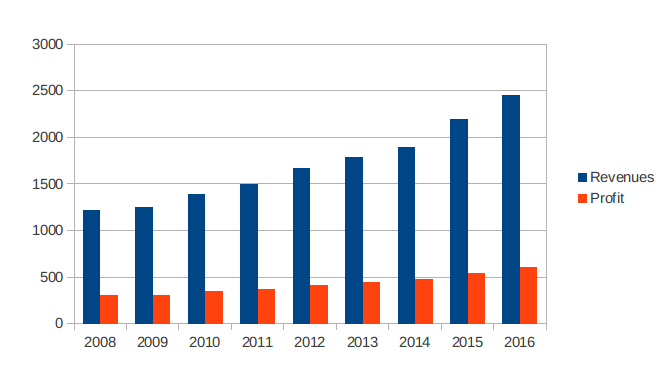 From the above graph it can be easily identified that revenues and profits are growing continuously over the years. Further profits are also increasing wit the revenue increasing. This is a positive indication towards the customer relationship and people's preference to restaurants. This widens the scope for opening a new restaurant to achieve overall organisational profits.
3.2 Trend Lines in Graph to forecast Profit and Sales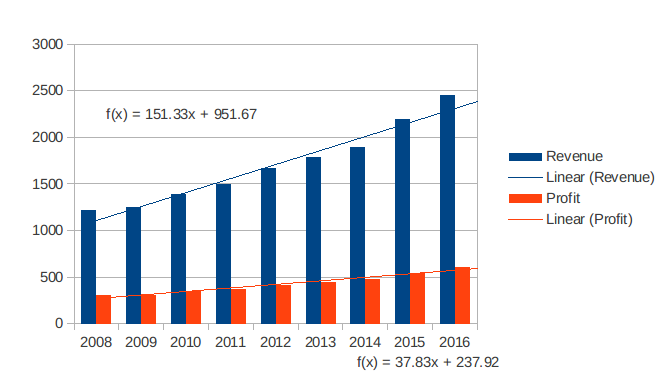 Trend analysis is an effective tool to represent the trend from past period and assists in future forecasting of the Sales and profits of the company(Li, Critchley and Zhang, 2015). Based on trend analysis it can be clearly identified that sales will continuously rise in the future period in combination with profits. Although profits does not rise in same proportion as that of profits.
3.3 Formal Business Report
To : The Management
From : Analyst
This is to bring to the notice of senior management that the Murano is performing satisfactorily well which is evidenced by the rising revenues and profits. Further it can be observed form increasing revenues and profits, that customers are highly satisfied with the services and food quality supplied by Murano and are further referring the restaurant to their friends and relatives. Moreover decision regarding opening a new food joint is an appropriate decision as the preferences and trend in society has significantly bent towards eating outside therefore opportunity should be grabbed with providing innovative and hygienic dishes at reasonable rates.
Task 3
4.1 Application of Information Processing Tools
Information processing tools are the process that are employed in the business to collect, organise and summarise the data into meaningful information in addition to storage(Britain, Forestry Commission, Economics and Unit, 2013). There are various systems deployed at each hierarchy of organisational Structure some of which are explained below:
Decision support System
Decision support system is utilised by the top level personnel of the company for decision making. This system analyse and presents the information in as systematic manner to support organisational decision making(Lang and Heasman, 2015). It helps the management in decision making by assisting to forecast the revenue and expenses to be incurred in future with the expansion project. Further it helps in analysis through comparative study of revenues and profits over the period and factors influencing the profits of Murano such as cost, customers preference,etc.
Management Information system
Management information system supports and facilitates planning procedures of the company by creating trend analysis(Willcocks, 2013). It assists management of Murano by tapping the existing market opportunities and stimulating in correct decision making. It creates an inter relationship between business and the information system and tries to maintain balance of both. It presents information in the terms of growing competition in the market or changes in consumer preference through various surveys and information collected.
Transaction Processing system
Transaction processing system is for operational level of business. Further it is part of office automation system and helps in automation of day to day or routine activities of business. Murano is highly obliged to TPS for automatic recording of transaction such as invoices of regular bills, calculation of tax portions and service charges in addition to storage, retrieval and filling of invoices. It has reduced the manual intervention and therefore is less prone to manual errors.
4.2 Evaluation of Project Duration
Introducing a new restaurant involves several activities to be undertaken. Every activity takes a significant amount of time to complete and therefore adding to the duration of overall project duration.
Table 10: Time duration for various activities
| | | | |
| --- | --- | --- | --- |
| Sr. No. | Activity | Duration in days | Predecessor Activity |
| 1 | Selecting the site | 9 | |
| 2 | Layout Deigning | 4 | 1 |
| 3 | Interior Designing | 6 | 1,2 |
| 4 | Furniture and Decor | 10 | 2,3 |
| 5 | Staffing | 5 | 1,2,3 |
| 6 | Legal Formalities | 2 | 1 |
| 7 | Marketing | 3 | 5 |
| 8 | Inauguration | 1 | 7 |
Gantt Chat
It Reflects the series of the activities to be undertaken for a particular project(Knust, 2015). It depicts the start time and finish time of the project. Further the sequence of scheduled activities is depicted in a pictorial format for clear understanding about project duration and completion.

Critical Path
It is the longest duration within which a project can be completed. Delay in any of the activity on the critical path will cause delay in entire project of the company. Delay is project is to be avoided so as to reduce the penalties or extended cost on project.
Critical Path = 1-2-3-4
Duration of Critical Path = 29 days
Therefore any delay in activity 1, 2, 3 and 4 will cause te delay in entire project and will exceed the project duration of 29 days.
4.3 Financial Tools for Decision Making
Investment appraisal techniques play vital role in undertaking a decision about investment or project. These tools provide a technical base for deriving the profitability and value addition to business with the acceptance of a project(Baum and Crosby, 2014). There are various financial tools for decision making such as payback period , Accounting rate if return, Internal rate of Return, Net present value etc. . IRR and NPV are applied on the decision of restaurant owners to open a new venture to test its viability in respect to profitability and value addition. These decisions are necessary because they plays major role in survival , growth and prosperity of the business.
Net Present Value (NPV)
Net Present value refers to difference of discounted cash inflows and and the initial investment outlay. Therefore if the difference is positive it indicates that present value of all the future cash inflows is greater than the initial investment and hence project or expansion is acceptable.
Table 11: Calculation of Net Present Value
| | | | |
| --- | --- | --- | --- |
| | Second Restaurant | PV @ 12% | Present value |
| | Amount in £ | | Amount in £ |
| Initial investment | 190000 | | |
| 1 | 50000 | 0.893 | 44643 |
| 2 | 64000 | 0.797 | 51020 |
| 3 | 58000 | 0.712 | 41283 |
| 4 | 70000 | 0.636 | 44486 |
| Total | | | 181433 |
| NPV | | | -8567 |
Interpretation:
From the above table it can be observed that consideration of introducing new restaurant in London is generating negative NPV of £8567 . It implies that present value of future cash inflows for the next four years will not be able to recover even the initial cash outflow hence the expansion is not profitable and should be rejected.
Internal Rate Of Retrun (IRR)
Internal Rate of Return refers to the discounting rate at which the NPV of the project becomes 0(Zsambok and Klein, 2014). If IRR is greater than the cost of capital of the company the project will be profitable.
Table 12: Calculation of Internal Rate of Return
| | |
| --- | --- |
| | Second Restaurant |
| | Amount in £ |
| Initial investment | -190000 |
| 1 | 50000 |
| 2 | 64000 |
| 3 | 58000 |
| 4 | 70000 |
| IRR | 9.94% |
Interpretation:
Since the IRR of project is 9.94% which is less than the cost of capital of 12% therefore opening the second restaurant is not profitable and should not be undertaken. Since both the tools NPV and IRR are reflecting negative results project should be considered as the initial investment involved is huge and for a longer period of time. These tools are applied to consider the project under financial microscope to ascertain the profitability as the expansion projects are irreversible and are for a longer period of time.
Conclusion
It can be concluded from the above report that Murano is a profitable food joint and decision regarding opening anew joint in London is appropriate seeing at the growing trend towards restaurant. Further various analysis and studies depict that customers prefer eating outside weekly which is positive indicator. This report further presents all the revenues and profits figure into trend line graph which demonstrates that revenues and profits are expected to rise in future years. Project duration techniques are applied to derive the time duration required to open a new restaurant and start its operations within a reasonable period of time. Moreover investment appraisal techniques shows a negative sign in case of expansion, however project for expansion can be accepted if the initial outlay is reduced or certain modifications are undertaken to the project for opening a new restaurant which can increase the cash inflows.
References
Baum, A.E. and Crosby, N., 2014. Property investment appraisal. John Wiley & Sons.
Britain, G., Forestry Commission, Economics, H.Q. and Unit, S., 2013. Forestry Statistics 2013: A Compendium of Statistics about Woodland, Forestry and Primary Wood Processing in the United Kingdom. Economics and Statistics, Forestry Commission.
Cleland, A. and Revenue, I., 2013, June. Shedding Light Into the Black Hole: Research and Evaluation Into the Hidden Economy. In Tax Administration at the Centennial: An IRS-TPC Research Conference .p. 171.
Knust, S., 2015. Lower Bounds on the Minimum Project Duration. In Handbook on Project Management and Scheduling. 1 .pp. 43-55. Springer International Publishing.
Lang, T. and Heasman, M., 2015. Food wars: The global battle for mouths, minds and markets. Routledge.
Levy, P.S. and Lemeshow, S., 2013. Sampling of populations: methods and applications. John Wiley & Sons.
Li, H., Critchley, L.A. and Zhang, J., 2015. Does using two Doppler cardiac output monitors in tandem provide a reliable trend line of changes for validation studies?. Journal of clinical monitoring and computing. pp.1-9.