Introduction
In every organization it is very important to develop relationship between employer and employees so they feel connected and motivated due to which there is enhance in achievements at the workplace (Dries and Pepermans, 2012). There are several factors that showcase that in an organization there is effective relationship between employers and employees, those factors are trust between all staffs, mutual respect for every employee, positive environment, welcome and accept diversity and open communication between employers and employees.
Managers of a company can use different ways which help them to develop individuals that leads to workplace achievement, maintain positive environment, manage and understand their boundaries, avoid gossiping at workplace, listen and understand actively, appreciate employees for good work, schedule time and activities to develop relationship and so on. In this report the organization taken is Next which is founded by Joseph Hepworth in year 1865 and headquartered in Enderby, Leicestershire, England, United Kingdom.
Next is British multinational retail store of clothing, footwear and home products and it is largest retail store of clothing on the basis of sales in UK. In this case study, respective company facing problems related to inefficient employees who are lacking in skills and knowledge which makes them demotivated at the workplace and reduces the efficiency in carrying the business operations effectively and efficiently.
This is occur in Next due to inefficient trainers, goal are not clear to employees, training is not appropriate and lack of resources. Covered topics in this report is analysis and evaluation of potential benefits of developing individual at workplace for an organization which improve their situation which they faced that is mentioned in above case study.
Main Body

1. Evaluate the potential benefits to organization of developing individuals in the workplace.
In a firm an individual refers to the employees or staff, it is a most valuable assets and backbone for an organization. Every single employees contribute to success and failure of a firm in their respective ways. An organization and most powerful machine with update technology will not able to perform their function if there is no effective employees or individuals (Littlejohn, Milligan and Margaryan, 2012). So it is the responsibilities of manager and employees to initiate in proper manner to enhance individual's existing skills and knowledge which leads to professional growth, personal growth and organizational growth.
Management of Next organize various activities to overcome the case study problems by developing individual or employees in their organization. Such activities are ask and listen to employees ideas and suggestion, organize team activities by which they learn from each other. They appoint train mentor, develop training and development program, develop learning environment, develop opportunities for employees, create innovative learning mode, set time and goal for learning and many more. In Next Plc., there are numerous benefits of individual development at workplace, some major of them are described below which show that they overcome from respective case:-
Improve performance:- Development of individual help them to enhance the work performance which leads to increase in profit and growth of a firm. The individual can develop their knowledge and skills by training which enhance their understanding of responsibilities related to job and role which build their confidence (Njoroge and Yazdanifard, 2014). The respective company organize training and development session for their employees or individuals through which they enhance knowledge and skills that leads to increase in productivity and growth of an organization.
Improve satisfaction :- Organizing activities of developing individual help employers to make employees feel that they are important and company need them. And when employees get satisfied they will give their hundred percent for completing their work or task in effective and efficient manner which leads to company growth. The Next Plc's managers design and maintain various activities to motivate and satisfy their employees so that they perform task and job in best manner and consider organization's goal as their goal. Employees of respective firm feel appreciated, satisfied and challenged from their jobs through the individual development program organized by managers.
Increase productivity and conformity to quality standards:- When a company focus on individual development it will directly and indirectly affect the productivity and efficiency in process which leads to quality productivity and improve in companies turnover and shareholder of an organization (Dutton and Ragins, 2017). Factors which improve productivity of individual are motivation, training and development programs and many more. The Next management design individual development session which help employees to do the work in effective and efficient way and in respective or given time while leads to increase in productivity and standard quality of products in suitable time duration.
Reduce employee turnover:- If an organization conduct appropriate individual development plan it will directly linked to reduction to employee turnover because they feel valuable and connected to the company and employees also feel connected and interested towards company. Through the individual development, retention of staff or employees get increased due to which recruitment cost of an organization get down this is so because individual development is seems as a additional benefits for an employees or individual. The respective company effectively develop and organized individual development activities and programs so that they can able to satisfy and retain employees which leads to reduction of employees turnover (Rurkkhum and Bartlett, 2012). Through it they also save recruitment cost because when old employees get retained the cost of recruitment gets down.
Enhance company reputation and profit:- When a company do individual development in effective and appropriate manner, it will help them to improve brand image and name by which more graduates and mid career changers want to get job in respective company and they become prime consideration among them. Individual development makes a firm more attractive in front of new joined employees who are seeing them self with company and want to improve their skills and opportunities associated with that company. For this respective company do various type of training programmes to develop individual such as on the job training, mentoring scheme, in house training, individual study and many more which attract more new graduated and job seekers and they want to get in the respect firm because they get attracted from Next individual development plans and employee engagement activities.
Increase innovation in new strategies and products:- The appropriate individual training plan enhance skills and knowledge of employees through which they give new and unique ideas which is beneficial for an organization because it is different from its competitors and include new innovative technology (Ko, 2012). Individual also want to work on it because it is a chance when they can enhance their knowledge and skills. The Next provide individual development strategies through which their employees enhance their skills, knowledge. It increases the ability through that they come up with new and innovative ideas which is different from their competitors which attract more customers and consumers.
Above mentioned points are the benefits of individual development in an organization through which respective company overcome problems which they are facing previously. For this managers develop individual development plan by considering various points such as where is business now and what skills and knowledge are required to move ahead, take suggestions and ideas from employees and evaluate it, utilize new skills and knowledge of employees. Hence, by putting them to work, follow up with employees about the problems and solutions they are facing in respective organisation and then plan and develop strategies of individual development.
Individual development helps an individual and employees to increase their skills and knowledge, stay sharp, be supportive and always want to achieve goal, improve performance and productivity which is beneficial for both employer and employees, employees able to know their weakness or skill gap and to appropriate efforts to overcome it and so on (Allais, 2012). If an organisation does effective and efficient individual development plan they able to attract more job seekers and graduates, through which they can select appropriate one for the respective vacant position and through it there is also enhance in goodwill of the respective company.
2. Development vehicles available to the organisation which are appropriate in meeting the development needs of the individual.
Chosen organisation is NEXT Plc which is a retail store, provides variety of consumer products but are having the problems of inefficient employees who lack in skills and knowledge at the work place which makes them demotivated at the workplace and reduces the efficiency in carrying the business operations effectively and efficiently.
This problem needs to be addressed by the respective company by formulating the strategy in developing other staff members at the work place and gains high level of productivity and increased level of revenue and profit for the business firm. Formulation of this strategy are very important for the business as it will provide satisfaction to the employees and makes them feel as important part of the organisation.
Developmental methods or vehicles are various systems and methods used by the organisation to properly integrate and coordinate the performance of the employees as well as helps in developing the individuals by enhancing their skills and knowledge in carrying out the business operations (Goetsch and Davis, 2014). Developmental needs are very important in the organisation which enhances their skills and capabilities of performing work and also helps in overcome the issue or the hurdles in performance of work.
It increases the adaptability of the employee at the respective organisation to face any changes and adapt to them accordingly.
It also increases the analytical skills of the employees to work in complex and dynamic environment which in turn increases the level of productivity as well as meet consumer demands.
It also makes open communication in the Next company which allows managers and employees to interact with each other effectively and solve their problems which are creating hurdles in developing their skills and knowledge.
Proper developmental needs help to increase the abilities of the organisation which helps to increase the level of productivity and meet consumer demands by developing their skills and knowledge.
Their are various ways which helps the organisation to develop the skills of the employees and helps in meeting the developmental needs of the individuals at the respective organisation which are discussed as follows-
Managing the performance and succession planning- The best way to manage and develop the employees performance is to make them adhere to strict deadlines at all the situations (Belbin, 2012). This makes them to perform effectively and in a proper manner. This enables the managers of the next organisation to identify the gap in their employees performance and provide them specific training and development needs in order to enhance their skills and knowledge as well with the help of proper succession plan it makes the manager of the respective company to assign proper authority and responsibilities to the staff members in completing the project within specific deadline which is given to them by management. This helps in the proper development of individuals when responsibility falls on them for completing the assigned project.
Effective training-Training requirements are very necessary for the developing the skills and knowledge of employees which are required to do a certain job competently. When the respective organisation will provide training to its staff members regarding how to perform effectively in order to increase the sales of the products by meeting consumer demands. It provides them effective knowledge where they lack in skills of performing task which helps to compete effectively and develop accordingly (Casey, 2013). Certain training and developmental needs makes the work place environment a reliable place and provides employees with various opportunities to properly collaborate with other team members and also develops task related skills with other employees suggestions and ideas and makes them to work together more effectively.
Conducting workshops to develop employees- One of the most important methods of developing employees is organizing proper workshops which helps the employees in addressing their problems and which are handled in a efficient manner by properly resolving the issue and suggesting them new ways and methods of performing work. In context to next company workshops should suggest them the ways of performing task which increases the sales of the products as well as helps them to earn high revenue for the respective business firms.
Reporting performance appraisals- Performance appraisal is a systematic and periodic process which assesses the individual's job performance and productivity in context to established criteria and helps in achieving organisational objectives (Connor and Pokora, 2012). When the managers of the Next company conducts performance appraisal of the employees on the periodic basis it helps in evaluating he employee's performance as well as helps the managers in identifying the gaps in their skills and capabilities and provides them certain training accordingly which meet the required skills and capabilities in performing job effectively. This is the most effective developmental vehicle which helps the organisation in evaluating the performance of employees as well as provide them effecting developmental needs according to the needs of the respective organisation.
Rewarding employee's performance-It is one of the effective developmental vehicle which helps in proper development of individuals at the work place. When employees are rewarded for their best performance it creates a sense of accomplishment and motivation among employees and makes them feel as an important part of the respective organisation (Garavan, Carbery and Rock, 2012). When employees are rewarded in front of all other employees for their high accomplished work it makes them highly dedicated to work for the organisation and achieve the respective goals and objectives. This is the effective strategy used by the Next company in order to develop the individual skills and capabilities. When employees are rewarded it makes them to develop more skills and knowledge and earn profits for the respective company as well as earn more individual rewards.
Career development strategies- These are the strategies for the life long process for managing and learning the work by the employees at the respective organisation. These help in the proper development of individuals and enhances their capability to perform task efficiently. Employees at the NEXT company can conduct regular assessment of their performance which helps to identify the gaps and take appropriate methods and suggestions in order to overcome the loopholes as well as develop their skills and knowledge in performing the task efficiently. This strategy adopted by the employees at the work place helps them to identify their own gaps and take actions accordingly.
Proper and timely feedback to employees- When employees are provided timely feedback for their performance of work it helps them to know about the performance of work in timely manner (Heilman, 2012). When employees are provided feedback in the respective organisation it helps them to know about the gap in their performance and helps them to adopt certain strategies to overcome the issue. In context to NEXT company when employee lacks in increasing the sales of the respective company manager provides feedback for the same and helps the employee to increase the sales by adopting certain marketing strategies and provides them the knowledge for the same to increase its sales. This would definitely increase the level of production in the respective organisation and also in turn develops the employee's skills and capabilities in performing the work.
Support structures within the organisation- Respective organisation should follow a proper hierarchical structure in the organisation in which information flows from upper plans level to the lower level in a proper and efficient manner. It also determines the development of individual skills and development which help them to address the various problems and the issues in handling the customers (Holmes and Stubbe, 2015). In context to Next company they should follow a proper hierarchical structure in which it leads to development of individuals at the work place and helps in work place achievements. Respective organisation follows a complex structure as it deals in variety of product lines it makes the employees a very complex process in order to understand the information and creates sometimes difficulty.
Example of Dawn Lennon has been quoted who is an strategist, mentor advisor and was an active entrepreneur owing and operating various operational functions.. All of these experiences gain a proper broad understanding of managing and making business a success. If these types of practices are adopted by the respective business organisations it helps them to attain work place achievements.
When these strategies are adopted by the business firms it helps to develop individual and employees at the large scale. These development mechanisms help the individuals to enhance their skills and knowledge at a great level and helps in customer satisfaction by meeting their needs and desires. These mechanisms play an important role in developing the capabilities of the
staff members in fulfilling the requirements of the organisation. They should be properly developed and maintained in the organisation in order to achieve success for the respective business organisation.
3. Design a plan to meet the identified development needs and expectations of an individual
Every organization must do an develop planning for individual development so that they can increase productivity and growth of an organisation, for this management of a firm design individual development plan which is based on values, reflection, learning, awareness, selecting short and long term goal, which help them in betterment of individual by improving education, career, relationship, social status, improving self and so on (National Research Council, 2013). Individual development plan is also known as personal development plan which in identifying need and expectations of an individual for development or improvement. Individual development plan is directly beneficial for working professionals as well as for workplace where he/ she is working some of them are describe below:-
Individual feel confident if they get individual development session while participating in decision making activities.
Individual get clear view what kind of work they want to do, this is done by activities of individual development such as training, motivating, workshops, mentoring and coaching, performance appraisal and so on (Robles, 2012).
Increase in confidence of their quality, skills and ability which help to select right job according to their ability.
Effective individual development help employee to compete effectively with peers or co-workers for job.
Through it there is improvement of individual's skills of planning and problem solving.
By individual development there is improvement of decision making skills and ability of an individual.
Co-workers relationship will also get improved when an individual gets development training.
To sustain and get succeed in corporate word positive thinking and positive attitude is needed and it can be developing through individual development.
Through individual development there is enhancement of leadership quality in an individual.
If an organisation provide effective individual development employees or individual feel motivated and satisfied with their job and workplace.
The need of individual development in vary from an organisation to organisation but for Next it is essential and beneficial to develop individual so that they can enhance their employees sills and knowledges and overcome other issues in following ways-
Individual development provides clarity and outline for achieving organisational and individual goal in effective and efficient manner (Sandberg, 2013). It also provides clear-cut idea related to objective, need and target achievement of respective organization and its individuals.
Next able to motivate and provide answer of why to their employees by doing individual development. If management provide appropriate individual development by organizing activities such as training on the job and off the job, coaching, motivational session, workshop etc. they are able to motivate and satisfy need and wants of individual and able to retain them.
By creating individual development plan Next can identify their goal and objective and action plans to fulfil that objective or goal. Through this their management also able to decide an individual daily task, monthly task as well as yearly task which help them to take step or help in achieving goal and objective of respective company.
So the Next organisation design and create individual developments plan to identify need and expectations of an individual and plan strategies according to that to fulfil objective and goal and enhance productivity and resolve issues which is mentioned in case study (Dane and Brummel, 2014). The plan of respected company to meet respective goal they design individual development plan which is describe below:-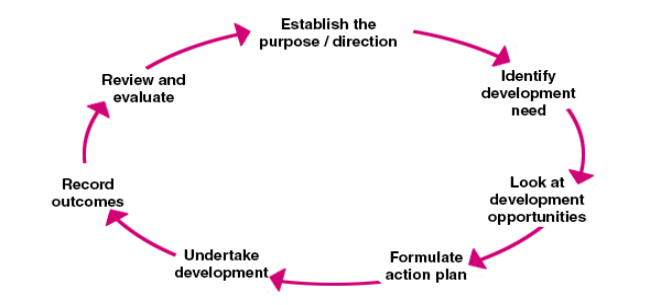 Establish the purpose or direction:-
At first the respective organisation must have to identify and analysis purpose why they are creating individual development plan and what is its needs (Dries and Pepermans, 2012). This include certain factors such as understand their awareness of current standing and potential for future in their selected sector or field, identify and evaluate the measure in which activities they are interested and good in, link and connect the plan to organisation objective and goal and many more. When respective company analysis and evaluate all the above factors they are able to identify the appreciate purpose of individual development.
Identify development needs:-
After deciding purpose or direction of individual development the Next management should identify need for development of respective plan and then make strategies accordingly. In this managers discuss it with all employees of respective organisation and identify actual task and responsibilities and also identify employee's dissatisfaction then make plan and strategies accordingly (Littlejohn, Milligan and Margaryan, 2012). Development need of Next organisation is fully depending upon their career goals and sometime development is also required for promotion, next job, a new careers or self-employment.
Get Help in
Any Subject
Our intention is to help numerous students worldwide through effective and accurate work.
Look at development opportunities:-
After deciding purpose and need the Next not decide and analysis which development strategies they can use to identify individual needs and expectations. The respective company can use training and development strategies, mentoring, provide workshops and motivational session so that they can encourage their employees to do work in effective and efficient manner and so on. Their are three type of learning and development options are available for the respective company such as education in which they include qualification and open ways of new career options and direction; Training which can be done by two method on the job and off the job at a specific time and place on a particular topic and last is development it include wide range of learning activities which is based on work or objective or personal goal.
Formulate action plan:-
Above identify skills and knowledge by Next Plc's management are directly related to the development of objective. The plan which is developed by organisation must be SMART- specific, measurable, achievable, realistic and timely (Njoroge and Yazdanifard, 2014). The plan which is develop must be challenging in nature so that it will stretch and sharp an individual or employee to come up with new ideas and strategy which help an organisation to achieve goal in effective and efficient manner. So the management of Next Plc can develop and formulate effective plans and strategies which is specific in nature, can measured by anyone easily, the goal must be achievable in nature and must understand by everyone easily, plan or strategies must be realistic in nature so that less problems will arise in between the process and timely in nature so that employees or individual complete the task or achieve objective effectively and efficiently in given and specific time period.
Undertake development:-
In this an organisation keep their developed plan into action and identify what to do and how to do that must be choice of a management of a firm. It can done through training courses, work shadowing, secondment, rotation of job of individual, give project work to employees or individual, enhance involvement of networking and community and many more so, that an individual perform or do task or work in effective and efficient manner and help in achieving goal and objective (Dutton and Ragins, 2017). In the respective organisation management undertake and decide to implement the action plan which they develop by designing various activities such as training and development session. It means to provide training through on the job and off the job, mentoring, provide class and sessions, give appropriate workshop related to skills which is required, they can also organize motivational session to encourage their employees so that they work in effective and efficient way in order to achieve the respective organizational objective and goal.
Record the outcomes:-
Keeping record of outcome help an organisation to remind their potential and effective employees or individuals and their effectiveness and dedication towards work and workplace. The record also helps a firm to identify the activities which are needed to be develop or get innovate, so that management can focus on that and make plan and strategies accordingly and respectively (Rurkkhum and Bartlett, 2012). When an organisation record data and information, development needs, chosen method of development etc. its outcome will help them when they are plan to develop or create new action or strategies for future growth of a firm. So the Next company effectively and efficiently keep the record of all above mentioned things so that they can see them and compare past outcomes with current one and make appropriate and suitable strategies in future time.
Review and evaluate:-
After formulating, undertaking and recording last step is to evaluate and identify reviews. Evaluation is stage which is consideration as self development cycle. It majorly focusses on two issues that reflect following things- the activity they implement is appropriate and worthwhile for an organisation or not and is there is any improvement or change occur in nature, skills or working behaviour of an individual or not. While management do evaluation they may consider several questions such as is there is any betterment occur in organisation, should respective approach is effective or not, is this applied activity is efficient of organisation or not, how will develop more applied method and many more (Ko, 2012). So when Next Plc evaluate and review their plan they may change or improve current goal and objective according to required need in future and sometime with the help of evaluation and review respective organisation can analysis the situation of workplace and then make or update the plan accordingly.
Above mention steps are used to design a plan to meet the identified development needs and expectations of an individual which help an organization to achieve its goal and objective in effective and efficient manner and also help to satisfy and motivate individual needs and expectations in the respective company. There are some factors that a manager of Next must avoid while making individual development plan so that they make effective and efficient plan for their organization, they are- repainting putting personal development planning, want to tackle every problem with one solution, being or act too ambitious, afraid to ask help from other such as line managers, colleagues, forget to evaluate and reflect learning experiences.
The Next Plc use theory X and theory Y of management theory to overcome the case study issues:-
Theory X- In this employees or individuals have certain specific characters such as they need close supervision, they try to avoid work and responsibilities when possible, they only desire only for money, someone has to push to perform and so on. So the respective company make plans and strategies according to it so that they get motivated and get encourage to work. For this they organized motivational activities, provide training accordingly, encourage with money etc.
Theory Y- These individuals are motivated to work independent, they seek responsibilities, self motivated, want to work, they drive themselves to perform and many more. For these type of individuals Next plan strategies and activities accordingly such as they are self motivated they didn't need motivational session so respective firm not provide they session.
By applying this theory respective company can understand their employees and then make strategies and training session accordingly and able to overcome the case study problems. By this every employees feel motivated and connected to firm which leads to increase in profit and growth.
Conclusion
From the above report it has been concluded that developing relationships among the employees at the workplace helps the respective organisation in developing the skills and capabilities of individuals at the work place which are very essential for effectively integrating and coordinating the work environment. It also analyse the various developmental vehicles which are available to an organisation in developing the skills of the staff members for the proper performance of work. Developmental plan has also been made to analyse the needs and expectations of the staff members and developing skills according to attain work place achievements. It is very essential for the business organisations to maintain a positive environment at the work place which properly coordinates the activities of the staff members. It is properly analysed that when the respective organisation develops and maintains relationship among the customers it helps to perform functions in a more effective manner and helps the organisation to be a success in this complex business environment.
References
Dries, N. and Pepermans, R., 2012. How to identify leadership potential: Development and testing of a consensus model. Human Resource Management. 51(3). pp.361-385.
Littlejohn, A., Milligan, C. and Margaryan, A., 2012. Charting collective knowledge: Supporting self-regulated learning in the workplace. Journal of Workplace Learning. 24(3). pp.226-238.
Njoroge, C.N. and Yazdanifard, R., 2014. The impact of social and emotional intelligence on employee motivation in a multigenerational workplace. Global Journal of Management And Business Research.
Dutton, J.E. and Ragins, B.R., 2017. Exploring positive relationships at work: Building a theoretical and research foundation. Psychology Press.
Rurkkhum, S. and Bartlett, K.R., 2012. The relationship between employee engagement and organizational citizenship behaviour in Thailand. Human Resource Development International. 15(2). pp.157-174.
Ko, W.H., 2012. The relationships among professional competence, job satisfaction and career development confidence for chefs in Taiwan. International Journal of Hospitality Management. 31(3). pp.1004-1011.
Allais, S., 2012. Will skills save us? Rethinking the relationships between vocational education, skills development policies, and social policy in South Africa. International Journal of Educational Development. 32(5). pp.632-642.
Goetsch, D.L. and Davis, S.B., 2014. Quality management for organizational excellence. Upper Saddle River, NJ: pearson.
Belbin, R. M., 2012.Team roles at work. Routledge.
Casey, C., 2013. Work, self and society: After industrialism. Routledge.
Connor, M. and Pokora, J., 2012. Coaching and mentoring at work: Developing effective practice: Developing effective practice. McGraw-Hill Education (UK).
Garavan, T. N., Carbery, R. and Rock, A., 2012. Mapping talent development: definition, scope and architecture. European journal of training and development. 36(1). pp.5-24.
Heilman, M. E., 2012. Gender stereotypes and workplace bias. Research in organizational Behavior.32.pp.113-135.
Holmes, J. and Stubbe, M., 2015. Power and politeness in the workplace: A sociolinguistic analysis of talk at work. Routledge.