Introduction
Innovation is a process that involves multiple activities to develop the existing product with creative ways and also includes introduction of fresh ideas or thoughts to design new products. The present report is based on General Motors which is an American multinational company that manufactures, designs and sells vehicles and their parts. This report discusses about the innovation history of company. Also, it includes existing innovation performance of enterprise along with capabilities to involve innovation in future. Along with that, it covers the industry overview.
The Organisation and its Innovation History
General Motors (GM) is a multinational corporation situated in Michigan. Company delivers services in around 35 countries. It is the largest American and also one of the world's largest automobile manufacturers (El-Refaie, 2013).
In the first 50 years of operations, GM developed the electric starter, bulk production of cars with replaceable parts, automatic transmission, manual transmission with synchromesh for easier gear shifting, high-octane leaded gasoline and high-compression V-8 engine.
In 1918, Chevrolet became a division of General Motors. In 1960, Chevrolet introduced the Corvair. It was the only American car that had air-cooled engine made up of aluminium (Jurkovic and et. al., 2015). Furthermore, it was the only car with independent suspension at all four wheels. Also, during 1960s, GM was one of the first manufacturers to use robots and computers on the plant floor. In 1961, the company installed world's first industrial robot on a production line which made door and window handles, gear shifting knobs, light fixtures and other hardware for car interiors.
In 1966, GM came with Oldsmobile Toronado. This car was a true reflection of innovation made by company. It had 7.0-liter, 385-gross-horsepower V-8 in the traditional forward position, however, it drove the car's front wheels. It was the most powerful front-drive production car ever built (Helper and Henderson, 2014).
In 1996, the company came with a revolutionary product OnStar which became leader in in-built vehicle communication system. In modern context, it is used by over 7-million people and provides facilities like emergency, security, navigation, connectivity and in-car wifi services.
In 2010, General Motors created a whole new segment known as Extended Range Electric Vehicle (EREV) which worked in two ways: EV mode (engine off) and extended range mode (engine on)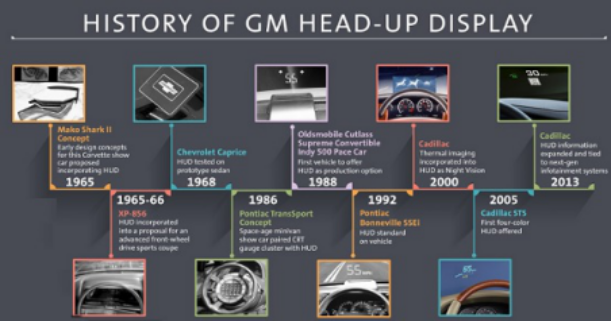 (Source: History of General Motors Timeline, 2018)
PESTLE Analysis
There are different factors that are present in the business environment of GM that act as a driver for innovation. Same are discussed below:
Political:
The R&D department of General Motors is situated in US. Over years, the Federal government of US has fostered the growth of innovation through regulations and tax policies like providing R&D tax credits to private companies. Direct Financial Investment by US government in companies promoting innovation also encourages GM to increasingly use innovative and high-tech practices while manufacturing cars.
Economic:
High growth rate of developing markets create opportunities for General Motors to grow and expand in those areas. Also, the economy of the dominant revenue generating countries for the company like US or China highly encourage the use of innovation practices in automobile industries like General Motors.
Social:
Across the globe, demand for SUVs and luxury cars have increased over years. Demographic changes in population also change demand for cars of the company. Millennial generation today wants stylish and technologically advanced cars which foster GM to constantly indulge in innovative practices and develop cars that are equipped with high safety and convenience.
Technological:
With constant developments in technology, automobile industry is also continuously equipping innovation and high-tech practices. This act as a driver for innovation in General Motors. Company became one of the the first manufacturers to use robots and computers on plant floor. As a result of success of this, it encouraged the company to continuously bring innovation in cars to maintain its stake in market.
Legal:
Compliance with legal regulations like Anti-trust law in Automobile Manufacturing companies like General Motors encourages the use of innovation in its operations to develop new products or renovate the existing ones with some technical improvements.
Environmental:
Companies that engage in sustainable development and recycling of waste get widespread acceptability from government as well as automobile industry. This drives GM to work towards developing advanced technologies for car manufacturing which allow improved fuel economy, reduced dependence on petroleum and less carbon footprints.
Get Help in
Any Subject
Our intention is to help numerous students worldwide through effective and accurate work.
The Organisations existing Innovation Performance and Capabilities
General Motors is the leading company in car manufacturing industry. As of 2018, GM is ranked #10 on the Fortune 500 ranking (Greer and Hauptmeier, 2012). In modern context, company is using new and advanced software designing technology aimed at developing next generation light weight cars. This technology is used by company to design zero emission vehicles.
Existing innovation performance
General Motors strongly believes in investing in technology as they consider it to be the key factor towards gaining the attention of people in the world of growing regulatory and competitive risks. As a result, GM invest a huge amount in R&D to analyse the needs and requirements of people and develop products that aim at satisfaction of customer through development of product with innovation. These technologies include process innovations within GM's manufacturing operations and eco-friendly propulsion like Hybrid, Plug-In, Alternative Fuel Vehicles, Hydrogen Fuel Cell etc. (Dodgson, 2018). GM's OnStar is a pioneering navigation, security, and remote diagnostics subscription service which is being used by over 7 million people today.
Capabilities
GM is bringing improvement and speeding up the process of back-end with the help of technical innovations. Company's engineering team has also improved their high-performance computing capabilities to bring improvements in combustion, crash, wind tunnel, and other simulations by next year. Also, the team is running many math-based stimulations and computing capacity to bring improvements in safety, fuel-economy and CO2 emissions with reduced cost in relation by 2020 (Goolsbee and Krueger, 2015). GM is also working with FANUC, a renowned factory-automation provider to make use of data analytics which will ascertain the failures in using robotics at manufacturing plants. Also, company is capable of reducing or eradicating assembly line downtime by bringing innovation in existing processes by next 2 years. Company will also engage in overhauling of its car-development process in coming years to aim at production of more cars along with reduction in cost.
SWOT Analysis
It is a tool used by businesses to ascertain the potential strengths and opportunities and also the weaknesses and threats of company.
Strengths:
GM has entered in Joint Venture with local Chinese automation companies which eliminated most of foreign market entry barriers and facilitated growth of company in China by indulging in innovation and development of products with the aid of partner companies.
General Motors have subscribed Satellite technology which implies that all its cars are equipped with this technology. This equipment tracks the vehicle at the time of emergency and theft. This advanced technology used by GM became their strength and encouraged the use of more such innovative and high-tech practices.
The most unique feature present in General Motors cars is a subscription based OnStar all-in-one assistant which has gained 7 million subscribers in a span of 21 years. This foster the use of more such innovations while developing cars so as to become the top automotive company of world.
Weaknesses:
The acceptability of cars manufactured and designed by GM is the most in U.S. Markets where any innovation engaged in by company is warmly accepted by people unlike other countries where company has still developed its brand image.
At present, General Motors doesn't sell any car using its own name. It markets, sells and distributes products in names of subsidiaries or other partner companies. This is a setback to innovation in the company as it doesn't imply recognition of company name in market.
GM lacks behind its competitors in terms of substitute energy vehicles. The substitute energy and hybrid technology vehicles took place in automobile industry a long time ago which GM has not yet considered (Pound, 2013).
While the company offers a balanced portfolio of small, medium sized and large cars, the major revenue is generated through SUVs which implies that company concentrates less on bringing continuous innovation in other cars.
Opportunities:
At present, low prices of fuel are increasing the demand for company's SUVs. Thus, there is a wide scope for company to bring regular innovations and developments in the production and design of these to ensure high profitability for company in long run.
With rising consumer expectations in relation to car technology and competitive nature of automation industry, there is a large scope for company to bring constant innovations in cars to target a large base of customers, especially the millennials.
Threats:
Over years, General Motors is facing financial crisis. The company even became bankrupt at one point of time. This has been a setback for the process of innovation in company as using high technology require huge funds.
General Motors is majorly producing the large cars which have got less fuel efficiency. Because of an increase in fuel prices, these cars manufactured and designed by company have lost its demand in marketplace as customers are interested in hybrid technology and more fuel efficient cars.
The Industry
Over years, the automobile industry has seen a wide transformation. Particularly in the car industry, customer expectations in relation to quality, safety, utility and reliance have fostered the use of innovative and high-tech practices in car manufacturing companies (Noble, 2017). In last some years, innovation can be largely seen in cars like introduction of driverless cars, Automated Manual Transmission(AMT), vehicle-to-vehicle(V2V) communication. Also, top car makers such as Ford and Hyundai have developed a pre-collision assist and pedestrian detection technology by use of innovation. Also, the manufacture of smart cars enables the driver to access GPS, maps, streaming music, weather and a host of other applications within the car. Furthermore, advanced driver assist systems like adaptive cruise control have reduced the stress of customers during drive. Swiveling bulbs are fitted in many luxury cars that turn illuminate around the corners of road (Acharya, Schaefer and Zhang, 2015.).
Also, auto-high beam systems assist the other drivers from blinding while giving maximum view to the drivers of luxury cars. Environmental concerns including CO2 and tailpipe emissions along with recycling have been the major aspects around which innovations revolve in car manufacturing and designing industries in modern context. Today's hypercompetitive business environment has urged the use of innovative practices in General Motors. Company is continuously working upon bringing innovation in cars in terms of fuel efficiency, carbon omissions and use of hybrid technology.
The analysis of automotive industry helps in gaining an insight into the current and futuristic trends of innovation in the manufacture and designing of cars. Certain aspects of automobile industry are discussed below:-
Porters Five Force Model
Threat of new entrants:
It is difficult for new brands to enter the automotive industries because of the huge investment required as capital and also for the continuous development of products with the help of innovation and latest technology (Grandori, 2012). Also, companies involved in car designing and manufacture require talented and skilled people to perform task and also, there is a high level of cRaisman, N., 1990. Moving into the fifth generation. Community College Review, 18(2), pp.15-22.ompetition from existing brands.
Bargaining power of suppliers:
In the car industry this refers to all the suppliers of car parts, tires, components, electronics and also include the assembly line workers (auto unions). In US, the auto unions are tremendously powerful which give high bargaining power to suppliers there. But, most of the suppliers are small firms who rely on car manufacturers for work.
Bargaining power of buyers:
A large proportion of the buyers are small individuals buying single vehicle yet at times, corporations and governmental agencies buy bulk cars which gives them the power to bargain. Whether small or large, buyers can easily switch to a new brand as the cost involved in turning to alternate company is not much high.
Threat of substitute products:
There are various alternative modes of transportation that can be used by customers yet none of them provides the experience and comfort that an owned car gives.
Competitive rivalry among existing players
There is huge competition in automotive industry as there are various established brands that are present today and offer high classs services to customers. Thus, any company that offers innovation in any car component gains an edge in market.
Conclusion
From the above mentioned report, it has been concluded that innovation is the best strategic tool used by organisation in today's world to ensure its high stake in market. It has also been analysed that it is imperative for every organisation to engage in innovation continuously so as to grow in industry. PESTLE analysis is used by organisation to ascertain the factors that act as drivers for the process of innovation. Also, SWOT analysis has been conducted to gain knowledge about the internal environment of company in relation to innovation. Furthermore, the overview of industry has been done to gain knowledge about the scope for new entrants in the industry with the help of Porters Five Force Model.
References

Helper, S. and Henderson, R., 2014. Management practices, relational contracts, and the decline of General Motors. Journal of Economic Perspectives. 28(1). pp.49-72.
Noble, D., 2017. Forces of production: A social history of industrial automation. Routledge.
Goolsbee, A. D. and Krueger, A. B., 2015. A retrospective look at rescuing and restructuring general motors and chrysler. Journal of Economic Perspectives. 29(2). pp.3-24.
Dodgson, M., 2018. Technological collaboration in industry: strategy, policy and internationalization in innovation. Routledge.
Greer, I. and Hauptmeier, M., 2012. Identity work: Sustaining transnational collective action at General Motors Europe. Industrial Relations: A Journal of Economy and Society. 51(2). pp.275-299.
Jurkovic, S. and et. al., 2015. Induction machine design and analysis for general motors e-assist electrification technology. IEEE Transactions on Industry Applications. 51(1). pp.631-639.
El-Refaie, A. M., 2013. Motors/generators for traction/propulsion applications: A review. IEEE Vehicular Technology Magazine. 8(1). pp.90-99.