INTRODUCTION TO MARKETING DESIGN AND INNOVATION
In most of the markets, competitive organizational strength is often shaped and determined by its innovation ability as well as design. It is an operational and strategic fact which is applied across the scale of business. Responsiveness of innovation and design and its readiness is crucial in commercial terms to business growth and success for both local and multinational companies (Mozota, 2003).
This report attempts to write a critique that describes an innovative product called soft drink manufactured by PepsiCo. PepsiCo Inc. is a multinational based in America and is a food and beverage corporation which is headquartered in Purchase, New York, United States. Company manufactures grain based snack foods, beverages and other related products. It serves worldwide and employs over 274,000 employees across the globe. Report explains ways in which characteristics of PepsiCo's soft drinks have altered over time with an aim to suit changing market needs. In the later part, it highlights a critical reflective essay as a journey to discover through the module.
TASK 1
Introduction to Product
A soft drink has changed dramatically over the few years with respect to its shape, packaging, color, tastes as well as capabilities due to changing needs of markets. For this reason, it has been selected for analysis in the report. Millions of customers have adopted PepsiCo's soft drinks as well as switched from other competitor's products to PepsiCo's products. This has enticed the investigator to investigate as to how and why the product has altered in a way, so as to meet new and changing demand of customers (Jeffrey and Doron, 2013).
Objectives of investigating PepsiCo's soft drinks are to determine whether the change was needed to cope with changing needs of market and meeting the same, and identifying the benefits that resulted from customers' perceived changes. It also involves determining various changes that were required to make product unique.
Continuous Change as a Norm
Continuous change in terms of a norm says that companies are generally like living organizations that need to become learning ones that often adopt change and adapt to different situations to suit changing environment of business. This applies to all types of successful companies and this is the reason why PepsiCo has been quite innovative in its range of soft drinks including PepsiCo, Mountain Dew, Diet Pepsi, Tropicana, 7 Up, Gatorade, Lipton Teas, Mirinda etc. This has revealed that change is needed with an aim to cope well with differing and changing needs and wants of markets. As time progresses, technology is updated more and this leads to utilization of new resources (Swan and Zou, 2012). Thus, as a business as well as marketing point of view, it is required that a business innovates with an aim to obtain high level recognition from customers leading to increase in sales and revenue. This can be seen with PepsiCo which has innovated quite frequently by developing company owned products and also by utilizing mass of resources as a result of a number of mergers and acquisitions in food and beverages industry (Fifield, 2012). According to Barnato (2013), customer can be described as someone with various wants and needs and these attributes tend to change constantly because of the social, economic, technological and legal factors (Barnato, 2013). This is the reason that PepsiCo has progressed within these factors with an aim to suit demands from customers constantly.
According to Kask (2011), an organization needs to have ability to cope with and handle the change and this is something that can either assist or obstructs the ability of company for maintaining share in markets. Organization needs to have such ability that aids in understanding changes as well as need for coping with the change process. This can help company stand out with its competitors as well as customers (Kask, 2011). Author's statements are true as PepsiCo has arrived at a stage where it stands out of its local as well as global competitors in industry. Furthermore, there are a number of ways in which a firm can consider dealing with change and they involve innovation, differentiation, and aggressive techniques for research and development.
Benefits and Value Derived by Customers
PepsiCo was founded in 1919 and since then, demand for soft drinks manufactured by company has been rising at a considerable pace. Following figure shows that revenue can be increased effectively by meeting changing customers' needs and wants in markets: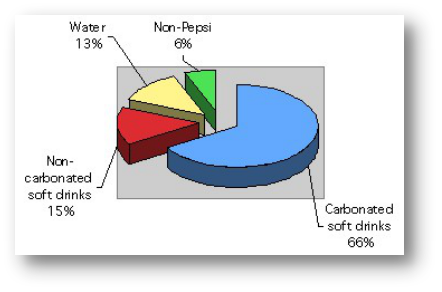 Above figure reveals that PepsiCo's has been innovative aggressively with its soft drink products and this has led to generation of its major revenue from the section of its soft drink production. It shows that 66% of its total revenue is generated from manufacturing and selling different and attractive soft drink products. Customers have perceived value and benefits since 1931 when company's new owner Charles Guth who prompted the soft drink soda product in his other firm's large chain of candy shops and restaurants. From early 1960's, PepsiCo's product lines expanded with introduction of Diet Pepsi and Mountain Dew (Hsu, 2011).
With increase in demand for soft drink as well as soft drink carbonated products manufactured by PepsiCo, company continued making changes within its product lines by adding some non-beverage products such as Quaker Oats and chips and also innovated further by adding new soft drinks such as orange juice made by Tropicana Products. Company also made innovations within its bottles that served drinks to customer across the globe. With an aim to meet changing demands of customers with respect to shape, size and color of product, PepsiCo also acquired two largest bottlers in North America called Pepsi Bottling Group and PepsiAmericas in August 2009. In 2010, the acquisition was completed which resulted in the formation of Pepsi Beverages Company which operates as a wholly owned subsidiary of PepsiCo (Oxborrow and Brindley, 2013). This acquisition helped company in experimenting and innovating within its packaging and designing of products in new ways ,so as to cope with changing demand from customers and also meet them significantly.
More Suggestions:
Uniqueness of Product's Design Elements
Differences in characteristics such as shape, size and color of bottles in different soft drinks both carbonated and non-carbonated can be seen as under: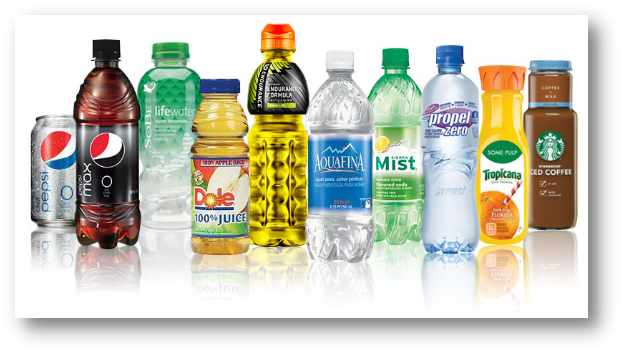 Above figure highlights an example of innovation which PepsiCo has adopted within its line of soft drinks slowly from its age of inception. Company adapted to market needs and wants with an aim to meet changing demand from customers and to increase sources of revenue from just one brand called Pepsi to a number of more brands as shown in the figure above. Single brand Pepsi has also seen many changes within its shape and size and also the recent modified shape of bottle has been described by PepsiCo's vice president for marketing Angelique Krembs as the next milestone for brand's marketing campaign called 'Live for Now'. She believes that a single serving bottle of Pepsi is considered as the most tangible and visible connection that the company has with its customers and the new shape and size express firm's brand identity and image (Gyekye, 2013). Moreover, marketing strategies of company has effectively considered the youthful spirit that has been reflected in Pepsi's new shape of bottle which is as described by firm's chief design officer Mauro Porcini is a little asymmetrical with little edginess and playfulness to reveal brand's equities and youthful spirit (Kottler and et.al., 2014).
Brand Appeal in Relation to Competitors in Contemporary Markets
Brands nowadays have not only been battling on shelves of stores but also on social media. Thus, a company needs to have a social strategy to compete well with its competitors and to improve brand appeal in relation to its competitors in contemporary markets. Thus, presence of PepsiCo's Pepsi can be examined on the basis of its appeal on Facebook, Twitter and Youtube in relation with its major competitor named Coke (Handlechner, 2014). It is done as under:
The Numbers – Numbers of Pepsi in terms of popularity and likes on three social media platforms are behind that of Coke with approximately over 640,000 followers on Twitter, 7,800,000 likes on Facebook and 20,000 subscribers on Youtube. Brand has tweeted for more than 9000 times which makes it a considerable tweeter with over 120,000 people talking about it on Facebook while having over 400 videos attracting more than 40,000,000 views on Youtube (Sternberg, 2012).
Behind the Numbers - Pepsi's Facebook page takes its visitors right through its posts as the brand posts everything from images of product cans that have dressed up for Mardi Grass to a much shorter post revealing that brand is getting social such as 'keep calm and sip on'. Pepsi is known to post at least once a day and its posts are light as well as energetic to reflect on its brand appeal to youth unlike Coke's page which is more of broadcasting contents of Coke (Papadopoulos and Martín, 2011).
For Twitter posts, Pepsi is popular among youths because it has been using more of youth-speak such as "woot" "like thissss" etc. These repetitive consonants of brand throughout its tweets reflect youthful spirit within its messages appealing to young generation among customers. It is because the older people might not get the idea behind Pepsi tweets but the young people are the ones to whom they are intended (Slater and Olson, 2011).
Pepsi has been posting its marketing campaign to spreading the words "Bring Happiness Home" on Youtube and they have managed to achieve millions of views. This campaign has been running both online and among youth as company has placed "Happiness Machines" in colleges and universities to spread some humor and brand awareness as well as appeal among young customers (Sternberg, 2012).
The above analysis shows that PepsiCo can be considered as a contemporary market leader by reflecting its broader messaging into social media. Pepsi's energy as well as whimsy can be seen as shining effectively throughout the media that is intended for youth. It shows that company has better understanding of its brand appeal among youths as it is highly engaged within a social sphere where its target customers exist (Handlechner, 2014).
Changing Approaches of PepsiCo towards Sustainability
PepsiCo has been changing its approach to sustainable development and improving its efforts to allow community lead a better living. Company has reduced its usage of water from last half a decade through the process of conservation, reuse and replenishment. It has involved into conservation of resources by using inventive techniques such as water recycling for maintenance of plant, air rising of beverage bottles and waste water irrigation. Company has also introduced innovation within its business operations by working proactively to enhance water supplies in communities where there is scarcity of water (Harker, 2013).
Current demand from local authorities related with conserving environment and reducing impacts of business operations on global basis have led PepsiCo to reduce its green house gas emissions through the process of energy conservation as well as utilization of sources that provide clean energy. The demand has also driven company to engage in a number of renewable projects of energy which only helps firm become a sustainable organization in industry. Reducing, recycling, and reusing solid and packaging waste have become one of the core side businesses of PepsiCo to cater the needs of environment as well as communities where company operates (Thomson, 2012). This can be seen within the efforts of firm in activating its Global Sustainable Packaging Policy as well as involvement in light-weighting in containers of beverage to save huge amount of plastic and its usage every year.
Above approach of PepsiCo towards sustainability can be seen as a genuine approach of company to meet demands from contemporary markets which comprise of community where people wish to live in fresh and healthy environment. To meet this requirement, PepsiCo has invested huge amount to shape its product lines in such a way ,so as to meet differing needs from markets and cope with fluctuations in industry (Blaszczyk, 2012).
TASK 2
Critical Reflective Essay
The report has made me understood that a key strength of an organization's competitiveness can be shaped and driven by the process of innovation and change within a number of business areas. Readiness of innovation and design related with a company's product is quite critical for being highly responsive and attain growth as well as success for longer term in business. Report has also explained that an organization whether operating on a small or large scale is required understanding that the innovation is highly significant for its range of products or services for developing competitive design. This understanding can help company in achieving both long and short-term goals and objectives.
Thus, it can be said that this innovative as well as design specific capability of firm has an equal importance to effectiveness and application of various strategies and goals of organization. For example, customer can also have benefits from the investment made by company for introducing change and innovation as customers can see advantageous features in products from sound and effective marketing strategies used by company as a result of innovation. Thus, report has also provided sound understanding of significance related with innovative design of marketing strategies and promotional activities of a product or service.
Report has also highlighted ways in which innovative design, shape, color, features etc can help customers make considerable choice from among various competitors' products. Being a customer, I can understand as to how benefits derived from an innovative product can help me meet my individual need leading to sound brand identity of the product. In this way, report provides understanding as well as learning within approaches that are practical and integrated with an aim to highlight usability of marketing innovation and design for a product or service. It explains that customers look for benefits in the product and then later on, make a decision related with purchasing the selected product (Sikdar and Vel, 2010). It is thus, considerable to say that report has made me understood reasons for organizations to identify all the benefits that a customer can have from a product or service and then to add the same in terms of additional features, design, shape and related market positioning to increase sales and revenue. This can directly help company to increase its sales while strengthening its brand appeal in markets.
Thus, it can be said that assignment has helped in making it clear that customers look for something new in the product they purchase and in case of soft drinks, they look for something that reflects customer appeal. PepsiCo has put major efforts in strengthening its brand appeal and has linked the same while reflecting youthfulness within its soft drinks. It is also understood that company should involve in undertaking sound marketing campaigns and they should not only be done for the sake of increasing sales but to win more customers in markets. Customers can be won effectively when someone learns from PepsiCo with respect to having sound involvement with people to reflect their demand and culture within its offerings. Company has also incorporated differentiation within its product lines from its major competitor Coke (Simkin, 2008). This has led to increment in sources of revenue which has made overall earning of firm quite stable for longer run. Taking example of all mergers and acquisitions pursued and achieved by PepsiCo can help understand need for innovation and change. They can be used to involve new and innovative products in overall lines of products and thereby serve changing and differing needs and wants of customers in markets.
Research within PepsiCo's cases for innovation and change has helped in understanding the need and importance of change for coping up with dynamic industrial fluctuations. It has been understood that if a product such that a lot can be done in terms of innovation and experiments, then it is considerable that a company should have effective market research and development budget to test differing tastes and preferences of customers and then help them in meeting the same (Orr, 2007). This is required to acquire competitive advantage over competitors and to improve brand appeal among customers. Report has explained the benefits of undertaking sustainable development as it helps a company from all aspects of business. Company can save on major costs in long run during its attempt to protect environment from pollution through innovative technologies and advanced machines for production. It not only helps a business firm a sustainable business but also assist in becoming cost leader in industry (Rhodes, Alexander and Myers, 2011). This is another factor upon which value of customers is based and this should be reflected in the offerings made by firm. Brand appeal is also learning from the assignment as it explains ways in which appeal of products can be improved among customers. Social media is one among the sources that can be utilized for enhancing brand image and to run competitive marketing campaign so as to generate awareness among consumers.
Brand appeal not only helps company boost its sales but also assist customers in meeting their requirements with respect to genuineness and authenticity which they look within a product or service that they buy from company. It can create such an environment where customers feel confident in making transactions with a firm. In this way, assignment has helped through the research work to understand need and importance of innovation and change to meet changing needs and wants of customers in markets.
CONCLUSION
Report explains efforts of PepsiCo with respect to change and innovation within its soft drink products. It has highlighted benefits and value that can be derived by clients or customers from the change and innovation undertaken by company within its offerings. It is also highlighted uniqueness of products' design elements in terms of their shape, color, design, relevance and usefulness. It has concluded that importance of brand appeal which can be improved and achieved through innovating with current process of production and marketing to achieve higher sales and revenue.
REFERENCES
Blaszczyk, L. R., 2012. Imagining Consumers: Design and Innovation from Wedgwood to Corning. JHU Press.
Fifield, P., 2012. Marketing Strategy. Routledge.Gilbert, D., 2003. Retail Marketing Management. 2nd ed. Pearson Education.
Handlechner, M., 2014. Marketing Strategy. GRIN Verlag.
Harker, M., 2013. Marketing: An Introduction. Financial Times Prentice Hall.
Jeffrey, R. and Doron, A., 2013. Cell Phone Nation: How Mobile Phones Have Revolutionized Business, Politics and Ordinary Life in India. Hachette UK.
Kottler, P. amd et.al., 2014. Principles of Marketing. 13th ed. Pearson Prentice Hall.
Mozota, B. B., 2003. Design Management: Using Design to Build Brand Value and Corporate Innovation. Skyhorse Publishing Inc..
Swan,S. K. and Zou, S., 2012. Interdisciplinary Approaches to Product Design, Innovation, & Branding in International Marketing. Emerald Group Publishing.