Introducton
Business communication is a process of sharing information amongst people that are internally or externally connected with the organisation. It is an essential part of any business entity as this facilitates exchange of necessary data and statistics related to company. This helps management in maintaining a healthy relationship with employees of company. It is required by business persons to possess skills like inter-personal communication, collaborative working, confidence and open-mindedness to execute the process of interaction at various levels of organisation. In corporate world, leaders and managers make use of a number of models, channels and systems to facilitate the process of business communication. By adopting optimum tools and techniques, information can be delivered to key business persons in an effective manner.
This report is based upon the process of communication in business. It explores various models, methods, systems and principles guiding and governing this process. Also, this includes barriers to communication along with use of technology to facilitate this process. Besides this, a business case is presented which reflects the behaviour of executives of company in response to complex situations associated with customer queries that arise in an entity. The purpose of this project is to explore the factors that formulate and hinder the process of communication across organisational premises.
TASK 1
1.1 Communication models and systems used in businesses
Communication is defined as a process through which information is exchanged between individuals by way of structural and formal procedure. It implies a formal interaction between employees and management so that necessary messages and statistics can be exchanged in an effective manner.
Communication Models
Communication models are used in corporate world that assist in facilitating this process across the organisational premises. There are a number of communication models that are presently being used by business enterprises situated across the globe, these are explained below:-
Shannon and Weaver's Information Theory Model:
As per this, the process of communication starts from brain of sender who encodes the message and sends it to receiver. This message is transmitted by way of technological media like telephone or radio. Sender converts the message into codes that are easily perceivable by machine. When receiver gets the message, it is to be decoded so as to be able to understand it. At times, receptor machine is used for this purpose. Often, channels or medium of communication may get hindered by noise and receiver may not be able to decode the message which can cause problems.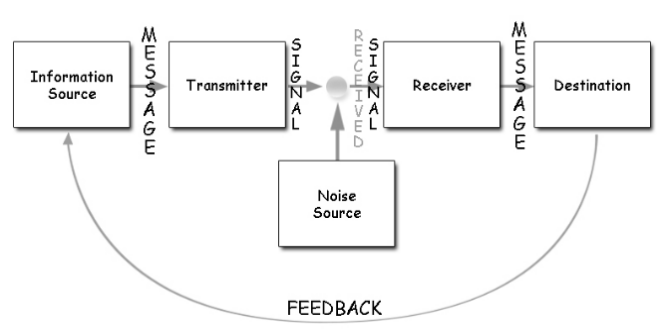 David Berlo's SMRC Model:
David Berlo expanded the model given by Shannon and Weaver. This model emphasizes upon the relationship between sender and receiver. As per Berlo, to be able to effectively encode and decode the message, both sender and receiver are required to possess good communication skills. This model is clearly divided into four components which are further sub-divided into certain elements.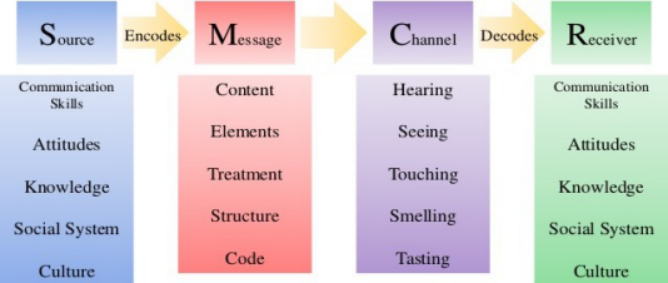 Aristotle's Persuasion Model:
This model is proposed by a Greek Philosopher Aristotle. This mainly emphasizes upon the speaker and speech. It consist of 5 vital elements, namely, Speaker, Speech, Occasion, Audience and Effect. The process here is basically Speaker-Speech-Receiver. Communication as per this model is almost one way, that is, from speaker to receiver.Her you get best assignment writing help.

Collin and Guetzkowr's Group Communication model: This is a model that defines the behavioural aspects of individuals while they indulge in the process of decision making in business groups. Interaction among such groups resembles the organisational communication. This process can be restrained by inter-personal or environmental barriers which needs to be significantly kept in consideration such that communication can effectively take place within a group.
Circular Model of communication:
In corporate this, communication is a process which involves transmission of message by sender and getting feedback from receiver once it is received. The major factor that undermines the effectiveness of communication is the response given by receiver. This model largely emphasizes upon the feedback system during the process of business communication.
Interactional model of communication:
This model is proposed by Tubbs and Moss. It focuses upon the process of communication as an exchange of messages between the two parties, sender and receiver. Here, sender sends a message to receiver. When receiver gives a response or feedback upon the message, they becomes the sender. This is a continuous process which comes to an end only after desired results are achieved. It is a Two way Business Communication model.
Communication Systems
In corporate world, information can flow from individual to machine, from machine to individual, between individuals or between two machines. Communication systems provide a route way to foster effective interaction within an organisation. Here, transmission system, relay stations and individual communication networks and many such components are integrated together to develop a system for communication. Various types of communication systems used by businesses are described below:-
Optical Communication system: In this system, light acts as the medium for communication to take place in workplace. Here, with the help of transmitter, information is converted into optical signal which finally reaches the recipient. They decode these signals and then give feedback accordingly. In this system, light travels through optical fibre.
Radio communication system: Under this system, communication takes place via the medium of radio. The most essential element to carry out communication as per this system is an antenna which is required to be possessed by both sender and receiver. to do conversation under this system. Transmitter emits signals by way of antenna which are carried through the carrier wave. Receiver then receives signals via antenna and decode it into message which can be easily perceived and accordingly, receiver gives response.
Duplex Communication System: In this system, two devices can communicate in both the directions simultaneously and thus, it is called Duplex communication system. Here, sender sends signals to receiver who receives it and gives response upon it to further allow speaker to respond. Thus, communication takes place between both the parties simultaneously. It is also called Simplex communication system.
1.2 Communications methods used by businesses
The exchange of relevant information and statistics takes place within an organisation by way of various methods. Such methods used to carry out communication within an organisation which are being discussed below.
Written:
This is one of the most essential methods of communication with reference to corporate world. It is largely being used by business persons across the globe to facilitate effective communication at all levels and departments of enterprise. The various modes of written communication can be business report, letter, e-mails, memos, brochures etc. Here, effectiveness of communication depends upon style of writing of business personnel. It is highly required by business persons to make use of formal and short statements such that these can be easily understood by anyone. The writing should be simple, clear and concise. Some other ways of written communication commonly used across businesses are social media, business proposals, press releases and contracts.
Verbal:
This type of communication takes place by way of spoken word, either over phone or face-to-face, voice chat, video-conferencing or through any other effective medium. Verbal communication can be of two types: formal and informal. Different sorts of informal communication methods can be used within entity like rumour mill, cluster or grapevine. Some effective ways of conducting formal verbal communication can be conferences as well as lectures. Verbal communication is mainly utilised in discussions and conversations. Clarity of speech is one of main elements prevalent in verbal communication.
Non Verbal:
In this, communication is done by way of non-verbal cues like hand movements, gestures, tone of voice, postures, body language, voice inflexion, eye contacts etc. All of these act as an effective way in which information can be transmitted to business personnel in non-verbal manner. Facial expressions can be yet another powerful means of delivering messages to individuals within an enterprise.
Visual:
In this type of communication method, relevant information and ideas are transmitted by way of visual elements like symbols and imagery. This is a method which is most acceptable by business persons due to its reliability. Here, communication takes place through a number of tools like is signs, illustration, graphic designs, films, colours and typography. This type of communication is done by seeing or visualising data.
Electronic Methods: With the passage of time, there have been various advancements in technology. If latest tools and technologies are used by business personnel for the purpose of communication, important messages and ideas can be delivered in an efficient and timely manner. Various types of electronic methods used by businesses for communication are mobile devices, e-mails, social media networking etc.
Benefits of formal communication
Formal communication is a process where flow of information takes place by way of pre-decided systems and channels. This assists the management in effective running of an organisation. Also, it ensures that necessary and relevant data and statistics are delivered to business persons within a timely manner. Engaging in formal communication also assures that interaction takes place in the entity according to set organisational rules and regulations. Some forms of formal communication can be report, letters, memos etc. If these are effectively stored, it becomes beneficial in decision-making process. Formal communication is reliable as the data that flows through this is generally accurate and specific.
Benefits of informal communication
Informal communication is a process where information is exchanged without complying with organisational rules and systems. This type of communication is generally quick and effective and helps in fulfilling the psychological needs of an individual. Informal communication helps employees in becoming social and relieves them from any kind of stress or tension. There are many issues related to business personnel which easily get solved by indulging in informal communications.
1.3 Technology fosters different types of communication
Technology has opened a plethora of opportunities for businesses and personnel to communicate with each other and exchange information in corporate world. In modern world, entities use latest tools and technology to facilitate the process of communication across various levels of organisational hierarchy. Business enterprises use technology to speed up this process within organisational premises. Some forms in which technology foster effective communication are:-
Internet:
This is a source which is widely used in corporate world to execute the process of communication. It largely assists an organisation in building healthy relationship with customers so as to retain them for a longer period and enhance their loyalty towards the brand. Also, this helps to provide complete information about business and its products on their website and social networking pages.
Social media:
This is one of the quickest forms of communication which make use of interactive computer-mediated technologies to facilitate exchange of information within the entity. This helps in communicating the mission, vision and objectives of company to customers with a motive to gain their trust and ensure their loyalty. Social media include Facebook, Twitter, Instagram, Snapchat which assists an entity in reaching audience.
1.4 Principles of effective communication
There are a number of principles that guide and govern the process of communication within organisational premises. These help in ensuring that individuals and groups interact in an effective manner and deliver the necessary data to users. Such principles of effective communication are:-
Principle of clarity:
As per this, the message should be clearly effective communicated so as to ensure that it is easily perceivable by people. The language should be formal and structural in accordance with organisational rules and regulations.
Principle of attention:
This reflects that receiver should be active during the whole conversation to show one's interest in the conversation. This can be done by way of responding in an effective and desirable manner.
Principle of feedback:
This states that adequate feedback should be provided by receiver after every message is conveyed to them so as to reflect that they have understood the information.
Principle of informality:
According to this, informal communication is equally important as formal communication. Managers and leaders in an entity are required to understand that informal method is suitable for quickly spreading the data within the enterprise.
Principle of consistency:
This states that communication needs to be in accordance with plans, policies, strategies and objectives of organisation. This is done so as to make sure that communication is aligned with organisational regulations and lead the entity towards accomplishment of goals.
Principle of Timeliness:
As per this, communication should be done in a timely manner so as to ensure that organisational plans can be implemented in an effective manner. It is the duty of leaders to ensure that communication takes place within set guidelines to avoid any confusion or hindrances in process.
Principle of adequacy: This states that flow of information within organisation should be adequate, relevant and specific as per the needs and requirements of company.
Get Help in
Any Subject
Our intention is to help numerous students worldwide through effective and accurate work.
1.5 Barriers to effective communication
While information flows across the organisation, it can often be restrained due to a number of factors. These are known as barriers of communication. In context of corporate world, there can be various barriers to communication. Such barriers are explained below:-
Physical Barriers:
Communication is a process which involves two parties, namely, sender and receiver. There can be physical distance between these two parties while carrying out the process. There is a probability that during this procedure, there can be barriers to communication like noise and environmental factors which can lower down or restrain communication.
Linguistic barriers:
Language happens to be a major barrier in effective communication practices that are involved in a business concern. Language is most commonly available tool that managers consider for transfer of thoughts and ideas. This happens because in business people come from various regions and language of every region is different from other. Hence, business always should involve a common language for exchanging thoughts and ideas for avoiding confusion.
Emotional barriers: Emotional IQ of every individual is different from another. The emotional IQ of a person or employee in a business concern determines comfort zone of a person with which they are able to communicate. A person who is mature and able to handle emotions will have a better approach of communicating as compared to an individual who is in control of their feelings. For the message to be effective, employees need to be emotionally stable.
TASK 3
Communication in writing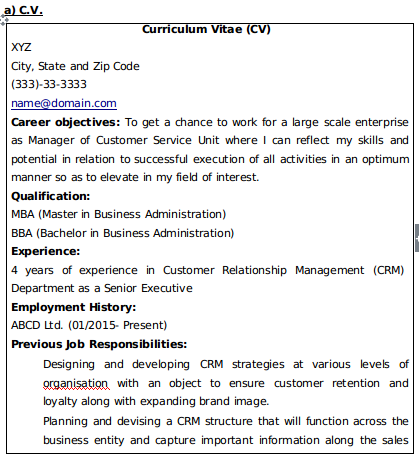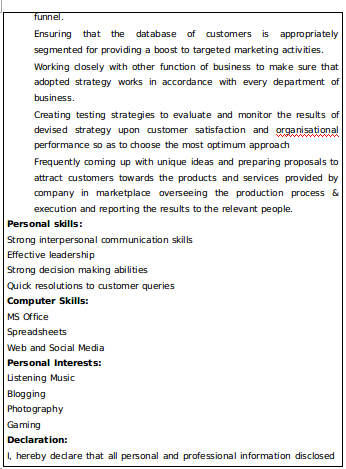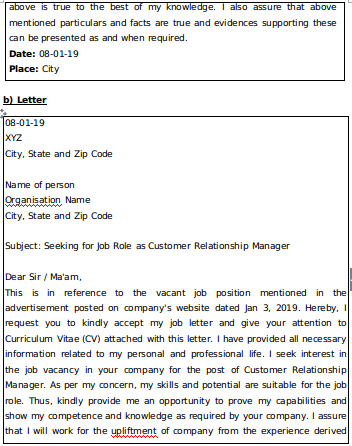 Conclusion
From the above report, it has concluded that effective communication is required at all the levels and department of an entity for efficient and smooth functioning of business. Also, it is assessed that there are various methods and systems of communication that facilitates the process across the organisation. Moreover, it has been analysed that technology acts as a factor that foster business communication in corporate world. In addition to this, it has been evaluated that there are ample number of principles that guide and govern this process and thus should be kept in consideration by business persons. Besides this, it can be observed that there are various barriers to communication like emotional, psychological, semantic that can hinder organisational communication. Furthermore, it can be seen that various forms of written communication can be by way of email, Curriculum Vitae, reports, letter etc
References
Andersen, E. S., 2014. Speaking With Style (RLE Linguistics C: Applied Linguistics): The Sociolinguistics Skills of Children. Routledge.
Hasson, G., 2015. Brilliant Communication Skills. Pearson UK.
Hesselbarth, C. and Schaltegger, S., 2014. Educating change agents for sustainability–learnings from the first sustainability management master of business administration. Journal of cleaner production. 62. pp.24-36.
Jackson, D., 2014. Testing a model of undergraduate competence in employability skills and its implications for stakeholders. Journal of Education and Work. 27(2). pp.220-242.
Kleckner, M. J. and Marshall, C. R., 2014. Critical communication skills: Developing course competencies to meet workforce needs. The Journal of Research in Business Education. 56(2). p.59.
Luthans, F. and Doh, J. P., 2018. International management: Culture, strategy, and behavior. McGraw-Hill.
Meulenbroek, P., Bowers, B. and Turkstra, L. S., 2016. Characterizing common workplace communication skills for disorders associated with traumatic brain injury: A qualitative study. Journal of Vocational Rehabilitation. 44(1). pp.15-31.
Robles, M. M., 2012. Executive perceptions of the top 10 soft skills needed in today's workplace. Business Communication Quarterly. 75(4). pp.453-465.