Introduction

Human Resource Management refers to a strategic planning and approach which is related to the management of people within a company. It is essential for the businesses in service industry to manage their human resources effectively to gain an appropriate work environment within the company as well as gain a competitive advantage in the market (Baum, T. ed., 2016). The following assignment is based on British Airways, which is one of the biggest companies in the service industries. It covers a detailed understanding of human resource management and the effect of employee relations as well as employment law in service industry businesses. The report also covers the recruitment and selection processes of various businesses in the industry and contribution of training and development within the organisation.
TASK 1
1.1. Analysis of role and purpose of HRM within airline industry
Human Resource Management is a technique adopted by various organisations within the service industry to effectively manage the operations within their businesses and achieve organisational objectives appropriately. Within the airline industry, HRM plays a quite prominent role as existence of its businesses depend heavily on the HRM practices within the firm (Deery and Jago, 2015). There are various purposes of HRM that could be reflected effectively in the airline industry, particularly British Airways which are discussed below: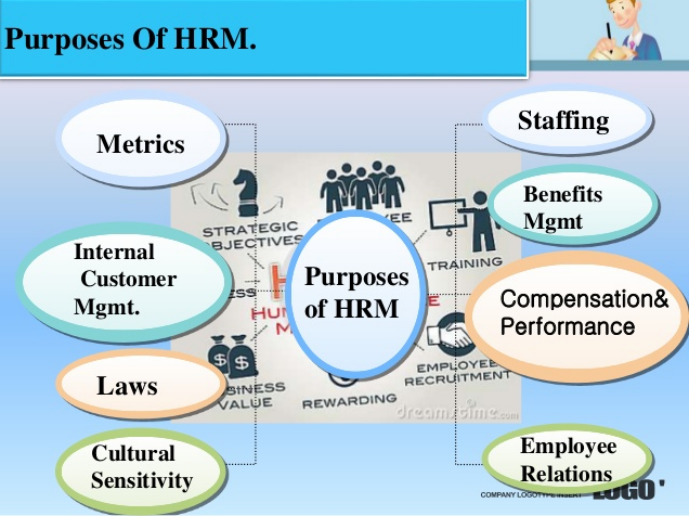 (Source: Purposes of HRM, 2019)
Staffing:One of the main purposes of HRM is staffing. It is a process under which companies recruit and select skilled talent to strengthen their human resource effectiveness and enhance their business performance. For airline industry, effective HRM would allow its businesses, like British Airways, to select the most effective personnel for their firm. This would help them gain a keen position in the market and better customer management.
Employee Relations and Legislations:HRM also undertakes creation of a positive and effective perception of the firm within the eyes of its employees. It would allow British Airways to develop healthy relations with their employees. It includes setting up their contracts and manage their issues regarding the firm, its operations or with co-workers. It also undertakes various employee legislations into account to help firms in Airline Industry to develop ethical work frame.
Internal Customer Management:The most prominent purpose of HRM is to establish effective customer management within the organisation. This requires addressing their demands, their preferences and their problems effectively. HRM within the airline industry would aid this purpose for British Airways by developing effectiveness in the working of employees to strengthen customer management (Dhar, 2015).
Along with various HRM purpose, there are various roles played by Human Resource Management without which effectiveness could not be achieved within the airline industry. These roles are described below:
Planning and Forecasting:The biggest role of HRM within the airline industry businesses, particularly British Airways is that the firm could effectively plan and forecast the need of Human Resources based on the analysis of effective demand and supply provided by various HRM practices.
Capacity Building:Human Resource Management effectively aids British Airways to enhance itself in terms of performance, effectiveness as well as physical capabilities. HRM allows the firm to effectively monitor its budget and measure performance of its employees. This aids the company in effective capacity building.
Training and Development:The most crucial role in HRM within the airline industry is that it allows companies like British Airways to train its employees as per their job roles and in order to ensure their personal future growth and effectiveness of the company. The firm provides implements effective training and development programs to ensure effective performance of all of its employees (Bratton and Gold, 2017).
There are various HRM practices that could be adopted by British Airways to effectively manage people within the company. These practices are mentioned below:
BASIS

SOFT HRM

HARD HRM

Concept

This approach treats employees as the most valuable resource in the org