Introduction
Globalisation is the process through which interaction and integration of individuals, economies, cultures and governments take place. It largely focuses upon removal of trade barriers so that flow of goods and services can easily take place between different countries of the world (Hirst, Thompson and Bromley, 2015). Globalisation results in economic and social development of country by increasing foreign direct investment and liberalising the trade policies. This assignment is based upon Marks & Spencer so as to gain knowledge about the impact of globalisation over the operations and functions of company. Marks & Spencer is a leading retail company that deal in providing day-to-day products to people across the globe. This assignment will cover aims and objectives on the basis of which project management plan is made. For collecting information, research has been conducted by using various methods. In the end, recommendations are provided on the basis of conducted research.
Task 1
P1 Project aim and objective
Background of the Research
Globalisation is an ongoing process through which the beliefs and cultures of diverse set of people and economies are integrated. This term is largely related to removal of trade barriers to facilitate easy movement of goods and services across different countries (Baldwin and Lopez‐Gonzalez, 2015). Marks and Spencer is a multinational corporation headquartered in City of Westminster, London and deals in a large variety of products ranging from home commodities, luxury food products, clothing etc. The main reason behind conducting this research is to gain information about globalisation and its impact upon entity as the organisation is considering to expand in European markets.
Aim
"To identify the impact of Globalisation on increasing trade of goods and services across borders" A case study on Marks and Spencer
Objective:
To examine Concept of globalisation
To identify main factors behind increasing trade across borders of goods and services
To evaluate Relationship between globalisation and increasing trade of goods and services across borders.
Research Questions
What is the concept of globalisation?
What are the main factors behind increasing trade across borders of goods and services?
Define relationship between globalisation and increasing trade of goods and services across borders ?
P2 Project management plan
It is a primary source of data which is use in execution of project. It is major product of project planning phase which is very important to define, integrate, coordinate and prepare various activities that are related to planning (Sassen, 2018). This project defines manner in which a particular plan is executed, controlled, monitored and closed. It mainly helps every individual who is connected with that project to have access detailed information about it.
Cost:
This is the most essential factor while conducting the research as it provides the overall cost of carrying out all the activities of project in a structured manner. For conducting this research, the cost is ascertained to be approximately 15K.
Time:
Yet another important aspect for carrying out a research is time frame for the project. In relation to this, the time frame decided for this project is 6 months.
Scope:
It is an essential element of research as this gives an insight into the concept of globalisation and its impact upon the operations of company. Since Marks and Spencer is looking for carrying out expansion in European markets, thus this research provides a brief scenario of the route through which this will take place (Deresky, 2017). Also, conduction of this research will help in providing recommendations for any necessary changes that need to be brought in the plan.
Quality:
Marks and Spencer is provide high quality products to its retailers and customers while exporting all of its products in international market.
Communication:
In this, Marks and Spencer should build up positive relationship with Suppliers and retailers so that they can deliver best product to customers.
Risk:
The main risk which can occur during international trade is chances of theft as products are transported in bulk in operating which are very expensive. There are possible chances that it might be misused by anyone.
Resources:
Researcher have mainly used human resource as well as technical support in order to collect required details for completing this research in effective manner.
P3 Work breakdown structure and Gantt chart
Work breakdown Structure
The work breakdown structure is a process of dividing complex projects into manageable and simple tasks. There are some structure used by an organisation to illustrate work breakdown structure to their employees like tree structure or list and tabular structure. This structure helps an business entity in giving visibility to important and risky work efforts and it will also helps in illustrating the relationship between activities and deliverables (Croucher, 2018). It is a crucial step for an organisation to manage a project effectively and efficiently.
Also Read:
Gantt chart
It is graphical representation of duration of tasks. It is basically a type of horizontal bar chat which illustrates project scheduled. This chart includes start and ending dates and summary of particular project. Gantt chart contains various activities like start and end dates for tasks, project milestones, dependencies between tasks and individual assigned to each tasks. This chart is widely use in organisations for project management. Gantt chart befits companies for scheduling, monitoring, managing and monitoring of tasks and certain resources (Stromquist and Monkman, 2014). This chart help project manager to ensure that project is duly completed in given time frame.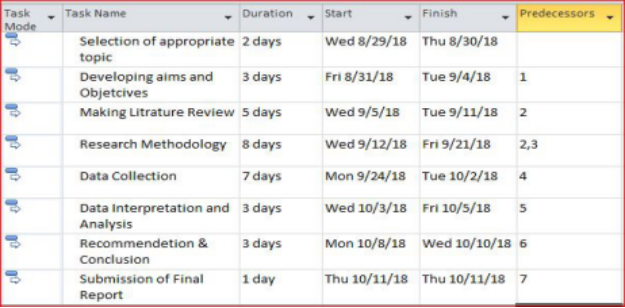 Task 2
P4 Research Methods
Primary research methods:
Primary data is a first hand information which is collected by investigator directly from its respondents. There are many methods of collecting primary data .i.e. questionnaire, personal interview and surveys. This data provides high level of accuracy to the researcher as data collected by an investigator is relevant in accordance with the research topic (PRIMARY VS. SECONDARY MARKET RESEARCH, 2017). It also gives an realistic view to the researcher for its research topic.
Secondary research method:
Secondary data is a data which is collected previously but used by the researcher in its current research topic. The secondary data is cheaper and faster to access as compared to primary data. It saves time, efforts and money of the researcher and also adds value to the research topic (Steger, 2017). This type of data is collected for different research purpose, which further used by investigators on its research topic.
Qualitative Research
This method of research are mainly designed to find out the behaviour and thinking of any set of target populations with reference to any particular topic. This research is basically concerned with understanding. Quality research beliefs on observance and flexibility. It is very complex to understand what human think hence, this method makes understanding of people much easier to evaluate and communicative. This mode of research simply allow to collect data from non numeric group and helps to make decisions with detailed judgement.
Quantitative Research
Quantitative research are high structured method which includes data like surveys and questionnaires. In this method there are closed ended questions and numerical data from which results have to be take (Meyfroidt and et. al., 2013). This method basically focus on describing on tendency of a population. This research uses collections of data, numbers to formulate any facts in