Introduction
Innovation refers to a process wherein multiple activities are conducted to redevelop the existing product in a unique manner or includes value addition to the goods and services so as to meet the need and requirements of consumers (Pound, 2013). The present report is based upon General Motors which is a multinational corporation that produces, develops and distribute vehicles and their parts. This report explores the innovation history of company. Also, it comprises of the existing innovation performance of enterprise together with the capabilities to engage in innovative practices in future. Besides this, it includes the industry overview.
The Organisation and its Innovation History
General Motors (GM) is a multinational company headquartered in Detroit, Michigan, USA. At present, enterprise render products and services in almost 35 countries. General Motors is the biggest American as well as one of the largest automobile manufacturers across the globe (Jurkovic and et. al., 2015).
During the period of first 50 years of company's functioning, General Motors invested heavily in bringing innovation at regular intervals. Thus, this company succeeded in designing and developing automatic transmission, high-octane leaded gasoline, electric starter, high-compression V-8 engine and manual transmission with synchromesh which facilitated easier shifting of gears (HISTORY OF GENERAL MOTORS TIMELINE, 2018). Besides this, the enterprise also carried out bulk manufacturing of cars which possessed easily replaceable components.
General Motors undertook Chevrolet in the year 1918. Chevrolet came up with a hi-tech car "Corvair" in 1960. This was the first American car which possessed air-cooled engine that comprised of aluminium (El-Refaie, 2013). Besides this, it was the exclusive vehicle which had independent suspension in all the wheels of car. In 1960, GM also became one of those vehicle manufacturers which strived to make use of computers and robots (cognitive computing) on the plant floor. In addition to this, General Motors installed the first industrial robot on one of its production lines in 1961. This robot used to make window as well as door handles, light fixtures, knobs that facilitate gear shifting and other essential hardware which are key components of car interiors.
GM launched Oldsmobile Toronado in the year 1966 which possessed a 7.0 litre engine and 385-gross-horsepower V-8 while it drove upon the front wheels of car. This was the most powerful front-drive car that was launched within the automotive industry (Helper and Henderson, 2014). In 1996, GM came OnStar which proved to be a massive success for company. This was an in-built communication system within the vehicles which provide amenities related to security, connectivity, emergency, navigation and Wi-Fi services.
In 2010, General Motors came up with Extended Range Electric Vehicle (EREV) which functioned in both the ways: EV mode (engine off) as well as extended-range mode (engine on).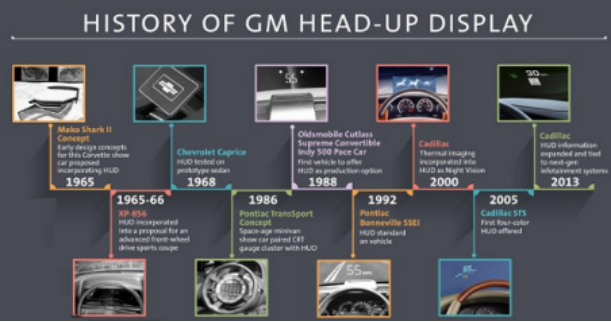 (Source: History of General Motors Timeline, 2018)
PESTLE Analysis
There are various factors present within the business environment of General Motors that act as drivers of innovation. These are discussed in brief below:-
Political:
The Research & Development department of General Motors is situated within US. With the passage of time, the Federal government of US have recognised the importance of encouraging companies to bring innovation and thus, facilitate the growth of such enterprises which come up with innovative products and processes. The government provides assistance by way of tax policies and regulations such as provision of R&D tax credits to private companies. Also, US Government does Direct Financial Investment in companies encouraging innovation such as GM which drives the organisation to further bring such innovations in future (Greer and Hauptmeier, 2012).
Economic:
The increasing growth rate of developing markets tend to create opportunities for General Motors to facilitate growth and expansion in such countries. Besides this, the major revenue generating markets for enterprise such as China, US etc. foster the company to bring rapid innovations within automotive sector.
Social:
The rising demand for luxury cars and SUVs tend to create opportunities for General Motors to bring up innovation in these vehicles. Further, the millennial population within the revenue generating countries look for cars and other vehicles with hi-tech features and
innovative equipments. This drives General Motors to continuously come up with such features and practices that facilitate safety and convenience of consumers.
Get Help in
Any Subject
Our intention is to help numerous students worldwide through effective and accurate work.
Technological:
With inflexion of time, automotive industry has also advanced. This strives to act as a driver for innovation within General Motors. In this regard, company was the first manufacturer to utilise robots as well as computers in operations.
Legal:
Adhering to laws such as Anti-trust law within Automobile manufacturing companies such as General Motors act as driver for the company to indulge in innovation while manufacturing cars and other vehicles (Dodgson, 2018).
Environmental:
Government supports those companies which engage in sustainable practice and recycling of waste, this acts as a driver for General Motors to indulge in innovative processes which ensure least harm to environment.
The Organisations existing Innovation Performance and Capabilities
General Motors is one of the leading vehicle manufacturing companies in the world. GM is ranked #10 on the Fortune 500 ranking as per the records of 2018. At present, enterprise is engaged in making use of advanced technology that can produce next generation light weight cars and other vehicles. This assists company in designing and developing such vehicles that emit zero emission.
Existing innovation performance
GM invest a large amount in Research & Development so as to ascertain the needs and preferences of customers and designing and developing such products that ensures maximum satisfaction of consumers. This helps the company in making use of such technology and processes that can facilitate the enterprise in bringing rapid innovations. General Motors carries out process innovations and makes use of Hybrid technology, Alternative Fuel Vehicles, Plug-In, etc. (Dodgson, 2018). In this regard, company's OnStar has been a pioneering innovation with more than 7 million subscribers today.
SWOT Analysis
It is a tool used by General Motors to analyse its present performance as well future capabilities to bring innovation within enterprise.
Strengths:
GM is working in Joint Venture with a number of local Chinese companies that help in reducing the number of market entry barriers and foster the growth of entity within China by way of indulging in innovative practices and processes with assistance from partner organisations.
General Motors has subscribed to Satellite technology. This indicates that all the cars and other vehicles manufactured and sold by company are equipped with this advance technology. This tool assists the customers in tracking the car in case of any emergency or theft.
One of the most innovative and unique products introduced by General Motors cars is a subscription based equipment named OnStar which is an all-in-one assistant that provides features like security, Wi-Fi, navigation etc. Company is capable of bringing more such innovations in near future so as to gain a high stake in market and become the leading automobile company across the globe.
Weaknesses:
U.S. is one of the most dominant revenue generating countries for General Motors where the cars and other vehicles manufactured by company is warmly accepted by the population largely due to the presence of innovative features and components. However, organisation has still not been successful in building such a brand position and image in other countries (Acharya, Schaefer and Zhang, 2015).
Over the passage of time, General Motors has been selling cars and other vehicles under the name of subsidiaries and other partner organisations. GM hasn't sold any car under its own brand name till now which is a major setback to innovation within the organisation as company has not been successful in gaining recognition for the same in industry and market. Company is capable of selling and distributing vehicles in its own name so as to gain high brand image across the globe.
Opportunities:
In present context, fuel prices are low which has increased the demand for SUVs significantly. There is a huge potential and scope for General Motors to come up with innovation in SUV so as to gain a high stake in market and foster business growth.
As the expectations of customers within automotive industry have increased, there is a huge scope for General Motors to come up with innovative features and components that can render a strategic edge to company over its rivals.
Threats:
Over years, General Motors has largely been involved in manufacturing such cars and other vehicles which possess less fuel efficiency. Due to a substantial increase in fuel prices, the demand for vehicles produced by company has decreased and customers are largely demanding hybrid technology and more fuel efficient vehicles.
The Industry
With the passage of time, the automotive sector has witnessed a lot of transformation. Last some years have seen innovation in cars with introduction of driverless cars, vehicle-to-vehicle (V2V) communication and Automated Manual Transmission (AMT) (Noble, 2017). Along with this, leading car manufacturers like Ford and Hyundai have launched a pre-collision assist as well as pedestrian detection technology. Besides this, luxury cars are equipped with swiveling bulbs which illuminate while they are around the corners of road (Acharya, Schaefer and Zhang, 2015). Auto-high beam system helps the drivers in other cars to restrain from blinding their view as well as giving maximum view to the driver inside luxury cars. In modern world, the competitive business environment provides opportunities for companies like General Motors to come up with innovative features and vehicles.
The analysis of automotive industry is done to gain knowledge of current and future innovation trends prevailing within the sector. Get Here Best Dissertation Help Services.
Porters Five Force Model
The threat of new entrants:
It is difficult for new companies to gain entry into automotive industry due to the large investment required as capital. Also, funds are required for re development of products and processes to come up with rapid innovation (Grandori, 2012). Also, automotive companies need skilled and competent employees to perform task which act as hindrance for new companies within this sector.
Bargaining power of suppliers:
This is related to the suppliers of car parts, tires, components, electronics and also include the assembly line workers (auto unions). Within US, the auto unions are immensely powerful which reflects that the bargaining power of suppliers prevailing there is quite high.
Bargaining power of buyers:
The bargaining power of buyers within automotive industry is quite high. This largely owes to the fact that buyers can easily switch to any other brand provided it renders the same innovative features at a lower cost (Goolsbee and Krueger, 2015)
Threat of substitute products:
There are a number of alternative modes of transport which can be utilised by people, however, none of them render similar comfort and experience as provided by self owned cars.
Competitive rivalry among existing players:
There is immense competition within automotive sector due to the presence of large number of well established firms that offer high quality vehicles with innovative features. Any enterprise that brings rapid innovations with the aim to fulfil needs and demands of customers have an edge over rivals in marketplace.
Conclusion
From the above report, it has been concluded that innovation is an optimum tool by which company can gain a competitive edge in marketplace. Also, PESTLE analysis has been used to determine the factors that act as drivers for innovation within the company. Besides this, SWOT analysis is conducted by enterprise to gain an insight into the internal environment of company with respect to innovation. The overview of industry is given with the help of Porters Five Force Model to ascertain the scope for new entrants within automotive industry.
References
Helper, S. and Henderson, R., 2014. Management practices, relational contracts, and the decline of General Motors. Journal of Economic Perspectives. 28(1). pp.49-72.
Noble, D., 2017. Forces of production: A social history of industrial automation. Routledge.
Goolsbee, A. D. and Krueger, A. B., 2015. A retrospective look at rescuing and restructuring general motors and chrysler. Journal of Economic Perspectives. 29(2). pp.3-24.
Dodgson, M., 2018. Technological collaboration in industry: strategy, policy and internationalization in innovation. Routledge.
Greer, I. and Hauptmeier, M., 2012. Identity work: Sustaining transnational collective action at General Motors Europe. Industrial Relations: A Journal of Economy and Society. 51(2). pp.275-299.
Jurkovic, S. and et. al., 2015. Induction machine design and analysis for general motors e-assist electrification technology. IEEE Transactions on Industry Applications. 51(1). pp.631-639.
El-Refaie, A. M., 2013. Motors/generators for traction/propulsion applications: A review. IEEE Vehicular Technology Magazine. 8(1). pp.90-99.
Acharya, V. V., Schaefer, S. and Zhang, Y., 2015. Liquidity risk and correlation risk: A clinical study of the General Motors and Ford Downgrade of May 2005. The Quarterly Journal of Finance. 5(02). p.1550006.