Introduction
Project management can be referred to as the set of processes comprising of initiation, planning, formulation, monitoring, controlling and closure of work in a manner that results in attainment of organisational goals and objectives in the specified time limit. The biggest challenge in this framework is to ensure that the projects goals are attained within the stipulated resources and constraints (Conforto and et. al., 2016). This coursework is based on QAHE (QA Higher Education) which has recently carried out refurbishment of their teaching rooms and computing labs in Manchester, Birmingham and London. This has been done so as to ensure that students have access to high quality learning in regards with trending and latest technologies. They are launching an event to gain attention of a larger quantum of students. This report comprises of details about initiation of project, analysis of stakeholders, work breakdown structure (WBS) and risk register. Also, it includes a short report on qualities of leadership and sponsors to invest in upcoming event.
TASK 1
a) Project initiation document (PID)
This is one of the most significant as well as relevant aspects in project management which lay the foundation of any project. In general terms, it can be assumed to be a reference point amidst the whole project for the assistance and consideration of both the project team and client (Gauthier and Ika, 2012). This document tends to combine the data which is obtained as a result of initiation of a project and initiatives that have been taken within the project process in a Prince2 dominated environment. A short summary of this documentation is devised in the starting phase of a project and it is rendered to all those who possess an interest and willingness in gaining knowledge about the details of project in the form of a number of parameters and methodology utilised. Project Initiation Document (PID) comprises of information associated with breakdown of finance, objectives, timescale, budget, approaches etc. In relation to the event which is planned to be organised by QAHE, the PID has been given as follows:-
Title of project

Launching of an event

Estimated budget

Managing Director who is represented on the project by Director of operations has provided around £50,000 for the launch of upcoming event to promote the activity of refurbishment that has been done in the computing labs and teaching rooms.

Brief break down of money

·Locale: £18000

·Equipments: £13000

·Decoration: £6000

·Food: £8000

·Amusement: £5000

Start date

1stSeptember, 2019

Finish date

5thSeptember, 2019

Project Sponsor

Managing director of the University

Project manager

Main objectives (short list of key business related with why project is being undertaken)

·Extensive advertisement to create awareness among large quantum of students about the University.

·Promote the refurbishment of teaching rooms and computer labs amidst the pupil of London, University.

·Make this university more well renowned

·Gain a strategic as well as competitive advantage over other universities providing the same course.

·Successful and feasible execution of the upcoming event.

Overall suggested approach (some essential points in description of how objectives can be attained)

·Designing and development of an optimum strategy

·Execution of effective strategies to assist in launch
·Updation of the news about upcoming event on university's website
·Launch of event to create awareness amidst students
Reference(s)
b) Stakeholder analysis
Stakeholders

Why they are fascinated about project

Why they are not investing in project

What made them associated with the project

Alumni

These personnel are enthusiastic about the upcoming event as with this, they have the chance to visit the university again and relive old memories. Also, they are interested in gaining an insight into the initiatives that are being undertaken by the institution to enhance the quality of education imparted to students.

They have not done any investment in upcoming event as they are not currently studying in the universities and further will not be there to derive the benefits of utilisation of latest technologies and techniques for enhanced learning experience.

These pupil are associated with the project as they have been fascinated to gain knowledge about the initiatives that are being undertaken by the university to enhance the quality of education (Greiman, 2013).

Suppliers

For managing and organising any event, management of University would require certain resources which they will have to procure from suppliers. These resources will assist them in making sure that the event is effectively executed within the stipulated budget.

Suppliers are not doing any investment in this project in the form of finance but they are investing in terms of provision of resources required for execution of the event.

They are associated with this project as they are going to get money in return for the resources they have provided to project manager.

Sponsors

Sponsors have keen interest in the project as they are the ones who possess the opportunity to promote and advertise their offerings to a large number of people. They can significantly grow and acquire a larger market share if they feasibly grab the sponsoring opportunity (Glukhov, Ilin and Levina, 2015).

These are the personnel who have done massive
investment in the project with the sole motive of promoting their unique offerings in public.

They are a significant and essential component of the upcoming event as they have the objective to create awareness among population about the products and services offered by them in marketplace. With this, they may be successful in enhancing their current base of customers.

Students

They are an important and significant part of this University and as past some years have not witnessed any sort of refurbishment so they are keen to know and experience the new and tech way of academic learning.

Students are part of the university only for a specified period, till the time they are taking education by way of course in university, thus they have not done any investment.

Students are associated with this project as they are the ones who will be entitled to receive the benefits of the unique and latest techniques that will be used to enhance the academic learning process.

Faculty

The staff possess a keen interest in the upcoming project as they will make use of latest tools and techniques to enhance the standards of academic learning(Hällgren, 2012).

They are not investing in this project as they will not be deriving any benefits from the upcoming project.

They are associated with this project as they are rendering education to students within this University.
TASK 2
Risk Register
When an event is managed and organised, there is a large scope that project manager may have to face certain hurdles or barriers that tends to hinder the feasible execution of project. These are commonly referred to as risks. Risk register is the documentation of all the identified risks in relation to an event. In relation with QAHE, they are coming up with an event so as to create awareness among population regarding the refurbishment done by them within the computer labs as well as teaching rooms. In context with this event, risks which are probable to be associated are discussed below:-
S. No.

Risk Description

Probability

Consequence

Owner

Mitigation

Contingency

Pre action weighting score (10)

Post action weighting score (10)

1

Improper management of budget may result in over costing.

High

High

Managing Director

Keep excess money for dealing with adverse conditions in suitable manner

Devise a back up plan for reducing the chances of project failure

9

7

2

In case the planning is not carried out in an effective manner, it may create discrepancies in the schedule (Klein, Biesenthal and Dehlin, 2015).

Nominal

Minimal

Project manager

Maintain cooperation and coordination with organisers.

Try to do management of the event in the stipulated time for event.

8

6

3

Over years, they have been making use of traditional tools but now the y are opting for latest technology. In this case, inadequate or insufficient knowledge can create risk.

High

High

Operations Director

Gain high knowledge of the tools which are going to be installed within the university premises.

Hire a specialist who can effectively present the techniques to people.

10

9

4

Inadequacy of resources owing to lack of funds (Madter, Bower and Aritua, 2012).

High

High

Managing director

Partner with more sponsors so as possess adequate funds at all times.

The funds should be first utilised for primary resources and then used for secondary requirements.

7

4

5

Operational risk s can take place during execution of event (Seymour and Hussein, 2014).

Moderate

Reduced

Technical staff

Coordinate and cooperate with every member that isProject management can be referred to as the set of processes comprising of initiation, planning, formulation,a part of this project

Optimally utilise each strategy taking into consideration all the related aspects.

8

4

6

Any kind of change in governmental policies and procedures before event launch may cause risk to its success.

Low

Marginal

Project manager

Constant attention should be given to government policies.

Before plans are build they must consider all rules of government.

7

5

7

A delay in supply of adequate and necessary resources may cause delay in execution of project

High

Medium

MD

Ensuring proper inventory management prior to the initiation of this event.

Maintaining healthy relation with suppliers to keep adequate stock for the launch of event.

9

6

8

Safety risks should be given top priority

Average

Broad

Manager of

project.

Consider all issues which have occurred in past.

Keeping security guards and calling police in case of any emergency (Sharp, Peters and Howard, 2017).

9

7

9

Risk of low management

Low

Minimal

Project manager

If activities are not managed effectively and efficiently, then the project execution will get delayed which will have an adverse impact.

Carry out rehearsals so as to ascertain the average time required for execution of each activity.

8

4

10

Risk of Murphy's law which states that anything can go wrong (Spalek, 2013) .

Moderate

Medium

Project manager and personnel associated with event

Doing brainstorming to evaluate the adverse outcomes in advance.

Conducing risk assessment procedures prior to planning of event.

8

7
TASK 3
Work break down structure (WBS)
This refers to the breakdown of activities in small tasks in order to make sure that work is completed in a timely manner.This provides assistance to project managers to achieve the goaols of project within the stipulated time frame(Stellingwerf and Zandhuis, 2013). With the help of this, project can be easily carried out and distributed amidst the team. It provides the overall outline of the project that makes it easy for leaders to work in an effective manner.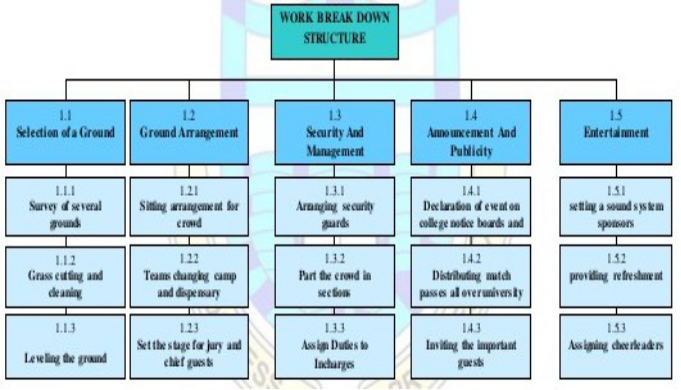 Work Breakdown structure of Launch of Event within University
Life cycle of event of QAHE is 5 days in September during Freshers' week. Within this time, focus is on the below mentioned activities:
Marketing: It is imperative for QAHE to execute such strategies which can assist in making people aware about the upcoming event. Advertisement in newspapers, social media, TV are some of the ways.
Research: Marketing and promotional strategies will provide assistance in terms of putting focus upon target audience inclusive of students, alumni.
Quality: This acts as a key component for determining whether the event will be successful or not.
Financing: It is one of the most crucial aspects that should be taken into account to ensure the successful organisation of event within the set time frame.
Tasks that are specified above can be executed by breaking them into subtasks which are given below:-
Marketing:To gain attention of large quantum of people, it is imperative to make use of latest tools, techniques and technologies through which students can acquire knowledge. QAHE must adopt optimum strategies to fascinate a large base of candidates. For this, they can provide students access to demo inclusive of visit to classrooms in University (Conforto and et.al., 2016).
Quality: It is essential for management of university to manage the quality of facilities as it's a large event and will have a significant impact on the image of University.
Financing: Budget for the event is approximately£50,000. Further, sponsors can assist in rendering extra financial assistance for this event.
Research:This should be conducted prior to the launch of an event. This will assist in gaining an insight into the behavioural characteristics of the target audience (Gauthier and Ika, 2012).
Milestone
In context of QAHE, WBS is associated with the promotion and marketing activities. Ten milestone for this event is set to gain the attention of over 15,000 students.
TASK 4
Short report
This report has been presented to Director of Operations in accordance with a number of aspects which are specified in the report below:-
Project Report
QA Higher Education has done refurbishment of teaching rooms as well as computer labs in premises at Birmingham, London and Manchester. They are planning to launch an event to create awareness among students. The major focus of this report is to ascertain the value of leadership and other methodologies which can assist in managing the project.
Get Help in
Any Subject
Our intention is to help numerous students worldwide through effective and accurate work.
Importance of Strong Leadership:
For successful execution of project, this is essential that a strong leadership is put into action. The aim of this University is to market the changes that have been brought in the premises (Glukhov, Ilin and Levina, 2015). It is imperative for project manager to be patient enough to be able to achieve the milestones set for the event. Furthermore, a team leader will be able to effectively manage the responsibilities associated with event and team.
Methodologies:
Waterfall, Prince2 and agile are some methods which can assist in management of project of QAHE. Life cycles and scope of project can not be ascertained within Agile methodology. In waterfall, each step can be mapped indicating the flow of progress at each stage. It helps in appropriate documentation and determination of secondary solutions. In case any change occurs then each phase has to be devised again indicating that it is time-consuming. Prince2 is a customisable management technique which assists in gaining stipulated outcomes, however it is not suitablewhile executing small projects (Greiman, 2013).
Recommendation:
As it is a large scale event, it is recommended to adopt Prince2 methodology as this technique provides the choice of customization depending upon the requirements of event and project manager.
Conclusion

From the above discussion, it can be concluded that project management is necessary for executing the project in a desirable manner. Besides this, it is essential that the activities of the project are broken down into smaller components by making use of a work break down structure that assists in ensuring that work is being carried out in accordance with set targets. Further, it is essential that the project manager ascertain the risks in order to make sure that the success of project is not hampered.
REFERENCES
Conforto, E. C., and et.al., 2016. The agility construct on project management theory. International Journal of Project Management. 34(4). pp.660-674.
Gauthier, J. B. and Ika, L. A., 2012. Foundations of project management research: an explicit and six‐facet ontological framework. Project Management Journal. 43(5). pp.5-23.
Glukhov, V. V., Ilin, I. V. and Levina, A. I., 2015. August. Project management team structure for internet providing companies. In Conference on Smart Spaces (pp. 543-553). Springer, Cham.
Greiman, V. A., 2013. Megaproject management: Lessons on risk and project management from the Big Dig. John Wiley & Sons.
Hällgren, M., 2012. The construction of research questions in project management. International Journal of Project Management. 30(7). pp.804-816.
Klein, L., Biesenthal, C. and Dehlin, E., 2015. Improvisation in project management: A praxeology. International journal of project management. 33(2). pp.267-277.
Madter, N., Bower, D. A. and Aritua, B., 2012. Projects and personalities: A framework for individualising project management career development in the construction industry. International Journal of Project Management. 30(3). pp.273-281.
Seymour, T. and Hussein, S., 2014. The history of project management. International Journal of Management & Information Systems (Online). 18(4). p.233.
Sharp, J. A., Peters, J. and Howard, K., 2017. The management of a student research project. Routledge.
Spalek, S., 2013. Improving industrial engineering performance through a successful project management office.
Stellingwerf, R. and Zandhuis, A., 2013. ISO 21500 Guidance on project management–A Pocket Guide. Van Haren.
Vanhoucke, M., 2014. Integrated Project Management and Control. Springer. Doi. 10.pp.978-3.