Chapter 1- Introduction
Overview of the Research
This dissertation is based on experiences of parents whose children have been hospitalised for a very long time. It is quite stressful for parents to witness such an event and seeing their child in pain enhances feelings of despair, depression and pain. Parents witness a significant and high level of distress and in some cases, clinically harmful levels of post-traumatic symptoms. Long-term suffering of their child have a tedious and excruciating impact on the emotional facet of the parents as well. Such a high levels of nervousness and tension causes long-term, and sometimes permanent, exasperation. This kind of negative behaviour amplifies when the child is younger than 5 or 6 years. Hospitalisation of child induces negative changes in lives of parents and drastic shift in their daily routine. The key aspects in this dissertation are parents, hospitalisation, diseases, care home, medical treatment, child professionals, etc.
Definition of Key Terms
The dissertation is based on experiences of parents who have witnessed long term hospitalisation of their child. There are various key terms which are required to be defined. These terms are mentioned below:
Parents:These individuals brings forth or begets offspring. They nurtures and raise their children and provide extensive and selfless care to them. It includes people who biologically reproduce children and those who are given responsibilities to parent a child. It could include foster and adoptive parents.
Diseases:This refers to the condition which induces illness and abnormal and harmful physical symptoms within an individual's body. These have negative effects on a person's body and have vile characteristics which requires immediate medical attention.
Hospitalisation:This term refers to a condition where individuals suffering form illness or disease gets admitted to a health care centre or hospital to receive adequate medical treatment for that illness.
Medical Treatment:It means the care and management where medical professional tends patients to help them combat with a disorder, illness, disease. For parents whose children suffers from a disease or serious medical condition sometimes are reluctant to go beyond a certain level of medical treatment seeing risks and cost of the same.
Care Home:These organisations or institutions are associated with providing effective care and fulfilment of needs of individuals who are either orphans or somehow have failed to acquire a shelter for themselves.
Incidence and prevalence / statistics
Hospitalisation of children adversely and negatively impact the parents' emotional and physical well-being. It is that sort of experience which induces fear and negative levels of anxiety within an individual. Recent studies reveal that the child hospital stays in England are rising. From past decade, the admission of infants have increased by more than 50% as compared to the last decade. There have also been substantial increase in the admission rate of children aged between one and four to about 25% (Child hospital stays 'keep rising', 2019). In addition to this, with hospitalisation of children, parents tend to be quite disturbed and distracted in finding balance between their routine and the issues associated with their child. Another analysis denote that almost 40% of parents experience high level of anxiety even after 3 months of discharge of their child (Parental anxiety and stress during children's hospitalisation, 2011). Substantial stress levels along with anger and pessimism are the impacts on parents experiencing hospitalisation of their offspring.
Relevant Policies and Guidance
In recent times, there are various guidelines and policies set out for providing effective child care and support provided to them. With enhancements in awareness in recent times, the government of the UK is carving out more appropriate and systematic guidelines to ensure better health of children. In other words, the government and few organisations are taking initiatives which could contribute in betterment of children's health. For instance, the government of the UK is paying more attention towards pollution which could cause asthmatic and lung infections in children. Moreover, food production regulations by the government also indicates various guidelines which emphasize on quality production of food items provided to children without added preservatives or food colouring. Such guidance and effective policies would focus on preventing any sort of condition that could cause serious illness or diseases in children.
Summary of Existing Literature
As per the view points of Wray J., and et. al. (2019), parents tend to receive high level of stress during hospitalisation of their children. In addition, hospital service tend to influence as to how these parents cope with the condition of their child. Majority of parents experience anxiety at clinical levels and their condition remains the same even after months of discharge. They tend to be pessimistic and feel uncertainty regarding the illness. Such characteristics indicate worsening of physical and emotional condition of parents whose children are hospitalised. However, there are various interventions are made to increase coping of parents during the hospitalisation of their child.
Rationale of the Research
The above reviewed literature brings out the experience of parents throughout and even after the time their children have been hospitalised. This research covers a very wide area of research where the emphasis would be completely on the experience of parents. Moreover, diseases will also be highlighted which causes such long-term hospitalisation. This research would be useful to gather initial warning and symptoms which require immediate medical attention to reduce the possibility of such long span of hospitalisation. It would also be helpful for individuals who seek to develop the professional criteria for learner in Health Care.
Development of Research Question
What are the experiences of parents/carers whose child has required long term hospitalisation?
Aims and Objectives
Research Aims
To understand parents/carers experiences of their child's long term hospitalisation.
To analyse the impact long term hospitalisation has on parents/carers.
Research Objectives
To improve the experience of long term hospitalisation for parents/carers in future practice.
To evaluate the effectiveness of current practice and support networks available to parents/carers whose child has experienced long term hospitalisation.
Chapter 2- Methodology
After brief introduction, the next step requires the researchers to identify and determine the methodologies used throughout the dissertation, its critical evaluation tool as well as method of analysis.
Search Strategy
Formulation of Key Terms
Each question has several key terms which are required to be identified for gaining a better understanding of the subject matter. It is imperative that the question is well focused for researcher to determine appropriate and effective resources as well as search for relevant and applicable evidence. For this specific issue, the framework that would serve quite appropriately for the research would be PICO framework. This term stands for: Population, Intervention, Comparison and Outcome. The framework is utilised to identify evidence-based practice resources. For the current research question. After identification of each key term, it is also imperative to find alternative terms for those words which are wild cards and truncations. While the former is used for alternate spellings, the latter is used for alternate endings.. The PICO framework is analysed below:
Research Question: What are the experiences of parents who have witnessed long term hospitalisation of their child?
POPULATION

INTERVENTION

OUTCOME

Parents

OR

Father

OR

Mother

OR

Carer

OR

Guardian

AND

Long-Term Hospitalisation

OR

Medical Intervention

OR

Rest

OR

Exercise

AND

Experience

OR

Perception

OR

Observation

OR

Understanding

OR

Judgement
It is crucial to determine Boolean operators within the PICO framework as it helps to effectively narrow down the research and make it more effective for researcher to gain a better understanding.
Databases
Databases used for researches provide effective insight to researcher to better perform the activity with utmost professionalism and ease, gathering only those information which is relevant and necessary for the research. For the same, EBSCO host platform has been utilised to determine databases which could help in conducting effective and timely research (Calvert, 2015). CINAHL and Mediline were the two databases that have been taken into consideration to gain an insight about the experience of parents whose children suffer from long-term hospitalisation. Both of these databases have ample amount of medical journals which provide relevant and effective information on various resources. With such abundance of medical literature present in these databases, it becomes quite efficient to gather relevant information regarding the research. The most contributing aspect of these databases is that information are timely updated for users to find the most recent and reliable information regarding their research topic.
Additional Search Strategies
Another type of strategy which has been used in this dissertation is Phrase Searching. It is a quite effective strategy where researcher could search their relevant research topics by using two or more words as phrases. This method is very crucial in case something specific has to be researched.
Inclusion and Exclusion Criteria
Within every research, it is of vital importance that only those information be included which is reliable, relevant and authenticated. A very strong reason for choosing such type of information is that it helps in keeping a narrow focus and the research does not deviate from its objectives. Thus, it is necessary for every researcher to segregate criteria that are either to be included in the research or excluded from the research (Hadi and Closs, 2016). Doing so would further ease researcher's work of gathering relevant information. These criteria for the research is mentioned below:
| | | |
| --- | --- | --- |
| INCLUSION | EXCLUSION | RATIONALE |
| Research emphasised upon long-term hospitalisation of children | Research focused upon long-term hospitalisation of adults. | It would ensure that only information related to hospitalisation of children are taken into consideration. |
| Published between 2010 to 2017 | Published before 2010. | Information beyond 2010 is more recent and relevant as per the requirements of research. |
| Qualitative Information | Quantitative Information | Since the research is about experience of parents whose children have been long-term hospitalised, qualitative research would result better in covering a broad subjective area. |
| Articles in English | Articles in other languages | It could be very hectic and tough for the researcher to translate the articles into English which would reduce the scope of effective information being gathered for the research. |
Critical Evaluation
Critical Evaluation refers to a process which considers both positive and negative aspects of research in order to effectively bring out the best material and information forward which is essential for the research to be reliable, relevant and effective. It requires the researcher to be analytical and not mere descriptive. Being analytical needs all the strengths and weaknesses of research effectively evaluated for enhancing its understandability and applicability by completely removing those weaknesses. There are several critical appraisal tools available which could help the research to be utmost effective and rightfully applicable. It is crucial for researcher to choose the tool which increases scope of the research to be informative and helpful in nature. For the same, appraisal tool appropriate for this research is Critical Appraisal Skills Programme (CASP), which would provide a framework for the researcher to enhance the quality of information and appraise all the relevant and reliable aspects of the overall data. This tool is very effective as it provides diversified methods to critically evaluate the research such as checklist for the researcher to conduct a systematic review of their research.
Method Of Analysis
Various methods and aspects are being used in this research to effectively fulfil each requirement. It is crucial to choose the most appropriate method of analysis in order to effectively carry out the research in a systematic manner. For the same, thematic analysis is being used to combine and align the findings for this dissertation. This is because it is an effective tool to derive a pattern and a flow from research findings (Braun and et. al., 2019). With a cluster of effective methods, this analysis is very flexible which further enhances its applicability. Within this analysis, inductive method is being utilised which would allow the researcher to develop contributing themes from the researched information in ways which could contribute in conduction of appropriate research.
Get Help in
Any Subject
Our intention is to help numerous students worldwide through effective and accurate work.
PRISMA Flow Chart
This flow chart clearly describes the stages through which information is gathered and analysed effectively. It describes each stage of collecting information from identification of crucial information to its induction. PRISMA flow chart enables researcher to describe the flow in which each article is read, screened and deemed eligible.
For this research, the PRISMA Flow Chart is described below:
CASP Checklist
Refer to Appendix- 1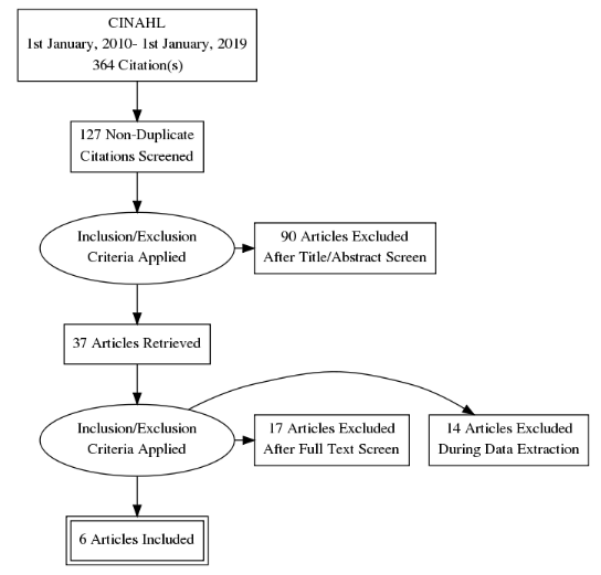 Chapter 3- Findings
Within any research, it is quite imperative to determine the most relevant information that could satisfy the research aims and objective and helps in including the most appropriate type of information necessary to carry out the research as per the pre set requirements (Noble and Smith, 2015). For experiences of parents during long-term hospitalisation of their children, more than 350 articles were screened throughout the information gathering process from which each article was rightfully screened, some of which were able to provide the most appropriate information. Ultimately, their eligibility was judged and only those articles are used which effectively provides information related to the research topic. Choosing appropriate information for the research effectively helped in performing in-depth analysis which could appropriately fulfil its agenda.
Study Characteristics
These characteristic enables appropriate and systematic segregation of the information gathered and methods used to collect them. It is an imperative practice which is crucial for the researcher to present relatable and relevant information which could be used to determine various aspects related to this research.
While most of the identified articles used qualitative methods like structured interview and synthesis, one article used numeric and quantitative approach to effectively give accurate and statistical information about the research study. It is crucial to conduct effective research which could satisfy research criteria and could be used systematically to use this for future studies.
Article Summary Table
Authors and Study Title

Date and Country

Objectives

Methods

Sample

Findings

Strengths and Limitations

Franck, L.S., and et. al., 2015. Predictors of parent post-traumatic stress symptoms after child hospitalization on general paediatric wards: a prospective cohort study. International journal of nursing studies. 52(1). pp.10-21.

2015,

San Francisco, United States; London, United Kingdom

The aim of this study was to identify the predictors or factors which induces post-traumatic stress symptoms followed after child hospitalisation

Standard questionnaires have been used to determine and identify the distress levels following hospitalisation of their children. In addition, correlation as well as multiple regression have been utilised to identify as to whether distress of parents and coping strategies as well as resources predicted PTS symptoms after 3 months of discharge of their