Introduction Of Swot Analysis
Assessing financial performance of an entity is essential in order to gain competitive advantage over rivals. British Airways has been selected for this project report in order to make SWOT analysis on the financial performance of this entity (British Airway, 2017). This focuses on ratio analysis which defines financial issues faced by the firm.
Background
British Airways is counted among the largest airlines in United Kingdom in terms of Fleet size which will carry a large base of customers in the same flight. This airline was established with the cooperation provided by government of UK. This airline managed to segment their whole firm into two divisions with the financial support enjoyed by this entity in order to get competitive advantage over its rivals who are operating in the same stream. British Airways will later on get the support of four different companies in enhancing their financial and the operational performance. (Ismail and Jenatabadi, 2014). Companies which were merged with British Airways include British Overseas Airways, British European Airways, Cambrian Airways and Northeast Airways. This merger will showcase the ability of current entity who got financial and the personnel support from all these organizations. The airport hubs that are currently under this business are Gatwick and Heathrow that are the most famous airports of London.
Ratio analysis
It is one of the important tools used to assess existing financial strengths and weaknesses of this entity by comparing their performance with previous year's facts and the figures. The ratio analysis will emphasize on different categories such as profitability, liquidity and efficiency as well as solvency ratios to identify existing weaknesses which can be covered up by the strengths of an organization in order to beat variety of rivals who are posing threats externally. This tool will also help in assessing the financial statements framed by an enterprise such as income statement and balance sheet (Swaminathan and et. al., 2014).
Table 1: Calculation of profitability ratios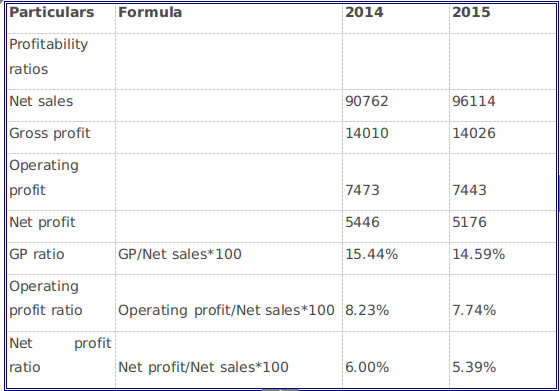 Profitability ratios-
Income statements are assessed to analyze the profit earned by an entity by conducting their business operations. Expenses incurred in business will reduce the overall profit of business (Appelbaum, 2015). There are different categories of profitability ratios which are given as below:
Gross profit-
This kind of profit is the raw profit which is generated after meeting cost of sales from the main figure of sales generated in a year after making higher efforts in the selling of goods and services. Ratio is increasing over the period due to less effect of cost of sales as British Airways have back up support of government who can access resources from the government fund which reduces its purchasing needs (Moss Ryan and Moss, 2016). The resources can be taken on a lease as fleets are not purchased by British Airways every year which decreases its overall purchase.
Operating profit-
The profit produced after meeting operating expenses includes selling and distribution, general administration expenses deducted from the gross profit generated over the years. The ratio is decreasing which shows that selling and distribution expenses increase over the years as thus, British Airways need to promote their services to gain interest of several customers (Ismail and Jenatabadi, 2014 ). Lounge services are provided by this entity to all their customers who wait on the airport in via flights.
Net profit-
This is complete profit taken into consideration by the business in order to compare strengths of this entity in relation to external firm. Current profit achieved by corporations over the period by excluding taxation amount from profit generated by this entity which decreases the overall profit. This is decreasing over the years as in the government organization, there is no deduction of taxes but the royalties and securities deposited by this firm to government out of total profit earned by them over the years.
Suggested: All Required Factors of Business Entity for an Organization
Financial issues (Weaknesses)
There are various issues discovered by this ratio analysis which are given as below:
Higher operating expenses incurred by this entity in order to market their services among variety of audiences.
Royalties and security deposit paid by an entity to the government of United Kingdom which reduces their final profit.
Strengths of British airways on the basis of Profitability ratios
Higher gross profit shows increased generation of sales and revenue generated by an entity over the years.
Additional services are provided to facilitate tourists to feel comfortable while availing services of these airlines (Barua and Saha, 2015).
Higher sales will show increased customer base achieved by the entity which raises their sales level and enhances the brand image of business.
Threats
Increasing royalty can reduce the profit of this entity.
Reducing prices will reduce the customer base.
Opportunities
Maintain the current situation in the market
Table 2: Calculation of liquidity ratios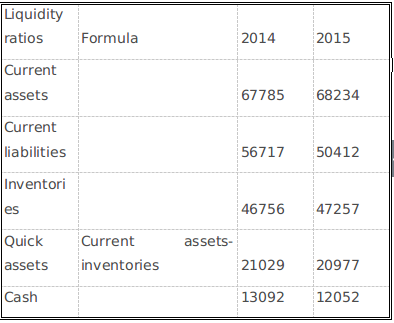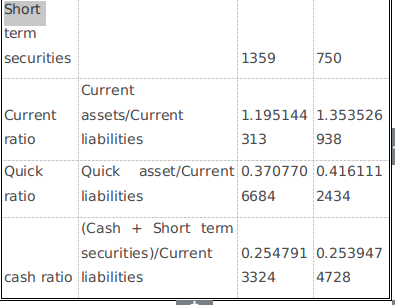 Liquidity ratios-
The liquidity of an organization is showcased by storing cash for long time in an organization in order to payback the short term obligations.
Avail Our Service: Essay Writing
Current ratio-
The current assets are assessed in proportion to current liabilities incurred in an enterprise. Current ratio is increasing over the years which reflected an entity's ability to meet their obligations.
Quick ratio-
The current assets are analyzed by excluding inventory amount as this will not get converted easily into cash (Saeidi and et. al., 2015). Increasing quick ratio will judge current ability of an entity in order to meet the future obligations in terms of quick liabilities.
Cash ratio-
This assesses the cash held with an entity for a specific period to reduce the liquidity trap which restricts potential of the firm. This will involve short term securities and the cash which is compared with current liabilities. There are constant efforts applied by the firm which results into same ratio over the period (WisCombe and et. al., 2016).
Financial issues (Weaknesses)
Insufficient cash
Deficiency lies in the assets that is fleet size of carriers
Strengths of BA in terms of Liquidity ratios
Current assets is reducing current liabilities
Cash available to meet the survival goals
Threats
Opportunities
Investing in new airlines
Table 3: Calculation of Solvency ratios

Solvency ratios- Debt to equity shows the significance of equity over debt component held in business of British Airlines (Cave and et. al., 2013). Ratio is decreasing which shows the burden of debt which suppresses the quality of equity
Get Help in
Any Subject
Our intention is to help numerous students worldwide through effective and accurate work.
Financial Weakness
Debt will impose burden of paying interest to the borrowers.
Created difficulties in the capital structure
Strengths of British Airways
Reduced dividend
It increases profit to be earned by an entity.
Threats
It increases the risk of debt trap.
Opportunities
Profit can be maximized by balancing debt and equity component in the firm.
Table 4: Calculation of efficiency ratios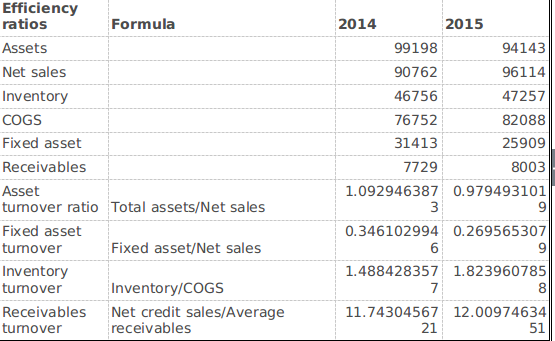 Efficiency ratios
Asset turnover-
This ratio identifies the contribution of assets in generating higher sales such as use of cash in marketing of products. This ratio is decreasing due to less involvement of assets in generating higher sales.
Fixed asset-
This shows the specific use of fixed assets which is plant and equipment exist in the business in form of aircraft which helps in transporting customers from one place to another (Merkert and Pearson, 2015). This is reducing which is fruitful for an entity.
Inventory turnover-
Inventories are used in generating sales as this shows the use of inventories repeatedly in producing higher amount of sales.
Receivables turnover-
This is increasing that depicts the usage of assets in creating additional value for an entity.
Financial issues (Weakness)
No involvement of assets
Strengths in relation to the Efficiency ratio
Optimum utilization of inventories
Getting monetary support from customers
Threats
Decreasing brand image of an entity
OpportunitiesDeficiency in business areas will be rectified by beating existing rivals.
Return on total assets
Stability shows that this entity has applied no efforts in increasing their current status from the figures of previous year.Compound growth
The growth rate of British Airways is around 3.7% which is compounded on various factors such as revenue and the employee. This is a collaborative rate which considers all the compound rate of multiple periods.
Conclusion
It can be concluded from the above report that the current financial performance of British Airlines is strong enough but still require further improvement. It has been assessed that weaknesses in the form of financial issues will help an organization to curtail negative aspects by using positive things.
References
Appelbaum, E., 2015. High-performance work practices and sustainable economic growth. EPRN.
Barua, S. and Saha, A.K., 2015. Traditional Ratios vs. Cash Flow based Ratios: Which One is Better Performance Indicator?. Advances in Economics and Business. 3(6). pp.232-251.
Cave, J. and et. al., 2013. International travel and leisure company performance: Key yield ratios. CAUTHE 2013: Tourism and Global Change: On the Edge of Something Big. p.69.
Ismail, N.A. and Jenatabadi, H.S., 2014. The influence of firm age on the relationships of airline performance, economic situation and internal operation. Transportation Research Part A: Policy and Practice. 67. pp.212-224.
Merkert, R. and Pearson, J., 2015. A non-parametric efficiency measure incorporating perceived airline service levels and profitability. Journal of Transport Economics and Policy (JTEP). 49(2). pp.261-275.
Moss, S., Ryan, C. and Moss, J., 2016. Airline Quality, Load Factors and Performance.Journal of Management Information and Decision Sciences. 19(1). p.68.