Introduction Of Swot Analysis
Assessing financial performance of an entity is essential in order to gain competitive advantage over rivals. British Airways has been selected for this project report in order to make SWOT analysis on the financial performance of this entity (British Airway, 2017). This focuses on ratio analysis which defines financial issues faced by the firm.
Background
British Airways is counted among the largest airlines in United Kingdom in terms of Fleet size which will carry a large base of customers in the same flight. This airline was established with the cooperation provided by government of UK. This airline managed to segment their whole firm into two divisions with the financial support enjoyed by this entity in order to get competitive advantage over its rivals who are operating in the same stream. British Airways will later on get the support of four different companies in enhancing their financial and the operational performance. (Ismail and Jenatabadi, 2014). Companies which were merged with British Airways include British Overseas Airways, British European Airways, Cambrian Airways and Northeast Airways. This merger will showcase the ability of current entity who got financial and the personnel support from all these organizations. The airport hubs that are currently under this business are Gatwick and Heathrow that are the most famous airports of London.
Ratio analysis
It is one of the important tools used to assess existing financial strengths and weaknesses of this entity by comparing their performance with previous year's facts and the figures. The ratio analysis will emphasize on different categories such as profitability, liquidity and efficiency as well as solvency ratios to identify existing weaknesses which can be covered up by the strengths of an organization in order to beat variety of rivals who are posing threats externally. This tool will also help in assessing the financial statements framed by an enterprise such as income statement and balance sheet (Swaminathan and et. al., 2014).
Table 1: Calculation of profitability ratios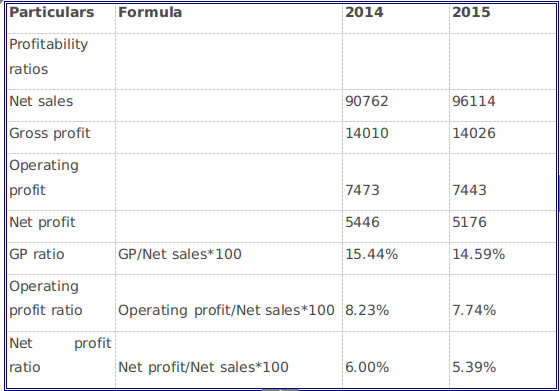 Profitability ratios-
Income statements are assessed to analyze the profit earned by an entity by conducting their business operations. Expenses incurred in business will reduce the overall profit of business (Appelbaum, 2015). There are different categories of profitability ratios which are given as below:
Gross profit