Introduction
Entrepreneurship is defined as the set of activities that are performed in order to scaling up business with an innovative approach by considering all the financial risk in hope of generating higher profit and marketing success. Entrepreneurship plays an essential role in the economic growth as well as social development of a country (Chrisman and et. al., 2012.). This report contains a detail explanation about different types of entrepreneurial venture and their link with typologies. Further it also explains about the similarities and differences that the entrepreneurial venture have. It also includes description about the impact of small business over the economical development and growth of country. Apart from this report also contains an explanation about different skills, traits and characteristics that a successful entrepreneur have along with the influence of personality over entrepreneur motivation and mind-set. At last it describes about the how experience and background hinder or foster entrepreneurial activities.
Task 1
The range of venture type that might be considered entrepreneurial
Entrepreneurship refers to the act of planning, organising and scaling up the business venture with some innovative and unique idea. Entrepreneur is a person who have to potential to offer unique product or services to marketplace by setting up a business with an aim to make profit. There are various types of entrepreneurial ventures that are operated in business environment by offering different type of product or services. Following are the types of entrepreneurial venture:
Small scale enterprise:
It refers to the type of entrepreneurial venture which is generally managed by a sole proprietor with a workforce of not more than 50 people. These type of entrepreneurs hire only relatives, friends or local people and operates their business at very low level. This involves businesses like plumber, tour operators, consultancy, hairdresser etc.
Scalable start-ups:
These enterprises are generally set up with a vision to change the world by providing unique product or services. These type of entrepreneurs seek towards opportunities present in market and then setup their business for availing the opportunities present in marketplace (Dennis, 2011). Once business get setup, they hand it over to another person and then move further to exploit other opportunities present in market.
Large scale enterprise:
It is defined as the type of entrepreneurial venture which is grown up either by offering sustainable innovation or acquiring companies which offers innovative product or services. These organisations work toward achieving larger market share by keeping their customer satisfied with the product or services offered by the company.
Social enterprise:
These type of entrepreneurial venture focuses on offering product or services that will contribute toward solving the problems faced by the society. Social enterprises generally aim toward offering services for the welfare of society. These enterprises can be for profit, not for profit and hybrid.
Suggested: Unit 5 Understanding and Leading Change Level 5
These are the type of entrepreneurial venture that perform several functions with the business environment with different aims and objective. But apart from this, there are certain types of entrepreneurial typology to which these enterprises belong and this affects the way in these businesses operates (Goss, 2015). These typologies are explained below:
Serial entrepreneur:
It refers to the type of entrepreneurs who always seeks for opportunity in order to scale up a business. These entrepreneurs are the one who leads multiple businesses at one time. Scalable start-ups belong to this typology as they scale up their business with some innovative approach and then after setting it up started looking for another idea for new business.
Female entrepreneur:
It includes type of businesses which are owned and operated by female with some unique approaches in order to change the view of world and to improve the life of girls. Social enterprises belong to such typology as they operate business with an aim to enhance the standard of living and solving the issues faced by society at large.
Therefore, entrepreneurial typology affects the way in which enterprises operates which differentiate them from others. But apart from this there are certain similarities which these entrepreneurial venture shares and these can be better understood through following points:
Similarities:
Similarities between social and large scale enterprises:
Both type of enterprises operates their business by providing product or services with an objective of fulfilling the need of people lives in the society.
Similarities between scalable start-ups and social enterprises:
Both the enterprises scale up their businesses with a vision to change the world by offering unique product or services where social enterprise offer commodities for solving the problems of society. Apart from this scalable start up aims toward offering the product for improving the living standard of people.
Similarities between small and large enterprises:
These organisations operate their businesses with an aim to make profit where small entrepreneurs earn revenue for fulfilling their basic need of family. On the other hand, large scale businesses earn revenue for expanding their businesses by using profit for improving their operations (Jones and Rowley, 2011).
Similarities between scalable start-ups and large scale enterprises:
Both the organisations emphases toward offering unique product or services to market which is new to market. Large scale enterprises offer innovative products with an aim to achieve competitive edge in marketplace. Scalable start-ups offer innovative product with a vision to improve the standard of living.
These all are the similarities but apart from this, these enterprises are different in term of their operations, aims and way it operates in marketplace. These differences can be better understood using following table:
Scalable start-up

Small scale enterprises

· These enterprises are setup with an aim to improve the living standard of society by offering innovative product or services.

· Source of fund are personal saving, loan from friends, venture capital.

· Small scale businesses are generally set up with an aim to satisfy the basic need of people by arranging a regular source of income.

· Sources of fund for small businesses are personal saving, bank loan etc.
Large scale enterprises

Social enterprises

· Large enterprises operate their businesses with an aim to achieve maximum profit by expanding customer base at marketplace

· Sources of fund for large scale enterprises are equity capital, angel investor, venture capital and bank loan.

· These enterprises operate with an aim to serve for the welfare of society.

· Main source of fund for social enterprises is donation, charity and support from government.
These enterprises are generally considered under two major categories which are as given below:
Public sector:
It refers to the organisations that are owned and operated by government and offer services to citizens. Social enterprises belong to this category and large scale enterprises may or may not come under the category of public sector (Karlan and Valdivia, 2011).
Social enterprises:The scope of social enterprises are very wide, as these businesses perform operations toward the welfare of people lives in society because of which they get acceptance over diversifying their operations. Therefore, the growth opportunities are also high as organisations perform CSR activities tries to tie up with social organisation for gaining attraction of society toward them which provide expansion opportunity to these enterprises.
Corporate sector:
It is a part of economy which is generally formed by group of companies which ae owned and operated privately. Small, large and scalable start up enterprises belongs to this category.
Small business: -The scope of these businesses are limited as they operated at very low level and doesn't have adequate fund to grow further. Apart from this development opportunity are also limited as they operate over the ideas of there, hence various alternatives are available in market which leads to lack of sustainability.
Scalable start-up: As the enterprises are setup with some innovative approach hence it has scope to achieve sustainability and if the idea accepted by market then it can grow faster. The development opportunity is also present if company will be able to attract venture capitalist (Kirzner, 2015).
Large scale enterprise: The scope is very wider as these organisations operates at broad level, hence it can diversify its operations in different areas which also provide several growth options. The development opportunities are also higher because of high capital and brand recognition.
Task 2
Assess the impact of small enterprises over the economy
Micro and small businesses are considered as a non-subsidiary independent firm which operates at lower level and employ few workers but have a greater contribution toward the growth and development of economy.
Impact of small businesses on economy:
Small businesses are generally limited in their operations but have a huge impact over the economic growth of a country. These businesses contribute to a large extent for recovering UK from the economic recession in several ways (The Role of SME's in the UK Economy, 2018). As during economic crises country has no other source to generate fund and at that time small businesses setup their operations and provide several job opportunities to unemployed people that further support nation in sustaining from their condition. Following points describe about the impact of small businesses over economy of UK:
By setting up businesses at lower level, they provide product or services at a low price as compare to other large organisations. This supported local people to fulfil their basic need by purchasing product at an affordable price during economic crises. This help in increasing the tax income of government that further supported in enhancing the economic condition.
Small businesses also support in increasing the GDP rate of country after economic recession which is around 50% of nation's total GDP (The Role of SME's in the UK Economy, 2018). It contributes to a large extent in providing the adequate fund to government for economic growth.
Get Help in
Any Subject
Our intention is to help numerous students worldwide through effective and accurate work.
These are the ways in which small businesses influence the economy of UK, hence they are considered as a major part of economy. Because small business has positive impact over the growth and development of UK's economy.
Importance of small business and start-ups in growth of economy
After the event of Brexit, the economy of UK almost gets destroyed because its decision to leave EU brings on several negative impact and issues. As most of the MNC's operating in EU country get closed and people working in large companies lost their job which further leads to increase in inflation rate (The importance of small businesses in the economy, 2018). This affect the living standard of people as they have nothing to expend, because of which import activities get increased this in turn leads to decrease in price of pound. These all issues left country in greatest economic crises and at that time start-ups and small business are the one that take up initiative to set up the businesses as a regular source of income. These businesses supported in improving the living standard of people by fulfilling their basic need at an affordable price, providing employment opportunity and encouraging innovations. Following are the ways in which small business at start-ups help in growth of UK's economy:
Job creation:
Small businesses and start-ups support in providing employment opportunity to people by setting up businesses and employ approx. 24.3 million people which support toward providing 60% employment in private sector (The importance of small businesses in the economy, 2018). This supported in growth and development of UK's economy.
Utilizing local resources:
Small businesses generally operates their businesses by using local raw material and simple technology which support in minimizing the cost as well as wastage of country. This contribute toward the economical as well as social development of country.
Encouraging innovation:
Start-ups support in encouraging people to come up with innovative ideas and approaches for either scaling up their business or improve the product or services of existing company that further support towards nation's economic growth.
Therefore, it can be state that small businesses and start-ups have a huge impact over the growth and development of UK's economy. But in addition to this medium as well as large organisation also makes up a big difference toward the economic development of country. Following graph will depict about the contribute that a small, medium and large organisations have towards economy (Landes, Mokyr and Baumol, 2012).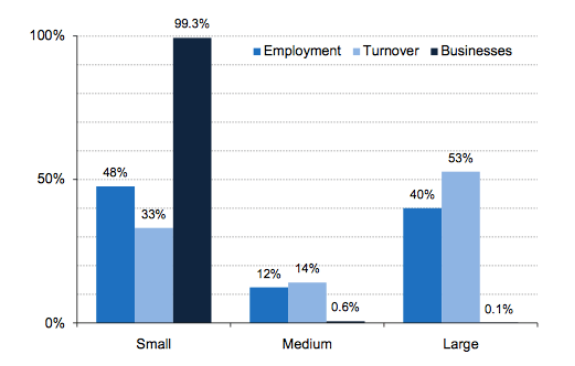 (Source: SMEs in the UK, 2018)
From the above given graph it can be depict that around 99.3% businesses are small enterprises which provide around 48% of total employment within the nation. In addition to this medium size enterprise operates only 0.6% of businesses within UK and provide 12% of employment. Apart from this large scale enterprise are only operates 0.1% businesses and provides around 40% of total country's employment.
Hence, it can be say that small businesses contribution is vital and support to a large extent toward the economical as well as social development of country. Therefore, it can be state that small businesses and start-ups have a positive impact over the growth of UK's economy. These businesses influence the economy at different level which can be better understood using following point:
Local:
These businesses contribute to a large extent in economic development of country because small business at local level represent the culture of community which support in attracting tourism. Apart from this it also supports in providing job to local people and are easily adoptable to changing climate which support in continuing a regular source of income.
Regional:
Small businesses at regional level support in improving the standard of living of people by providing product as per their requirement that are able to satisfy the need. Apart from this it also supports in providing the employment opportunity which in turn will support in improving the economic condition.
National:
Small businesses support in improving the economic condition of country by contributing in the form of sales tax or other tax related to their operations. Apart from this, theses businesses also support in providing raw material and other resources to large organisation which in turn will enhance the level of productivity (Martin, McNally and Kay, 2013).
International:

Small businesses are grown up from innovate ideas which support in attracting investors from other countries that leads to increase in foreign currency flow within the country. Apart from this it also increases the export activities that further support country in gaining foreign currency (Sarasvathy and Venkataraman, 2011).
Task 3
Determine and assess the key aspects of entrepreneurial mind-set
Entrepreneurs are the persons who have an ability to bring on new or innovative product and services by scaling up their business. They possess certain skills, traits and characteristics which supports them in achieving higher success in marketplace and makes them different from other. There are some entrepreneurs who achieve higher success in their life and inspire other to work toward bringing their innovative ideas and passion for scaling up business. Some of those successful entrepreneurs are as follows:
Steve Jobs:
Steve Jobs was one of the most successful entrepreneur and co-founder of Apple Incorporation who begin his journey by introducing first personal computer named as 'Apple I'. This has changed the way people view technology and this initiation make him a successful entrepreneur.
Bill Gates:
William Henry Gates is wealthiest person around the world and founder of Microsoft corporation. Gates belongs to a financial sound and well educated family where his father was a lawyer and mother work as an executive in major bank. This all are the factors which always support them in moving ahead and achieving success in his life.
Both the entrepreneurs experience greater success in their life and area of operation which support them to keep on working harder to achieve more. The main reason behind their success is skills and characteristics they possess which foster them to move ahead. Following are the skills and capabilities of successful entrepreneurs:
Characteristics:
Risk taker:
Successful entrepreneurs are the one who always take up risk in order to perform their operations and serving the market in a different and most satisfactory way. Bill Gates take up all the financial and failure risk for setting up a software business which make them successful. This characteristic makes Bill gates different from a manager as they seek toward avoiding the risk and perform their operation over guidelines provided by management.
Hard working:
An entrepreneur achieve success if they willing to put extra efforts and work harder for accomplishing goals. Steve Jobs work harder which was the reason behind he become able to bring different sort of gadget for simplifying daily life. This characteristic makes Steve Jobs different from manager as they don't try to put extra efforts rather they only perform their duty (Neck and Greene, 2011).
Traits:
Innovator:
An entrepreneurs become successful who willing to bring or offer innovative services to marketplace. Steve Jobs was an innovator who always try to offers unique product to market by exceeding the customer's expectation. This trait makes Steve different from manager as they follow the policies of company and never try to improve or innovate them for better result.
Self-motivated:
Successful entrepreneur doesn't require any external stimuli for being motivated rather they get self-motivated toward their work. Bill Gates always remain self-motived toward their goals which always encourage them to fulfil their dream by setting up their business. This make Bill gates different from manager as they require certain factor to being motivated toward their work like monetary benefit or appraisal.
Skills:
Creative:
For becoming successful an entrepreneur must bring some creative process in their area of operation which support them in standing apart from crowd. Steve Jobs was a creative thinker as a result of which they become successful in bring such innovative gadgets to market. This skill makes him different from manager as they work over the policies that are formulated by higher authority and doesn't try to make modify them.
Open minded:
Entrepreneurs achieve success in their area of operations when they are open to new experience and willing to try new things in their business. Bill gates is always willing to try to learn new things this was the reason behind their success (Schaper and et. al., 2014).
Key aspect of entrepreneurial mind set:
It is very important for an entrepreneur to have an attractive personality so that all the subordinates get motivated. They are required to identify and acquire growth opportunities that are available in the market. Effective skills and characteristics of businessmen help them to establish a successful business and deal with all the challenges that may occur during the establishment of businesses. All the entrepreneurs are required to lead all the workers who are a part of their business and liable to perform tasks. There is a model that may explain all the traits that an entrepreneur should have to become successful. The model is as follows:
Big Five Model of Personality:
This model is related to the traits that are required by an entrepreneur. All of them help to become successful in life. There are five different models that are related to this theory, all of them are as follows:Openness to experience:According to this trait entrepreneurs should have knowledge of six facts that are active imagination, attentiveness, preference of variety, intellectual curiosity, aesthetic sensitivity and expressive. All of them are required to become a successful businessman.
Conscientiousness:
this traits define that entrepreneurs should be focused with their goals and objectives so that they may attain success in less time. This also help to use all the resources of the organisation appropriately as it help to increase concentration on every element of the company.
Extraversion:
This trait is required to enhance good will and organisation's market image by putting higher efforts. For this purpose they should have talkative, energetic, assertive and social nature so that they may build good relations with outside parties of the organisation.
Agreeableness:
This is an essential trait which is required for an entrepreneur in which it is essential for them to combine all their team members so that all the operations can be executed appropriately. For this trait the entrepreneur should be cooperative, trustworthy and coordinative with all the team members so that a successful business can be established.
Neuroticism:
This is related to the behaviour of the businessman with all the subordinates. The entrepreneur should behave sedately while dealing with all the members of the organisation. The owner of the business should deal with all the problems calmly and try to control anger because this may lead to a failed business as this behaviour is not tolerable by the employees (Storey, 2016).
All the above mentioned traits help and motivate the entrepreneurs to make effective decisions and motivate the subordinated who are following them.
Task 4
Different environments that hinder or foster entrepreneurship
Entrepreneurship requires impressive knowledge and skills so that they may establish a good business it can be gathered from good institutions or family. Background and professional experience help the individuals to formulate effective decisions so that they may deal with all the problems. As Bill Gates and Steve Jobs both are famous personalities and entrepreneurs and running their business in effective manner. For both of them their experience and background has helped to make decisions in critical situations in which they are willing to establish a successful business. Their experience assist them while implementing the business ideas that are formulated to attain success in market by establishing a business (Wheelen and Hunger, 2011). Background and experience of both of them are as follows:
Bill Gates:
Background:
In year 1975 he launched Microsoft with Paul Allen.
He was born in Seattle, Washington.
He can speak various languages like English, Scots-Irish, Irish and German.
At the age of 13 he has joined a private school named Lakeside School.
Experience:
He dropped out of his college to make Microsoft.
He was a student at Harvard college where he have learnt various things that are related to computer softer wares.
Steve Jobs:
Background:
Steve Jobs was born in San Francisco, California and was adopted by Clara and Paul Jobs.
He has one sister Patty and grew up with her.
He was an American investor and business magnet.
Experience:
He is co founder of Apple inc. which was founded in year 1976.
He has rented his own apartment in San Francisco.
He visits University of California a few time a week (Zott, Amit and Massa, 2011).
Both the entrepreneurs have got huge success and operating business effectively. They have learnt various things in their life. As Steve Jobs was adopted but he have never loose his confident and new felt too low he has proved himself by launching a brand Apple. He died of Cancer on 5 October 2011 at the age of 56 and he has grabbed huge success in market. He never stepped back from his responsibilities and always faced the problems with joy. Bill Gates is a well known person who is the founder of Microsoft. He was very passionate that's why he left his college to create Microsoft which is used all around the world. He has faced various problems in his life but he never look behind. He responded appropriately to all the challenges that have been occurred to stop him. Both of them have attractive qualities that are acquired by their experience in life and background. They have grabbed all the opportunities that have led them toward success.
Conclusion
From the above project report it has been concluded that all type of organisations help to enhance national income. Small and start up businesses are the main source of funds for the country in difficult times. All of them help to deal with challenges that are faced by a nation due to economic changes. All the entrepreneurs should have proper skills, characteristics and traits that may assist them to establish innovative ideas and than operate business in more effective way.
References
Chrisman, J. J. and et. al., 2012. Family involvement, family influence, and family‐centered non‐economic goals in small firms. Entrepreneurship theory and practice. 36(2). pp.267-293.
Dennis Jr, W. J., 2011. Entrepreneurship, small business and public policy levers. Journal of Small Business Management. 49(1). pp.92-106.
Goss, D., 2015. Small Business and Society (Routledge Revivals). Routledge.
Jones, R. and Rowley, J., 2011. Entrepreneurial marketing in small businesses: A conceptual exploration. International Small Business Journal. 29(1), pp.25-36.
Karlan, D. and Valdivia, M., 2011. Teaching entrepreneurship: Impact of business training on microfinance clients and institutions. Review of Economics and statistics. 93(2). pp.510-527.
Kirzner, I. M., 2015. Competition and entrepreneurship. University of Chicago press.
Landes, D. S., Mokyr, J. and Baumol, W.J. Eds., 2012. The invention of enterprise: Entrepreneurship from ancient Mesopotamia to modern times. Princeton University Press.
Martin, B. C., McNally, J. J. and Kay, M. J., 2013. Examining the formation of human capital in entrepreneurship: A meta-analysis of entrepreneurship education outcomes. Journal of Business Venturing. 28(2). pp.211-224.