Introduction
Strategic Human Resource Management is a method adopted by organisations of which ensures effective benefit to the company's employees and the overall organisation. This practice emphasises on attraction, development, rewarding and retention of employees within a firm (Strategic Human Resource Management: Definition & Importance, 2019). The following assessment is structured around Hawksmoor and The New World Trading company (NWTC), both of which have a distinguished place in the United Kingdom. The assignment covers analysis as well as evaluation of HR policies and practices and specific external forces and their effect on HR strategic decisions within these organisations. It also covers how HR functions are organised in these companies and how these policies and practices are delivered within the firms. In addition, it emphasises on the roles and challenges of line managers in the delivery of HRM.
TASK 1
HR Policies and Practices
Human Resources are the most integral part of a company. Working in Service Sector, the employees of both of these companies have different approaches towards managing their Human Resources. These approaches are described below:
High Commitment HRM
One of the most crucial and competitive strategy, High Commitment HRM is a practice is circled around ensuring high commitment of the human resources within the company. NWTC manage its human resources in ways which promotes teamwork, high working standards, innovations and ethical practices (THE NEW WORLD TRADING Co.: OUR PEOPLE, 2019). There are various policies taken by the restaurant to company to ensure that they increase customer engagement and commitment.
HR Policies:
Fair Standards Policy:

The company implements the Fair Labour Standards Act within the organisational work-frame which promotes favourable conditions of employment, flexible working hours, rest intervals and effective leave structure which aim at ensuring high employee commitment (United Kingdom (100,181) > Conditions of employment (4,368), 2014).
Equality Act:Another policy which is adopted by this company is the assurance of equal working conditions to both its male and female employees. In addition to this, NWTC effectively considers equal pay scale as per the job role regardless of the gender of its employees.
HR Practices:
Employment Security:The practices and operations within the company are effectively considered to be quite favourable in terms of promoting workplace security for its employees. It is the utmost priority of the company and there are various clauses within their employment contracts which provides employees effective benefits for themselves as well as for their peers.
Team Work:Another HR practice which is supported and promoted by this organisation is team work. There are different departments having various individuals who work together in harmony to accomplish organisational goals. The firm's manager consider employees as effective part of their company and ensure effective team management for competent HRM within the workplace.
Best Fit HRM
This is the form of human resource management which focuses on development of practices and policies as per the business strategy (Collings., Wood and Szamosi, 2018). It is very essential to understand the life-cycle model which is an integral part of this strategy.
StartingUp: At the very initial stage of a business life, the HR practices must consider the initial objective of the firm which is customer awareness about its offerings, increase in profit etc.
Growth: At this stage, the main agenda of a firm is to effectively handle operations to enhance customer engagement and acquisition. HR practices and policies must be more inclined towards providing performance-based incentives and effective training.
Maturity: Under this phase, when the company is at its peak, the HR practices must ensure consistency in the performance of employees.
Decline: This stage is generally foreseen by most of the companies. In this stage, innovation and introduction of new offerings seems few options to regain the lost status. Thus, the HR practices must be more employee-centric and ensure effective balance of human resources with change in products and processes.
Suggested: Unit 14 Human Resource Management St. Patrick's College London Level 4
There are various policies and practices which are effectively adopted by Hawksmoor in this approach are discussed below:
HR Policies:
Anti-Discrimination Policy:One of the major policies adopted by the restaurant to satisfy the agendas of Best-Fit approach is the anti-discrimination policy. This weighs on equal treatment to each employee regardless of gender, cast, creed, beliefs, etc. This is how the company effectively formulate its practices as per the business strategies.
Performance-Based Appraisals:This policy ensures appraisals on the basis of performance. The restaurant follows this policy effectively to effectively enhance the performance of its human resources.
HR Practices:
Effective Communication:The foremost practice implemented by the group is the clarity in conveying job roles to each employee. The company considers it important to establish effective communication practices within the company which would ensure high level performance by its employees under any circumstance.
Performance Monitoring:Another HR practice by Hawksmoor is that the organisation monitors the performance of each employee closely to reduce any chances of errors. With introduction of new processes and dishes, restaurant makes sure that employees work with utmost perfection to give maximum service quality to its customers.
Get Help in
Any Subject
Our intention is to help numerous students worldwide through effective and accurate work.
TASK 2
Analysis of effect of external forces
It is quite important for a company to analyse external factors which influences the strategic decisions of the organisation. The effects of these factors are described below:
Political and Economical Condition:One of the biggest force that could influence the strategic decision of a firm are the political and economic conditions faced by the country. Both the companies operate in the United Kingdom, and currently, political and economic conditions after the ongoing Brexit Debate has effected major strategic decisions in both these restaurants. Unstable regulations and degrading value of Pounds have affected the standard of living of people in the country. The strategic decision taken by Hawksmoor are still quite focused on the quality of its steak and other dishes. These conditions have more effect on the business processes of NWTC where vendors and foreign customers are concerned.
Employment Market:Another major force which has an effect on the strategic decisions is employment market. Majorly, it is imperative for companies to analyse the market its operating in and the kind of employees required to satisfy its needs. UK service industry is quite competitive in terms of services and food quality which requires the labours to be effectively talented and highly skilled. This factor has its effect on both the companies, however, the intensity of this effect differs in both the firms. In NWTC, the effect is lower than that of Hawksmoor. This is is because the firm is known for its excellent service quality and effective HR management. Hawksmoor, on the other end, have this constant pressure of being the best in terms of food quality. This induces more impact of this factor on the organisation to take strategic decisions to hire highly-skilled workforce.
TASK 3
Organisation of HR functions, delivery of HR policies and practices
Within an organisational setting, it is imperative that various HR functions are rightfully organised so that employee participation could be enhanced (Brewster, 2017). This ultimately leads to accomplishment of company's set goals. The HR functions implemented by both of these companies are described below:
Recruitmentand Selection: As one of the integral functions of HRM, hiring employees must be a very important activity of these companies. NWTC spends a lot of time in developing effective hiring methods to recruit and select competent individuals within the organisation. The firm focuses on personalised approach to enhance the comfort level of the new recruits so that they perform at their best in their selection processes. As for Hawksmoor, the company has its own application where individuals could approach the firm to hire them. The company focuses more on the performance and experience when it comes to hire employees which ensures effective selection of personnels.
Trainingand Development: The most important HR function is how to train employees to increase their work performance effectively. NWTC uses feedback surveys as for training sessions to ensure effective training given to organisation's employees ('We put our people at the forefront of every decision we make' says Natasha Waterfield, 2019). A rather innovative approach has been adopted by Hawksmoor. Training at the restaurant is given on developing effective soft skills and enhancing competence which make employees ready for challenging situations. Quite recently, the firm encouraged its employees to take part in British Sign Language (BSL) Workshop to enhance communication within the workplace (Hawksmoor staff improve communication with British Sign Language training, 2019).
EmployeeRelations: Both the restaurants emphasise on developing healthy employee relations with their workforce. However, the approaches are quite different. NWTC has implemented an initiative for employee engagement by the name of Tribes. Various practices in this programme are concerned about developing effective and long-term relation with employees (The New World Trading Company – where it's always happy hour, 2019). Hawksmoor effectively manage their employees by improving their professional experiences by placing them among professionals. An environment is created where the firm encourages a long-term engagement of the employees in the industry. Leaders also work with (and sometimes for) junior employees which enhances the effectiveness of employee relations (The HR Maturity Scale, 2019).
It is also very crucial for both these firms to adopt methods to deliver their HR policies and practices. Various approaches implemented by these companies are mentioned below:
HR model by David Ulrich:
Hawksmoor effectively adopts this method to deliver its policies and practices which describes four prominent roles played by HR Professionals which are described below: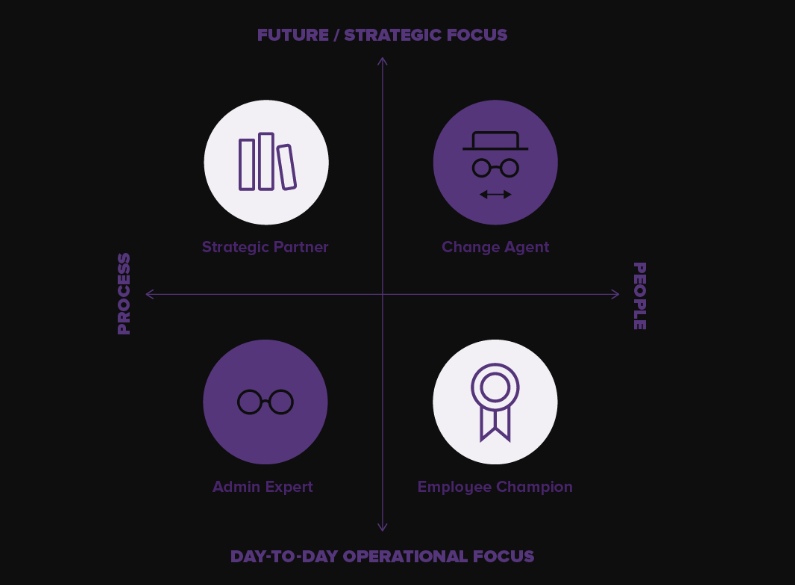 (Source: Ultrich's Model, 2018)
StrategicPartner: As this requires communication of HR with the internal customers. HR professionals at Hawksmoor communicates effectively with all its stakeholders, i.e., customers, employees, shareholders, etc. This entity within the organisation is treated as a constant channel of communication within the firm. It also gives effective feedback to employees on the basis of their performance and productivity.
ChangeAgent: Hawksmoor works effectively to develop competent business strategies and it requires the restaurant group to manage its human resources effectively. This stage requires the HR professionals to act as a change agent and HR professionals at the restaurant focus on developing more training opportunities for its employees to develop unique and competent skills effectively.
AdminExpert: As this role demands, Hawksmoor's HR professionals channelises their efforts to align business practices along with the ethical requirements of regulations, legislations and various safety and health rules. On the other end, personal information of each employee is effectively organised within the restaurant's files and professionals weigh on regular modification as per the current changes within these information.
EmployeeChampion: To accomplish this role, HR professionals at Hawksmoor are committed towards protecting their employees' personal interest. They motivate them to achieve higher inputs and use internal techniques to measure their satisfaction.
Paul Kearns' HR Maturity Scale:
NWTC adopts a steady approach to effectively manage human resources in its company. The restaurant focuses on evaluating its methods and systems regularly to measure its effectiveness. HR maturity scale assists the company to satisfy this agenda. These maturity scales are discussed below:
Stage 1:HR professionals effectively manages personal information of their personnels working within the company and even past employees. Firm has developed effective payroll systems for its employees.
Stage 2:Within the work structure of the restaurant, rudimentary performance comments are provided by the supervisors to the employees. These comments are utilised to hire future employees who stand up to the level.
Stage 3:This stage requires effective value being given to the training expertise. The HR professionals at NWTC manage their training and development programs in a skilful and competent manner.
Stage 4:This requires HRM to become effective and an integral part of operations. NWTC in this stage focuses more on implementing changes where necessary such as in MIS and Budgeting and invests its sources to areas which are considered as a collective mouth, like line managers coach and develop employees to achieve objectives.
Stage 5:Requirements of this stage witnesses a shift from Operational HR to Strategic Focus. Managers within the restaurant are required to work as coaches to develop more competent strategies for the restaurant.
Stage 6:This stage is rarely touched by any business organisation, and as the prime focus of this stage is on maximising the strategic value. Organisational learning effectively adds value to its functions. Employees are treated as skilled enough to effectively manage the organisation with bringing innovative ideas. NTWC treats employees as an integral part but is yet to reach this level.
In both of these companies, Line managers play a significant role in carrying out their duties to manage the human resources (Bailey and et. al., 2018). They have various roles that are described below:
Line managers within NWTC are responsible for provide induction and support to their new recruited employees. Whereas, in Hawksmoor, line managers monitor employees' performance and provide effective feedback and training for improvisation.
Another role of line managers of NWTC is to communicate internally as well as externally, whereas in Hawksmoor, they focus more on internal communication.
However, there are various challenges for these Line Managers in delivery of HRM which are described below:
Competing Priorities and Workload:Biggest challenge faced by the line managers are managing tasks on the basis of priority and workload. This challenge is more on the managers of Hawksmoor where dishes and service quality are concerned. As for NWTC, this challenge is faced where employee engagement is concerned as managers find it difficult to prioritise between personal or professional goals.
Span of Control:Within Hawksmoor, managers have very large horizontal teams which weakens their span and enhances pressure of effectiveness in performance. As NWTC is concerned, it is a challenge for the managers to effectively control various departments vertically.
Conclusion
Thus, it is concluded that Strategic Human Resource Management is necessary and effective for organisations to thrive towards success. It is crucial to identify the type of approaches taken by the companies as all these HRM approaches serve different agendas. It is also imperative to determine effect external forces have on HRM strategic decision-making. Lastly, it is crucial that companies adopt effective methods to deliver HRM policies and practices and clarify the role and challenges of Line Managers.
References
Bailey, C., and et. al., 2018. Strategic human resource management. Oxford University Press.
Brewster, C., 2017. The integration of human resource management and corporate strategy. In Policy and practice in European human resource management (pp. 22-35). Routledge.
Collings, D.G., Wood, G.T. and Szamosi, L.T., 2018. Human resource management: A critical approach. In Human Resource Management (pp. 1-23). Routledge.