Introdction
Cross culture can be defined as the initiative of organisation in regard of increasing the different groups considerations. The management of cross culture consist of team working administration in the manner which can consider the practices, preferences and cultural differences of clients in the international business context (Caligiuri and Tarique, 2012). This report will repercussions over the management of cross cultural activities of HG company who is operating a new construction project in Uganda. The project is focusing over major problems and menace faced by their manager and vice-president while carrying out the project. Also this report will focus over the managing, designing and developing a podcast of this report in effective manner.
Problem 1: Organisatonal Culture
According to the case, James Green has been dealing with ethical dilemma in their organisation in context of their construction project. The manager of project, Charles Martin is assigned for designing, controlling and managing entire activities of the project. As per this, Green is not satisfied with practices that Martin apply as they are not according to the organisational culture. Hence, here are mentioned identified problems due to organisational culture:
Organisational culture follow more Christian values which HG does not want to ignore. Hence, developing and working with same values of organisation can lead to issue in Uganda and to Martin.
James Green prefer more organisation's culture i.e. US based where Martin is more inclined toward Uganda culture which is major problem for enterprise (Chanlat, Davel and Dupuis, 2013).
Martin has participated in some procedures which is against company culture, ethics and values. Hence, Green is facing the dilemma of whether dismiss him or not.
Identified Theory
According to the respected requirements, Edgar Schein's organisational culture model is more suitable for the following issues and problems. This model can lead to either more visibility of organisational culture or assist in adopting changes according to demand of company. This involve opinion, behaviour, appointments and opinion helping in not directly change the culture but create appropriate modification (Jackson, 2012).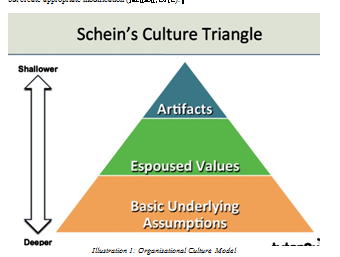 Solution`
Through the assistance of this model, James Green can analyse the required amendments and changes that is needed in organisation as per the consequences. Also, it can assist the company to make modification in company's activities along with sticking to their culture to resolve their problems (Kawar, 2012).
Problem 2: Organisational Structure
As per highlighted case, in the African Operation of organisation, there is flat structure followed by organization but some local workers were unsatisfied by company as there are no one who seem to be manager or in-charge of project. The rate of employee turnover is higher. Here are discussed three major issues due to inappropriate and unorganized structure of HG:
The company follow flat organisational structure which have proven inappropriate for enterprise as is causing various internal workplace unsatisfied workers (Okpara and Kabongo, 2011).
James is more generous to experts in-comparison of other local worker which is leading to conflicts and mutiny among local workforce working for company.
In absence of Martin, this has become complex to operate the structure as per the host country's people that can lead to future conflicts.
Identified Theory
In regard of carry out outcome and resolve the emerged problems, company can implement Bureaucracy approach within the internal structure of enterprise. Bureaucracy approach support the form of enterprise that comprise of officials that are non-elected who execute the terms in business sector (Thomas and Peterson, 2017). This aims over two essentials: one is focusing over hierarchy structure. Secondly, firm and their members are governed through clearly determined rational-legel rules of decision making. The whole procedure help in achieving targets and objectives.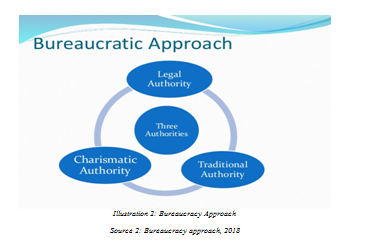 Solution
This procedure is helpful as this can aid in managing activities and operations of company accordingly along with managing issues by higher authorities of enterprise.
Problem 3: Motivation And HRM
Case study identify one another problem i.e. dearth of personnel and motivation along with reducing obstruction which can resolve the issues. Vice-president Green has been thinking over Martin's termination as he is not satiate with the techniques used by Martin (Velo, 2011). Charles Martin, on the other hand is more flexible who adopt practices as per consequence and demand of situation. Due to this problem, there are various issues and problems identified in case associated with HRM and motivation discussed under:
Supporting monetary support to workforce is proven suitable as per enterprise's requirement but this can probably create further issue.
Green is more stick to the policies type and due to the unethical approaches adopted by Martin, he is terminating Martin from their duties. But this can lead to demotivation of human resources working for project as Martin has major role in recruiting them.
James Green is unsure whether the organisation can complete their project in absence of Martin or not which the major problem (Lefcourt, 2014).
Identified Theory
As per the case study, Reinforcement theory is more appropriate according to the problems of organisation. Given by BF Skinner, this majorly focus over the personnel motivation of enterprise. It states that individual's behaviour is main functions of their situations. This is linked with "law of effects" which concerning over the positive activities repeatation and avoiding of repeat of negative practices as they lead to downfall.

Solution
By executing this concept, they can relatively solve their problem related to their motivation and HRM. This is required for manager to implement this strategy every employee simultaneously. Also they need to examine how positive reinforcement framework's main components effectively.
Reflective Report
We have been working over the podcast project along with their team members as the assignment for higher grades. Entire team's collective efforts has resulted as the succession of this podcast report. Numerous sort of learning which can be achieved by each individual of team that has lead us to various theoretical as well as practical learning enable to achieve not only present but future tasks in effective manner. There are various activities which has been attempted by each members of team.
Various problems and conflicts were identified in the case study of cross-culture management project. Reinforcement theory as applied for motivation as this is one of the most quakiest and effective way to inspire workforce for performing any practices in their most productive manner. Also we have implemented Bureaucratic theory in order to manage organisational structure as this can help in achieving business objectives as well as managing structure as per the demand of company to re-evaluate their organisational structure in effective manner. At least, the projects has optimised organisational cultural model in regard of managing and resolving issues associated with organisational culture in effective manner. Hence, entire used approaches were effective and efficient that has been suggested by team members of project.
Get Help in
Any Subject
Our intention is to help numerous students worldwide through effective and accurate work.
Thus, the prepared work project, whole team collectively gave their efforts to contribute in the activities of project and organisational practices. While developing the project, team has undertaken various procedure and consider the elements required for creating Podcast in effective manner. The process of preparing a podcast is complicated as there are various components that is needed to undertaken while developing a podcast report. So, for this, various methods and techniques are undertaken for developing entire report in effective manner. We have optimised more appropriate training methods and suitable techniques in regard of evolution of proper assignment and design the whole script. Initially, proper preproduction planning procedure was managed through deciding theme by team members. I have determined various elements and components that can help in achieving target. There is one major drawback that is needed for developing an entertaining and appealing podcast i.e. time duration of project as long podcast can make whole project more rough and unappealing. Hence, this was the major elements which we kept in mind before developing the report of podcast.
While working over the project, there are various problems and issues that is faced by entire team. The cultural issues, language barrier, lack of understanding level etc. are the drawbacks i.e. the whole members of group faced which is required to resolve. In order to estbalish more understanding among the team members, we have adopted participative method of leadership that has led us to more considerable team situation within the entire group. Also, various suggestions were outlined for further project building and creation of report. Hence it can affirm that there are various learning which are gained by each and every team members while developing this project that will not only effective for present purposes and targets of them but will be effectual for future purpose of organisation leading to life-long learnings of organisation.
Conclusion
This can affirm from mentioned report that operate the business on international market require more investigation and various business environment element in order to perform this business better. Also, this also provide overview over the designing, planning and implementation of strategies and approaches in regard of preparing an effective Podcast.
References
Caligiuri, P. and Tarique, I., 2012. Dynamic cross-cultural competencies and global leadership effectiveness. Journal of World Business. 47(4). pp.612-622.
Chanlat, J. F., Davel, E. and Dupuis, J. P. eds., 2013. Cross-cultural management: culture and management across the world. Routledge.
Jackson, T., 2012. Cross-cultural management and the informal economy in sub-Saharan Africa: implications for organization, employment and skills development. The International Journal of Human Resource Management. 23(14). pp.2901-2916.
Kawar, T. I., 2012. Cross-cultural differences in management. International Journal of Business and Social Science. 3(6).
Okpara, J. O. and Kabongo, J. D., 2011. Cross-cultural training and expatriate adjustment: A study of western expatriates in Nigeria. Journal of world business. 46(1). pp.22-30.
Thomas, D. C. and Peterson, M. F., 2017. Cross-cultural management: Essential concepts. Sage Publications.