5 Beliefs About St. Patrick That Are Actually Not True
March 16, 2018
( 4277 views )
Five Myths Related to St. Patrick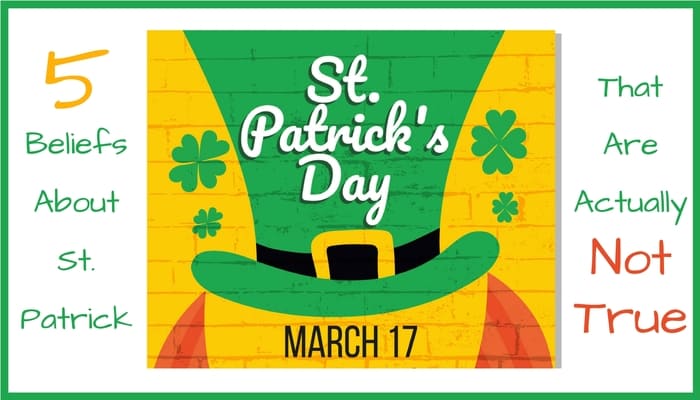 Saint Patrick's Day is one of the Irish national holidays that is celebrated on March 17 every year. Not only Ireland, but other countries around the world such as the USA and UK also pay homage to the late saint. For people of Ireland, it's a special day as they celebrate the Irish culture with their family and friends. Talking about the United States of America, there are numerous events such as the Saint Patrick's Day parade in the New York city, coloring the Chicago river green for this occasion, and the light show on the Empire State Building. You might have read many things about St. Patrick, but it might be surprising to you that they are certain facts about him that are not true. Do you want to know what they are? If yes, then read this blog further.
St. Patrick was an Irishman
One of the biggest misconceptions associated with St. Patrick was that he was an Irishman. But, he was born in Scotland in the late 4th century, and his real name was Palladius. St. Patrick made his way to Ireland when at the age of 16, he was kidnapped by pirates and sold into slavery. After six years, he escaped from there and came back to Scotland. But he returned to Ireland and started a missionary to spread the message of Christianity.
St. Patrick's Day is his birthday
The Feast of Saint Patrick or St. Patrick's Day marks the day that he died not the day that he was born. March 17, 2018, is the 1,557th anniversary of Saint Patrick's death and is a national holiday in Ireland. This day is now celebrated as an international festival which reflects Irish culture. One can witness parades, Irish traditional music, Irish dancing, and people dressed in green.
He was a canonized saint
The saintly status of St. Patrick is still questionable as he never got canonized. No proof could support his canonization. But, St. Patrick wasn't the first saint who didn't go through a proper ceremony. Most saints during that period were given this title if they were either extraordinarily holy or martyrs.
Green is St. Patrick's favorite color
On March 17, it is a tradition to wear green clothes or accessories. Even though the green color is associated with Ireland, no evidence proves it is St. Patrick's color. The order of St. Patrick which was created in 1783 used blue as his symbolic color. One can notice enough green on St. Patrick's Day. Actually, he used to carry the shamrock, a three-leaved plant, to demonstrate the Holy Trinity to the pagan Irishmen.
He drove all the snakes from Ireland
According to some local folks, St. Patrick once gave a rousing sermon that banished all snakes from Ireland and sent them to the sea. He did this to protect the countrymen from these reptiles. However, the story sounds a bit vague because the Emerald Isle is surrounded by water, making it impossible for snakes to reach and survive on it.
As March 17 is approaching, it's time to color the canvas of your life with green and pay tribute to the legendary saint. Hope you enjoyed reading the blog.
If writing lengthy assignments is troubling you, then do not add more to your sufferings. Hire us to prepare your academic documents and that too within the stipulated time. We, at Global Assignment Help Australia, have an experienced team of academic experts who provide the best online assignment help to scholars at reasonable prices.