Get Communication Assignment Help to Improve Your Grades
Over the last few years, there has been a sudden inclination toward pursuing a degree or diploma in media and communication studies. There are about one hundred and twelve world-class Australian institutions that offer courses in this field. Well, completing a degree in this area is a difficult task due to the highly-challenging academic demands, communication assignment writing being the most prominent one. If you too are finding it difficult, then do not worry as luckily you have arrived in the right place. Here you can receive online communication assignment help on any topic, no matter whatever be its complexity.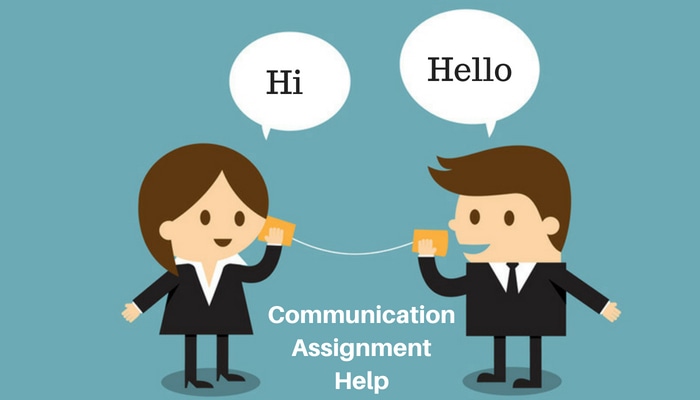 Global Assignment Help Australia has an excellent pool of academicians who hold a thorough command of concepts and practical skills required to handle the projects of this subject. We have already assisted hundreds of Australian students with communication assignment writing service. So, you can trust us for getting high-quality assignments that will help you score good grades.
A Brief Overview of Communication
Communication is the act of conveying information from one individual or group to another. It is derived from the Latin word "communis" which means share. The act of communicating draws several interpersonal and intrapersonal skills, such as speaking, listening, observing, questioning, analyzing and evaluating. Our professionals who provide communication assignment help say that such skills are essential for learning new concepts, forming healthy relationships, and achieving success at the workplace.
Communication can occur in closed, intimate settings or large public forums like the Internet. But, all forms of communication require the same elements, i.e., a messenger and a recipient. For a successful communication, the sender and recipient must share a common language or means of understanding.
As a field of study, communication spans a broad array of academic disciplines, including anthropology, sociology, psychology, political science, linguistics, and literature. In today's globalized, media-driven world, this subject has found its applications to business, film, theater, composition, advertising, education, foreign policy and computer science. Moreover, it has also become more relevant to every professional. For example- web developers use the theories of communication to draw Internet users to their websites. Similarly, public policy writers use them to debate society's most pressing issues.
What Is the Scope of Communication as a Career?
In recent years, we have witnessed unprecedented growth in the area of media and mass communication. The increase in the number of television sets, news channels, radio stations, advertising agencies have created a whole range of new opportunities. A degree in communication opens up many career opportunities in Journalism, Public relations, and Advertising. Well, before you take up a course, you should know what you would become after you pursue that.
Some of the fields in which you can start your career are:
1. Public Relations Officer
2. TV Correspondent
3. Journalist/News reporter
4. Radio Jockey/ RJ
5. Fashion Photographer
6. Producer
7. Content Writer
As the Australian entertainment industry and mass media are growing day by day, there will never be a shortage of job opportunities for students majoring in communication studies. Technically qualified professionals can work for TV channels, production houses or can make documentaries on their own. If you too are looking to set your foot in this field, then remember a solid command of technical aspects and linguistic skills are important for success. However, in case loads of academic projects are not letting you spend enough time on this, take online communication assignment help from our professionals.
Communication Assignment Topics Covered by Our Team
If you hire our professional writers for communication assignment writings, then here are few of the topics that we will assist you with:
1. Types of Communication
Depending on the message and its context in which it is being sent, we can communicate in many ways. Here we have briefly mentioned about them:
A. Types of communication based on the communication channels
1.Verbal: Under this mode, a message is sent verbally by speaking or writing.
2.Non-Verbal: It refers to sending or receiving wordless messages via gesture, body language, posture, the tone of voice or facial expressions.
B. Types of communication based on purpose
Formal Communication- This type of communication follows some rules, conventions, and principles. Usually, professional settings, conferences, and corporate meetings undergo in formal way. Under this mode, use of slang words and foul language is strictly prohibited, and correct pronunciation is compulsory.
Informal Communication- It is established for societal affiliations of members in an organization and face-to-face discussions. There are no such set rules, and slang words are not restricted. Usually, informal communication is done orally and by using gestures.
2. Communication Barriers
While conveying our message to someone, we assume that the other person or group will understand it. But this does not happens always as sometimes, people bring their perception and thoughts on the topic which create a barrier in delivering the right meaning. There are plenty of obstacles that can hinder the process of communication. We have listed a few important ones:
Lack of interest and attention on either side of a communication channel
Usage of over complicated or unfamiliar terms
Contrasting opinions, varying perception, and differences in beliefs
Physical inadequacies, such as speech impairment and hearing disability.
Scholars commonly ask for communication assignment help with aforementioned topics, but there are plenty more that are covered by our team. We have specialist writers for different branches of communication studies, such as Script Writing, Radio Advertising, Media Management, Contemporary Social and Cultural Issues, and Video Production. Thus, you can ask us for assistance on any type of communication assignment, no matter whatever be its topic.
Global Assignment Help Australia: A Guaranteed Path to Academic Success
Get Help in
Any Subject
Our intention is to help numerous students worldwide through effective and accurate work.
Communication assignment writing is a challenging task for many students in light of the fact that the subject mostly deals with theories, but the college projects draw emphasis on their practical implications. Apart from this, what makes it so difficult is that students often get stuck with the research or do not find appropriate resources. To support such stressed-out scholars who are unable to submit their papers on time, Global Assignment Help Australia has come to their rescue. Our professionals hold knowledge of every aspect of this field and are well adept with the citation norms. And, to write a top-notch paper, they follow a systematic approach that includes research, data mining, writing the first draft, proofreading and publishing the final document. What makes us unparalleled in this highly competitive academic writing industry is our customer-oriented values and commitment to excellence.
Take a look at some benefits that we offer to our clients:
24/7 support
Our customer care team remains active round the clock to help scholars with their queries and questions.
100% originality
Plagiarism is a serious offense that can spoil student's career. So, to avoid this, our communication experts write the documents from scratch and cite the sources properly. And, to prove the originality of the content, we also attach a free Turnitin report with every order.
Timely delivery
We do not want you to miss the assignment deadline at any cost. Thus, our writers always deliver the document within the stipulated time frame.
Free revisions facility
We understand that our clients may change their mind regarding the assignment's format, word count, or citation style. In case of such an urgent requirement, we always try our best to make the changes as soon as possible. And, we do not charge any extra penny for this.
Privacy
We provide highly secure payment gateway to our clients. So, they need not worry about data theft or cyber attack.
We promise we won't budge an inch from the aforementioned points. And, in case you are not satisfied with the final document even after multiple amendments, then you may claim a refund. The entire team of Global Assignment Help Australia is focused on helping our customers excel in the internal assessments, that too without bearing any pressure. By availing our assistance, students get enough time for self-study and other important tasks at hand. In addition to this, the communication assignments written by our experts serve as excellent reference material on the topic. To know more about us, contact our customer care executives via live chat, email, phone or mobile app.