Six Scientifically Proven Ways to Study Effectively
May 18, 2018
( 3759 views )
6 Study Tips to Maximize Learning Efficiency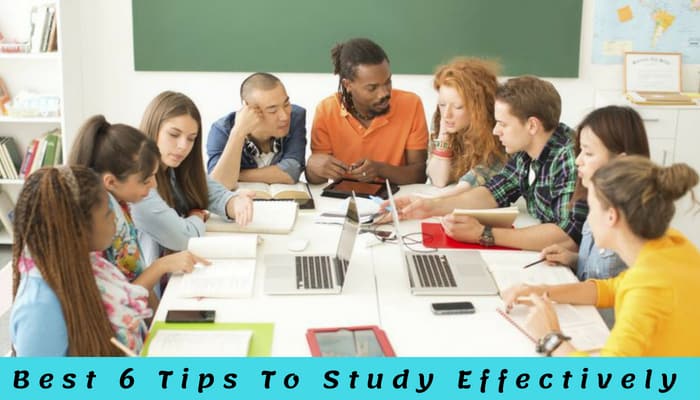 Many college-goers complain that even after trying a lot, they do not feel their effort toward studies fetch good results. As a busy adult, it is tough to manage the time for studies, and the worse thing is that even after spending a lot of time on this, students fail to memorize the things they read. Moreover, as the syllabus is quite vast, they feel confused what to cover and what to leave aside. Smart study techniques will lead to shorter and more efficient study sessions that would eventually help in scoring good grades in exams. Well, effective studying starts with a positive outlook as it will transform this task from a punishment to an opportunity to learn. And, there are many other ideas that can help you in this
1. Choose the study time and place wisely
Whether you believe it or not, it's important to choose a comfortable location and time while studying to make the session successful. Some students prefer complete silence while studying, others like to listen Mozart's music for better concentration. Know which category you belong to and plan your study room accordingly. Apart from this, it is important to study at the time when you will remain the most active. If you consider yourself a morning person, then utilize this time for studying. However, if you remain awake till late night, then instead of wasting hours on smartphone, use them in studies. In case you feel confused about which time and place will suit you the best, try various study sessions in different environments, and then choose the one which you found to be the most productive.
2. Concentrate on one task at a time
Despite the fact that you have limited hours on hands, you should not multitask as it will lead to minimum retention of information as well as confusions. Also, make sure, you study only one subject at a time, and take a small break between two study sessions. This rule applies to assignment writing tasks too, as although you would think that in this way you will complete it fast, the documents will actually come to be full of mistakes. And, thus, you will have to work on them further.
3. Handwrite your notes
Although most of the students prefer studying online and save the important web pages for revisions during exams, we suggest you make notes as this will help you retain the texts more easily. But for that, instead of making word files on your personal computer, write the texts manually in a notebook. Research shows that the mere act of writing boosts memory and the ability to retain information. Moreover, it is also useful to highlight the important texts using coloured pens as this allows the brain to memorize those points easily.
4. Make a study plan
As soon as a semester starts, you should make a plan about how much time you will spend on studying each topic and make a routine that will let you complete the tasks on the stipulated time. If you stick to your study goals, then you will surely reap the benefits during exams. But make sure that your routine is not crammed with too many tasks and devote some time to recreational activities too. Otherwise, you will get burned out soon, and won't be able to continue with the routine.
5. Test yourself
While studying a chapter, you should jot down the key points that might be important for the exam. And, after completing each topic, check whether you are able to solve the previous year questions related to that chapter. Apart from this, opt for an online test series that will let you experience the exam pressure. Facing test-like situation before actually attempting it will help you come up with better grades as you will know about your strengths and weaknesses in advance.
6. Stay healthy
It's important to focus on your health; otherwise, the time that you will spend on your studies will not be used effectively. You should always take at least 7 hours of sleep in a day and devote minimum half-an-hour to exercising. Remember being healthy does not mean staying away from infections and diseases, such as flu, typhoid, and diarrhoea. But you should give equal importance to mental wellbeing- try to remain stress-free and happy.
These were some simple techniques that will allow you to study effectively. In case pending assignment writing projects are not letting you focus on these tips effectively, seek help from subject-oriented writers working with us. With their knowledge and writing skills, they have helped many students in achieving high grades in their internal assessments.