Introduction
Today, with developing economy of nation, every entrepreneur has got advantage to launch business successfully. For this purpose, they conduct various activities to get idea for opening a new venture. Since small businesses help nations in improving and developing economy in a rapid manner (Germak and Robinson, 2014). Therefore, government of UK also gives supports to its entrepreneurs in launching their companies. The present report is going to evaluate how an entrepreneur plan to launch its new business. In this regard, description of all data is presented which are required to open a venture with employment practices and a cash flow management. Some ethical dilemma with relevant solutions are also highlighted.
TASK 1
Setting up new business
Starting up a new business is considered as both exciting and frightening for an entrepreneur. As it is associated with huge risks which may either give advantage to gain profitability or face huge loss also. Therefore, to open a business, it is essential for a person to concern on various aspects (Brunswicker and Vanhaverbeke, 2015). It includes location where business can be operated, employees who give support to run, appropriate budget, quality control and more. To ensure success of business, it is of the utmost importance for an entrepreneur to become aware of all regulations, requirements as well as aspects of operating a business before beginning it. Along with this, they must ensure that to get licenses, permits and registrations applied for approved of business as well. In this regard, a newly entrepreneur wants to open a business in fast food sector as Foodie Hamburger.
For start-up, near about 20,000 Euro has put on in budget. This restaurant will be launched in London Street where many fast food stores are already running. The purpose behind opening this store in high competitive area to reach targeted customers more easily.
This new fast food company mainly targets to youngsters and business class people. As these people rarely gets chance to eat home-made products due to busy schedule. Therefore, this would give advantage to fast food companies to target them. It helps entrepreneurs of Foodie Hamburger also to attract targeted audience by offering products on high discounts on occasions and affordable price rates on normal days. It will provide chance to enhance sales performance as well as give tough competition to other food restaurants also.
Business Plan
Overview of Foodie Burger:
Since food is the most essential need for a living beings. Therefore, companies dealing in restaurant and food sector generate huge income annually (Burns, 2016). One main advantage an owner gains is to get a sole right to set price as per own manner. Henceforth, this newly Foodie Hamburger restaurant is designed to address such needs. It offers delicacies food on irrespective price menu rates. It has also established restaurant on intercontinental style theme to attract potential customers.
Target Market:
It has evaluated that restaurant cum food business targeted people of all walks of life. As people of all age would like to prefer fast foods like burger, Italian pasta and more (Campbell, DiPietro and Remar, 2014). Therefore, Foodie Hamburger mainly targeted to corporate organisation, diplomatic community, migrants and youngsters.
Sales and marketing strategy:
As market in intercontinental meals is rapidly increasing therefore, owners of Foodie Hamburger has adopted effective marketing strategies. It includes direct and online marketing (via official websites and social media platform) to promote business.
Values of business:
To create value of business, owners of Foodie Hamburger has given employment to top chef executives and staff workers of different classes. In order to create equality and diversity, its managers have also implemented all rules and regulations which help in reducing the chance of discrimination at workplace.
Design the company's logo:
In order to differentiate Foodie Hamburger, owners have also designed a unique logo to differentiate it from other restaurants, as shown below: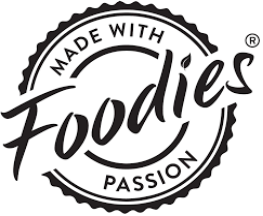 TASK 2
Market research to develop business
Before opening a new venture, it is essential for every entrepreneur to conduct a proper research. By surveying both in primary and secondary manner, they can gather adequate amount of data about business (Julien, 2018). This would help in analysing what kind of strategies are required to make to run business effectively. In this regard, owners of Foodie Hamburger have also conducted a proper research in order to generate idea for launching a new business.
Primary research: Under this research, managers of Foodie Hamburger have conducted a proper survey on potential customers. For this purpose, they have made a proper questionnaire in order to take feedback of people (Hagen and Zucchella, 2014). This would help in analysing preferences of targeted audience, their purchasing power and demand. Through this process, managers can evaluate how to offer products on amazing deals to attract customers.
Secondary research: This type of research is done to evaluate strategy, profitability and financial condition of other restaurants. For this purpose, managers of Foodie Hamburger have used various websites to collect information of other companies dealing in same area. This would help in formulating competitive strategies which helps in generating more profitability.
The managers have got an idea to conduct research by evaluating the strategies used by Hasburger who is considered as competitor of this company and availing same marketplace. This company conduct both kind of research (primary and secondary) to analyse taste and demand of customers.
Qualitative research: This research is done to understand the targeted customers, their preferences as well as where a company needs to focus its efforts. In this regard, managers of Foodie Hamburger conduct qualitative research to know targeted audiences completely. This would help in offering products as per demand of customers.
Quantitative research: Managers of Foodie Hamburger have also conducted quantitative research in order to test hypothesis of some assumptions. In short, to test effectiveness of sales and marketing strategies, this research provides statistical significance.
The another bigger competitor of Foodie Hamburger is Burger King Centre who use qualitative and quantitative techniques. These techniques are used to analyse perceptions of each respondent in deep manner. Therefore, managers of present enterprise also use both techniques.
TASK 3
Ethical dilemma with appropriate solution
It refers decision-making issue between two possible morale imperatives, where a company has to decide to choose a proposal or not. In terms of philosophy, it is also called an ethical paradox. As per present scenario, an organisation wants to promote its business on a website through a promotional company. But there is an ethical dilemma associated with this firm that it treats its employees badly and harass them also (Davis and et. al., 2018). Therefore, launching own business through such promotional websites will also impact negatively on brand reputation. In context with Foodie Hamburger, its managers also have to decide to accept proposal of such websites for promotion. So, it is recommended to this company to not accept the same as it may create conflicts among its workers.
Another case where such an ethical dilemma can be seen is Super Deal which is a Credit Homeowner Loan and arrange funds for other companies. This company has already bad image at marketplace due to overdraft and bad creditor. In this regard, other small companies who want to do business under partnership are afraid to joint business with Super Deal.
However, it provides benefits to small organisations in arranging resources but its negative brand image will impact on their businesses also. So, it is advice to owners of Foodie Hamburger also to prevent its business with such ethical dilemmas.
TASK 4
Employment practices
After launching business in food sector, owners of Foodie Hamburger have earned enough, to give employment to at least two employees on zero-hour contract basis. In this type of contract employer are not legally obliged to deliver any kind of minimum working hour to worker. While on the other hand employees are not legally abide to accept and kind of work offered to them by an employer. This contract can be of many types which include full-time, part time, fixed term and agency worker contract. Therefore, in case of discrepancy, employers can call such workers on any time for do a work.
To avoid ethical dilemmas and legal obligations, it is amendable for all companies to comply its business with legislations (Eriksson and Kovalainen, 2015). In this regard, for hiring new employees on zero-hour contract basis, managers of Foodie Hamburger much concern on employment laws. For this purpose, they have applied Equality and Diversity law in recruitment and selection procedure.
It includes four stages of resourcing process so that potential candidates will get equal chance to take job. It also helps in reducing discrimination and promote diversity at workplace as well. These stages are- Planning and Preparation; Advertising; Selection; Appointments.
Planning and Preparation:
It refers to initial stage where managers of Foodie Hamburger are required to prepare proper job description. They must evaluate need for recruiting employees on zero hour contract based. This would help in describing the job and particular profile for a person.
Advertising:
After planning and preparation of documents, managers of Foodie Hamburger further require to concern on advertising techniques. They must concern in which manner they have to make advertisement to aware candidates about vacancies. As it is a fast food restaurant and dealing on small scale so, it is better to give advertisement in newspapers and job portal. This will give opportunity equally males and females to get job. This would reduce gender gap and promote equality and diversity workplace.
Selection:
After getting resumes of interested candidates, the next stage of recruitment is to select some eligible ones from them (Kim and Mauborgne, 2014). In this regard, managers of Foodie Hamburger should proper screen profiles of applicants and select as per requirement. In this context, managers choose candidates on the basis of their eligibility and ensure not to create discrimination of them as per different characteristics. Therefore, this will also aid to promote diversity and equality in business.
Appointments:
It is last stage of recruitment and selection procedure, where managers of Foodie Hamburger are required to give appointment letters to selected candidates. Under this letter, all kinds of essential information are described viz. Date of joining, roles and responsibilities, appraisal criteria, working hours, induction training and company's policies.
This would help in giving proper information to recruiters so that they cannot make any further unethical complaints about business. In this regard, policies related to job employment and appointment are made as per legal laws. Under this process, equal rights are given to candidates to be outspoken if they feel discrimination and other kind of abusive activities at workplace. This will help in creating equality and diversity at workplace and keep people safe also from harassment activities.
Rights of new employees:
Government of UK has established various laws and legislations in order to improve condition of workers in organisations. This would give various rights to workers to prevent themselves from discrimination, harassment and other kind of activities. It includes to get proper salary as per National Minimum Wage 2018, in this regard, employer cannot make illegal deduction from wages. As per Health and Safety Act 2015, organisations must provide clean and safe working environment to workers, paid and sick leaves etc.
TASK 5
Company's assets, liabilities, expenses and gains
In order to launch business in food sector successfully, it is necessary for entrepreneurs to define assets, liabilities, expenses and gains in appropriate manner (Grayson and Hodges, 2017). In context with Foodie Hamburger, these components can be defined in following way:-
Get Help in
Any Subject
Our intention is to help numerous students worldwide through effective and accurate work.
Assets:
This part includes those resources which a company can use for running business and serve its guests. In context with Foodie Hamburger, its assets can be classified into two main components that are- Long-term and Short-term. Here intangible assets like company's bond, patents and stock, kitchen equipment's etc. are termed as long-term assets. While cash, inventories, accounts receivable, cash in hand and bank accounts are considered as long-term assets.
Liabilities:
As owners of Foodie Hamburger has introduced only 20k Euro for launching business therefore, to conduct other activities, it has taken loan from banks also. In this regard, bank loan is considered as liability for this restaurant (Yeboah-Boateng and Essandoh, 2014).
Expenses:
Purchasing raw materials from suppliers, transportation, salaries to staff members, introducing machineries etc. are taken as expenses of business. It also includes building repair and maintenance, security services, rent and more are also considered as expenses.
Gains:
Revenues acquired from sales of food products, growth of business after launching, number of customers etc. are taken as gains for this fast food company.
Restaurant owner of Foodie Hamburger are required to customise their accounting software's charts of accounts in regular manner. As this company set 20k Euro as budget, therefore, considering accountability would help in avoiding any kind of cash flow problems. Therefore, this budget has set in given manner among various activities as shown below:
Conclusion
It has been summarised from this report that in order to launch a new business, it is essential for entrepreneurs to seek on various aspects. It includes adequate amount of capital, labour, equipment's and machineries etc. which are required to run business effectively. In addition to this, they must concern on various laws while giving employment to people. This would help in giving recruitment to people in legal manner. Along with this, it is also necessary for employers of new organisations to make proper business plan first. This would help in launching business more profitably. Visit website to buy assignments online
References
Grayson, D. and Hodges, A., 2017. Corporate social opportunity!: Seven steps to make corporate social responsibility work for your business. Routledge.
Kim, W. C. and Mauborgne, R. A., 2014. Blue ocean strategy, expanded edition: How to create uncontested market space and make the competition irrelevant. Harvard business review Press.
Eriksson, P. and Kovalainen, A., 2015. Qualitative methods in business research: A practical guide to social research. Sage.
Davis, B. and et. al., 2018. Food and beverage management. Routledge.
Hagen, B. and Zucchella, A., 2014. Born global or born to run? The long-term growth of born global firms. Management International Review, 54(4), pp.497-525.
Julien, P. A., 2018. The state of the art in small business and entrepreneurship. Routledge.
Campbell, J., DiPietro, R. B. and Remar, D., 2014. Local foods in a university setting: Price consciousness, product involvement, price/quality inference and consumer's willingness-to-pay. International Journal of Hospitality Management. 42. pp.39-49.
Burns, P., 2016. Entrepreneurship and small business. Palgrave Macmillan Limited.