7 Research-Proven Knacks to Look Smarter Than You Are
February 15, 2017
( 5362 views )
Tricks to Make You Appear More Intelligent Than Others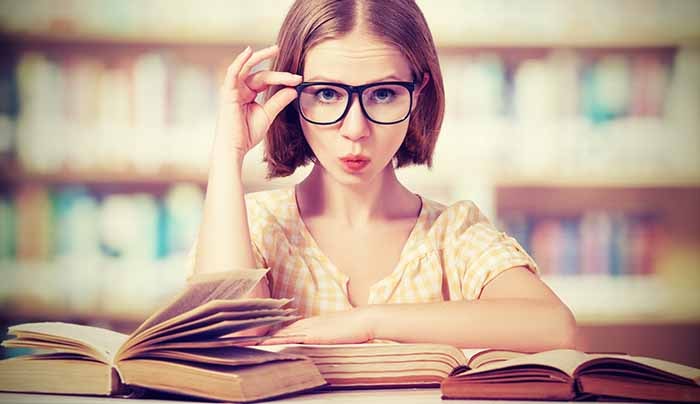 Who doesn't want to be called smart and intelligent? An intellectual person is always liked by other people surrounding him/her. Though there is no fast-track route to intelligence, there are certain tips that can help in making you look more smarter and sagacious.
Read this blog till the end to know those tactics that will make you look quick-witted than you are.
1. Try to keep your eyes open
It has been scientifically proven that drooping eyes convey depression and fatigue. This also adversely affects your cognitive abilities. So if you want to be perceived as an sharp-minded student, then do not close your eyes while you are speaking in public.
2. Stay away from excessive alcohol
Studies suggest that drinking too much of booze leads to the slower functioning of your brain. Over-consumption of liquor can lower down your image and make you look less professional among a group of peers. So have alcohol within the acceptable limits.
3. Wear thick glasses
It is a well-known fact that people associate glasses with intelligence. Many body language experts have suggested that if you wear thick spectacles, strangers regard you as more brilliant. So even if you have perfect eyesight, you can try using the zero power specs sometimes to enhance your appearance.
4. Carry a subtle smile
It is a well-documented fact that your facial features can influence the way people perceive your smartness. A frown indicates a low mood, which necessarily has detrimental effects on your cognitive performance. Thus, always wearing a fine smile can help to demonstrate that you are more confident and bright than others.
5. Try that you don't swear
Various surveys have found that swearing makes people seem less wise. Those who swear very often are considered as immature. They also do not have any control over themselves. How can such individuals be sharp and witty? Also, swearing every now and then may make you look emotionally volatile.
6. Speak Clearly
Some people think that if they are using big and complicated words while conversing with others, they look more genius. But in reality, it is exactly opposite to this. You should enunciate as clearly and pleasantly as possible to convey your ideas in a better way. Usage of jargon needlessly can decrease your attractiveness. So keep it simple and precise.
7. Always make an eye contact
One of the strongest signs of being smart is that you are looking at others while talking to them. People who maintain eye contact are perceived to be more confident about what they have to say. So the next time when you are talking to someone, whether they are your peers or college professors, look in the eye while communicating.
Hope these tricks help you in making yourself look brainy and talented.
We, at Global Assignment Help Australia, offer the best assignment writing services to the students studying in Australian universities. If you're facing challenges in writing your academic documents, then approach our experts without thinking twice and get assured of top-notch grades.