Emerging economies present opportunities for global expansion for businesses
Economy of a country is a key factor that determines the growth and development of businesses situated there. Emerging economies are those countries whose economy is increasingly growing as to become advanced but still not classified as a developed nation. The key elements of emerging market economies are lower than average per capita income, more than average return for potential investors, increasing market volatility, rapid growth witnessed recently and lesser mature capital markets. All of these together helps in establishing a emerging market economy. As per statistics March 2018, the Morgan Stanley Emerging Market Index classified 24 countries as emerging economies. These are Brazil, Indonesia, Chile, Korea, Malaysia, China, Colombia, Egypt, Czech Republic, Greece, Hungary, India and some more (Outperformers: High-growth emerging economies and the companies that propel them, 2019).
Emerging economies encourage business enterprises to take their trade and production to a global level. They present opportunities for fostering globalisation among entities by reducing trade barriers and facilitating free flow of goods and services from one place to another. Emerging economies play a key role in providing opportunities for companies in demographic as well as economic terms, both at macroeconomic and microeconomic level. When economy of a country is growing, it tends to create positive chances for corporate world wherein entities come in contact to facilitate healthy business relationships. By making use of such relations, enterprises intend to expand their businesses by taking to various geographical locations not yet explored.
A leading example of how emerging economies strive to create opportunities for global expansion of companies can be demonstrated by gaining an insight into Coca Cola. Over years, this entity has taken the advantage of global expansion. Coke began with the process of operating internationally in early 1920's and global expansion in early 1920's. This enterprise mainly emphasizes upon selection of such regions which have a potential and capability for facilitating business growth. Company's strategy over years has been to tap the advantage of entering and functioning in unexplored, undeveloped and hostile economies. In the start, Coke expanded its production by bottling the beverage facilities in locations like Guam and Europe. When company gained significant popularity and recognition, they began expanding into Austria, Australia, Italy, South Africa and Norway (The Chronicle of Coca-Cola: A Global Business, 2018). By tapping advantage of good communication, transportation and infrastructure facilities, companies like Coca Cola expand globally and gain a strategic edge over those companies that are operating in limited countries.
By expanding on a global level, companies tend to get access to talented personnel. It has often been observed that labour in international markets pose a lot of advantages for enterprises. They are much more skilled, competent and talented. They offer raised productivity, advanced skills in relation to language and observation and often belong to diversified educational backgrounds. This gives an edge to companies and thus, companies desire to expand globally. A remarkable example of this is Apple Inc. which has established its major manufacturing units in China. This is largely done so as to tap the advantage of cheap and qualified labour present there which helps Apple Inc. to successfully execute the production process. Another example of this can be the expansion of Netflix in Amsterdam. When company facilitated expansion, management was highly impressed with the multilingual workforce present in the city which Netflix could hire. By hiring multilingual staff, company aimed at ensuring that employees can easily perceive the mindset and culture of consumers spread across different territories within Europe (13 Businesses With Brilliant Global Marketing Strategies, 2019).
Some business enterprises also enter global market to take advantage of its healthy relationship with other businesses to gain a strategic edge in market over its rivals. For instance- Nike expanded in various geographical locations over a span of last few years. This owes to the careful and tactful selection of international sponsorships across the globe. It sponsored Manchester United Football Club (MUFC) for a long time with a view to gain global recognition and popularity among masses of different locations (The Most Valuable Sponsorship Deals In Soccer, 2019). Such collaborations largely help companies in gaining attention of people at a large scale and ensuring their brand loyalty.
Thus, by significantly entering into international markets, business organisations can ensure cross-border movement of products and services, efficient use of labour as well as capital globally. All these possess significant benefits for giving an economic boost to the nation. Thus, it can be largely said that emerging economies as well as globalised businesses are interrelated. Emerging economies create opportunities for businesses to operate globally while globalised entities give a push to present economic condition of such economies.
President Trump's approach to economic policy impacts upon China
Donald John Trump is currently the 45th president of United States. The term of his presidency is to be from 2017 to 2021. The economic plan proposed by Trump largely emphasizes upon "making America great again." The nationalistic philosophy of Donald Trump reflects his dream to take America back to the favourable position it was in, in past. He took campaign pledges which comprised of policies and regulations related to significant decline in immigration of people, trade protectionism, reform of individual and corporate tax. Some other were the dismantling of the Dodd Frank wall street reform along with the consumer protection Act and also the revocation of 'Patients Protection and Affordable Care Act' (Inglehart and Norris, 2016).
It was noted that Trump emphasized upon reduction of waste by eliminating the surplus spent on federal agendas. Also, he proposed 'trade protectionism' which reflected protection provided to domestic industries from foreign rivals. This was done by way of tariffs, import quotas, subsidies or any other barrier which is imposed upon import of foreign goods and services. Trump ensured that illegal immigration was blocked by deporting to 2-3 million immigrants within US who possessed any sort of criminal records. He proposed a policy where it was ensured that open jobs are first offered to workers in America. During the period of first 100 days of Trump's presidency, an enquiry was made to gain knowledge about a series of inefficient regulations that were in force. This was done with the aim of eliminating all such laws and rules. He revoked all executive orders which were passed priorly. In total, 29 executive actions were deregulated in Trump's administration. Also, Trump gave orders to roll back Clean Water Act and Clean Air Act rules (President Donald Trump's Economic Plan, 2019).
Trump focussed on making the US army so strong that nobody dares to fight with them. For this, he proposed to raise the Department of Defence budget by approximately 10%. All the rules and regulations made under his presidency became the cause of many complexities and conflicts. Besides this, Trump's economic policy led to trade wars between countries. It implies that nations got involved in attacking each other by way of quotas as well as taxes. This led to political tensions between various countries.
Trump's policy had a widespread impact upon China. Under his administration, tariffs were placed upon goods of around billions of dollars that came from various parts of globe, especially China. US president levied heavy tariffs upon steel and aluminium trading against China. In this regards, the announcement was done which declared the rates to be 10% on aluminium and 25% upon steel and 10% on aluminium. This had a massive effect upon the economic conditions of China and its exports. Both of these had an adverse impact on the nation. Further, he had promised levy of additional charges upon Chinese products of almost $200 billion, i.e., £150 billion. US had a massive trade deficit with China. It was approximately $375 billions in the year 2017 (Trade wars, Trump tariffs and protectionism explained, 2019). Trump was not much glad about the extent of trade deficit. Thus, he intended to take necessary steps to shot down the trade deficit shared with China. As per Trump, China had always been a nation largely involved in unfair and illegal practices associated with trade. Tariffs was chosen as the way of reducing the deficit.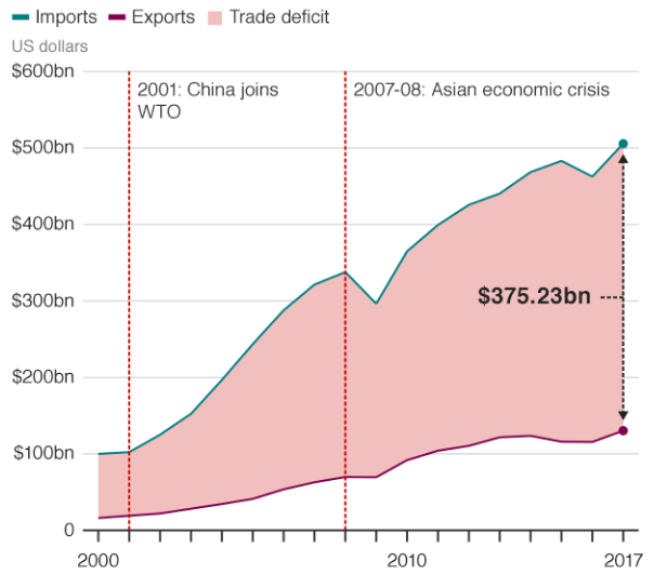 (Source: US Trade in Goods with China, 2019)
Many business enterprises of United States carry out their activities related to manufacturing in China. When US President Trump came up with the economic policy which proposed trade protectionism, it substantially affected the economy as well as manufacturing sector of China (Rodrik, 2014). If tariffs are imposed on exports, then the cost of manufacturing products of companies are likely to raise. This will imply less desire of enterprise to export goods from China. Thus, it can be seen that the scenario will have a huge impact upon manufacturing sector of nation. When manufacturing sector of the country gets affected at such a large scale, it is likely to cause a significant decrease in number of job opportunities, value of economy and many related issues. Thus, Trump's approach to economic policy had a massive impact on China.
References
Inglehart, R. and Norris, P., 2016. Trump, Brexit, and the rise of populism: Economic have-nots and cultural backlash.
Rodrik, D., 2014. When ideas trump interests: Preferences, worldviews, and policy innovations. Journal of Economic Perspectives. 28(1). pp.189-208.
The Chronicle of Coca-Cola: A Global Business. 2018.
13 Businesses With Brilliant Global Marketing Strategies. 2019.
The Most Valuable Sponsorship Deals In Soccer. 2019.
Outperformers: High-growth emerging economies and the companies that propel them. 2019.
President Donald Trump's Economic Plan. 2019.
Trade wars, Trump tariffs and protectionism explained. 2019.