Introduction
For organizations, project management success depends on the capability to handle expectations of customers along with improve the capability to maintain a standardize approach to all projects (Wheatley, 2017). Time and other resources availability issues create a biggest challenge in front of the success of the plan. To deal with these, in the present time, every company is using project management technique. By analyzing the recent statistics, it has been determined that the following approach has highly grown as a profession and the future, demand of it will increase (Mar, 2012). The present study is based on project management and to understand it, a case study of consultancy service organization is taking into the consideration. As per the given scenario, it has found that company want to relocate its office to the area around Banbury, Oxfordshire with the aim of reducing the costs. During relocation of office, some objectives have set by the Managing Director.
Activity 1
Business Objectives And Identification of The Project That Will be Required to Carry Out The Relocation
Business objectives
As per the given case study, it has clearly demonstrated that with the relocation of the office, Managing Director of the consultancy organization has announced the current business objectives which include:
To continue increase the income of business by 10% on per year basis
To enhance profitability on partial basis by minimizing the physical costs related with accommodation
To retain the business earning capacity
To improve the quality of support services those provide by the organization to its business clients
To get better the IT system for the company
To bring the reduction in the human resource costs related with the move specially linked with redundancy, recruitment and training
Identification of the project that will be carried out during relocation of the office
By considering the above stated objectives of Consultancy Company, some projects have suggested in which one of them can be chosen at the time of relocation of the office. The list of few related projects is as follows:
Enterprise Resource Planning
Customer Relationship Management
Systems, Applications, Products in data processing
Business Information System
Business Intelligence System
Total Quality Management
Developing Sub-division of Project and Estimation of Resources Including Cost and Time
By considering the set objectives by Managing Director of Consultancy Company and proposed list of projects that can meet the requirement of the organization during the office relocation, suitable project is Enterprise Resource Planning. The reason of selection of one of the following plans is it will help in growing the business income by 10% on annual basis, enhance profitability, retain business earning capacity, improve quality of offer consultancy services, enhance the IT systems and bring the reduction in human resource costs (Kendrick, 2015). The entire ERP project for Consultancy Company can be sub-divide into various stages so that whole plan can be managed in an effective manner. Sun-division of this project is as follows:
On the other hand, to introduce the new system within the Consultancy Company during the relocation of office, some resources will be required. These will be human resource, time, cost, technologies etc. The time duration for completing the entire project will be about to 5 months and cost will be £122850. Along with this, some skilled staff members will be needed to develop the project for the cited organization. Further, different technologies and machines will use at the time of development of ERP system to meet the objectives of relocation of the office (Schwalbe, 2015).
Activity 2
Describing and evaluating a suitable methodology for chosen project
For evaluating ERP project for Consultancy Company with relocation of office, suitable method will be PRINCE 2 methodology. It contains the feature of quality management and control which helps in align the project objectives and review the project plan step by step. The application of this framework with the respect of proposed project will divide the plan into manageable and controllable sections for the project team (Devaux, 2015). With the use of this method, entire ERP project will divide into seven stages: Starting up a Project, Initiating a Project, Directing a project, Controlling a stage, Managing product delivery, Managing stage boundaries and Closing of a project. PRINCE 2 method will assists the project team of Consultancy Company to manage the expectation of Managing Director with ERP system. It will focus over major deliverables of the project and utilize the resources in an optimum way to complete the project within the given constraints (Turner, 2016). Along with this, the following framework will help the project team to how to manage and supervise the entire work. Therefore, application of PRINCE 2 methodology has suitable for ERP project and meet the set objectives of Consultancy Company related to relocation of office.
Get Help in
Any Subject
Our intention is to help numerous students worldwide through effective and accurate work.
Assessing the feasibility of this project
The best way to determine whether the selected project is feasible or not, is to carrying out a feasibility study. In the case of Consultancy Company, organization has planned to relocate its office. With this aim, Managing Director of the company has set some objectives regarding this. By considering those ones, a list of proposed projects have suggested from which ERP project has selected (Hering, Carvalho and et.al., 2015). So to make sure whether the chosen plan would able to meet the expectations of cited organization or not, a feasibility study has conducted. On the basis of generated outcomes from this assessment, it has found that the selected ERP system has appropriate to attain the relocation of office objectives. This has demonstrated that a real demand related to chosen project has existed within the company. Along with this, feasibility study of proposed plan has given the opportunity to catalogue the existing resources and estimate the requirement of additional resources to complete the project (Lundin,, Arvidsson and et.al., 2015). Further, the generated outcome of feasibility study has helped in determine optimal timing for ERP project. In addition, it has allowed finding the skills and competencies needed in the project team members to complete the whole project.
Structure for the management and administration of the project
For ERP project, the suitable structure for the management and administration of the project is Project Organization Structure. The reason behind consider this structure is it has group together all team members on ERP project. Under this, project members have located collectively and work under the direct authority of the project manager for the duration of relocation of office project. Project manager has contained all authorities over guide and advice the project team members in order to attain the objectives through development of ERP system (Walker, 2015). In this context, the proposed structure for the management and administration of the project is as follows:
Roles and responsibilities of staff who will manage ERP project
ERP project has managed by several team members who will have some responsibilities towards the assign role. In this context, some roles and responsibilities of staff who will manage the project are as follows:
| | | |
| --- | --- | --- |
| Team members | Number of staff | Roles and responsibilities |
| Project manager | 1 | Designing and applying appropriate project management standards, planning and monitoring the project, preparing and maintaining project expectations, applying change control activities etc. |
| IT engineer | 2 | Designing and programming system-level software, understand the clients requirements, developing configuration of software, ensure the security of systems etc. |
| Quality analyst | 1 | Improving the quality of the project, setting of quality standards, reduction in error in project, highlighting areas of quality issues in plan etc (Navarro-Ortega, Acuña and et.al., 2015). |
| Project board | 4 | Review change request, selection of project manager, arranging the resources etc. |
| Contract specialist | 2 | Looking vendors to arrange the additional sources, ensure terms and conditions of contracts and proper termination of contracts after completion of contracts. |
| Test engineer | 2 | Testing all aspects of the product, work with development team to identify and capture test cases, designing test plans etc. |
Job Description and Person Specification For a Project Manager
Job description
Job Title: Project Manager
Location: Banbury, Oxfordshire
Country: UK
Scope of position: The Project Manager should be accountable for planning, scheduling, managing and controlling of project at various stages. He should also have sound knowledge about change management methods of project plan and able to effectively keep control over the planned activities.
Key Responsibilities: Project manager should prepare project plan, forecast the budgeting and timeframe in which project can be completed. He should be able to optimally utilize the existing resources to attain project objectives. Along with this, project manager should access and manage the risks associated with project and many more things.
Person specification
Job Title: Project Manager
Qualification:
· Under graduation in Operational stream and Post graduation in Project Management from any recognized university.
· Having maximum 5 years experience in project management field.
Interpersonal Skills:
· Decision making
· Team building
· Good communication
· Leadership
· Negotiation
· Self Motivator
· Positive attitude
Activity 3
Project Plan
| | | | | |
| --- | --- | --- | --- | --- |
| Task Name | Duration | Start | Finish | Predecessors |
| ERP System development | 154 days | Thu 1/12/17 | Tue 8/15/17 | |
| Initiation | 9 days | Thu 1/12/17 | Tue 1/24/17 | |
| Reorganization of organization problem | 2 days | Thu 1/12/17 | Fri 1/13/17 | |
| Project selection | 4 days | Mon 1/16/17 | Thu 1/19/17 | 3 |
| Review current organization structure | 3 days | Fri 1/20/17 | Tue 1/24/17 | 4 |
| Planning | 27 days | Wed 1/25/17 | Thu 3/2/17 | |
| Define project objectives | 4 days | Wed 1/25/17 | Mon 1/30/17 | 5 |
| Cost and time estimation | 7 days | Tue 1/31/17 | Wed 2/8/17 | 7 |
| Prepare project plan | 10 days | Tue 1/31/17 | Mon 2/13/17 | 7 |
| Risk management | 4 days | Tue 2/14/17 | Fri 2/17/17 | 8,9 |
| Resources allocation | 9 days | Mon 2/20/17 | Thu 3/2/17 | 10 |
| Implementation | 82 days | Fri 3/3/17 | Mon 6/26/17 | |
| Development of modules | 53 days | Fri 3/3/17 | Tue 5/16/17 | 11 |
| Testing | 21 days | Wed 5/17/17 | Wed 6/14/17 | 13 |
| Integration of modules | 8 days | Thu 6/15/17 | Mon 6/26/17 | 14 |
| Monitoring and review | 20 days | Tue 6/27/17 | Mon 7/24/17 | |
| Project review | 4 days | Tue 6/27/17 | Fri 6/30/17 | 15 |
| Making correction | 9 days | Mon 7/3/17 | Thu 7/13/17 | 17 |
| Quality checking | 7 days | Fri 7/14/17 | Mon 7/24/17 | 18 |
| Project Closer | 16 days | Tue 7/25/17 | Tue 8/15/17 | |
| Documentation of project | 9 days | Tue 7/25/17 | Fri 8/4/17 | 19 |
| Resource releasing | 4 days | Mon 8/7/17 | Thu 8/10/17 | 21 |
| Project sign off | 3 days | Fri 8/11/17 | Tue 8/15/17 | 22 |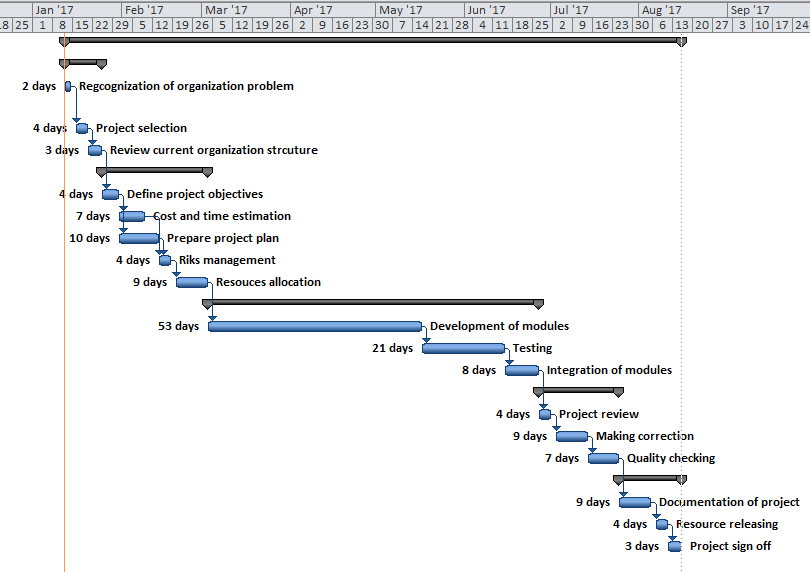 Activity 4
Assessment of alternative project team structure
The proposed structure for ERP project, the selected structure was Project Organization Structure. But in the case of further changes in team structure, there will be a requirement of another structure which can be Functional structure.
Designing of process for quality management of the project
At the time of development of ERP system for the relocation of office, there will be a need of process of quality management. In this context, design of procedure for managing quality of plan at every stage is as follows:
Finding objectives of company:
Here, objectives related to relocation of office of Consultancy Company have determined. On the basis of this, the needs and requirements of organization have determined.
Setting of critical success factors:
To make the quality of the project more effective to attain the set deliverables, it has important to define some critical factors on which actual quality of plan can be compared with expected ones. This has helped in evaluating the project quality on various criteria (Dutta and Bose, 2015).
Determining areas to manage quality:
Under this, project manager of ERP project has found those areas where quality management has become important. This has helped in reducing the issues related to the quality by taking the right action of mitigation.
Measuring outcomes:
By using the above stages, project manager has tried to measure the quality of ERP system and has tried to determined whether the developed plan as per the set quality criteria or not. Along with this, to measure the quality of plan, some other techniques of quality management such as Quality Audits, trails etc can be taken into the consideration (Pearlson, Saunders and Galletta, 2016). &n