Introduction
Travel and tourism sector is one of the fastest growing sectors of the economy as compared to other areas such as health, financial services, manufacturing, and assembling sector. This sector has made a significant contribution to GDP of many countries. Additionally, it has created many jobs and impacted the lives of many people positively. Due to stiff competition present in this industry, the market plays needs to sharpen their market skills to stand the competition.
Taking the scenario of an assistant manager of Thomas Cook which intends to create a holiday in the summer period 2017 to visit Egypt and Morocco, this report will discuss core concept of marketing in this tourism and travel sector. Furthermore, the report will examine the impact of the marketing environment of Thomas Cook and highlight some of the factors that affect consumer demand and motivation. Finally, the report will give an overview of the market segmentation principles and analyze its use in marketing planning in our organization under the study.
Task 1
P1.1 Core concept in marketing for tourism and travel sector
Every organization thrives to satisfy the needs of its customers, and Thomas Cook is not an exceptional. To achieve this, an organization is obliged to understand the core concepts of marketing to give quality services that will enhance customer satisfaction and loyalty to the organization. These core concepts are: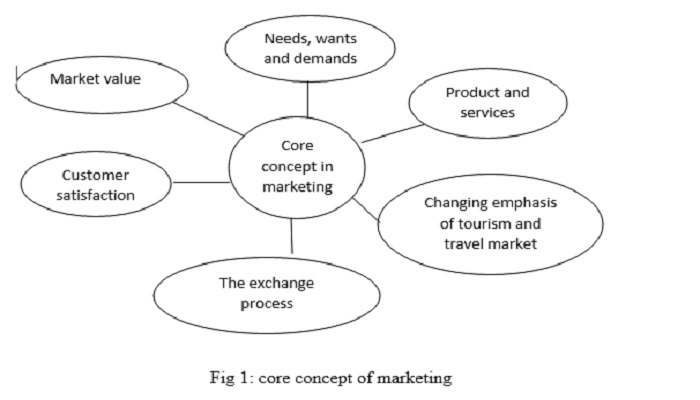 Needs, wants and demand
Need, want, and demand are three basic terms that cause a lot of confusion to many people. Needs refers to things that an individual needs and cannot survive without them. Wants are a step ahead of the needs, and they refer to things that people desire and can live without them (Armstrong, Adam, Denize & Kotler, 2014). In economics terms, demand refers to the willingness as well as the ability to acquire something.
This marketing concept state that needs and demand for a product or service vary from one client to the other. In our case scenario, Thomas Cook needs to understand the needs of its clients to provide satisfaction. In reference to Abraham Maslaws theory, these needs include the psychological needs, safety, belongingness, esteem and self-actualization needs (Kaur, 2013). Therefore, the subject company is required to provide basic needs like food to the tourist.
Additionally, the company should provide security to all tourists, friendly and welcoming services. Esteem needs should also be provided through activities such as recognitions for achievement made. Services offered should, therefore, be designed to meet the needs of people and their ability to pay for them.
Product and services
Product and services are two terms that are closely aligned. A product refers to a tangible commodity that is made by an organization for its customers while a service if an intangible economic activity. In the provision of tourism and travel services, Thomas Cook is required to provide services that are economical, secure, friendly and activities that people cherish to promote satisfaction.
Market
It is a medium that allows sellers and buyers of different products to interact. Thomas Cook serves both local and international tourist. In analyzing the market, this company should also factor that influence the market. This include competition from other firms, government regulation, terrorism threats and economic status individuals and countries in general. From the analysis of historical terrorist attacks, Egypt and Morocco may be less preferred by many customers the number of attacks these countries have experienced. Therefore, this company can look for other countries like Japan that are highly preferred due to security.
Value
This refers to the worth or the usefulness of a service. Customers are constantly looking for services that are worth spending money on. Before decide whether to take customers to Egypt and Morocco this company should evaluate the customer benefits and the value that will be added in clients' life. Smart services guarantee clients value for the amount spent. The value offered by Thomas Cook can be determined by the level of customer satisfaction.
Customer satisfaction
Every organization strive to achieve customer satisfaction to generate continuous business or gets loyalty from clients. Satisfaction level shows whether a product meets or surpasses customer expectation(Armstrong, Adam, Denize & Kotler, 2014). To enhance customer satisfaction Thomas Cook should establish clients' expectations before taking them on the summer holiday. They are also required to identify various things that can improve customers' satisfaction and utilize them. Remarkable, this company can benchmark customer satisfaction strategies from other market plays in the same organization.
Exchange process
Exchange process is when a person decides to satisfy some needs by offering money to a service provider for in exchange for service. For example, the process that occurs when a client pays money to Thomas Cook for tourism services to Egypt
Tourism marketing
In the words of Dolnicar and Ring (2014), tourism marketing refers to the application of important techniques to promote tourism in a country.
Also Read: HND Business- Hospitality in Travel and Tourism- Mont Rose College
P1.2 Assessment of the impact of the marketing environment on individual travel and tourism businesses in reference to Thomas Cook Group.
The environment that surrounds an organization impacts its directly or indirectly. This environment is subdivided into two kind of environment that entails the macro and micro environment. The external or the macro environment is made up of factors that are external to the business, and the business does not have control over them. On the other hand, micro environment is made up of internal factors that come from within the organization and the business has control over them. Macro environment elements that influence Thomas Cook business include:
Technology: the knowledge and skill applied in the provision of services smoothen the operation of the business. Thomas cooks should utilize advance technology in offering their services to not only stand the competition but also enhance customer satisfaction. For example, the application of advanced technology can boost customer satisfaction in their tour to Egypt and morocco
Economy: the status of the economy where Thomas Cook is base can affect its performance directly by either interfering with organization production capability or by affecting client ability to pay for the travel and tour services.
Demography: Thomas Cook target different market segments which are influenced a common force. For example, the young, educate or people from the same region or ethnic group. This environment can affect the profitability of this company. For example, people from Africa may not turn up well for travel in Egypt and Morocco.
Politics: Organizational politics and the politics of a country influences activities of the organization. For example, internal politics might make Thomas Cook to change its holiday plan to Morocco and Egypt to other places which are preferred by the majority of the stakeholders. Besides, political stability of Morocco and Egypt affect the decision to tour in these nations.
Society: the impact of a business has on the community around and the society at large affect its continuity and performance. a business should always strive to please the society, add more value to it and minimize the negative effects. Before, touring to the projected country, Thomas Cook needs to evaluate the impact of this tour to the society.
Culture: it is commonly defined as the way of life. This culture varies from region to region and affects the success of a given venture. Thomas Cooks needs to examine the culture of its target client to find out if the projected nations of tours are suitable for the clients.
Tourism system: this environment is made up of three basic elements which are the tourist, tourism industry and the geographic element which include the tourist destination as well as the tourist route (Bernick, and Boo, 2013). Thomas Cook should evaluate these elements and heed to their needs to be successful in tourism and travel activities to the projected countries.
The microenvironment of this company comprises tourism organization, customers, suppliers, intermediaries, and competitors.
Tourism organization: it is made up of national, international and non-governmental organizations which help in developing and managing tourism. These helps an organization run smoothly. However, if the needs of these organization are not meet by the subject company, then its business activities can be paralyzed.
Customers
They are key stakeholders in the tourism industry. They are the reason why an organization exists. Their decision has a direct impact on the performance of an organization. Thomas Cooks should evaluate the needs of these customers for the success of their products. Some of these needs include the need for secure, affordable and reliable services.
Intermediaries
These are the middlemen who come in between the supplier of a product and the final consumers. The key intermediary in this industry are the tourist agents. Their level of satisfaction determines how a company will perform. Therefore, this organization should strive to meet their need and motivate them to work more.
Competitors
They are the rivals of a given company. They offer similar services but applies different strategies to win clients. The move taken by these rivals can render the subject company useless in the market. Therefore, Thomas Cook should monitor actions taken by competitors and come up with counter strategies. The competitors of these company consist of local tourist industries in Morocco and Egypt as well as other international tourism companies.
P1.3 Factors affecting consumer motivation and demand in the travel and tourism sector
The purchasing power of customers
The purchasing power refers to the ability of customers to buy the provided goods and services(Armstrong, Adam, Denize& Kotler, 2014). Thomas Cooks understands this concept and divide their customers to different categories under their purchasing capability. They offer different categories of services for example budget; custom made packages and luxurious packages to cater for individuals with different purchasing power.
Economic conditions
The economic well-being of an individual affects the demand for a service. When customers have money, they are motivated to consume beyond the basic things. At this point, they may be motivated to take a tour to a far place like Egypt thus the demand for tourism services.
Cost of services
Customers may be willing to consume some services but fail to do so due to financial constraints. Therefore, if a service is affordable, it will motivate the individual to consume it.
Taste and preferences
Different customers prefer different services. Some individuals from the UK will prefer local tourism while other will prefer international places. In this case, some client will be motivated to take the 2017 holiday summer package provided by Thomas Cook due to the choice of African countries.
The Internet and social media influence
Research shows that the social media has become part and parcel of people life (Minazzi, 2014). When social media user post photos and talk positively about a tourism site, thousands of people may be influenced to visit the same place.
P1.4 Analyze the principles of market segmentation and its uses in marketing planning
Market segmentation is the division of market to different groups of customers by their needs, demography, behavior, interests, purchasing power among other category criteria. Segmentation goes hand in hand with positioning and targeting. This principle is important in formulating marketing strategies. Segmentation helps Thomas Cook Group to identify different target customers for the travel and tourism services to develop business strategies necessary to reach the potential customers and enhance their satisfaction (Morrison, 2013). The following chart illustrates an ordinary market segmentation applied by many organization including the Thomas Cook.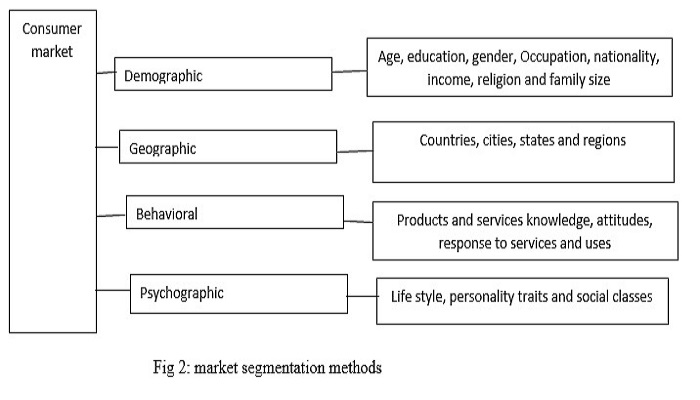 Demographic segmentation dived the market of Thomas Cook customers on the basis of gender, age income, religion family size, and education. This assist the company to reach different customers who have different needs. For example, through the study of these segment, the organization can choose to offer adventure tours to mountains for you individuals who can climb mountains.
The geographic segmentation divides the market into groups of individuals based on their geographic location. For example, our subject company may decide to offer the tour to Morocco and Egypt to UK clients only.
Behavioral segmentation is based on the knowledge of clients, their attitude and response to various services. Some client may prefer to tour these countries for many days while other would prefer one-day tour. Understanding these needs will assist the organization to design tourism packages that enhance customer satisfaction.
Psychographic segmentations divide the market on basis of lifestyle, personality traits, and social classes. Some individuals may prefer luxurious things while other just want the basic things (Morrison, 2013).With this segmentation, Thomas Cook can design several tourism packages that meet the needs of these individuals to enhance customer satisfaction and promote loyalty to the company.
Task 2
P2.1 Analyze the importance of strategic marketing planning for a selected travel and tourism business (Thomas Cook) or tourist destination (either Morocco/Egypt).
Strategic marketing plans presents several benefits to a given organization. In our case, these plans help an organization to:
Identify the directions of a business and how the business will follow the direction to achieve the end mark of success.
Avoid future uncertainty that can lead to closure of the business (Tsiotsou, & Goldsmith, 2012).
Eliminate unproductive activities to focus on the ones that are essential for business growth and development.
Utilize the scarce resources for the growth and development of the business
Coordinate various department in a way that maximize the objective of the organization
P2.2 Discuss the relevance of marketing research and market information to managers in the travel and tourism sector with reference to Thomas Cook Group
Marketing research provides essential market information that can be utilized by an organization to promote customer satisfaction. Market research can help Thomas Cook to identify customer needs, preferences, and behaviors. This information helps the company to develop strategies necessary to provide satisfactory services that will be above the competitors' level. An analysis of the previous tour to Morocco and Tunisia is a reliable and sufficient source of market research information. Marketing research and information also helps an organization to:
Define its market- this research provides an insight of who the clients are in terms of location, lifestyle, age, financial capability, their needs, and preferences.
Measure the current trends in travel and tourism sector- tourism industry is a dynamic industry; therefore, market research will provide relevant information about the trends in the market. These trends may be on the change in customer preferences, change in government regulations among other.
Forecast demand. The future demand for a product can be determined by observing the history of a given product. An analysis of the tour to Morocco and Tunisia can give the company sufficient information that can be used to forecast future demand for the Thomas Cook's tourism services.
P2.3 Assess the influence of marketing on society
Marketing goes hand in hand with the society. There can never be marketing without the society, and the society cannot be separated from the marketing. Marketing can be defined as the process of identifying needs in the society, designing the best service to suit the needs and providing this services to the society. Advertisements and promotions are key components of marketing which have highly influenced the society. People cannot imagine the world where they are not reading newspapers, listening to radios and watching television. These advertisements break the monotony of watching televisions and listening to radio.
Thomas Cook has been focusing on the youth as well as the low-income earners by offering low-cost services compared to their competitors. Through this marketing strategy, many people enjoyed travels and tours. The company offer trust consistency and smart services that guarantee customers their money back. This marketing has also led to the provision of good customer care, security for money and fair competitive prices for tourism services in the country.The corporate social responsibility activities undertaken by this organization in marketing has led to improved standards of living for some individuals, development of infrastructures among other benefits.
have a question or
Need assistance
CALL US +1 2139295632
Conclusion
This report has clearly outlined various marketing aspects that relate to the tourism industry with much focus on Thomas Cook company. From this discussion, we can conclude that marketing Plays a critical role in the success of an enterprise. Therefore, Thomas Cook should formulate and implement effective marketing strategies to create awareness of its product and persuade customers to take the product. The organization should also use the core concept of marketing to identify the needs of its clients. Finally, this company should monitor its environment carefully to ensure it runs smoothly.
References
Armstrong, G., Adam, S., Denize, S., & Kotler, P. (2014). Principles of marketing. Pearson Australia.
Bernick, N. L. and Boo, S., 2013. Festival tourism and the entertainment age: interdisciplinary thought on an international travel phenomenon. International Journal of Culture, Tourism and Hospitality Research. 7(2). pp.169 – 174.
Dolnicar, S. & Ring. A. 2014 tourism marketing research: past, present and future. Annals of Tourism Research, 47. 31-47
Kaur, A. (2013). Maslow's need hierarchy theory: Applications and criticisms. Global Journal of Management and Business Studies, 3(10), 1061-1064.
Minazzi, R. (2014). Social media marketing in tourism and hospitality.