Five Geographical Issues Dragging Down Australia's Growth
February 05, 2018
( 23919 views )
Five geographical problems that Australia is currently facing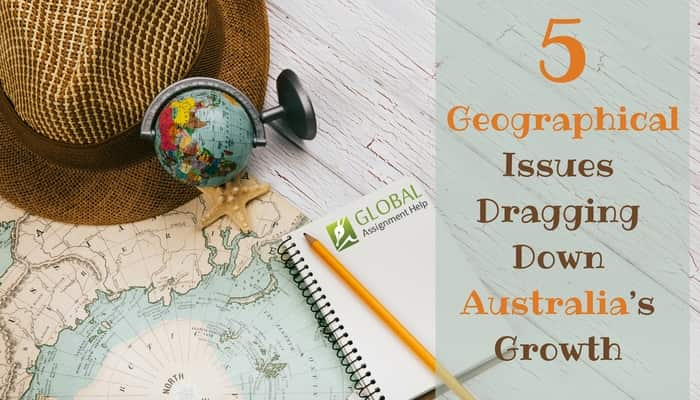 The study of geography is not just about memorizing the places on a map, but it's about understanding the complexities and problems the world is facing. It also talks about finding a way out and resolving them in the best possible method. Professionals working in various sub-fields of geography should have a keen eye for these issues and in-depth knowledge of the cause and effect analysis. Like any other country, Australia is also going through a phase of constant changes. Due to certain ill effects of those transformations, the nation has succumbed to many geographical disparities. In this blog, the writer has covered some of the crucial issues that are slowing down Australia's wheels of development.
1.) Spatial Inequality
Australia is well known for its egalitarian tradition, but in last two decades, the gap between the rich and poor has widened as a consequence of the disproportionate distribution of benefits of economic growth. In the era of the fast-growing economy, there is a growing imbalance between the higher class and those belonging to lower ranges of income distributions. Apart from this, it is evident that Australia's poor communities are located in either rural areas or the northern territory, whereas the elite class is located in the core of the prominent cities.
2.) Urban Growth and Decline
The urban growth and decline are two universal phenomena, and every city across the globe is witnessing them. Due to many factors such as an increase in public spending, availability of cheaper land, low taxes, and increase in family income Australia is facing the urban growth. Each of these elements magnetizes people to Australia. On the other hand, urban decline results from lack of economic opportunity, unemployment, and poor infrastructure. But, there's hardly any effect of these downfalls on population growth.
3.) Coastal Management
Australia has a wide coastal environment with a range of ecosystems that consist of a large number of habitats such as mangroves, salt flats, salt marshes, seagrass beds, dunes, beaches, and many more. The coastal management issues arise because Australians prefer to live around the coastline. It has been found that due to increase in agglomeration of people around the seashore, the coastal ecosystems is getting disturbed. It has also made the management process complex as several other conflicts related to demand of land for different purposes have born out of it.
4.) Land and Water Management
Other challenging issues faced by Australia are related to land and water management. Due to uncontrolled clearing of land for agriculture, residential or industrial purposes, nearly 13% of natural vegetation cover has been lost. Also, as a consequence of clearing of forest other pressing issues such as dryland salinity and soil erosion got triggered. Moreover, land clearing has increased Australia's greenhouse gas emission dreadfully in the past two decades. Water is also considered to be one of the critical concerns to the future of Australia. Due to illegal construction and land clearing, the natural drainage system has been poorly affected and depleted the natural water sources.
5.) Ecological Imbalance
The whole world is facing the problem of ecological instability and unsustainability and the sheer factor behind this is human activities and the impacts associated with them. Currently, 83 million people are added to the world population, and the figure is still counting. This change leads to a colossal impact on ecosystems. Another factor is a change in the pattern of human activities. The rise in industrial operations, consumption of natural resources, and production of hazardous waste have also intensified the ecological repercussions.
In this ever-changing world, nothing changes more than the geography. So, it is required from you to keep track of constantly altering shapes of your country. Hope you found this blog informative.
Are you overburdened and feeling sick of writing your lengthy geography assignments? If yes, then hire us. We, at Global Assignment Help Australia, have an experienced team of writers and academic experts who provide the best geography assignment help to scholars at reasonable prices.