How to Draft a Perfect Samsung Case Study?
June 27, 2020
( 700 views )
Samsung Case Study Analysis: Everything You Need to Know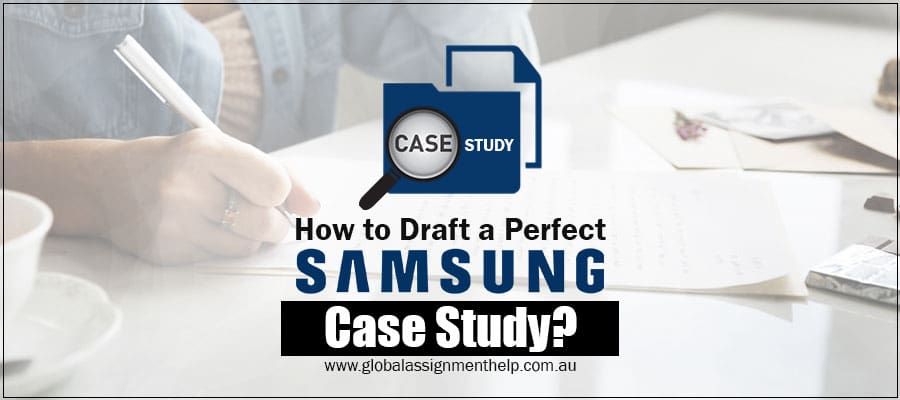 Table Of Contents
We all know that university life is full of fun, friendships, academic events, responsibilities, and other tasks that students need to manage accordingly. Similarly, they need to undergo multiple academic tasks that are given to them by their professors, which is indeed tedious. And, when it comes to writing a case study on Samsung, students face numerous difficulties. While writing the case study, they need to conduct in-depth research to collect all the required data for SWOT & PESTLE analysis in which they spend most of their time. It is one of the many difficulties that students face while drafting the Samsung case study 2018. So, it is important for them to know 'How to draft a perfect Samsung case study? by taking assistance from Global Assignment Help Australia professionals.
Here is the complete guide by our experts that will assist students who don't know how to conduct SWOT and PESTLE analysis and write the best case study.
However, before that, you should understand about a case study first.
What Is a Case Study?
A case study is a situation in which students have to analyze the given problem and conduct an effective research in order to come with a relevant solution. they are required to adopt the right research methodology to explore the given questions and develop learning skills related to the underlying principles.
How to Write a Samsung Case Study?
If you want to draft a perfect Samsung innovation case study, you should follow the below-mentioned points suggested by the experts of Global Assignment Help Australia writers.
Determine Samsung Case Study's Objective
Every business case study is designed to demonstrate the value of the company services that they provide to their clients. If you are writing a Samsung operation management case study, you need to determine the main objective, which must be related to client satisfaction.
Client satisfaction can be achieved by focusing on:
Government Regulation
Lowering Business Costs
Meeting the Expectations
Generating Quality Feedback
Expanding the Business in a New Market
Promoting the Business with Word of Mouth Promotion
These are a few objectives which you need to take into consideration as they focus on the business and clients as well.
Ask the Right Questions About the Company
The next step in drafting a perfect case study is asking authentic Samsung case study questions. You should know that every business case study involves a questionnaire in which you ask questions based on the problem that you identify.
Samsung case study questionnaire includes questions like:
I. Why do you buy the latest smartphone? (Select maximum 3 choices)
Business Purposes
Communication
Gaming
Show-Off
Want to keep yourself updated
II. When do you change your mobile?
When it gets old
When you get bored with your smartphone
Technical errors
When it is ruined
These are the types of questions that you need to ask in your questionnaire. Make sure they are relevant with the content of your case study.
Create a Proper Samsung Case Study Format
It is essential to create the right Samsung case study format, which can impress the subject professor and help you achieve all the goals related to the case study. You should understand that whether the case study is primarily written or visual, you should focus on the seven-part outline, which is as follows:
Title
Subtitle
About the Subject
Challenges and Objectives
How the Solution Helped
Call to Action
Results
This is the seven-part outline, which you need to follow for preparing an eye-catchy and authentic Samsung case study.
Along with keeping these points in mind, you need to do SWOT and PESTLE analysis of the Samsung case study to answer the questions asked by the professor.
What Is SWOT Analysis?
SWOT analysis helps in identifying the internal strength and weaknesses of any company. Other than this, it also focuses on identifying external factors like opportunities and threats.
So, while drafting the Samsung inventory management case study, you need to perform a SWOT analysis to get an insight on all the factors. It includes:
Samsung' strength is that the customers are loyal to the company and appreciate and respect its services and products. The company always makes sure to maintain a good relationship with the suppliers. The finances are extremely strong and stable. All this makes Samsung a billion-dollar company.
Every company has some weaknesses. Similarly, Samsung also has some weaknesses like:
Hard competition
Korea's labor unions' demand for collective bargaining and negotiation
Lack of quality personnel that result in unclear vision and mission
These are a few weaknesses that the Samsung company has from the last decade.
Samsung is has a strong market presence for the last 82 years which provides it many opportunities, such as:
The economic and political condition in South Korea is favourable.
Samsung is interiorizing the social shift, which is attracting people to work for them.
Large customer base.
Samsung is getting continuous support from many countries related to the taxes because of its good relationship.
These are some of the many opportunities that Samsung has, and identifying it on time can help it generate more revenue and achieve success.
Most of the time, people think that if the company is working globally and has its presence in multiple countries, it doesn't have any threat. But, in reality, every company has threats that can hamper the business operation and affect its growth. Similarly, Samsung has some threats which are as follows:
Expectations of the customers from the other brands.
High competition
Regulatory issue and safeguarding the property rights in South Korea
This was the Samsung case study SWOT analysis. We have also explained PESTLE analysis on Samsung in this blog. Take a look.
What Is PESTLE Analysis?
Every business has some macro-environmental factors which impact its overall performance and day to day working. PESTLE analysis is conducted to analyze all such macro-environmental factors (external marketing environment) to come up with an effective solution if any problem is faced. When writing the Samsung case study, you need to conduct a PESTLE analysis which includes:
P: POLITICAL
While writing a case study on Samsung and doing PESTLE analysis, you can write about all the political factors that affect the business either positively or negatively. A set of factors such as political stability in the country, government attitude towards the industry, risk of military invasion in the South Korea, long-term and short-term growth. All these affect the revenue of the company which comes under political aspects.
E: ECONOMICAL
The economic factors of Samsung company involve the dimensions of the work where they operate. While writing the case study on this company, you must mention all those factors correctly to make the content look presentable and correct.
S: SOCIAL
If we talk about the social aspects of Samsung, then it strictly follows the South Korean traditions because the company was originated there only. There are several aspects that you can include related to the adaptability of the company in various countries.
T: TECHNOLOGICAL
Since Samsung deals in smartphones and other electonic devices, you have a wide scope of writing about the analysis of technological factors in the case study. You can include the launching of high-end technology products in a Samsung case study, which signifies technology up-gradation that the company believes in.
L: LEGAL
While conducting the PESTLE analysis on Samsung, you can always have an opportunity to introduce all the penalties that the company has suffered over a period of time. To gather the information related to the same, you need to do a bit of research. If you think doing research is a boring task, then you have the option of taking help from the expert writers of Global Assignment Help Australia.
E: ENVIRONMENTAL
While writing Samsung's environmental responsibility case study analysis, you can include all the factors that affect the company's business related to the environment. When you seek help from our writers, they make sure to include all the relevant examples that help in understanding all those factors easily.
So, this is the PESTLE analysis that you can include in your Samsung case study. Apart from this, if you face any difficulty in writing Samsung case study conclusion, then feel free to contact Global Assignment Help Australia writers at any time of the day. If you are wondering why you should avail case study help from us, then look at the succeeding section of this blog.
Why Seek Samsung Case Study Help from Us?
Global Assignment Help Australia has been providing case study writing services for the past decade. We have a team of professionals who are skilled and qualified enough to provide the best work when any student seek help from them. So, when you ask for Samsung case study help, we ensure delivering quality content that is written with perfection. You can also enjoy some astounding benefits when you seek help from us, such as:
Plagiarism-Free Content
Affordable Price
Free Turnitin Report
24*7 Customer Support
100% Confidentiality
Visit our website and place your Samsung case study order; we will get back to you with the best available offers and high-quality solutions. Hurry up, the best professionals are waiting to serve you with all their might!