8 Tips & Tools: Use Them & Prepare Your Solidworks Assignment Like a Pro
August 21, 2019
( 2450 views )
Know These Tips and Tools and Make Your Solidworks Assignment Amazing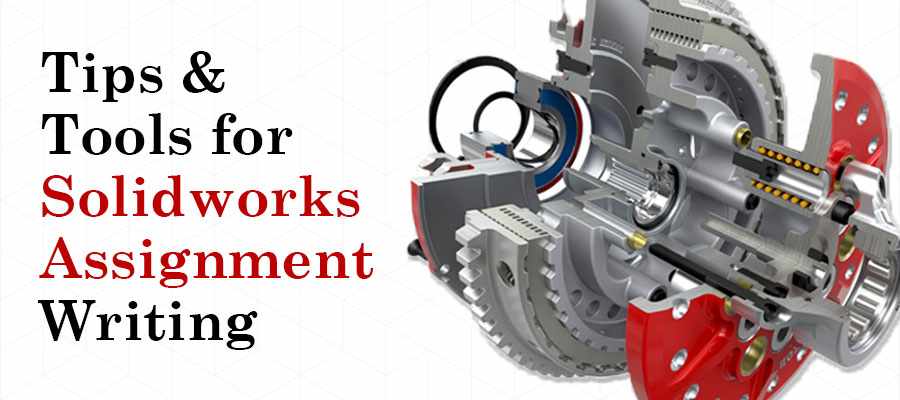 How do you think that your favorite cars Bugatti and Lamborghini came into existence? Well, it took a lot of hard work from designers to come up with such amazing models. They put a lot of efforts in designing such breathtakingly fabulous masterpieces. You also want to create such cars in the future, right? This is the reason you are working so hard to learn Solidworks. But, assignments on it are a major roadblock in your path and like many other students they have induced you to search for Solidworks assignment help. Do you know why are they hindrance? Well, the reason is, although you have basic knowledge of Solidworks, still are far from being a pro. Why? Because you are unaware of some expert tips and tools that will transform you in an expert.
Knowing these tricks will not only enhance your capabilities to make your career bright but also help you complete the assignment easily and impressively. You must now be very much excited to know them, right? Well, for that, you need to have a careful reading of this write-up.
Do you know what is the first step of becoming a maestro? Well, the first and foremost step is knowing the basics thoroughly. Therefore, before going ahead, we will have a quick recap of the Solidworks basics.
What Is Solidworks?
We know this is a very basic thing to talk about, but remember the magnificent buildings are always built on strong foundations. Therefore, to make your foundation strong, it is very important to have this discussion. Solidworks is a designing software that has gained enormous popularity in the recent years. Nowadays, almost all the giant companies are using it to design and model their products. And, this has increased the demand for Solidworks expert professionals across the globe. If you complete this course successfully, there are enormous career opportunities waiting for you. Therefore, start preparing for the future from the present day itself. Start taking your studies and assignments more seriously.
Now, after having the basic discussion, let's not make you wait more and come to the purpose of presenting this document. The next section will focus on the tips and tools that will be your guiding force in learning Solidworks as well as completing its assignments.
The Amazing Tips to Ease Your Solidworks Learning and Assignment Completion
Do you know, your search for Solidworks assignment help has landed you at the best place? Yes, we are calling this the best place for your assistance as here you will find something that is not available on other webpages. Here, we are sharing the amazing tips formulated by our experts that will make learning this subject and assignment completion a cakewalk for you. Go through them with maximal attention.
Tip no. 1: Keep in mind the basic designing approach:
While designing using Solidworks, you need to keep the designing approach basics in mind. As you may know, there are two approaches, namely, top-down and bottom-up approaches. Both of them have its own strengths and shortcomings. The top-down approach is a suitable choice when you want to create 3D parts using a 2D sketch whereas for creating each part independently the bottom down approach is preferred by the designing experts.
Tip no. 2: Have well-defined dimensions:
Do you know how our experts come up with the best designs using Solidworks? Well, they give proper dimensions to everything. To create a masterpiece, it is very important to define the measurements correctly. If you do not have accurate dimensions, creating and altering the object designs will become a daunting task. Therefore, keep this point in mind to complete the assignment perfectly.
Tip no. 3: Use proper display:
Display plays a major role in Solidworks designing. If you choose it correctly, your performance will be enhanced. On the contrary, if you use an inappropriate display, the performance will be downgraded. Therefore, to become an expert designer and to complete the assignment impressively, you must make the correct choice.
Tip no. 4. Try to use the keyboard shortcuts:
Wondering how a keyboard can help in Solidworks designing? Well, according to our experts, it can be of huge help. Some amazing keyboard shortcuts can ease your work. For example, if you want to bring up the view selector, then simply press ctrl and spacebar together. This will help you quickly complete the work.
Tip no. 5: Use the feature tree:
Trees are not only helpful for life but also in Solidworks designing. Yes, we are talking about the feature tree which most of the students overlook. Use it and you will notice that your work has become a lot easier. The feature tree can be used to easily examine the sheets and views, display the drawing's features, and group them in folders. This is not the end, there are many such tasks that you can accomplish through this tree.
Tip no. 6: Use the sweeps tool:
Want to design pipes and handles using Solidworks? The best tool to use is sweeps. It can easily create multiple sketches. Where one sketch will do the work of a profile and the other of a path. These profiles can then be dragged along the path to make your desired object.
Tip no. 7: Make use of the extrude feature:
The extrude feature or the extrusion tool is very helpful in creating perfect designs using Solidworks. It gives thickness and depth to the design by taking a 2D sketch in an x-y plane and developing it in the z plane. You can use this tool to form flawless geometrical shapes.
Tip no. 8: Use the surface and lofts:
The surface and lofts are similar to sweeps but they provide an additional advantage by introducing the guide curves. These curves further make the designing process smooth.
In a nutshell, it can be said that the above tips will prove to be of great use in your assignment completion as well as the Solidworks designing career. Go through them one more time so that no confusion persists in your mind. Implement these tips. Doing so will guarantee that your design turns out to be a unique masterpiece capable of fetching you the dream A+ grade.