Useful Tips to Avoid Procrastinating & Complete Your Art Homework On Time
June 02, 2020
( 1225 views )
How to Get Your Art Homework Done on Time Without Procrastinating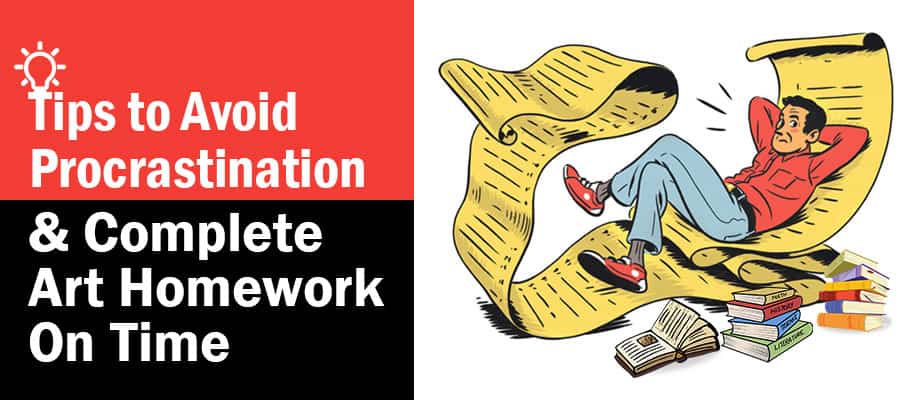 Procrastination!!!
Most of the student tends to do it, especially while working on art homework. In other words, it is one of the biggest hurdles a university student needs to overcome while working on their homework. More than 50% of the students tend to put off their homework for the last minute, and when the situation becomes out of control, then they start searching for the best art homework help expert online.
Definitely, you too, do the same.
Isn't it?
Well, whatever might be the reason, but after reading this blog prepared by the Global Assignment Help Australia experts, you will surely get your work done on time. The writers have highlighted some useful tips to avoid procrastination.
Here are they…
Tips to Avoid Art Homework Writing Procrastination
The following are some of the useful tips that will help you stop procrastinating art homework writing task and get it done on time. Every tip is prepared after conducting extensive research by the experts of Global Assignment Help Australia, so read them carefully.
Tip 1 - Figure Out the Reason Why
First, figure out the reasons to procrastinate. You can then tackle those reasons by understanding your behavior. For example, if you keep putting off your art homework due to a lack of comprehension and a fear of failure, you might need to look at ways to overcome that — such as having a tutor, seeking extra help after class, and learning to take better notes in class, or consulting art homework help provider.
Tip 2 - Know Why You Want to Achieve That Goal
Knowing what needs to be done is one thing, but also understanding why you want art homework writing task to be completed is crucial. Write down the reasons, why you want to accomplish these goals, and it will act as a helpful guide to prevent procrastination. After that, you can easily get your task done on time.
Tip 3 - Write Down the Thing That Needs to Be Done
The first step to being successful and stop procrastination is to write things down and make lists. When it's right in front of you, and you've set your goals, it will help you get going and think longer. Also, it will help you in completing your art homework on time.
Tip 4 - Start Solving the Difficult Part First
When you start by solving the difficult part of the art homework, then you will feel accomplished. When we know that the most difficult part is done, then the rest just seems like a pleasant stroll through the park. After that, you can ease the difficulty and can continue solving your art homework without feeling stressed.
Tip 5 - Write Down Your Negative Thoughts On Paper
When you have some negative thoughts or worries about the task you need to do, then note down those. Simply write down all the negative feelings on a piece of paper, and after that, you can easily work on your art homework that too without getting stressed.
OK! So, this is all about the tips that you need to take off because they will surely help you stop procrastination, and then you can complete your art homework within the deadline. We hope now you have understood the tips well. Still, if you don't know how to manage your homework, then simply follow the succeeding approach prepared by our art homework help experts.
Expert Approach to Tackle the Art Homework Writing Task with Ease
Do you know why the majority of the student can't tackle their art homework?
Well, they are not aware of the right approach to follow throughout.
This is something that stresses them the most, but not anymore.
Here is the right approach to tackle the task with ease.
1. Create a to-do list of 2-3 tasks that you have to complete daily.
2. Keep your homework writing task in front of you.
3. Break down the task into smaller chunks.
4. Set a particular timeline for yourself.
5. Find your inspiration and get motivated to keep on working.
6. Surround yourself with positive people so that you feel like working.
7. Take help from others whenever needed.
8. Set small rewards for achieving small milestones.
This is the correct approach that will surely help you get your task completed within the university deadline, and you can tackle it with ease. Now that the approach is in front of you, so its time to use it. Still, after this, you fail to complete your homework, then feel free to get in touch with our experts.
Can't Tackle Your Art Homework? Reach Global Assignment Help Australia Experts!
In case after implementing the aforementioned tips and approach, if you still face a lot of difficulties, then feel free to reach assignment Help experts. They do have years of experience in writing multiple writing tasks and can complete it within the promised date. And the best thing is, you can easily get your task completed at an affordable price. We do also provide long delivery assignment orders at some exclusive offers. To get a better insight into them, you can simply visit our website.
For more queries, feel free to get in touch with our art homework help providers via call, email, and live chat.
Good luck!