How to Write a Plagiarism-Free Document?
October 03, 2018
( 4690 views )
7 Effective Ways to Avoid Plagiarism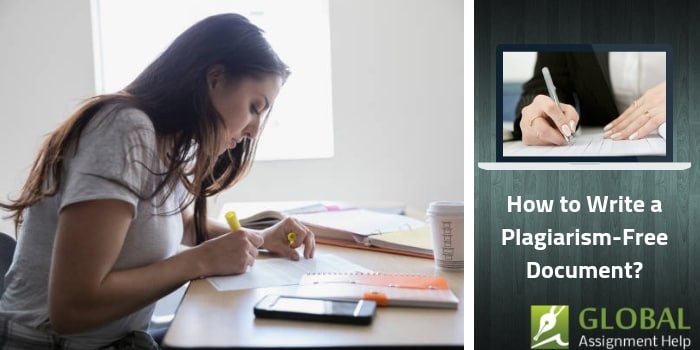 Writing all the useful information that you want to include in your paper is an easy task. But it should be done with a few rules. The first and the most important rule is never copy someone else's work. It's a serious offense that is known as plagiarism. It can put your academic as well as professional career in trouble, and that's why it should be avoided.
So, before knowing how to avoid plagiarism, one should learn its definition and it's consequences.
What is Plagiarism and What Are Its Consequences?
Plagiarism is a type of academic misconduct in which students copy the ideas or work of other writers and include them in their own documents without acknowledging them. With a large number of availability of plagiarism detecting tools, it can be easily caught and can lead you to face severe consequences, such as
It will Destroy Your Reputation
If your work is unoriginal, then it will surely mark a negative impression on your professor's mind.
It can Ruin Your Academic Career
Every student is required to submit many papers such as assignments, thesis, and reports during his academic tenure. If the write-ups are unauthentic, then it may lead to the cancellation of his degree.
It can also Affect Your Professional Career
If any of your document is found unauthentic, then it will get mentioned in your academic record. That track record can mark a negative impression on employers mind as most of the times they ask you to show your academic reports before hiring.
Top 7 Ways to Avoid Plagiarism
Till now, you must have understood the fact that how plagiarism can make a negative impact on your academic as well as on your professional career. Below our academic writers have jotted down a few crucial steps that can be helpful in writing an authentic paper:
Start Early
The best way to avoid plagiarism is to give yourself enough time to do proper research and then write down the information in your own perspective. Lack of time won't let you to pen down your own thoughts.
Paraphrasing
Paraphrasing means reading information from various resources and then writing down it in your words. Doing it without mentioning the name of the author or websites is also counted as a plagiarized work. So, paraphrasing should be done with proper citing.
Citing
If you have to use any information from any website or book, then you must cite the source from where you have taken it. So, make sure to mention name of the author, year of publication or the URL of the websites.
Quoting
When you have to use any quote in your document, write exactly the way it appears. It really doesn't take enough time to do this and can avoid chances of plagiarism.
Proofread
Proofreading is the key step that should be done before submitting the document. It doesn't only help you find grammatical mistakes, but also enables you to check whether you have cited or quoted properly or not.
Plagiarism Checker
There are a lot of plagiarism checking software available online. They help you check the plagiarism level of your paper. If you find any trace of plagiarism, then change it immediately.
Referencing
This is the list of the sources that you have cited throughout your document. It should be mentioned at the end of your document.
How Can We Assist You in Providing a Genuine Document?
Writing an authentic assignment is one of the challenging tasks that students face during their academic career. Due to lack of time, most of the students don't do enough research and just copy the content in exactly the way it is written. That's why their documents are found with high level of plagiarism. To overcome from this serious problem, they look for various portals who can provide them best assignment help. Keeping their requirements in mind, we have hired a team of professional writers who provide genuine documents to students.