Question :
Impact of work stress on Employee Performance- A Case study on Digi Telecom".
Objectives:
To identify the factors that leads to work stress among employees of Digi Telecom.
To ascertain the impact of stress on employees' performance at Digi Telecom.
To analyze the relationship of stress and performance.
To make recommendations about stress management to Digi Telecom for future consideration.
Answer :
Organization Selected :
Digi Telecom
Introduction
Stress is the universal experienced by employees around the globe. Nowadays, stress become the major issues and problem for employer and particularly in developing nations where the employer does not realize the impact of stress on the company nature. This makes the proper and effective nature of performing better subject growth. Present study will be based on impact of stress on the employee performance with reference of Digi Telecom. It is mobile service provider in Malaysia. It is the another matter of fact that helps to describe the better developing and better resourceful growth. Company having 2500 employees in the company with well specific job and with new environment. It also helps to sustain the better objective growth, it also helps to make the better fast growing performance and best target market effective performance of work. Study will collect the secondary data on the basis of this makes the better advancing goals. This makes the better advancing services and better opportunity growth. This also helps to certain the better objective performance making target goals.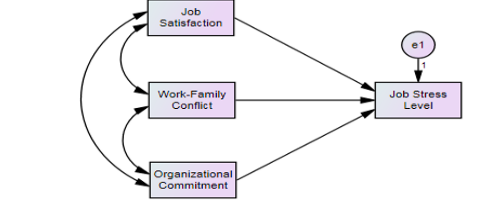 Illustration 1: Can We Rely on Job Satisfaction to Reduce Job Stress?
(Source : Research framework, 2017)
Theme 1: To Identify the factors that leads to work stress among employees of Digi Telecom.
Terminologies and definition of stress
The term, stress was first employed in a biological context by the endocrinologist hand selye in the 1930s. It covers the range of study of phenomenon from mild irritation to drastic dysfunction that may cause severe health breakdown. According to Ngugi martha (2014) Stress is the most complex term because it is author intangible in nature so it cannot be touched only feel. Stress occurs when company work level become high and uncontrollable. Due to which employees frustrated and challenging to performing their work pressure and goals. More apart it also has been proved and long lasting to discover the new level of stress.
As per the Dar, Akmal (2011)review stress is the term which can defined as external usually physical, forces acting on an individual. It will also contribute low effective performance making task within the organization level. As per the Fisher, (2015)suggested there has been
It gives the better observation performance and makes the good deal with that as well, stress is a normal and difficulty in copying with life demands. According to Ngugi martha (2014) there are some symptoms that shows the stress among employees such as headache, disturbed sleep, stressful, events. It becomes the better a long effectiveness and looks better services and long difficult growth channel to be distributing accordingly. Issues become more complex and ambitious that concerning the issues of confidentiality. Every employee feels stress related work in the organization. Employees has many issues with their jobs, bosses and sometimes with the work environment culture. It takes time to be implementing accordingly effective. It is the responsibility and full accountability of the management team to be taking care of the employees and make better performing level among the different employee system. Overall, job stress has been defined as work uniqueness which poss different threats and other terminology area of specific performances. Stress occurs due to poor performance of the employees. That might be created long term growth channel and making low effectiveness performance level. On the other hand, as per the Dar, Akmal (2011)this also has been seen that in the company stress creates huge losses and discomfort among employees through which employees got stuck in health issues. According to Nassis and et.al., (2015)there are some new work stress theory that affect employees into best performing level. Transaction theories of work related stress like transnational theory of work related stress helps employees to reduce stress level, transnational theory suggest that stress is the direct product of a transaction between an individual and their environment which may tax their resources and thus threaten their well being. New version of this model will suggest to the organization to provide some casual pathway that may better express the nature of the underlying Psychological and physiological mechanism, which underpin the overall process and experience of stress. As suggested with another author, International theories of stress is the another model of reducing stress between the employees. For instance, the effort-reward imbalance (ERI) theory. Yet in contract of transnational theories of stress, this imbalance may not necessarily be subject to any appraisal, as the stress-or may be an everyday constant. This theory helps to reduce the work stress. This also affect the business goals.
As per the Marek Schaufeli and Maslach, (2017)according to current world heath organization, occupational or work related stress represented the work demand and stress level will approach the better service growth and effective needs and wants accordingly. According to suggested BABU DIVAKAR, (2015)they suggested that stress is the one aspect of the life which gives new experiences and ill health as well. Even though stress causes low productivity or performing level in terms of doing the work in the company. This also helps to control the better and better effective and majorly target marketing growth. Overall, stress is the most important and most effective process goals. Apart from that, it brings lots of changes and model of good performing task and better growth changes. Overall, it brings the most.
It is very necessary to resistance and long lasting materialistic goals. And best chargeable decision making approach. In order to meet the satisfaction level employees it helps to collect the best approachable results and better forward looking level. There are so many types of stress such as chronic stress, acute stress,
Set a side, it also helps to discover the most rechargeable and leading targeting marketing growth and better growth services. This also helps to control the long term stress level and long term forming task. Apart from that,
Depression is the another face of stress which shows different low learning growth and makes the uncertain challenging situation. There are many factors that lead different stress level such as high workload, insufficient workload or lack of control of management among employees suggested by Kotteeswari, Dr. Tameem, Sharief. (2014). Lack of interpersonal relationship with employees will also lead to insufficient coordination among employees, Which also be the reason of high stress that lead the low performing goals. This issue brings the new basic major objective level. This also helps to control the major activities goals. Stress is unpredictable and uncontrollable factor. That leads to big changes and low performing level of makes short term performing growth. Ary, Jacobs, Irvine and Walker, (2018) All along this also creates the new way of performing goals and makes good deals. With new challenges. It also makes the proper and challenging break down that makes the better services and better challenging growth nature. This also helps to take care of the organization growth and challenging matter of fact.
Work related stres