Introduction
From a past decade, a significant attention has been given to the health and mortality that can be seen in relation to social status. Along with this, education is an important social determinant of health. In relation to this, it can be true to say that higher level leads to create healthier society. The benefits of education are not only limited to treating healthier society nut there are too for economics development (OECD, 2001). Through education aspect there are number of impact to the social engagement of people hence, increase in the level of social engagement can be seen as an important factor that helps in generating adhesive, safer and healthier community. The present assignment is going to discuss about the impact of education on health. However, it is going to be discussed how health status of society is affected by education.
Education and Health
To the view point of Lleras-Muney (2005) the individual personal knowledge and social skills that are gained through academic curricular can be helpful for individuals to assess the information and services that are important to maintain and improve personal as well as their family's health. Furthermore the authors have argued that health and education are the two most important of human capital and their economic value can be found to the economic development and productivity. Education of people in the society lead to development of healthier nation. As per the survey of Human Development Report it was found that the education leads to better outcomes in health. However, it has been also witnessed that the positive association can be found within education and health that further can be judged in partly attributed by the differences of income in countries. Furthermore , it can also be seen that health and prosperity had a positive relation between them (Lleras-Muney, 2005).
To the view points of authors Grimard and Parent (2007) education has an direct impact of health and it is a very common common attributes that significantly impact the individual health. For government sector , it the most important to understanding the impact of education on the health of individuals. A large literature available to the websites presents the effective relationship between health and eduction. There have been seen three different potential explanation that represents the positive relation between health and educations. The first is related to investing more in the education whereas the second one is common factors that are related to education such as genetic endowment as well as social background. The time preference is one if the important factor that affects health in a similar way. The third aspect is that the education lead to the better health of people. It has been witnessed that uneducated and the people with low level of knowledge directly affect the health outcome as they prefer to have traditional ways to overcome a disease (IPH, 2008). On the other hand , it could be said that there are many uneducated people are not aware with the rare diseases and they do not know how to take an effective care. In addition to that they could not get to the better health treatment in lack of knowledge in relation to improve their health. Whereas , the educated people have enough knowledge how to take care of themselves as well as their societies. However, these educated people take the serious actions to get out from ill situation in quick way. These people are having enough knowledge about healthy food as well the consequences of unhealthy food. This is the huge gap between educated and uneducated people in regard to have an healthy behavior (Fonseca, and Zheng, 2011).
In an extend manner , it can be said that education affects the health but simultaneous, it can be said that the health and education are having some common attributes which is argued by Theodore Schultz in the study conducted related to the investment in Human Capital. Furthermore , it can also be said that the education and health are seen in both manner as there are investment and consumption. The investment is education will significantly lead to the improvement of health outcomes. The educational status of people can be can as the significant determinate of health. The globe level evidence represents that the the people of society having lower level of education are more likely to die in the early age or these people are highly at increased risk of death (Lleras-Muney, 2005).
The people with low level of education can also be seen in under poorer health throughout life cycle as compared to the people who are having higher level of education. The extensive research that has conducted to have an better understanding the multiplicity in different ways through which the health of individual affected by the education. It can be said that the health outcomes of individuals are significantly affected with educational statues of people. It the various investigations, it has also been found that there is an significant difference between mortality and morbidity of health behaviours and knowledge among people who have varied level of education (Fletcher and Frisvold, 2010). On the other hand, it can be seen that there are quite similarities among the health status of people who have lower level of education and the people who are having lower socioeconomic groups. However , it is enough to surprise the people that educational or academic attainment affects the consequent chances to get employed and earning well. The uneducated people are seen to be unemployed that influence their earning and income and having a lack of income sources it is not possible to get resources for improving individual's health. The uneducated people are seen to be unemployed that influence their earning and income and having a lack of income sources it is not possible to get resources for improving individual's health (Groot and Maassen, 2006).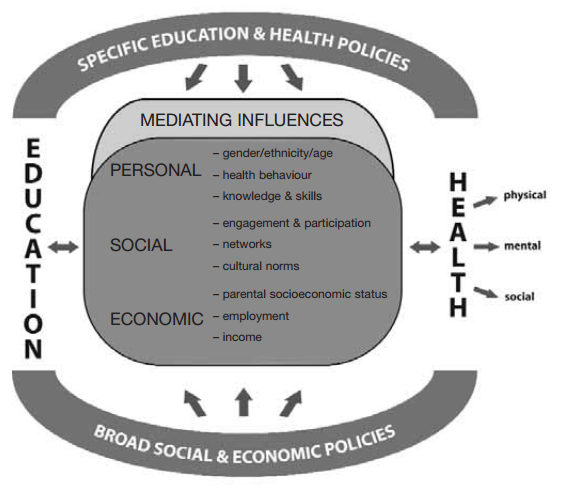 Illustration 1: Education and Health
Various studies and findings
In the investigation made by Behrman and Rosenzweig (2004) represented that the least education people do not have enough knowledge to improve their health status that shows a powerful negative association between lack of knowledge to improve health initiative to cure rare diseases. It has also been witnessed that there are various low income countries who can not assess the financial resources for education that direct impact the health of individuals. There are various individual in low income countries that are pretty much uneducated and the health status of people is seem gone down (Behrman and Rosenzweig, 2004).
In 2007 there was a study made by Cutler and Lleras-Muney. Who have investigated the relationship between education and health in order to find out the relation the authors have used the data available in National Health Interview Survey (NHIS), and this data was consist of sizeable number of health outcomes as well as health behaviours. However the respondent were restricted to the age limit of twenty-five years or older the reason behind this is that the people crossed the age limit have completed their studies. The individual morality rate have been studied in the first level. It has been found that the the people having higher level of education are less probable to die within five years of interview (Cutler and Lleras-Muney, 2006). Furthermore, it has been identified that the people who are educated well are also less likely to die from chronic disease. The better education of people are more likely to improve the health conditions and are far away from death due to health diseases. In the investigation, it has been found that beside having the difference between the health behaviours among higher and lower educated people there can be seen disparities in health outcomes in the mentioned groups (Cutler and Lleras-Muney, 2006).
There have also been conducted a cross country comparisons in Europe in which the causal effect of education were found to health. In addition, there was a study that have shown that in 22 European countries the individuals having low education level are reported with poor health outcome as well as various functional limitation were there on the bodies. Such low level; of exudation is witnessed with the increased chance of death (IPH, 2008). These people are found under the risk of having diseases like as lung cancer, health attract, cardiovascular disease and certain level of infections. The major reasons found that the lack of knowledge regard to improved health education. Additionally, there have been found a significant association between education and illnesses such as back pain, dementedness, polygenic disorder, asthma, and depression. The study have also found that the education can significantly affects the health of individuals in numerous ways during the entire life cycle. However, the researcher have presented the evidence of relative impact of education on mental health especially among younger age group people, whereas the older age people are seen with some issues in physical functioning due to low education (Mackenbach, and Looman, 1996).
The investigation conducted by Wolfe and Zuvekas (1997) there have been seen five major health effects that can be seen due to educational status. According to the statement of the author there can be seen a positive impact on individual education and health status. Furthermore, there is also a positive relation between the schooling education ODF parents and children on the health of family. The authors have further revealed that the education earned in the school life contributes to the efficiency of consumption choices such as smoking and drinking. The people have knowledge about the consequences of unhealthy products they generally have improved health. The last major health affect of schooling education can be seen to the fertility choices of individuals and their children (Wolfe and Zuvekas, 1997).
The study done by Silles, (2009) represented that there is an stable and effective statistical association among education and health outcomes. The study of the author presented that it is too plausible to anticipate that a least part of association can be seen to be a genuine causal effect among health and education. Hence, the author have revealed the statistical or causal association that the education have on health of individuals. Nonetheless, there was found a limitation of this statistical significance that it does not tells that the education and health are having relevant effect, on which basis a casual effect is seen on health due to educational level of individuals (Silles, 2009).
In support to the fact that the education is having significant impact on health and the aspect is discussed in the investigation conducted by Groot and Maassen (2006), the authors have stated that there is positive and higher relationship among the education and health. In this regard a meta-analysis investigation was done. The effects of lower level of education is appeared to be influence for the decreased health outcomes in terms of illness. Furthermore the author have presented that rate of return to education was higher as compared to the value of the education to health (Groot and Maassen, 2006).
The investigation dome by Grimard, F. and Parent, D (2007) indicated that the people with higher level of education are seen to involved in negative health prevention programmes. The knowledge of educated people is helpful for society and government to promote other for improving their health. The investigation further includes the facts the Individuals with low educational levels should not have effective information in relation to the negative impact of smoking to their heaths and children. It has been witnessed that a number of teenage pregnant girls in UK who have left their schools earlier are not aware with the negative consequences of ill health of smoking to health of both infant and mother. The study is seen with the facts that lower literacy levels do not believed that loosing weight and avoiding junk food will improve their health (Grimard, and Parent, 2007).
Get Help in
Any Subject
Our intention is to help numerous students worldwide through effective and accurate work.
Grossman model explains effects of education on Health
Grossman model was developed to identify the relationship between demographic profiles of an individual (age, education, health status and income) and production of health. As per this model, anyone can adjust their health stock instantaneously without any investment within stipulated time. This model predicts that health and medical care terms are positively related to each other. In addition, Galama and Kapteyn (2012) argued that health care practitioners and care homes can consider this model to predict that well-educated are more efficient producer of health. The main reason behind that health is considered both as consumption and an investment good. By taking proper education and fully aware about health care issues, individuals can maintain their health and overcome the chance of disease and other problems in their day to day life. Through investing in health capital and getting education about health, an individual person can produce positive outcomes in forms of physical and mental health (Galama and Kapteyn, 2012). Despite that, this model establishes link between educations with preventive care choices. After changes come in education, its positive effects can be seen in terms of health insurance, income, assets, or cognition at midlife of an individual.
Besides that, Grossman's human capital framework can be employed plays an important role in the context of producing good health's and solves the issues related to health which include socioeconomic status and occupational choice etc. However, some researchers were criticized this model due to constant returns and its simplistic deterministic nature. Fletcher and Frisvold (2010) find that higher levels of education consume more preventive medical care. In the context of examining the impact of education on preventive care, they were applied regression analysis. From the result, it was found that greater education may influence preventive care partly by accessing of care and occupational channels.
Along with regression analysis to evaluate correlation between health status and education, Fletcher and Frisvold was also employed Grossman model. As per this model, education is correlated with the use of preventive health care for adults. Different factors which include reduce educational attainment, poor childhood and leads individuals to reduce their adult are helpful in order to identify correlation between education and preventive care. In addition, education can increase efficiency of an individual's health production function and improves the choices of health inputs (Fletcher and Frisvold, 2010). On the basis of output of regression test and Grossman model, Fletcher and Frisvold suggest that through emphasizing on education activities, health related issues can be solved in a significant manner. As per this model, education is considered in order to improve the efficiency and produce health investments effectively. With help of little investment in education, health capital can be generated in a proficient manner. From the model, it is clear that education plays a crucial role in term of increasing efficiency and improving health of an individual in their day to day life. On the other side, Pruckner (2010) criticized the fact provided by Fletcher and Frisvold (2010) regarding direct correlation between education and health care investment. They suggest that education may have a negative effect on the demand f health care. The main reason behind this fact is that if people will be more educated that then they will be able to more efficient in producing health in an appropriate manner (Pruckner, 2010).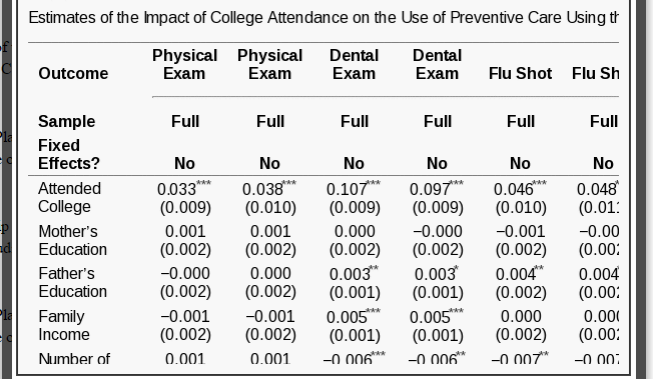 Illustration 2: Impact on education on health
From the above graph, it is clear that there is a direct relationship between education activities which include attended college, mother education, father education and family income on the preventive health care. Besides that, it is also identified that lower price of medical goods/services& improves health (Benson, 2010). High numeric values of physical and dental exams in cases of attending college and mother education indicates that if an individual will more focus in education activities then their health consciousness and health status will be improved. It is observed that people did not value medical care for its own sake.
By concentrating on education and income factors helps individual to overcome health related issues. However, without investment capital in education, any one will be unable to maintain their health stock and perceiving health related benefits in an appropriate manner. On the basis of review of different author's theories, it can be said that there is a correlation between education and health status (Galama and Kapteyn, 2012). It is observed that education factor is considered as the most important factor because it highly influences health of an individual. For example, if an individual person will educate then he/she will be able to maintain their health and overcome chances of disease in an appropriate manner.
Conclusion
The investigation made above clearly stated that the people who are having higher level of education are likely to have higher level of knowledge in regard to approach better health. These people could be seen with information and knowledge related to health conditions and treatment regimens as well as improved self-management skills to improve their as well as family's health as compared to the people who are less educated or uneducated. The investigation concluded that the people with low education level likely to be unemployed that influence their earning and income hence, they become unable to improve health.
References
Behrman, J. and M. Rosenzweig, 2004. Returns to Birthweight. Review of Economics and Statistics.
Cutler, D. M. and Lleras-Muney, A., 2006. Education and health: evaluating theories and evidence.
Fletcher, M. and Frisvold, E., 2010. Higher Education and Health Investments: Does More Schooling Affect Preventive Health Care Use?.
Fonseca, R. and Zheng, Y., 2011. The effect of education on health: Cross-country evidence. RAND Working Paper.
Grimard, F. and Parent, D., 2007. Education and smoking: Were Vietnam war draft avoiders also more likely to avoid smoking?. Journal of Health Economics.