Introduction
Justice is a concept or a phenomena widely used globally which describes a certain kind of behaviour in individuals which promotes fairness, moral righteousness and lawful act inclusive of all natural as well as legal rights bore by them (Hawkins and Weis, 2017). The following report is based on the justice system of England and Wales and its inclination towards punishment or rehabilitation of the young.
Main Body

The justice system of England and Wales have been quite sincere as well as severe in giving notable punishments as well as options for rehabilitation to criminals to rightfully serve them for the crime they have committed. Based on the motive and intensity behind crimes committed by individuals in the country, the sentences given to them focus on giving utmost justice to the accused as well as to victims (Baker and et. al., 2016).
The crime rate in England and Wales in 1995 was the highest after which more strict laws took place which somewhat aided the agenda of the justice system for a crime-free nation. However, there has been a significant rise in the crime rate of the country recently. According to various figures provided by the police, there has been almost a 14% rise in crimes in the country yearly (Rise in recorded crime is accelerating in England and Wales, 2019).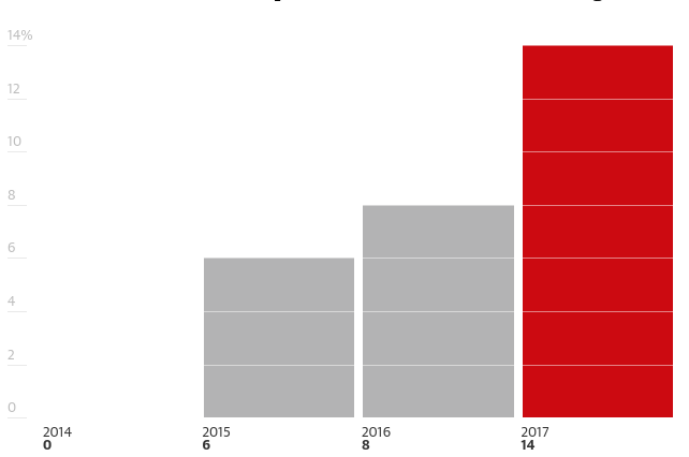 (Source: Rise in recorded crime is accelerating in England and Wales, 2019)
However, notably there are no major incidences of rise in crimes of major category, but there were rise in crimes involving guns and knives, a low-incidence yet harmful category.
The youth justice system of England and Wales undertakes individuals below the age of 18 under trial in case of criminal offences. The age of criminal responsibility in the place is 10 years. Mostly, in case of crimes, children and young individuals are tried in Youth Court in presence of various magistrates or district judge. To protect the privacy of these individuals, these cases are heard in a private setting. Recently, due to increase in crimes committed by children and the youth, the accused are subjected to Crown Court.
Youth are an integral part of the society. It is imperative for the system to establish practices that could promote collective good in the country. There are various cases in England and Wales which broadens the understanding of the decisions made by the youth justice system regarding punishment or rehabilitation of the young.
One such case is Regina v Reyon Menelek Dillon (2017). The appellant in this case was 16 year old when he gave access to his bank account which was used for holding stolen funds. He was pleaded guilty in the crown court for arrangement of receiving and conversion of criminal property when he was 17. The case took a drastic twist when the appellant was sentenced in Crown Court to Youth Rehabilitation order despite of referral orders recommended in his pre-sentenced report (A case on Referral Orders in the Crown Court, 2018). Such case studies are examples which effectively helps in gaining insight over the motive of the youth justice system to help individuals rehabilitate and build a better future for themselves as well as the community.
There are various programmes that have been implemented with the support of the youth justice system in England and Wales that have a prime agenda of ensuring good practices within the youth and enhancing their commitment towards ethical behaviour and rightfulness. One such programme was Beyond Youth Custody which was a six-year long awareness programme in England. It was closed on 31st May, 2018 and was completely dedicated to rehabilitate the youth. The main agenda of this programme was to communicate with young people and ensure that all the aspects within them that are required to be changed are duly met with the necessary support. This programme changed countless lives and eradicated the possibility of re-offending which could guarantee the betterment of the youth and ultimately the society. One such case was about Tyler who continuously breached the Anti-Social Behaviour Orders and his criminal record was inclusive of drug possession and criminal damage. When this person was 19 years old, he was convicted under some pretty serious criminal acts and was acquainted with similar individuals like him. Ultimately, he was labelled as a Prolific and Priority Offender (PPO).
This resulted in him being part of a project and was placed under probation supervision. The project was successful and currently Tyler has an accommodation and is currently looking for various opportunities regarding improvement in his personal and professional life (Beyond YOUTH CUSTODY: Tyler, 2019).
The youth justice system in England and Wales is emphasising more on a constructive approach for young individuals who somehow commit crimes which have grave circumstances elsewhere. As per Youth Justice Statistics of the year 2016-17, about 11,200 youths which represented almost 35% of individuals given community sentences were given Youth Rehabilitation Orders. Even after such practices, the re-offending rates of children and youths raised by 4% as compared to the numbers almost 10 years ago. Following is the graph which clearly depicts the rate of re-offences in the recent past (Youth Justice annual statistics: 2016 to 2017, 2018).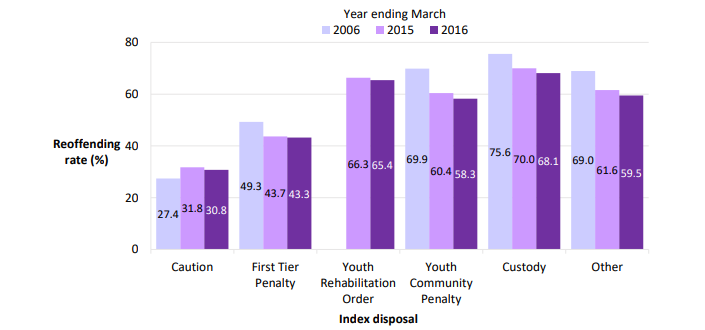 (Source: Youth Justice Statistics 2016/17. 2018)
As per the statistics, more than 65% of the individuals who received rehabilitation orders re-offended crimes on some or the other occasions. It must be a cause of concern for the youth justice system as it promotes ethical and positive practices towards accused children and young individuals. However, there are various other cases where the offender is Marketing sentenced to rehabilitation. This happens if and when the offender needs psychiatric assistance or if the juvenile was under the influence of drugs or alcohol. Moreover. There are certain evidences in the past case studies that reflect the practice of rehabilitation if the crime was committed in self-defence.
However, with positive approaches being adopted by the Youth Justice System, it is not necessary that the long-term outcomes of the same are favorable for the community. Sometimes hard steps are required to be taken by the law to rightfully serve justice to the offenders regardless of their age.
There are various cases where the court ordered sentences that were intended to punish the offenders. These were necessary seeing the depth, intensity and motive behind the criminal act. One such case study is R v Aaron Connor Joseph: R v Derice William Wright: R v Lee Warren: R v William John Cooley, CA (Crim Div) (Simon LJ, Foskett J, Warby J), 24/08/2018. The judgement, however slightly lenient, still was a great example of the steps that are required to be taken by the law to teach various effective lessons to young criminals. The incident happened when five young individuals planned an attack on a 17 year old boy. While all the other attackers were convicted of assault and manslaughter, one of them stabbed the victim in his neck.
The result was that he got convicted of murder. They were punished and served imprisonment for this offence (A case on sentencing children and young adults for manslaughter, 2018.). Such cases are usually eye-openers for law practitioners to take each aspect into account and charge the offenders with effective punishment to eradicate the possibility of such unlawful act again. Furthermore, such cases are an example for other young individuals of the harsh ways that these people could be subjected to in case of such offenses.
As per re-offending rate index mentioned above, the re-offending rate of individuals who receive custodial sentences are more than 68%. However, there are certain restorative justice methods that are being implemented by the youth justice system to effectively improve them and have long-term effect on them where justice is concerned. The most prominent method used by the system is Youth Conferencing, where the offender comes in face-to-face with the victim, their family and members of the community. The agenda of this conference is to give these individual an opportunity to make amends with their victims the result of which could help in the reduction of future crimes.
There has always been a long-standing debate about what could be more favourable: punishment or rehabilitation. However, each of the two aspects are equally necessary to keep balance in the justice system and both have their unique set of advantages in the eyes of law. As for England and Wales, this it is quite clear that the justice system seems to favour rehabilitation over punishment given the benefits of the former and disadvantages of the latter (Daly, 2017).
As per the viewpoints of Hope Christopher (2019), the prisons in Britain are no longer a place for punishments. They are subjected to riots, smuggling and formation of gangs which have a drastic and a negative effect on juvenile and youth prisoners. It is also evident that there has been a significant rise in police force areas of England and Wales recently. In addition to this, the prisons of England and Wales are overcrowded with imprisonment rate of 150 individuals per 100,000 of the overall population in the place (The old debate: punish prisoners, or rehabilitate them?, 2019). This is perhaps one of the reasons which refutes the youth justice system to incline towards punishments as the place needs to effectively reform its strategies through which it manages the criminals.
As per the statistics presented above as well as the stated facts, there are various benefits associated with rehabilitation. The first of them being social reconstruction. As per the law, the offender has to serve a probation period under an officer who keeps a track of their activities and guides them through each of the step which they are willing to take. This allows them to ensure proper guidance for their future and establishment of ethical practices which are necessary to enhance the goodness inside these offenders.
The second benefit of rehabilitation is that it ensures fulfilment of utilitarian approach which is most effective in this case as it involves the overall benefit of the society. Being rehabilitated would allow the offenders to contribute to the society which would help them get accepted in a much better way. Effective guidance could go a long way to ensure proper treatment of the offender so that they could get at least one true chance of redemption (Guarino-Ghezzi, 2017).
The Youth Justice System of England and Wales has modified itself in recent past and they have started treating young individuals like children before offenders. This system is focusing on minimising the role of police and courts to protect the future life prospects of these young people. Currently, this system is channelising its energy towards providing these individuals support from the community which is necessary for them to ensure positive changes within them. Restorative approach is being adopted by this system to ensure that these individuals get the right treatment, education and support. Moreover, their needs are effectively addressed to make them realise that the community is with them. As per the facts stated above, the re-offending rate after rehabilitation is lower than that of custodial sentencing, which clearly denotes that the inclination of the youth justice system of England and Wales towards rehabilitation of the young is well justified and absolutely effective.
Get Help in
Any Subject
Our intention is to help numerous students worldwide through effective and accurate work.
Where punishment is concerned, it is not necessary that every decision taken by the court be in favour of rehabilitation. Sometimes, due to severe crimes and no remorse, the court has to take harsh decisions to protect the community from dangerous offenders and keeping them in a place where they could learn the right behaviour effectively and be effective use for themselves, their peers as well as for the overall society (Van Ness and Strong, 2014).
Conclusion
Thus, it is concluded that it is imperative for justice system to use restorative practices to convict and transform youth as they have long term effects on these individuals. The practices law adopts with the offenders reflects on how their lives could shape up after accomplishment of their sentences. Rehabilitation and Punishment are equally important and must be implemented after examining the depth of the crime and characteristics of the offenders. Lastly, it is important for justice systems to opt for methods out of these two as per the cases so that maximum benefit could be provided by law to citizens of the country.
References
Baker, T., and et. al., 2016. Crime salience and public willingness to pay for child saving and juvenile punishment. Crime & Delinquency. 62(5). pp.645-668.
Daly, K., 2017. Restorative justice: The real story. In Restorative Justice (pp. 85-109). Routledge.
Guarino-Ghezzi, S., 2017. Balancing juvenile justice. Routledge.
Hawkins, J.D. and Weis, J.G., 2017. The social development model: An integrated approach to delinquency prevention. In Developmental and Life-course Criminological Theories (pp. 3-27). Routledge.
Van Ness, D.W. and Strong, K.H., 2014. Restoring justice: An introduction to restorative justice. Routledge.