Introduction
Justice is a concept or a phenomena widely used globally which describes a certain kind of behaviour in individuals which promotes fairness, moral righteousness and lawful act inclusive of all natural as well as legal rights bore by them (Hawkins and Weis, 2017). The following report is based on the justice system of England and Wales and its inclination towards punishment or rehabilitation of the young.
Main Body

The justice system of England and Wales have been quite sincere as well as severe in giving notable punishments as well as options for rehabilitation to criminals to rightfully serve them for the crime they have committed. Based on the motive and intensity behind crimes committed by individuals in the country, the sentences given to them focus on giving utmost justice to the accused as well as to victims (Baker and et. al., 2016).
The crime rate in England and Wales in 1995 was the highest after which more strict laws took place which somewhat aided the agenda of the justice system for a crime-free nation. However, there has been a significant rise in the crime rate of the country recently. According to various figures provided by the police, there has been almost a 14% rise in crimes in the country yearly (Rise in recorded crime is accelerating in England and Wales, 2019).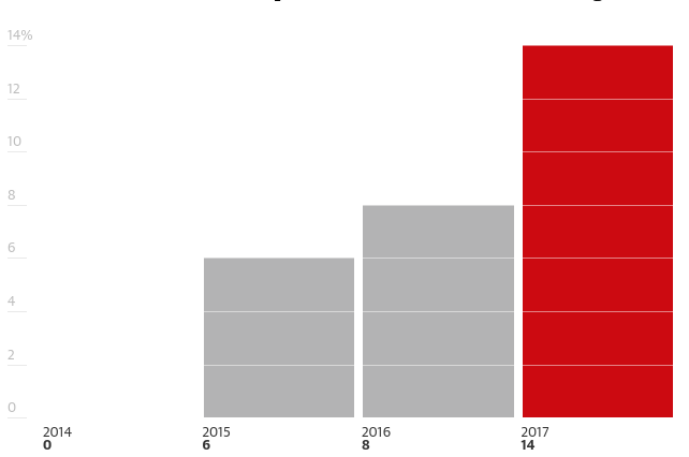 (Source: Rise in recorded crime is accelerating in England and Wales, 2019)
However, notably there are no major incidences of rise in crimes of major category, but there were rise in crimes involving guns and knives, a low-incidence yet harmful category.
The youth justice system of England and Wales undertakes individuals below the age of 18 under trial in case of criminal offences. The age of criminal responsibility in the place is 10 years. Mostly, in case of crimes, children and young individuals are tried in Youth Court in presence of various magistrates or district judge. To protect the privacy of these individuals, these cases are heard in a private setting. Recently, due to increase in crimes committed by children and the youth, the accused are subjected to Crown Court.
Youth are an integral part of the society. It is imperative for the system to establish practices that could promote collective good in the country. There are various cases in England and Wales which broadens the understanding of the decisions made by the youth justice system regarding punishment or rehabilitation of