Know How Not to Plagiarise with Five Useful Tips
July 18, 2017
( 6055 views )
Here Are the Tips to Help You Avoid Plagiarism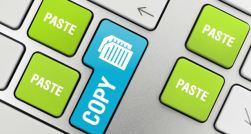 This blog is exclusively written for those crops of young plagiarizers who often fail to score well in assignments for not being original. Needless to say, students make a terrible mistake of including an already published work in their document to escape from the strenuous research work that requires a great deal of effort and time.
If you think your professor is not smart enough to catch you, then you're probably living under the rock. We, at Global Assignment Help Australia, are highly concerned about this issue plaguing the millennials and throwing light on it because we don't want any scholar to score poor grades and fail in the semester because of the same. So without any delay, let's read on the tips that purely suggest how not to plagiarize.
Use the Internet Wisely; Not to Exactly Copy Materials
Most of the students use online sources to collect the data, and one of the best they've found among others is Wikipedia. Any data taken from the Wikipedia can be easily detected as its entries have an identifiable style. To keep yourself from duplicacy, always rephrase every sentence you take from it and write it in your own words. This way, you will also be able to ameliorate your writing skills to a significant level.
Don't Take All the Information from a Single Online Source
When you collect the facts from a single online source, then this actually gives rise to the chance of getting caught by the professor. On the other hand, it would be difficult to identify the source of information if you've used varied sources. It's always better to do some research before you jump start the writing work. Read the related and relevant data and try your best to write the document yourself. In case you need any professional guidance, you can approach assignment helpers without any inhibition.
Don't Copy Your Friend's Work
What are best friends for? Well, certainly not to copy their assignments word for word. Several scholars believe in copying the work done by their friends whenever the tight submission deadlines loom over their heads. To save themselves from the tedious research and writing task, college-goers often submit their assignments replete with plagiarized content. Even if the professor doesn't recognize the duplicacy by reading the document, he will know it later when it will be checked on a plagiarism detecting software which most of the universities use nowadays to assess whether the submitted work is original or not.
Read the Source Material Carefully
Every one of us takes references, and there's no harm in it. But if you just blindly copy paste someone else's work without even giving it a read, then consequences could be dire. Many times plagiarizers don't even pay attention to reformatting the work which lands them into trouble. Therefore, make sure whatever information you use in your document is not copy and paste with no regard for formatting.
Never Use the Concepts Your Professor Haven't Taught You
Don't try to be smarter than your teacher. If you're planning to leave an impression on your professor by including those concepts in your academic documents that they haven't even covered in the class, then surely this will give them a chance to catch you. Don't use the terms or writing style that clearly indicates it's not your work.
So as now you know plagiarism can mar your academic paper, take a vow not to follow this practice ever. If you need any professional writing support, then we, at Global Assignment Help Australia, are here to provide you with the best assignment help. Contact us via phone call, email, live chat, or mobile app, and stay miles away from the stress of getting caught plagiarizing.