Adaptive Learning: Know the Benefits and Challenges
April 08, 2019
( 3171 views )
What You Need to Know About Adaptive Learning?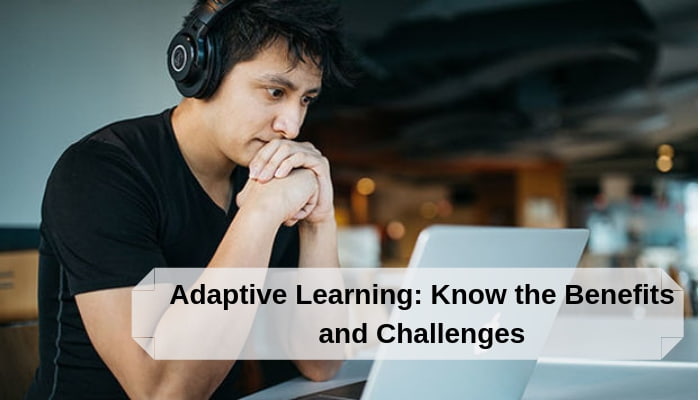 Adaptive learning, also known as adaptive teaching, is an educational method which makes use of computer algorithms to build an interaction with the learner. Adaptive learning is in the trade since last few years or we can say likely before that. Since then, imparting education through online medium has become a common practice and the introduction of machine learning has made it possible. Well, there are enormous benefits and challenges that adaptive learning offers to students. Let's get an insight into it.
Benefits of Adaptive Learning
Adaptive learning is not only a useful tool for students, but also for parents and teachers. It helps in solving student's problem and enhancing their thinking ability. That is why it has become an integral part of current education. Similarly, it has other amazing benefits too, such as:
1. Faster and Better Progress:
As the classroom size in conventional education system is increasing substantially, it is causing a hindrance to every student to get individual attention. The same issue is with the teacher that they fail to design a method by which they can take care of every student. This is where the need of adaptive learning arises. In it, teachers segment the class into sub-groups and thus, are able to teach them separately.
2. Optimized Learning:
The most amazing benefit of adaptive learning is that it gives ability to students to understand their strength and area of improvement. This makes room for personalization where students are able to learn a concept thoroughly before proceeding to more difficult topics and concepts.
3. Better Understanding:
In a conventional classroom, it is hard for every student to understand the topic taught by professor. However, with the help adaptive learning, students can create some personalized topics to study according to their schedule. It enables students to learn according to their own capability. This better understanding would be surely helpful for them in assignment writing task.
4. Enhanced Student Engagement:
The k-12 students are more adaptive towards the mobile technology. Adaptive learning can provide students what they want to learn. With the help of mobile devices and educational apps, they learn the concepts more easily. So, in short adaptive learning makes their learning easy.
5. Better Student-Teacher Co-Ordination:
The best thing about adaptive learning is that its benefits are not limited to a mobile screen, it also opens gates to blended learning. Teachers have access to watch the students' performance through apps; thus, they have all the insights they need to address in a one-to-one session. It empowers teachers to impart education in a more efficient way.
These are amazing benefits that adaptive learning offers to students as well as teachers. But, we all know that good things never come easily, and that's why, along with benefits, adaptive learning comes with a few challenges too that students have to tackle. Let's get an overview of the major ones.
Challenges of Adaptive Learning
Like benefits, adaptive learning also brings its own sets of challenges:
1. Convincing Teachers and Instructions:
Teachers and instructors tend to have a strong opinion that computers and digital technology make students dependent of algorithms. They believe that technology has a limited scope of personalization and thus, if students are unable to master a topic, they may get demotivated easily.
Solution: Teachers and instructors need to understand that adaptive learning requires them to change their roles to information managers. They'll need to work in tandem with adaptive learning to reap the best benefits of education apps.
2. Finding Resources:
Imparting education through adaptive learning is expensive. However, adaptive learning is not only a matter of costs, but also a concern of skills.
Solution: Institutions that want to collaborate with adaptive learning must research the mobile app development market. They need to find the right team of professor who is able to provide students relevant sources.
3. Data Analysis
Another major concern that teachers face while working with education apps and adaptive learning is how to analyze the data. All the graphs, patterns, and information have to be checked very carefully.
4. Solution:
Conduct data analysis program to help teachers and instructors learn how to work with adaptive learning.
Final Thoughts:
Adaptive learning has brought enormous benefits for teachers, instructors, institutions, and most importantly for students. Education has never taught anyone to become better than others, but being a productive contributor to the world. Education has never been a race, but the conventional education system did make many students feel lagging behind the what is happening all over the world.