5 Ways to Discover Your True Passion
March 19, 2018
( 4578 views )
Here are the five methods to know your passion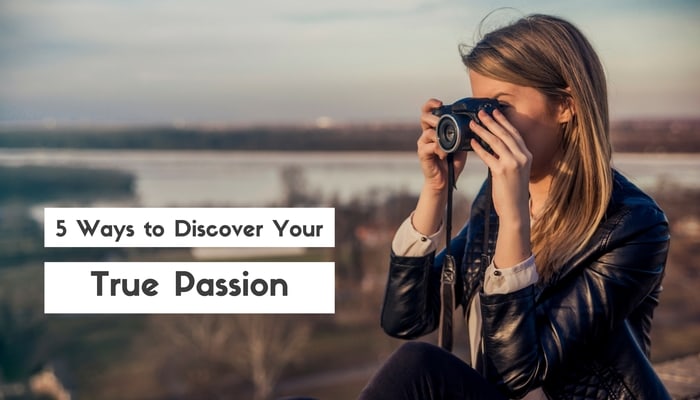 One of the most common pieces of advice to the students who are confused about what to do in career and which path they should choose is to 'follow your passion.' Well, sure they will, only if they know what their true passion in life is. And this is not just the issue with the beginners or the college-goers, in fact, people who already have jobs feel stuck and don't enjoy it after a certain point. Are you also going through the similar tough phase in your life, where you have no idea where to start from or what to start? You are always ready to give your 100 percent and dedicate all your energy and time to your career. You have commitment and persistence, and nothing can stop you, but you just lack the right direction. If you can identify with these circumstances, then you need to find what you really want in your life, that one activity or job which will never exhaust you and you will always be happy pursuing it.
And to help you with this, here is a process which will help you to find your passion and interest. Take a look:
Your passion can be different from your job
The one thing that makes your blood racing is worth doing and probably is your passion. When you know that a certain hobby or task will not bring any money to you, and you still want to continue that thing, then that definitely makes it worthy of your time and energy. It doesn't imply you have to pursue it as a career and turn it into a moneymaker. Also, you don't have to be great in that, it is just something you love doing in your spare time and make you feel fresh after a tedious day at the job.
Remember what you loved doing in your childhood
Childhood is the most amazing days of anyone's life, there are no fears, challenges, and you are at your idealist best. So recollect all your memories of that time and try to remember what activities you enjoyed all the time like drawing or writing stories, etc. Those things that you gave up after the pressure of studies and good job began to mount. In fact, you may have a hobby now that could take center stage in your life, and you can spend years doing that, focus on those things. Tap all that inspired you in your childhood and connect all the dots even if the answer that you get is not lucrative, incorporate your desires to create meaning to your life. You will surely be able to live more deeply and in accordance with your passion.
Enlist your top three role models
There are many people who are brave and committed, and their stories can influence anyone to take actions. So determine, whom do you admire in your life, it can be an actor, a singer, a painter or a writer, or even a member of your family or a friend. Find your role model, list the top three and analyze why they inspire you so much. What specific quality you like about them which you want to adopt in your life. The reasons can be anything such as their dedication to their work, achievements at the young age, their quotes, intelligence, the way of living life, work for humanity, etc. This will guide you to identify the values which are part of your passion.
What is your special gift?
You don't have to typically brag about yourself in public, but consider unique talent or special ability that makes you stand apart from others. It doesn't have to be one gift but can be a list of 10 such attributes that are praised by others. You can even ask your friends who always give honest opinions to you, what they find exceptional about you and why chose you as a friend. You can be good travel partner, funny, generous host, a brilliant storyteller, hilarious comedian, etc. These characteristics may have evolved with time and match their answers with the above analysis that you have done.
Ask yourself a few questions
Well, if you think that all the above-mentioned procedures are quite difficult for you, then wait, because it is not as complicated. In fact, it could be easier, if you just answer a few questions honestly to yourself. For example, the subject that you can read hundreds of books about without getting bored, if you are asked to volunteer, then what field would you opt for, what you would continue for years even if it doesn't make any money in return, or if you have sufficient amount in your account to live a luxury life, then how would you like to spend your whole time. These questions would help you to work out the things that you want in your life and are passionate about.
We hope that this process will be helpful for you to determine your passion. Try to devote as much time as possible to that activity because it will make you happy and self-satisfied in a true sense.
If your scholarly tasks, don't allow you enough time for your passion, then need not worry anymore as Global Assignment Help Australia is here to solve your problem. We have a team of professional writers who are adept at providing assignment help to Aussie students from various colleges and universities. So hurry and contact us now!