6 Unusual Facts About Valentine's Day You Must Know
February 13, 2018
( 4851 views )
Six Interesting Facts You Should Know about the Valentine's Day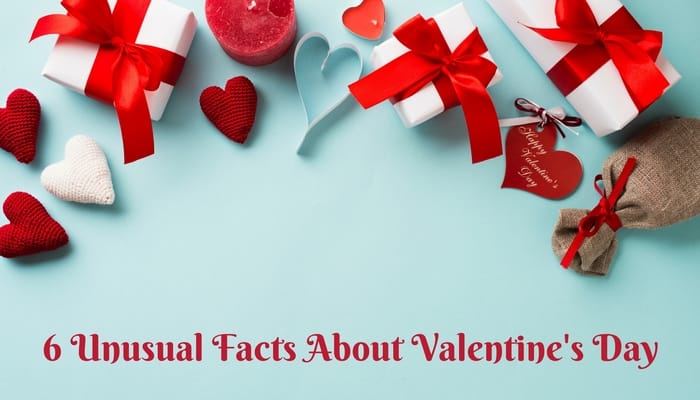 Have you ever been somebody's Valentine or planned a date on February 14? If you think it's an irrelevant question to answer, then you are right. The actual point our writer wants to highlight is why do you regard February 14 as the lover's day? Have you ever wondered why people give flowers, gifts or greeting cards to ones they love? Who planned the whole order of Valentine's week, i.e., Chocolate Day, which should be followed by Teddy Day? You all must not be knowing the facts behind this so-called 'Valentine's Day' that sometimes makes your heart skip a beat. Read this blog as the wordsmith has explained some unusual facts related to this most-awaited day of lovers.
1.) It wasn't romantic in earlier times
According to some historian, Valentine's Day origin has some blood stains on it. The day has evolved from animal sacrifices to gifting flowers. If you go back in time, then you might get to know its real roots. In the ancient period, it was used to be a Roman celebration 'Lupercalia,' a two-day ceremony occurred every year from February 13 to 15. It was an unusual fertility ceremony in which people used to sacrifice goats and dogs.
2.) In the 1300s, it was officially declared a holiday
In the 5th century, Pope Gelasius declared February 14 as St. Valentine's Day. But, the day became explicitly associated with love much later. During the 13th century, people in France and England started believing that February 14 marked the beginning of birds' mating season, which gave birth to the idea Valentine's Day should be a day for romance. Later on, the holiday was Christianized, and animal sacrifices were put to an end.
3.) Saint Valentine wasn't just one person
If you go back in the history of Valentine's Day, then you might find that there were many people whom you could associate with the title of the day. The most famous among them was the Saint Valentine who disobeyed Emperor Claudius II. At that time, Claudius outlawed marriage because he thought that single men would make good soldiers than those with families. Valentine illegally helped in marrying couples until he was caught. After that, he was given a death sentence, and the day he actually died was February 14.
4.) In the 1700s, it became popular
The popularity of Valentine's Day paced up around the 17th-century when people started exchanging gifts as small tokens of love, friendship, and affection or handwritten notes. In 19th century, printed cards were introduced that began to replace those handwritten letters. Those ready-made cards were quite convenient for people to express their feelings and emotions in an era when direct proposals were discouraged.
5.) It increases the sales every year
Valentine's Day also overwhelmed the businesses as the sales are nearly 20% to 30% higher during this week. More than half of the Americans celebrate February 14 with their Valentine and spend an approximately $18.2 billion a year that includes $1.7 billion on candies alone.
6.) People spend wholeheartedly on their loved ones
When the air all around is brimmed with love during Valentine's Day, there's no better way than to cheer some moments with your beloved with a gift. Male Australians on an average spend $170, whereas female spend only $78. The gift might be chocolates, bouquets, or a delicious treat. Even your handwritten note saying 'you're special' may also work, but on that particular day only.
We wish your Valentine's Day to be as perfect as it is your first. Hope you enjoyed reading the content.
If you are searching for some assignment writing services on Google, then halt it and take our writing services. We, at Global Assignment Help Australia, have the magnificent pool of experienced academic writers and editors associated with us. If you are on a tight budget, then you need not worry as you can avail our online assignment help services at reasonable prices.