How to Stay Focused While Writing Lengthy Assignments?
June 03, 2019
( 1834 views )
21 Ways to Stay Focused While Writing Assignments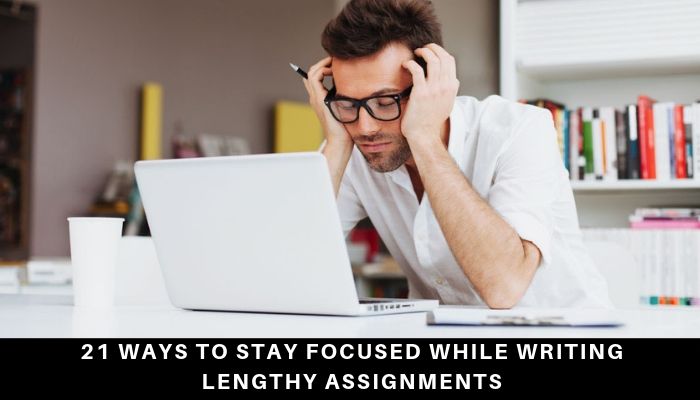 No doubt writing lengthy assignments seem to be a boring task for most of the students. That is why they always lose concentration while writing it and end up finishing a poor quality of the paper. That is why such students are left with no other option than seeking Australia assignment help. Who knows this might be your story too. Well, if it is, then still you need not worry as here we have arrived with the solution. Experts of Global Assignment Help Australia have understood this concern and that is why here they have listed the best 5 ways to stay focused while writing an assignment, no matter how much complex or boring it is. So, here are the tips:
Tips to Stay Focused While Writing Assignments
Preparation:
Before start writing have two bottles of water at least. This may seem too much. But in reality, it is not.
In a few situations coffee works too, but in our opinion something that helps in keeping the body hydrated is optimal.
Allot enough time for procrastination because you will surely procrastinate your work, especially if you're trying to complete it overnight.
Always remember to keep changing the task after a period of time because changing the activities helps the body to stay awake and focused.
Raise the room temperature as people tend to sleep when the temperature is low.
Early Stage:
This is the stage when you are not really tired.
Not too much to suggest you at this stage. Drinking room temperature water periodically will be helpful enough. Keep working as normal.
One thing that you need to take care is about eating. Avoid overeating because after that you will get tired and start feeling sleepy.
Well, at this stage you can have a cup of coffee to get a break.
Although it is the first stage, you need to stay focused for the long run. For that stay busy and move. The brain remains more alert when you walk.
Middle Stage:
Till now you must have reached to the middle stage of your assignment writing task. Here you might feel a bit tired.
This is the stage where you need to pull out all your efforts to rest the whole night. You need to push yourself a bit more.
Drink lots of cold water to remove the urge of a yawn. Drink and walk for at least 5-10 minutes. After drinking lots of water you need to go to the toilet. Ultimately you will remain awake.
This is when you need to take regular breaks. During those breaks, do a quick stretch, like 20 sit-ups, 10 push-ups, etc.
You can also play music or anything to be energized and to avoid sleep.
Last Stage:
In this stage, you might not be that much tired, but you would surely like to take a break and procrastinate your work.
Better you try to avoid that. We understand that at this stage you tend to see the clock again and again. It must be avoided because psychologically it will make you feel tired.
To stay focused, you can check the work that you have done till that moment.
You can also take a quick nap if you're able to wake up again and start your work.
Even if it is not working, make yourself uncomfortable. Switch off the A.C. or the fans.
Turn up the brightness of your computer screen or switch on all other lights of your room for a while.
Now that you have the way out to stay awake at every stage of assignment writing. Hope next time you would easily complete your lengthy assignments without losing your focus, no matter even if you have to complete that overnight. Always remember to get a few hours of sleep before going to college the next day. And when you wake up in the morning, have coffee.