6 Tips on How to Write Operation Management Assignment
June 03, 2019
( 1484 views )
A Guide to Write an Effective Operation Management Assignment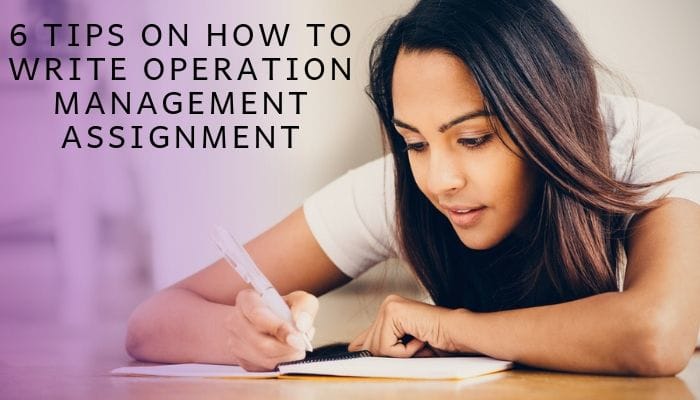 Operation management is a discipline of evaluating and constantly enhancing the design, production, and the management of the products, services, processes, and supply chain. It deals with collecting, assembling, and delivering goods and services. Unlike the other field of marketing, it is more on the back end of the business and its application are not directly visible to the end customers. Nevertheless, it is one of the most significant branches of any business.
Whenever a professor asks students to write an assignment on the same, they are mostly tested upon the writing skills as well as how much in-depth knowledge they hold. In some scenarios, professors ask to write assignments on the application of any of the operation management models or concepts based on a virtual company. And since there are so many tasks that college students love to do rather than completing these boring assignments, such as attending classes, part-time jobs, or extracurricular activities, they don't get enough time to complete their paper. So, a few simple tips from operation management assignment help providers can be a breather for scholars. Not only it would help them complete their assignments easily, but also save their a lot of time. So, here are the tips:
1. Research:
We all know that nothing can be written without having in-depth knowledge of the subject. You can't proceed with your assignment until and unless you would carry out extensive research on the topic you are working on. For that, you can read various management articles, blogs, websites, books, magazines, and even newspapers to get any relevant information. A useful source to get accurate data can be journals and international magazines.
2. Form an Outline:
Since operation management is a vast subject, so to write an assignment of it, you have to gather a lot of content. And there can situations occur where you forget some important points. So, it is better to note down all the points at the time of research so that you don't have to spend too much time in remembering those points. Along with it, also try to form a structure. Mention all the headings and the sub-headings.
3. Start Writing:
You don't need to become J.K Rowling for writing your operation management assignment. Always remember that it is just a written assessment that your professor has assigned to you for a better understanding of the topic. However, it is important to know how to write it effectively. For that, the very thing you should do is start writing and keep writing until and unless this lengthy task gets over. Later you can correct your document. Always remember that all you need to do is just convey your points clearly.
4. Keep Your Arguments Correct:
Operation management assignment requires a lot of arguments to be presented and so it needs to done quite precisely. You need not only present your arguments, but also validate it with proper evidence. It will show your readers that you have carried out extensive research.
5. Invest Time, Don't be in a Hurry:
It is understood that a management student is involved in countless activities during their academic tenure that's why they can't devote too much time in writing their operation management assignments. However, in spite of that, you have to find a way out. You need to invest sufficient time. The best way for that is to stay away from all the distractions so that you can concentrate more and more on your task and complete it in less amount of time. If somehow you are not able to invest it, opt for operation management assignment help service from our experts.
6. Always Proofread:
Who doesn't want to get top grades? We guess, everyone does. But, who put all their efforts to fetch it? Only a few, right? Well, the best way to get it is by submitting a flawless assignment. An error-free assignment has always an advantage. It always marks a positive impression on the professors' mind. And the most effective way to make your operation management assignment flawless is by proofreading it thoroughly. By this, you can easily find and then rectify your mistakes. For it, you can also take help from any third party, like your example because sometimes it is quite impossible to catch own mistakes. While proofreading also checks whether you have followed the guidelines or not. This all will help you make your assignment more precise.
So, no doubt following these steps would help you compose an amazing operation management assignment. But it might happen that even after following the above-mentioned steps to your best ability but still could not complete your work easily. This is when you should take help from our experts.