How to Write a Great Business Assignment? Know the 3 Phases
June 18, 2019
( 1729 views )
A Guide on How to Write a Perfect Business Assignment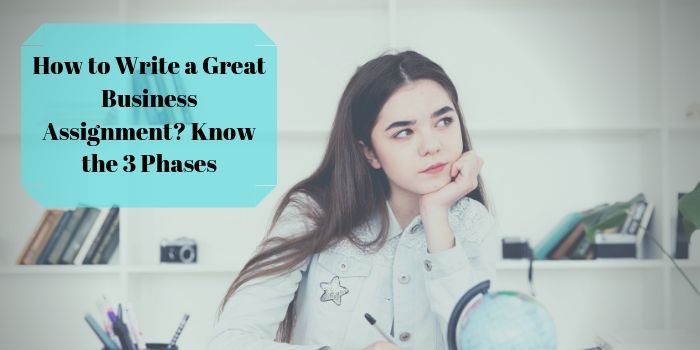 Achieving a management degree successfully is a by-product of writing great, A+ business assignments. Business assignments act as a useful tool for the management student to test their subject knowledge and to make a better career. As these assignments will always keep you busy in planning, organizing, and implementation of the abilities for a better corporate career.
So, always make sure to write a business assignment well because it affects your grade. An added advantage of completing business assignments is that they will make you more knowledgeable about the topic and you can further mark an impression on your professor.
In order to lessen your difficulties in assignment writing, know the 3-phases discussed by our experts that you can follow to submit a flawless business assignment.
The Three Phases Of Assignment Writing:
PHASE 1: Research And Preparation (Pre-Writing)
Well research is always required before you start writing a business assignment. In the phase of pre-writing, you have to go through several steps to produce a good piece of writing. These are the steps that you will practice throughout.
Step #1: Planning
First of all, you need to develop an understanding of the topic on which you have been assigned the work. Planning an assignment will help you focus on the topic. Check the worth of your topic and analyze how much time you need to spend on it.
Step #2: Analysis of the Topic
Now find out the objective of writing an assignment on that particular topic. Then analyze and decide the ideas that you want to use in your assignment writing. Choose which idea to talk about first and which one at the last. Define a list of 2-3 objectives and ideas that clearly define the scope of your assignment
Step #3: Drafting
Each and every assignment are a little bit different in structure. But, a great assignment must always be in the flow of the topic. So, drafting a business assignment will give you a perfect structure to follow, that is:
Introduction part comprises 10% section of the assignment.
Discussion/main body comprises 80% section of the assignment.
Conclusion part comprises 10% section of the assignment.
Step #4: Thorough Research
Now in this step, you have to get engaged in the comprehensive research work to collect the information for assignment writing. Always remember, while collecting information from multiple sources keep a track of them so that at last of assignment you can mention a reference list to make your work authentic.
PHASE 2: Writing Phase
After the research phase, now comes a phase that acts as a playing field for you. Here you can score sixes and satisfy your professor by writing an A+ business assignment. All you have to do is bring together all the gathered information to write a flawless assignment. Use pre-writing steps and further develop your ideas and content using it. Be sure to write proper sentences and paragraph structures and always use transitions for flow.
Use precise information instead of using elaborative texts. Never mention the facts that do not have valid sources. Provide an attractive beginning and conclusion because this way you can keep the professor engaged. And if you are unable to express your thoughts on paper properly, then seek business assignment help from the experts.
PHASE 3: Beyond writing (Post-Writing)
OK!!! So, you are done with the writing part of your assignment.
Wait... It is not the end of the story.
There is a lot more to it! Yes, you read it right.
In fact, the most important phase has just started.
After the writing phase, now you are only left with the job to format your assignment and make it presentable. Another important part is doing proper proofreading to make sure there will be no grammatical errors left. These errors can mark a negative impression on your professor and further lead you to lose marks.
And yes! One of the most important things to keep in mind is to avoid plagiarism. Avoiding this issue can lead to the rejection of an assignment.
So, these are the three simple phases that you need to follow when you sit to write an outstanding business assignment. Once you become a master at it, then no one can stop you from getting A+ grades in your business assignment.
Hope, this blog will be helpful for you. If you wish to make your assignment more perfect and innovative, then you should take assistance from our experts.