Lessons that Completing Assignments on Time Taught Us
December 12, 2017
( 4641 views )
Lessons in life that we learn from completing our assignments on time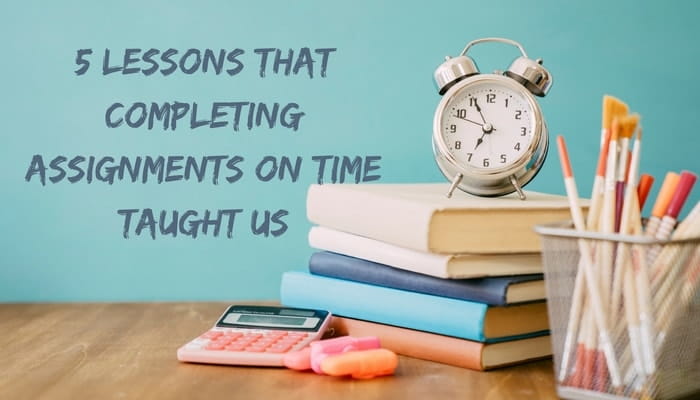 When you pass your schools to get into a college, you're also leaving behind the stress of taking all the lectures and submitting the assignments on time. There's nobody in college to keep a check on your activities. Your activities determine how disciplined you'll become. By giving us freedom, colleges shape us to become responsible adults.
Previously, the schools taught us the importance of completing our assignments on time if we didn't want to be punished. There are several lessons we learned consciously, and sub-consciously, by completing our assignments. Some of the lessons we learn from completing our assignments are:
1. Punctuality
Punctuality is one of the most volatile qualities when we are studying in a college. With literally a million tasks to perform in a day, a few of them are bound to slip out of our mind. Also because of the leniency in administration, many of us tend to forget the assignments unless reminded by a friend or a professor.
As the last day of submitting an assignment comes closer, the pressure a student goes through multiplies. They have a burden of their future and career on their academic performance. To keep the stress away, students plan a time out of their daily schedule to complete an assignment.
2. Determination
There could be a few subjects which you might feel are fascinating. During a specified period, all of your attention is on that particular subject, and you are studying it well. If someone gives you an assignment on a topic of your choice, you'll find it fun to complete. For other subjects, you'll require determination.
To switch to an entirely new topic from a wholly new subject requires a little preparation which is to motivating our mind for doing it. You have to start with researching the topic. Once you know about the subject, you can then jump onto the part where you start writing the assignment.
3. Focus
Focus is a hard thing to keep while studying. After dedicating a few good mind-tiring minutes to a task, students tend to get distracted by a lot of things. Now, you may want to eat, do dancing, or take out the trash, etc., while working on something important, and it is entirely normal. Leisure also distract us when we are involved in something that doesn't interest us.
Not all assignments are interesting, something every student would agree with. While writing a few of them, the urge to go out for a pizza increases exponentially by the seconds. However, at the end of the day when we complete the assignment, and later when we submit it, every effort feels like it was worth it.
4. Obedience
That's something that we learn from our schools, and obedience is a quality that stays with us forever. Accepting to do an assignment in itself is an act of obedience. And, then we give our time and sweat to complete it, and that is another step we take towards it.
The quality to do as the master says must stay with an individual to excel in whatever field they're in.
5. Seeking Help
A countless number of times, you will find yourself stuck somewhere in the middle of an assignment. Those are the times when you desperately require help from a coursemate or your professor. Anytime during the support, a debate may start over some topic relevant to the problem that you faced. It's in your hands to get out of that discussion safely without ending the possibility of getting help from that person, in future. Assignments teach you that. After practicing a few times, you will find yourself getting better at the art of asking help from anyone.
The lessons that we learn at any point in our life stay together for the rest of it. At some point of time in your life, you may have to decide for yourself if you want to stand by your qualities or not. At such times, it is important for you to know the qualities that rest inside you. For instance you must understand what obedience stands for in case you ever have to portray disobedience. The example stands strong for every quality we own individually.
Do your professors in college give you assignments in abundance that worries you, if you ever be able to complete them before the final submission? Contact Global Assignment Help Australia, as here our team of highly skilled academic writers and researchers will provide you with the best assignment help you can find.