7 Mistakes You Should Avoid While Writing a College Assignment
July 19, 2019
( 1932 views )
7 Must Avoid Mistakes While Writing a College Assignment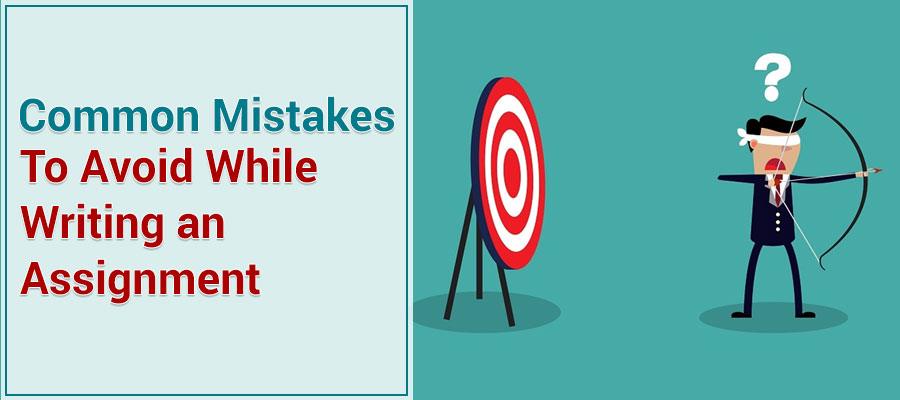 Assignments are a crucial part of students' life and they can never get rid off them throughout the academic career. They hold a very important part of the curriculum, no matter whatever degree you pursue. And to add to the stress, they have to work on a number of assignments of different subjects. Tackling all of them sometimes seems a frightening thought, but being a student you have to pass it anyhow.
Most of the students work very hard to get good grades, but fail to acquire it. At last, they are unable to figure out where they lack. So, to make the assignment writing task much easier for you, the experts have mentioned some common mistakes that you should avoid while writing a college assignment.
Keep on reading...
Common Mistake to Avoid While Writing an Assignment:
Mistake 1: Leaving it for the Last Minute
Ok! So, let's start with the most common mistake that is procrastination. Students keep on delaying their tasks and at last, the assignments keep on adding up. Finally, when the deadline comes near, they start writing the assignments in a hurry, which later turns out not as easy as they thought it would be.
Tip >> If you start writing an assignment early, then not only your work schedule will get sorted but the quality of assignment will be good too.
Mistake 2: Not Understanding the Assignment Requirements
The second most common mistake students make is not understanding the assignment guidelines, instructions, and requirements properly. At last, they submit an assignment that does not match the professor's expectations and further get low grades.
Tip >> Before start writing you must know all the guidelines and requirements of the assignment properly, then only you can submit a flawless assignment and fetch top-notch grades.
Mistake 3: Not Doing Enough Research
Poor research simply leads to poor results. Most of the student does not give proper time to research and start writing their assignment. At, last they get stuck on what to write next.
Tip >> For better execution of ideas, your research must be strong enough. So, always give proper time to the research and collect all the required facts, graphs, illustrations, evidence, and statistics and then start writing your college assignment.
Mistake 4: Poor Introduction and Conclusion
Students often write an incomplete or misleading introduction and lose their marks. Similarly, they often rush and conclude the assignment in an unimpressive way. This is the only reason why they get low grades in their assignment.
Tip >> Remember, the introduction can act as a strong tool to grab the professor's attention towards your assignment. On the other hand, the conclusion gives them a clear picture of the whole story. So, both the introduction and conclusion should be written properly if you want to fetch good grades.
Mistake 5: Plagiarized Document
To complete the assignment within the deadline, most of the students simply copy the content from the multiple sources and in turn, their assignment gets rejected by their professor. Most of the universities take strict actions against plagiarism and further penalize the students.
Tip >> If you don't want to face such a situation, then simply do in-depth research that will provide you an ample number of ideas and facts that you can include in your work. By submitting an authentic assignment, you will not only mark a good impression on your professor but also get top-notch grades from them.
Mistake 6: Improper Editing
In a rush to complete the assignment within the deadline, students do not properly edit their document and further submit the assignment with improper editing. Apart from writing mistakes, this is also the major reason why students do not get the desired grades in their assignment.
Tip >> Writing the assignment is not enough to fetch good grades. You must edit it properly to ensure a quality document can be prepared and all the writing inconsistencies can be eliminated properly. Editing also allows you to check the writing style and tone, so always make sure to edit the document properly before submitting it to your professor. In case, you have multiple tasks to be completed altogether and do not have enough time for editing, then you can avail college assignment writing service. The expert editors will definitely edit your document properly.
Mistake 7: Submitting Without Proofreading and Rechecking
Most of the students have this overconfidence that whatever they have written is up to the point. With this overconfidence, they submit their assignment without proofreading it and further get low grades.
Tip >> No doubt, having confidence in your work is good, but having overconfidence can cost your marks. So, never do this mistake instead proofread your assignment twice and recheck it in the end to make sure that everything is written correctly.
Wrapping Up!!!
Now that you know the most common mistakes to avoid while writing a college assignment. The next step is to implement it in your assignment to make it error-free and impressive enough and fetch the desired grades.
All The Best...