Top 5 Much-Needed Skills in the World of Hospitality
January 20, 2018
( 5880 views )
Five hospitality skills every student must develop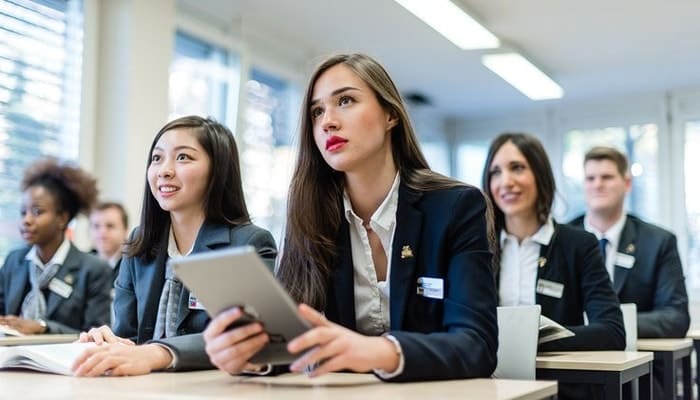 Hospitality and tourism industry is full of challenges and to deal with them, one has to develop certain skill sets. The dramatic changes in the lifestyle and disposable income of the people around the world have brought a breakthrough in this particular sector. Every minute, millions of travelers are on a voyage to different countries and exploring the cultures of those overseas destinations. So, to take care of guests' aspects and interests, hospitality professionals with essential skills are being hired by reputed hotels or resorts. Looking into the past, enthusiasm and experience were enough to get into any sub-field of this industry. But in they are not sufficient, and one needs to advance one's skill sets. So, if you're looking for a career in the hospitality industry, then read this blog. Here, you will find some of the crucial skills that are required in every candidate:
1.) Top-Hole Communication Skills
They say the first perception is hard to change. When a guest enters any hotel, making a perfect first impression on him/her is important for the reputation of the business . The customer will try to make judgments about the hotel based on personnel's appearance, grooming, posture, and courtesy. Good communication skills of the hotel staff will help in forming a positive perception in the mind of the guest. Communication is one of the most used of the skills required in this industry. Every day, the hospitality professionals are required to deal with people from different origin, and therefore, communication skills are helping them to boost the business.
2.) Multilingual Skills
One of the basic prerequisites for making a delightful communication is proficiency in various foreign languages. It helps you in making a mutual understanding among the staff and guests especially those from overseas. Having professionals with the ability to speak different languages will foster the development of intercultural dialogues with your customers. This can give your business an edge in the competitive market. It will help you in earning customers' trust and providing them with best of your services that lead to higher clients' satisfaction.
3.) Superior Customer Service
Generous hospitality plays an important role in customer retention. If a guest is pretty much satisfied with the services offered to him/her by the hotel, then there are chances that he/she will visit again in future. Also, this will also help hotels in increasing their customers as people share their experiences and recommend it to their friends. Your top-notch services make all the difference between you and your competitors. All that is required from professionals is that they must be courteous, friendly, helpful, and knowledgeable about the city as many guests are visiting for the first time and are unfamiliar with the place.
4.) Cultural Awareness
There is no other industry in the world which is as close to culture as the hospitality and tourism industry. Knowledge of various cultural norms can be a foundation stone for different front-line services and products development. People from different cultural backgrounds might have distinct needs and expectations that must be fulfilled by the staffs to enhance the customer's service experience.
5.) Understanding of Current Industry Trends
This industry is very dynamic as the demands of guests are changing every single day. You never know which guest will set what trend and how fast it will reach to the people across the globe. So, you need to be updated with various technological changes, latest success stories, and news. Also, it's required that you make it a goal to understand what exactly your customer is asking for. If you fail to catch up with the current trend in the industry such as the use of online reservation apps, promotion via social media or any online platform, then you are downsizing your hotel business.
Since, hospitality is all about finding yourself by losing yourself in the service of others. But, to do so, you need to develop the above-mentioned skills. Hope you enjoyed reading the blog.
Are you feeling sick of writing your hospitality assignments? If yes, then hire our experts to write them for you. We, at Global Assignment Help Australia, have an experienced team of excellent writers and academic professionals who provide the best hospitality assignment help to scholars at reasonable prices.