Evolution of Windows Operating System: From 1 to 10
November 13, 2017
( 17969 views )
The history of best-selling operating system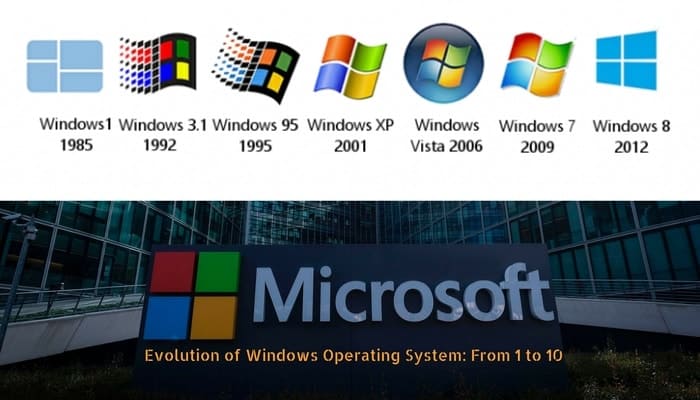 Firstly, you got to understand what an operating system is. It is the platform program that allows the system to run and perform various functions. It can also be considered as an software that holds the complete computing architecture together.
One such operating system is 'Windows' that was created by an American software company Microsoft. It was released in November 1985 as an effort to provide an active platform to computing devices. Ever since then it has gained massive popularity and has become an household name.
But do you know how it all began? Well, this blog is all about the evolution of world's most trusted operating system, i.e., Windows. So have a look!
Windows 1.0
Microsoft launched the first ever version in 1985 which became a sensation. The latest operating system offered features like mouse, text editing, painting, etc. Instead of blank mono-colored screens people now could enjoy cursor and pointers.
Windows 2.0
This update came out in the year 1987, with some additional features. Users could now apply a few more commands and the operating system was slowly gaining acceptance in the corporate world.
Windows 3.0
This version in particular changed the complete complexion of the software industry. It included a 16-tone colored graphic display with icons and symbols that turned out to be path breaking. Users could now print their documents within a few seconds.
Windows 95
With a prior announcement of release date, and bigger than ever promotions, Microsoft created a buzz all around the world. Windows 95 became an overnight sensation as it offered amazing graphics and features that nobody had ever seen. The official Windows operating system logo was launched as well.
Windows 98
There were quite substantial updates compared to the last version regarding MS Office. Windows 98 in particular also laid the platform for the gaming industry.
Windows ME
Commonly referred to Windows 2000 by the users, it was first of the many upcoming versions that had major advancements regarding the field of media and entertainment. It drew a lot of negative publicity as well due to its design and slow architecture.
Windows XP
Working on the reviews, Microsoft came up with a fitting reply to all the critics by launching this update. It had a new feature of Help and tech support that allowed users to connect to the makers in case they faced any difficulty. The UI was improved and so were the associate applications.
Windows Vista
It was time when Microsoft felt the importance of tightening the screws on the security feature. This version had the same goal and was launched in the year 2006. It contained a new improved security firewall along with better graphics.
Windows 7
Now that Microsoft had become the biggest brand, it was time to take the game to a whole new level. The touch screen feature was introduced, that was supported by a better than ever and highly sophisticated system known as Windows 7. It included three versions:
Professional, Ultimate & Premium.
Windows 8.0
Well, this was another top-notch version that had a brilliant user interface with stronger than ever security firewalls and an awesome graphic display. It was released in the year 2012 and had the following versions:
8, Pro, and the Enterprise.
Windows 8.1
It had improvements regarding better internet connectivity and faster browsing. Windows 8.1 was a dual software that somewhat resembled a smart mobile phone with thousands of user-friendly applications. It included following versions:
RT, Enterprise Edition, Edition, and Pro Edition.
Windows 10
It is the latest edition of the Windows series. Introduced in the year 2015, it fairly received mixed reviews from the users. This version has tried to conquer the territories like gaming and virtual reality.
Hope you liked this timeline on the evolution of Windows operating system.
If you're a tech lover and want to explore more but the field but do not get enough time because you're stuck with loads of assignment writing tasks, then no need to deprive yourself from all the fun as Global Assignment Help Australia is here. We provide the best Australian assignment help services regarding many academic documents at affordable prices. So don't waste a single moment and order now!