Introduction
Financial instruments are various assets, commodities or contracts in between parties which can be traded, created or modified using financial institutions. The two main types of financial tools are cash and derivative instruments. The values of cash assets are derived from the market whereas, the exchange-traded and over-the-counter (OTC) derivatives value is calculated by using interest rates.
Banking refers to lending and borrowing of monetary products.A bank either retail or commercial earns profit based on the difference between interest rate provided on savings account and the rate of loan provided to users for a particular period (Dodgson and Gann, 2014). Every financial institution has various forms of instruments of finance which are provided to ordinary people, multinational companies or others. Thus, the banking sector is growing tremendously and thereby providing better customer services through virtual systems. In order to survive in the competitive field of the banking sector, all banking organizations are looking for better service opportunities to provide their fellow clients.
Australia is dominated by four major financial institutions which has a total of A$ 2.66 trillion assets together. These are:
National Australia Bank (NAB)
Australia and New Zealand Banking Group (ANZ)
Commonwealth Bank (CBA) and
Westpac (WBC)
The Westpac is among the top four banks of Australia whose headquarter is in Sydney which provides banking and financial services. Company was found in the year 1871 which has approximately 1500 branches at present. The firm earned a net total revenue of A$ 21.642 billion at the end of 2015 by rendering financial services to all. Another being NAB located in Melbourne earned revenue of 2,017.6 crores AUD in year 2015. The Australia and New Zealand Banking Group (ANZ) has total revenue of A$ 21.071 billion through rendering various financial services (Scott, Reenen and Zachariadis, 2017). Lastly, the Commonwealth Bank was found in 1911 that has reported revenue of A$26.005 billion in 2017 through banking services and investment plans (Parameswar, Dhir and Dhir, 2017).
The USA based institution providing banking services and financial assistance is Bank of America having headquarters in Charlotte, North Carolina. The bank was found in 1904 and is traded on NYSE. It is amongst the largest banks and is ranked at 2nd position with US $2.281 trillion revenue at the end of 2017. This banking institution of USA is a commercial banking institution which is amongst the four big banks along with Citigroup, JPMorgan Chase and Wells Fargo (Egan, Hortaçsu and Matvos, 2017).
Technological Innovations:
The US and Australian banking system is improvising continuously and is engaged in virtual banking which implies banking services at any time and any place. The globalization and modernization of economy has impacted banking sector thereby, bringing technological advances. With innovation and technology, the commercial banking system is evolving through the use of virtual system which has eradicated the traditional banking methods of teller-staffed branches and systems based on human resources. Since the banking sector plays an important role in uplifting an economy it has been affected by various factors both internally and externally. Today, the world is witnessing tremendous developments due to use of technology. The technological innovations have removed the traditional ways of banking through face-to-face interaction and brought electronic banking system which has eased every process. The use of ATM's and mobile banking has provided significant increase in total income and has reduced expenses as well as costs to banking and financial institutions (Dodgson and Gann, 2014).
The physical products and services are shifted to virtual and electronic products due to internet and World Wide Web facilities. The use of internet based technology has provided opportunities like informational and transactional banking. Because of technology, banks have become global providing services 24 hours. Technological innovation plays a vital role in providing commercial banking services as well as chosen investments have the potential to raise net income and net interest margin which will affect country's economy. The Australian banking environment has been affected by technological innovations in a positive manner. Technology has enhanced the services to customers, improved productivity of business firms and created new business opportunities thereby providing employment to many. Advances in technology has provided greater customer value through transparent online services (Parameswar, Dhir and Dhir, 2017).
The digital technology used in banking and financing services has simplified business operations and strengthen the banking environment of Australia. Users can buy products and get support online 24/7 from the convenience of their home. Online product offerings and comparison sites have increased transparency in the Australian market, creating stiffer competition (Ghosh, 2015). Such a technology helps bank personnel to connect to customers on phone. Wespac has a single motive of becoming a leading service provider in Australia through incorporating innovations. Company has partnered with Vincent Turner so as to introduce the digital mortgage broking service. It has introduced lantern pay facility which allows payment solution to all. The managers at Westpac are continuously evolving their working systems by incorporating innovative and technological based ideas who have enhanced customer services as well as overall growth of banking environment (Narula, 2014).
More Suggestions:
Get Help in
Any Subject
Our intention is to help numerous students worldwide through effective and accurate work.
The US banking environment has also evolved tremendously rendering technical support to its customers by the way of online services as well as face-to-face interactions. The US economy being faced by the worst financial crisis is still recovering through incorporating technological innovations in its banking service system. It has adopted various agencies which protect the consumers against risk of financial products. Bank of America is continuously evolving and opening new branches integrating technology and innovations in its working so as to enhance the customer satisfaction. Commercial banking technology has provided ease in various operations carried out by managers at bank and thereby, enhancing economies of scale by providing better profitability and growth margins. Thus, the US banking environment is changing by integrating digitalization and innovation in its operations majorly by four big banks as well as also by small finance companies (Dodgson and Gann, 2014).
The impact of technological innovations in banking sector has affected operational performances of financial institutions. The IT services and automation has helped banks achieve operational efficiency in rendering products and quality services to its customers. Both Us and Australian banking sector has evolved with incorporating technology and nnew ways of providing services to their people which will enhance economic development of the respected countries (Egan, Hortaçsu and Matvos, 2017). Banks taday are using information technology, computer based banking processes and Automated teller machines for depositing and withdrawing money has impacted operational performances of banks.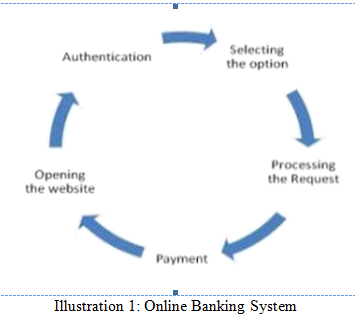 (Source: Narula, 2014)
Innovations brings in risks with the new advances. The risk of introducing new technology is wide as people may resist changes and further the new technology may hamper ethical standards of organization. The banking sector while incorporating newer advances and technology needs to manage risks through proper channels. There are many challenges of implementing technological innovations as banks are the prime source of transforming and modyfing liquidity. The technological improvements, financial innovation and deregulation have exerted intense transformation pressure on the financial system which has affected ethical working standards of banks.
The use of recent technology has evolved banking sector and has provided several benefits in form of online and mobile banking services (Cranston, 2017). Now any customerat any place and at any time can carry out particular transaction through use of internet. The innovation in form of ATM has provided ease to customers in need of money. The new technological advances helped people to pay bills online and will surely discontinue the use of physical cash from the economy.
Technology has played a vital role in transforming the banking sector. The financial service industry is changing rapidly by incorporating newer technology and advance methods of operations. The scale and scope of economies have grown drastically as new technology has evolved. The easy methods of banking has provided faster and quicker way of transacting which raises scale of operations (Bai, krishnamurthy and Weymuller, 2014).
The technological advancement has provided many risk factors such as frauds and crime. The excess use of online banking facilities has given room to hackers anfd criminals to carry fraudulent activities by hacking bank accounts and stealing personal information of any person and from any place. The risk of fraudulent activities has been rising with newer reforms in the banking industry. The prospect of technological advances and innovation has brought new crimes and fraudulent activities which has hinder banking techniques (Ghosh, 2015).
Conclusion
The essay based on commercial banking and new technology has provided an overiew about the importance of technology and innovations in the banking and financial sector. The Australian economy has gained new techniques of banking which is fast and quick. The economy as well has gained a lot from technological advancese in banking sector. The US bankng sector being different from Australian financial institutions has incorporated technological advances which has proven success for the country. Thus to conclude technology plays an important role while providing banking services though have certain negative effects which should be looked carefully. The crime and fraud activities has incresed with technology and that has to be checked by banking institutions through developing security softwares.
References
Bai, J., krishnamurthy, A. and Weymuller, C. H., 2014. Measuring liquidity mismatch in the banking sector. The Journal of Finance.
Cranston, R., 2017. Principles of banking law. Oxford University Press.
Dodgson, M. and Gann, D. M., 2014. Technology and innovation. The Oxford handbook of innovation management. pp.375-393.
Egan, M., Hortaçsu, A. and Matvos, G., 2017. Deposit competition and financial fragility: Evidence from the us banking sector. American Economic Review. 107(1). pp.169-216.
Ghosh, A., 2015. Banking-industry specific and regional economic determinants of non-performing loans: Evidence from US states. Journal of Financial Stability. 20. pp.93-104.
Narula, R., 2014. Globalization and technology: Interdependence, innovation systems and industrial policy. John Wiley & Sons.