Introduction
Business Strategies is the summary how the company will achieve its goals and meet the expectations of its customer and sustain a competitive advantages in the market. Businesses strategies is generally long term business plan. The business strategies must be effective to the organisation. In these assignment help we will be taking the telecommunication sector of UK within which BT would be analysed on the basis of their business strategies. The project is about the multinational telecommunication industry BT Company of UK which is formally called as British Telecom. It is the first telecommunication firm in Britain. It is a public limited company that was found in 1969 it covered the world's wide area. In this assessment, the impact of macro environment on BT, taking Pestle Analysis and Ansoff Matrix would be studied. The Strength and weakness of BT is also analysis in this assessment to understand the capabilities and internal environment, VRIO Model is taken.
TASK 1
P1 Impact and influence the macro environment has on organisation and its business strategies
BT Company is a group of global telecommunication company operating around more than 180 countries and facing cut-throat competition in external environment (Olawale and Garwe, 2015). BT is also serving wholesale arms proving network services to other companies also by making efficient business strategies.
PESTLE Analysis
PESTLE Analysis of BT Company.
Political Factors
The declaration of rules and regulations is very frequently. Telecommunication Company has no idea how to control and follow. Internet is now routine part of life, as it is using for education purpose, jobs and many other uses are there for internet which is important for every human being. So customer wishes to government to acknowledge the internet as basic part of life but there is a big political battle in between government and service providers. For example – Changing government bring a drastic fluctuation in the policies and regulations which are required to trade such as Taxation policies. Different governments implement distinct policies that influence business functions and performance.
Economic Factors
Inflation and taxes affect the BT Company. The pricing per plan is affected by the expenses provided to customers. Customer who lives in remote areas are affected by the network of BT Company as it is very expensive to build towers in remote areas. Market resources and technological advancement are the key factors of economic development of BT Company. For example – The market or nation having a low or underdeveloped economy affect purchasing power of people living in that particular nation. Low economic condition influence organisation to sell products and services at lower prices as compared to the price set for areas having sound economic condition.
Social Factors
Any industry operating into market, should have to work socially to remain sustain shares in the market. BT Company is doing very well keeping the social factor as the key element. Horizontal growth is limited in Telecommunication Company as it is very expensive task to develop and expand the network services in remote areas and triable zone. Another factor which affects the social environment is their monopolies in the market which keep many costumes away from using telecom services. For example – People living in a specific society have certain values beliefs, they are much attracted towards or services which are suitable for their society and its culture.
Technological Factors
Ecological environment, automation, innovation and research and development (R&D) environment comprises Technological environment (Van and et.al, 2006). In sourcing out sourcing consideration, and entry barriers are much influenced by technological factors. The cost and quality of goods and services and doing innovation is greatly affected by technological factors. Every day there is innovation in Telecommunication Company, which led to increase in the cost of BT Company. For example – Increasing use of smartphones and internet influence organisation to enhance or improve their online present in order to attract more customers. Organisation uses various social media websites as well as online portals for building a good online presence.
Legal Factors
The legislation issues of government affect telecommunication company in large. The issues with government, service provider and customers are main factors of legal environment. Importing and exporting products as well as services of telecom are also the legal factors. Company has to pay taxes and many other formalities for doing trade with other firms. For example – There are various legal issues or legislations such as employment law, equality act etc that influence organisation's strategic decisions and are important to be considered.
Environment Factors
Environmental changes play a vital role in telecommunication companies as these affect the telecom network in large. In terms of needs of customers which changes very fast, BT Company is making efforts in satisfying customers to a great extent. According to the changes and wants of customers, BT Company works in advance. For example – Natural disaster, unavailability of raw materials etc are certain environmental elements that also influence an organisation's performance.
Ansoff Matrix
BT Company also takes use of the technique of Ansoff Matrix to analyse and understand growth and opportunities of company in long term. BT Company has its framework according to Ansoff Matrix which helps the executors and senior managers as well as marketers for evaluating future growth. For the growth of company, Ansoff Matrix provide Product Market Strategy which states that commodity are designs according to the requirements of customers. Market penetration strategies is also used by BT Company by which company try to increase and maintain its market share. Market development and diversification techniques are also being used by BT Company to improve its position in the market.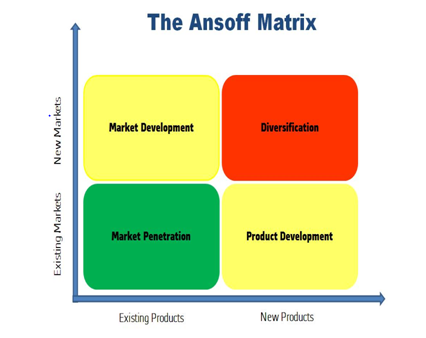 M1. Critically analysing macro environment and the way it determines BT Company's strategic management decisions.
In above discussion, as per Van and et.al, (2006) it was stated that if the inflation rate is increased in the countries, the profit of BT is affected. The growth rate of company is decreases because of inflation. According to Capron and Mitchell, (2009), if the technology environment does not changes fast than the sales of BT rises and market share remain sustain.
TASK 2
P2 An assessment of BT Company's internal environment and its capabilities
Strategic capability
The strategic capabilities of BT Company are competitive advantages, resources-based strategies, organisational capabilities and venture which are the various schemes of company. Being the best provider of communication and services as well as solutions, BT Company is using a base line strategy to create value to shareholders (Capron and Mitchell, 2009). Company also have capabilities to focus on global market, real-time and open platform for customers. BT Company is increasing capacity to enhance the capabilities to expand range not only in urban areas but also in rural and remote areas. BT Company is expanding online services to serve the small scale business and it ties up with more overseas companies to expand businesses to global level. BT company is fighting with the threats of its business like long-term vision, stiff competition and global economic depression. BT Company has strategic capabilities to overcome with all the factors affecting internal environment of business.
VRIO/VRIN Model
VRIO Model is a framework to use to analysis the internal capabilities and resources of to evaluate them ether they can be a source of the sustainable competition. VRIO Model is firms largest strategic scheme. It is a framework of four questions- question of value, question of rarity, question of imitiablity and last is question of organisation.
Question of VALUE
The basic question asked in VRIO Model is the resources available in the firm is valuable to the firm. The resources and capabilities should be the strength of the company. Wasting of resources is not good for the firm. The resource should grape the opportunities of the company. BT company is fully utilizing its resources available in the environment. Company is graphing opportunities very fast.
Question of RARITY
BT company has rarity in the business which lead to strength of the business and lead to competitive advantages. Rarity in the BT Company is its network quality. No telecommunication company can beat the network quality of BT company (Wadhwa and Kotha, 2006). With this advantage company is growing very fast as compare to other.
Question of IMITABLITY
Any company without resources and capabilities have to face cost advantages in obtaining and maintain its market share. Imitation appears in two ways, direct duplications and submission. BT Company has high imitation cost by which its market share and competitive advantage is maintained. BT company's products cannot attempt to use substitute. In order to gain the advantages of competition, the cost of imitation is quite high.
Question of ORGANISATION
If the resources and capabilities are properly utilize in efficient manner than company has to organize all the resource. The resources of BT company is fully organize, it shows from its growth reports. Human resources, financial resources any any other resources should be well organize according to VRIO Model.
Organisation's strengths and weaknesses
Strength
BT Company is the provides global telecommunication services in more than 175 countries. It also provides IT services globally. BT company has healthy balance sheet and strong financial reports. BT company has large number of customers. BT Company's products range are very wide. BT Company is proving great services to their customers and the customers are fully satisfied by the services of telecommunication company which can be seen by the market share of the company in the market. BT company is listed in the stock exchange in the FTSE 100 index. Company works both in local sector and corporate sectors. BT company is operating in more than 28 telephone lines. The coverage of BT company's network are world wide and it is largest among other telecommunication company. BT company invest in new protocol century network 21CN. BT company is expanding its networks in the rural area also. BT company is contracting more with overseas partners to further its global expansion. The services provided by BT company is highly dynamic. The quality of internet broad band is very high compare to other telecommunication company. BT company is serving online platforms for micro enterprises. BT company has development of 5G through partnership with Nokia and Huawei.
Weakness
Their is lack of convergence of BT Company in fixed-mobiles. The business of mobile phones of BT company is under develop. Their is no business strategies of promotion of cheap voice calls. Occasionally there is a problem of payphones due to BT operators. The customer services of BT company is not quite well, customers is not satisfied by the service of BT company. BT Company is largely dependent on the market of UK. BT company has limited presence in the growth of Asia Pacific Region. Loss of branding and increase in cost is caused by the separation of open reach from BT. Due to intense competition, BT company's profit is decreases in fighting with competitors. Pressure of government regulations and licenses also become barriers in the management of BT Company. Devaluation of British pound also affect the profit of BT Company. BT company increases its cost of products and services which decreases the market share in the market (Dholakia and Kshetri, 2004). BT Company also greatly influenced by the global crisis.
M2 Critically evaluating the strengths and weaknesses of BT Company's internal capabilities, structure and skill set.
In above discussion about the strength and weaknesses of BT Company which affect the internal capabilities, structure and skills of the company. BT company has adorable strength which proves the company the best telecommunication company of the world. the weaknesses of BT company affects its profit and market share in the market.
TASK 3
P3 Analysis Of Telecommunication Sector
BT company is facing high level of interview as because in the telecommunication sector has cut through competition. BT company is leading in the world only because of its power and strength. BT us taking full advantages of opportunities in the market efficiently. BT is using Porter's fiver forces model to identified the competition in the market.
Porter's Five Forces Model- it is nominal tool to understand where the company is lying in the business, what is position of BT in the business. And what is the competitive position in the business. It has total five forces which includes bargaining power of supplier, bargaining power of supplier, threat of substitute threat of new entry and rivalry.
Porter's five forces model for analysing the competitiveness of BT telecommunication sector. Telecom sector is the one of the fastest growing sector because of the competition level. Then it is necessary to analysis the competitive factor(Martinez-Simarro, Devece and Llopis-Albert, 2015.). Porters five force model include four types of aspects such as :
Bargaining power of customers (Moderate): It is necessary for telecom industry to analysis the bargaining power of consumers. Because this factor affect the productivity of any organisation. Before making strategies to handle customers, it is required to understand the different types of consumers. There are different types of buyers such as : innovators, adopters, early majority, late majority and excessive traditionalist. When in a market, strong group of consumers exist, then it is significantly affected a company's selling power. Consumers in telecom industry can be divided into two parts :
Bargaining power of suppliers (Low): this is main force in the porters five force model. Suppliers in the telecom industry may be classified as companies of mobile tower, sim cards, mobile phone handset. For BT company, the competition level is higher because many companies are using different types of strategies to maintain their level.
Threats of new entrants (Low): this is a main factor which shape the level of competitiveness. When a new competitor enter into the market then it will become threat for existing company's because new enterer will come with new offers and strategies.
Threats of substitutes (Moderate): substitute product means a product which offer similar benefits or qualities to a consumer or company. The threat of substitutes will be higher in these types of conditions like switching cost, product price, product quality, product performance and substitute availability. To find out the threat of substitutes are often difficult because it is not immediately recognizable, it is may be outside from the operation area. BT industry can find the threat of substitutes by following these process : first identify the problems, second identify the solution of the problem, third identify substitute appeal and last is to make strategies.
Rivalry within the market (High): there are most of the two factors which influence the competitive level of BT industry such as bargaining power of buyer and competitive rivalry(Klettner, Clarke and Boersma 2014). The main points in rivalry factor are price wars, fixed cost, high exit barriers and so on.
M3 Devising appropriate strategies to improve competitive edge and market position :
To improve competitive edge and to get market positioning, BT organisation should know about some aspects before getting started. First step to know is to analyses the competition level. What type of competition is existed in the market and what kinds of impact will it have on it. Many kinds of competitive structure are there in the market such as monopoly, oligopoly, monopolistic, and perfect competition. If BT organisation will know about the competition level of the market then it will be able to gain competitive edge and improve market position. To improve competitive edge and market positioning, BT should announce the business strategies like Discounts offer, low leadership in the market. Discount offer will attract many customers to come up and use the product and services of BT. Market positioning is greatly influenced by this strategies and take the opportunities of business, about company's resources and operational efficiency. BT telecommunication company can use different types of strategies such as target marketing, product redesign, new product development, distribution expansion, new channels of creations, new model for business development, overcome competition level, market expansion and new creation of market.
Target marketing : by using these types of strategy, a business can achieve short term goals. Strategy of target marketing has become the requirement of every organisation(Klettner, Clarke and Boersma 2014.). There are many types of strategies included in target marketing such as undifferentiated marketing, differentiated marketing, concentrated marketing, customized marketing.
Product redesign : it is a very vital and broad concept. It is essential and effective idea to improve market position. It can be done through a little process such as :
1) step one is product discovery
2) combine the team and share ideas
3) concern about solution
4) to make many design ideas to a product ((Martinez-Simarro, Devece and Llopis-Albert, 2015).
New product development : this process can be classified in many ways such as first is to define needs specification, then second is to design the product, third is implementation of product and last is commercialization aspect.
New channel creations : BT should concern about channels of distribution and creations. Rather than focus on non traditional market, BT should focus on traditional market. Telecommunication companies have a highest level of competition, so it is necessary to create new ideas and business model.
Task 4
P4 Analysis the strategic directions :
Bowman's strategy clock model is useful in analysis of strategic directions. It is a graphical representation which shows relationship between prices and customer value. Bowman's strategy is based on porter's generic strategies. This strategy includes all limitations of porter's strategy. It expands the idea of porter's strategy . BT company use this strategy as a framework to get advantages of competition. There are 8 positions in this strategy such as low added value, low price, hybrid, differentiation, focused differentiation, standard product, high prices and standard price. Showing below in a diagram :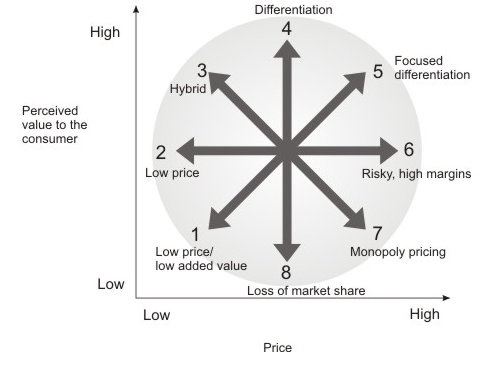 Direction 1 : No company want to be in this direction or position. This position is called bargain basement position. Company will use this direction only when it wants to attract new customers. This direction is effective in cost selling volume. In this stage, quality of a product may be inferior, but prices will be attractive to convince customers to try.
Direction 2 : This direction is useful when a company is low cost leader. In this direction, profit margin of any company is very low. Hence, company requires to sale high volume of the product. If an organisation or business is a low cost leader then it will be best opportunity to gain high profit margin and low sales volume.
Direction 3 : a company who is in this direction, is provided low price of a product or service to their customer. Volume is a main issue in this direction of strategy but company achieve a reputation by giving offer and reasonable prices.
Direction 4 : In differentiation direction, branding plays a main role. When any business or company develops a product with unique attributes and characteristics, then its called that this company is in differentiation direction. As example of Nike and Reebok, these both are the strongest brand, who known for premium prices and high quality but it gives high value(Chen and Jermias, 2014. ).
Direction 5 : a company who is in this direction, can get high volume of margin and highly targeted.
Direction 6 : this strategy is good for short term businesses, because this type of direction cannot work in long term. In this strategy, a company takes a risk to increase price of their products without changing in features and value. May be customer accept this strategy or may be not. If customers accept this strategy, then company enjoy the profitability and if customers do not accept this strategy then company reduces their price again.
Direction 7 : this strategy is applicable in monopoly market. If there is only one company in the market who offers goods or products then it will be in this direction. In this type of strategy, company do not have to worry about adding value because they know that customers have to pay high amount of the product as no company is there(Chen and Jermias, 2014. ). But present time is of competitive market , there are no monopolistic structure.
Direction 8 : this strategy gives a high value of loss in market share. Because a company can not charge a standard price for the low value of the product.
The direction or strategies suitable for BT is Low cost leadership which is the best in telecommunication sector. Many customer is attracted towards low price with best quality. Bowman Model determine many directions but direction 2 is the best for BT. BT can lead in the world by low cost leadership. But BT has to ensure the quality should not been compromise than BT can lead in the world and can win among the competitors.
M4 Strategic management plan :
BT is making many strategies to develop in the businesses of telecommunication sector. There are many strategies which can be seen and which cannot be seen but give many benefits to the organization. Tangible strategies are the strategies which give many benefits to company like offering effectiveness in network coverage in all the area whether in rural or urban or remote area.. The strategies to develop the network is tangible which can be seen by all the people by the coverage of the network is very important as it leads to direct impact on the mind of user as in telecommunication sector switching cost is very high. BT has to develop more and more strategies and improve those strategies on regular basis.
Get Help in
Any Subject
Our intention is to help numerous students worldwide through effective and accurate work.
Strategic management plan is ongoing process of monitoring and analysing of necessary aspects for any organisation to achieve success and objectives. SMP provides informations to the leader about present situation of a company. It also helps in to assessing, making and implementing the strategies. It use cross functional policy (Spender, 2014). It provides informations about internal and external strength and weaknesses or how to formulate and execute the plans. it includes many types of objectives like strategic objectives, financial objectives, short term objectives and long term objectives. Strategic objectives refers to porter's five force model. It includes all the five aspects like bargaining power of consumer and suppliers, threat of new entrants and substitutes and rivalry. In financial objectives, it helps in to do comparison between standard and actual outcomes. These both types of objectives may be for long term and may be for short term. Strategic management plan helps in to focus on tangible goals, which can be achieved by an organisation. Short term objectives focus on performance of a company and long term objectives focus on company's development for achieve growth(Spender, 2014). Before planning of any company's strategy, it is necessary to keep all these objectives in the mind. Because without having knowledge about these objectives, company can not achieve success and growth. Company does not maintain themselves into market without acknowledgement.
Conclusion
It can be concluded that there are different type of strategies which can be used by an organisation to improve market position and competitive edge. Effective part in competitive analysis of BT company is porter's five force model. To analyse the strategic direction, bowman's strategy is useful. There are eight types of direction in bowman's strategy of clock model. There are also many types of strategic management plan which helps ins to achieve success and growth of an organisation. External environment and internal environment, both are the main aspects of business strategy.
References
Buckley, P.J., Burton, F. and Mirza, H. eds., 2016.

The strategy and organization of international business

. Springer.

Capron, L. and Mitchell, W., 2009. Selection capability: How capability gaps and internal social frictions affect internal and external strategic renewal. Organization Science. 20(2). pp.294-312.
Chen, Y. and Jermias, J., 2014. Business strategy, executive compensation and firm performance.Accounting & Finance,54(1), pp.113-134.
Dholakia, R.R. and Kshetri, N., 2004. Factors impacting the adoption of the Internet among SMEs. Small Business Economics. 23(4). pp.311-322.