Introduction
Innovation can be referred to as a process wherein a new product is developed owing to the use of a unique technique or value addition is done in case of existing goods so as to make them compatible with the changing customer needs and preferences (Helper and Henderson, 2014). The following report is carried out upon Marks & Spencer which is a British retailer dealing in food, clothing, accessories, home products etc. this company is headquartered in London, United Kingdom. This report explores the innovation history of organisation. Besides this, it talks about existing innovation performance of company along with the capabilities to bring about innovation in future. Further, it includes the industry overview.
The Organisation and its Innovation History
Marks & Spencer is an international multinational brand which came into force in 1884 when Michael Marks who was a Polish refugee initiated a market stall within Leeds under the slogan, "Don't ask the price, it's a penny". It has 980 stores across United Kingdom out of which
around 615 only deal in distribution of food items as of now.
Exploring the innovation timeline of company, it can be said that this organisation transformed a lot over the last century. Marks & Spencer opened its first store within Leeds in 1904. The 1920's saw the adoption of revolutionary policy by M&S which fostered direct purchase through suppliers. In the year 1931, this organisation introduced a food unit which sold produced as well as canned items. By the end of 1933, a welfare service was established for employees which rendered facilities such as subsidised canteen, pension, camping holidays, healthcare and dental amenities etc. (Noble, 2017).
Continuing the trend, Marks & Spencer became the first British retailer to well establish their own research laboratory in the year 1934 which facilitated in pioneering new fabrics. In the year 1948, company came up with Food Technology Department so as to build effective relationship with farmers, producers and suppliers and closely working with them. In 1954, M&S research lab took a survey upon women' leg sizes and resulted in development of a enhanced and unique sizing procedures for stockings (Dodgson, 2018). By the end of same year, Marks & Spencer's "Operation Simplification" strived to significantly reduce internal documentation by almost 25 million items per annum. Company came up with Indian as well as Chinese foods in 1974.
During the year 1999, Marks & Spencer entered the e-commerce world and introduced the option of online shopping for customers through their website. During 2002, the Blue Harbour men's range was introduced into market by this organisation which led to a significant rise in sales of company. M&S carried out expansion of its operations during 2016 and initiates sales through European market Zalando over their Dutch, Belgian, French, Austrian and German sites offer a wide variety of lingerie and kidswear.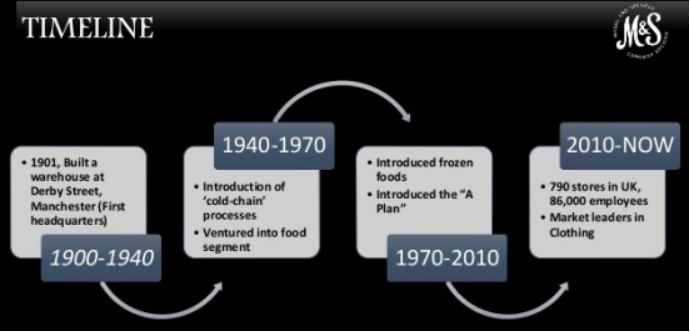 (Source: Innovation Timeline of Marks & Spencer, 2019)
PESTLE Analysis
There are a number of factors prevailing within the business environment of Marks & Spencer that acted as drivers of innovation for the company in past. These are briefly discussed below:-
Political: The Research & Development unit of Marks & Spencer is situated within United Kingdom. With the passage of time, it has been acknowledged that the government of this nation foster the growth of those entities which come up with innovations and latest tools and techniques at regular intervals (Goolsbee and Krueger, 2015). The assistance is provided by political system of UK through liberal tax policies and other regulations by way of provision of R&D Tax Credit and Patent Box schemes for private enterprises. This has facilitated Marks & Spencer to constantly engage in innovative practices and procedures.
Economic: The countries in which Marks & Spencer majorly operate are developed economies which render lucrative opportunities for the company to facilitate growth and expansion of its operations and functions (Jurkovic and et. al., 2015). The major revenue generating source for this organisation is UK market which encourage the adoption of innovative techniques and processes to ensure sustainability of company for a long time.
Social: Over years, the tastes, choices and preferences of customers have witnessed a rapid evolution. There has been an upsurge in the demand for organic and low calorie content food. This fosters Marks & Spencer to indulge in product and process innovation and produce goods which have lesser content of sugar and calories. Further, millennial generation within UK keep on updating their clothing lifestyles which urges the company to constantly conduct market evaluation and develop products accordingly.
Technological: With the efflux of time, there have been constant and rapid advancements within technologies, techniques, processes which foster the retail industry to make use of these and encourage development of this sector within economy (Greer and Hauptmeier, 2012). This acts as a consistent driver for M&S to bring about innovative products by making use of latest tools and techniques. In this regard, this organisation became the first British retailer to set up their own research lab.
Legal: Adhering to legal rules and procedures ensures sustainability of company for a long duration of time in future prospect. In this regard, retail companies such as Marks and Spencer tap the advantage of complying with all the Federal retail labour laws prescribed by statute in order to avoid penalty or prosecution.
Environmental: Companies that indulge in recycling of waste materials and sustainable practices strive to get attention as well as recognition from public and government. This acted as a driver for M&S in past and company launched their Green policy which they referred to as "Plan A". This policy encouraged the company to emit less carbon footprints in order to work in the interest of environment and society (INTRODUCING PLAN A 2025, 2019).
The Organisations existing Innovation Performance and Capabilities
Marks and Spencer is a leading British multinational corporation which conducts its operations within United Kingdom. This company is listed on the London Stock Exchange and is a primary constituent of FTSE 100 Index.
Existing innovation performance
Marks & Spencer has partnered within Europe's only specialist consumer investment as well as retail firm, TRUE, to gain knowledge about the latest and advanced retail techniques, technologies and innovations. With this, the company aims at gaining access to more than 2000 enterprise-ready businesses via its Live Network (MARKS & SPENCER SELECTS TRUE TO DRIVE DIGITAL INNOVATION AGENDA, 2019). This collaboration has been done as a significant and important part of Marks & Spencer's ongoing transformation procedures which puts digital expertise at heart of the business. During November 2017, M&S established a 5 year transformational programme which strives to bring success to the company in terms of sales and profit figures.
As a consequence of this, improvements are being brought about in Clothing and Home Logistic Network. Further, the Customer, Marketing and Digital team of this organisation is undergoing restructuring. Also, a customer insight partnership has been setup along with Starcount.
Get Help in
Any Subject
Our intention is to help numerous students worldwide through effective and accurate work.
Within the food segment also, several key technical themes have been introduced by organisation in order to get assistance in fulfilling the future needs and requirements of food business industry. These themes have been designed to improve business opportunities for the entity in marketplace to make sure to continue offering special products by way of launching new varieties or utilising effective and unique packaging styles. Further, these themes promote a healthy and well being agenda by enhancing the diet through enrichment of food with adequate nutrients. In this regard, Marks and Spencer lead the retail food industry in reduction of campylobacter within poultry as has been facilitated by Food Standards Agency.
Also, this organisation has started working upon healthier food ranges. Company's Plan A Innovation fund has been created to assist in taking innovative practices and initiatives. This fund was utilised to conduct testing of vacuum packaging of fresh meat cuts.
This significantly resulted in 75% reduction of packaging and assists in rendering better quality and fresh products to customers. This consequently increased the sales of Marks & Spencer, reduced store wastage and also decreased customer complaints.
Capabilities
Marks & Spencer is capable of coming up with new products and services by making use of innovative practices and procedures. Besides this, organisation is capable of successfully executing the 5 year Transformation Programme in order to gain success within retail industry and increasing the existing level of sales and profits of enterprise within global market. Further, the company is capable of entering into several new emerging markets such as Poland and Brazil which foster the growth of innovative retail enterprises (El-Refaie, 2013).
This large scale organisation is also capable of making use of extensive and high end technologies and techniques such as cognitive computing and multi channel platforms that enable seamless transition and largely ensures consumer satisfaction and fulfilment of demands.
Marks & Spencer also possesses the capability to make use of Emotient which is a software which assists in detection of reaction of customers towards display, signs, products and services delivered by enterprise within marketplace. This is an effective technology which allows retail enterprises to do aggregation of data on customer sentiments towards the customer service delivery of organisation.
The Industry
With the passage of time, the global market has witnessed an immense transformation. Particularly, within the retail industry, these transformations have changed the phase of modern businesses. Over years, trends such as e-commerce, cognitive computing has been widely used by large scale companies operating in the global retail sector. In this regard, innovations are constantly being brought about in retail sector by companies so as to ensure their sustainability within marketplace for a long duration of time.Here you can get best assignment help.
Innovations within retail industry are being brought in the form of product, process, customer service, communication, customer engagement etc. In this regard, some examples of innovations brought by well renowned retailers are Method's squirt bottle (innovation in packaging), HDFC Bank's Eva Chatbot (innovation in communication), Holition, an AR enabled mirror from Charlotte Tilbury (innovation within in-store shopping experience), Uniqlo's HEATTECH design (innovation in product design), Greggs' Vertically integrated operations (innovation in business model), Coca Cola's engagement programme (innovation in customer engagement) etc.
(Retail innovation: Trends, challenges and opportunities, 2019). Looking upon these exemplary organisations and their innovations, it can be said that innovations has become the key to success of an enterprise and is necessary to be engaged in by company to ensure its long term sustainability within marketplace.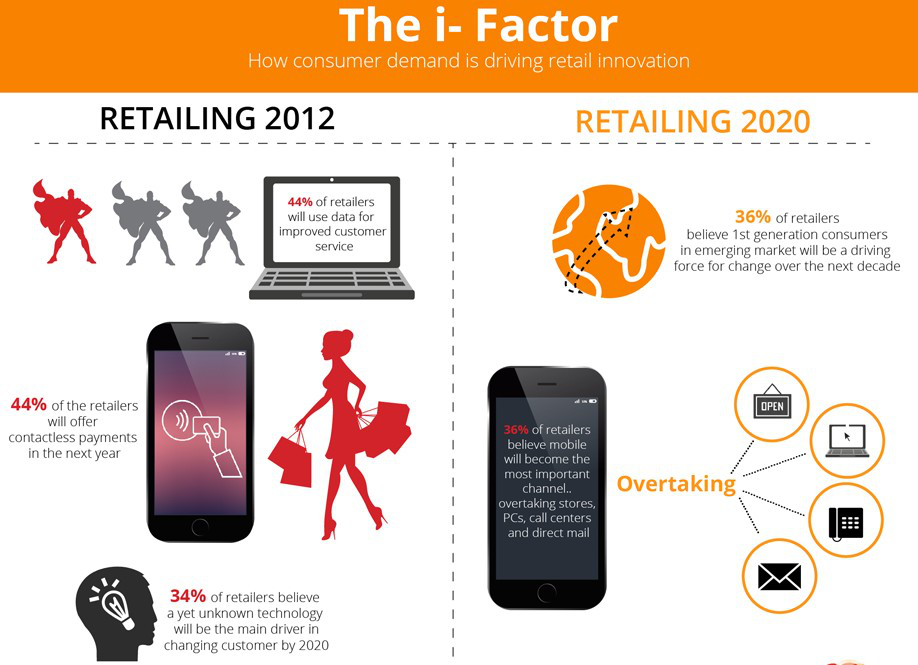 (Source: Retail Trends, 2019)
The evaluation of retail industry provides assistance in gaining knowledge about this market. Certain aspects of retail sector are discussed below with the help of Porter Five Force analysis:-
Porters Five Force Model
Threat of new entrants: The threat of new entrants within retail industry is quite low owing to the large amount of funds required as capital. The fixed within this sector is quite high as well as the supply chain network of existing companies is too effective to outpower any new entity that tries to gain access into retail market.
Bargaining power of suppliers: The power of suppliers within retail industry to negotiate prices from companies is quite low owing to the strong network that large scale retailers with a number of suppliers and vendors (Acharya, Schaefer and Zhang, 2015). Due to this, companies such as Tesco, Sainsbury's, ALDI, ASDA are able to procure materials as per their negotiated prices.
Bargaining power of buyers: The power of buyers within retail industry is very high as there are close substitutes of every product available within market. This persuades entities to constantly indulge in innovative practices and processes in order to gain the attention of people and retain them for long.
Threat of substitute products: There are close substitutes of products available within retail sector and thus, even a slight decrease in cost of goods of rival firms cause a shift in choices of consumers (Pound, 2013). Thus, entities have to constantly engage in product differentiation so as to build a loyal customer base.
Rivalry among existing players: There is a constant rivalry prevailing within firms operating in retail sector such as Tesco, ASDA, ALDI, LIDL, Sainsbury's which urges companies operating as a part of this industry to consistently indulge in innovative techniques and processes to develop unique offerings for customers.
Conclusion
From the above mentioned report, it has been concluded that innovation is the best strategic tool used by organisation in today's world to ensure its high stake in market. It has also been analysed that it is imperative for every organisation to engage in innovation continuously so as to grow in industry. With the help of PESTLE analysis, it has been evaluated that there are certain factors that act as drivers for the process of innovation. Along with that, Porter Five Force Model reveal that there are various aspects within industry which fosters or hinders the adoption of innovation.
References
Acharya, V. V., Schaefer, S. and Zhang, Y., 2015. Liquidity risk and correlation risk: A clinical study of the General Motors and Ford Downgrade of May 2005. The Quarterly Journal of Finance. 5(02). p.1550006.
Dodgson, M., 2018. Technological collaboration in industry: strategy, policy and internationalization in innovation. Routledge.
El-Refaie, A. M., 2013. Motors/generators for traction/propulsion applications: A review. IEEE Vehicular Technology Magazine. 8(1). pp.90-99.
Goolsbee, A. D. and Krueger, A. B., 2015. A retrospective look at rescuing and restructuring general motors and chrysler. Journal of Economic Perspectives. 29(2). pp.3-24.
Greer, I. and Hauptmeier, M., 2012. Identity work: Sustaining transnational collective action at General Motors Europe. Industrial Relations: A Journal of Economy and Society. 51(2). pp.275-299.
Helper, S. and Henderson, R., 2014. Management practices, relational contracts, and the decline of General Motors. Journal of Economic Perspectives. 28(1). pp.49-72.
Jurkovic, S. and et. al., 2015. Induction machine design and analysis for general motors e-assist electrification technology. IEEE Transactions on Industry Applications. 51(1). pp.631-639.
Noble, D., 2017. Forces of production: A social history of industrial automation. Routledge.
Pound, A., 2013. The Turning Wheel-The story of General Motors through twenty-five years 1908-1933. Edizioni Savine.