5 Formulas to Create Eye-Catching Assignment Titles
June 07, 2019
( 2359 views )
Know The Tricks to Create an Attractive Assignment Title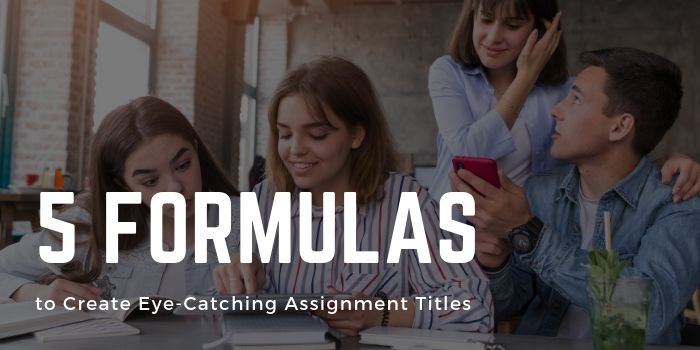 Want to know the formulas to write attractive assignment titles?
Looking for the best assignment help to create eye-catchy titles?
If so, then need not search anywhere else. Here is the solution to your problem.
Want to know how?
Give this a read...
Assignment titles can make or break your image in front of your professors and readers. There are infinite ways to create eye-catchy titles and to impress the professor. Titles are more important than the content itself. No one wants to read the document with a boring title, no matter how interesting your assignment is. If the title is not attractive, then it is of no use.
So, always try to make your assignment title stand out and mark an impression on your professor. Here are the 5 formulas that are discussed by the experts of Global Assignment Help Australia. These formulas will definitely help you to frame titles that would intrigue the professor, and he'll remain engaged until the end.
Tricks to Create an Attractive Title for Assignment
1.Add 'How to' with Some Action and Desired Result
This formula works really well in the condition when you are trying to convey something as a leader or as an authority on a subject. You can frame the title by breaking it down into three small part that is:
How to + Action + Result -
Part I: Indicates that you want to provide knowledge
Part II: Indicates that it is related to some topic that is trending and is running on student's mind
Part III: Indicates the desired outcome
Suppose if you are framing a title for geography subject, then the title can be framed as:
"How to measure the latitude and longitude on a globe?"
2.Add Secret to Make your Assignment Stand Out
Adding the secret word itself suggests, you know something that is not known by any other people. So, it is a great formula if you want to mark an impression on your professor and get good grades. But remember, only use this formula when you are discussing some mystery or some unique things that are not common.
Now, suppose if you are writing an assignment on the subject like history that contains a lot of intriguing information, you can use this formula in this case and the title can be framed as
"The Secret that Preceded the Great Depression of the 1930s"
3.Add Numbers with Adjectives to Reflect Accuracy
When you add numbers to the title, it reflects you have a list discussed in the document. Reading an assignment that is listed or numberes is much easier than reading paragraphs. In addition to this , if you are adding number with something that people usually need to know then, it grabs their attention almost 85% more.
Adjectives + Number + Things to Know -
Part I: Adding adjectives indicates that the information you are providing is best among everyone.
Part II: Indicates the number is used to reflect the accuracy of the information you are providing
Part III: Indicates the Information that students/professor needs to know about
So, the title can be frame like this:
"Top 5 Major Lines of Latitude"
4.Frame Titles Using Exclusive Question Format
The word exclusive itself denotes that the information you are providing is definitely unique from others. It is the next topmost formula to impress your professor. According to the experts of Global Assignment Help Australia, the question format is liked by almost everyone because it provides the readers with the query and its solution straight away.
So, the title can be framed like this:
"In What Ways did World War II Shape America's Global Role in Post-War World?"
5.Use Number with Things That are Making the Issue Worse
There are a lot of things that people do with the intention to help but, may actually cause problems. So, this formula can be used in framing such titles where you want to highlight the issues that are becoming worse day by day. You can highlight such issues by simply beginning it with a thought-provoking title.
Suppose, if you want to write an assignment on nature and want to highlight the issue of it being destroyed, then you can frame the title as:
"7 Natural Wonders that Human Could Destroy Within a Generation"
"The Seven Deadly Things We Are Doing to Trash the Planet"
No matter what type of paper are you writing, or what subject it is, these 5 formulas will always help you to frame an attractive assignment title.
So, what are you waiting for?
Apply any of the formula in your next assignment and notice the results.
In case you are facing problems in framing titles, then reach Global Assignment Help Australia to get the best assignment help. The writers are efficient enough to help you throughout.