6 Capital Funding Sources for Start-up Businesses
July 19, 2018
( 3836 views )
6 Super Ideas for Raising Capital for Your Start-up Business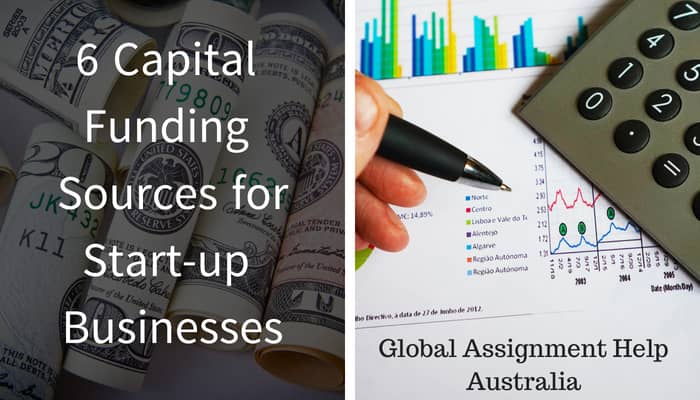 Starting a business is an exciting venture. But the process isn't that simple- it requires meticulous planning, enough time and dedication. Raising money is the first big concern for budding entrepreneurs in light of the fact they do not hold any business background and strong credit history. While Australia's credit crunch economy is making it tougher than ever before to obtain adequate financing, the good news is that the government offers many grants and investment offers to help them. Here our Finance assignment help experts have mentioned a few of them:
1. The Advancing Renewables Program
Established in 2012, this programme is presently supporting a wide range of development, demonstration, and pre-commercial deployment projects that are focused on increasing the use of renewable energy sources, such as air, biofuel,tidal power, and hydropower. Under this scheme, an Australian company can receive fund between $100,000 and $50 million. Besides providing monetary support, this scheme also aims to enhance skills, capacity, and knowledge relevant to renewable energy.
2. Business Development and Assistance Program
Run by the government's Indigenous Business Australia(IBA) program, this scheme is focused at helping the entrepreneurs of indigenous descent. To avail funds through this programme, one needs to be at least 18 years old and must belong to an aboriginal or Torres Strait Islander descent. Besides this, the applicant should hold 50% share of the business. Through the programme, the IBA not just provides a loan of $10,000 or more to the indigenous business owners but also renders training, advice, workshops, and finance to help them grow their respective companies.
3. Automotive Transformation Scheme
Commenced on 1 January 2011, this programme aims to support the Australian automotive industry as a consequence of numerous manufacturers moving their plants offshore. It was designed by the federal government to encourage further investment in this industry. To avail the benefits of this scheme, one should either be a motor vehicle producer or a manufacturer of automobile components. And, after meeting the eligibility criteria, a business can receive payments up to 15% of the cost of investment in plants and equipment, and up to 50% of R&D capital expenditure.
4. Industry Capability Network
It is a not-for-profit organization that is run by the Victorian Government to maximize opportunities for budding industries. Although it does not provide loans to the businesses directly, it administers the Victorian Industry Participation Policy (VIPP) on behalf of the Victorian government. It works as an intermediary in liaising with government agencies and bidders in VIPP applicable projects and procuring a forward plan of larger projects. Moreover, it can assist businesses, particularly SMEs by providing expert knowledge. Since the program was started 30 years ago, over $30 billion worth of contracts have been completed with its support.
5. Entrepreneurs' Programme
Started in 2014, this scheme aims to help businesses increase their productivity and competitiveness by providing them with sufficient fund. It also gives them access to a national network of private sector advisers and facilitators. It has two subsidiary schemes, namely the Accelerating Commercialisation Fund and Business Growth Grants. This programme offers funds up to 50% of the expenditure on a project. Additionally, entrepreneurs can also apply to get expert advice on their ventures to address knowledge gaps and accelerate growth via Innovation Connections.
6. CSIRO Kick-Start
Started in early 2017, this initiative aims to support local startups, by granting funds for researching a new idea, as well as testing and developing an innovative product or service. Under this programme, entrepreneurs can get up to $50,000. And, to avail the fund, the company needs to be registered in Australia for GST and must have an annual turnover of $1.5 million or less in the current and past two financial years.
These were some of the most common schemes run by the Australian government to support start-up businesses. Apart from them, there are many other schemes too, such as Biomedical Translation Fund (BTF), Export Market Development Grant (EMDG), and Research and Development Tax Incentive. So, if you have decided to take the path of entrepreneurship after completion of this degree programme, they you can surely apply for them.