How to Give a good college presentation?
October 31, 2017
( 4382 views )
Easy tips to nail your presentation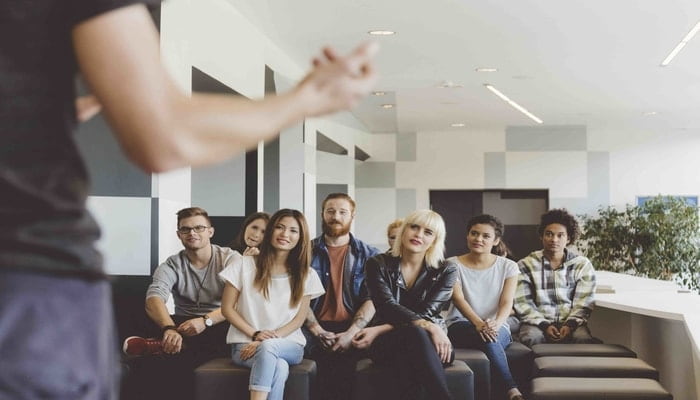 You might have been to numerous symposiums, retreats, exhibitions, or conventions and seen a lot of people presenting some products or pitching an idea but how many of them did actually left an impression on you? Very few! The reality seems blunt, isn't it? Presenting something in front of an audience is challenging, and sometimes even seem intimidating. The level of difficulty gets even higher if you are a college student because one lacks experience and has no idea as to how to go about the whole thing. As arduous as it may sound, it isn't that daunting at all if you do a few things right.
We bring you easy to go tips that will help you crack the code to an awesome presentation, here they are:
Be Who You Are
You must have read blogs which suggest you to muster confidence in order to give a good presentation but that's all hokum. You just can't miraculously turn into a confident speaker in few seconds. It doesn't matter if you are nervous or scared what's crucial is that you're willing to face the challenge despite everything. By adding a hint of humorous touch to your somewhat miserable condition and putting yourself to ease by telling the audience about your jitters will allow you to express yourself even better. It might sound funny but will surely garner you positive results.
Introduce a Character
It's a really nice trick. If you feel hesitant in interacting with the audience during the presentation, then you can introduce a character, preferably a comical one as the part of your presentation that can interact with you during the session, so to speak. The character could have dialogue clouds and appear to be asking question to you. This character can reflect the audience's viewpoint.
Do Not Ever Read
If you're reading the content written on your slides, then rest assured that you are annoying your audience. Always remember no one came to read off from the big screen, they came to watch you explain. Do not ever make the mistake of merely reading, you'll sound off-putting!
Make Gestures
Presentation is all about right attitude and body language. Here, we are talking about hand movements and gestures. Just don't stand and gibber like a puppet, move and point towards what you wish to speak about, show how engaged you are, and look like you own the space.
Interact with the Audience
There's a convention that you cannot talk to your audience until finished. We wonder who else were you talking to during the presentation. Don't worry, it's a myth. Feel free to interact with the audience, ask questions, share anecdotes, and gather as much of a feedback you can. This will help you move to the subsequent stages of presentation in a better way.
Preparation
It's crucial to be confident; no second thoughts on that but the question still stands, how to gain it? The answer is really simple. The easiest way to present anything with conviction is preparation. Know about the topic, research thoroughly, and make sure you have covered every aspect. Your extensive preparation is the ultimate bedrock of your confidence.
Hope you enjoyed reading this blog.
Not only presentations but college rewards you with additional chores like assignments as well. If you wish to have a great semester, then you need to score good grades for the same. We, at Global Assignment Help Australia, provide assignment writing service in multiple fields at affordable prices that will make sure you get great scores.
Hurry! Avail our assignment help services now, and get some lucrative discounts available.