All You Need to Know About Tropical Cyclones in Australia
July 13, 2018
( 11508 views )
Know the Seasons, Intensity, and Types of Tropical Cyclones in Australia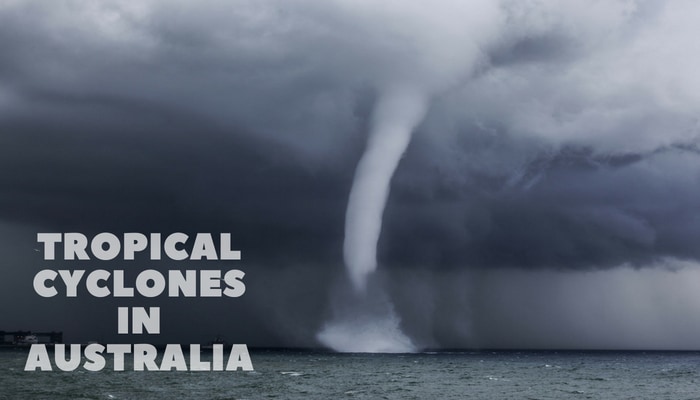 Australia has been hit by devastating cyclones many times in the history. This is why being a student of this country, you need to understand the nature, frequency, and safety measures against them. You might be already knowing that cyclones are a large system of winds that revolve around a centre of low atmospheric pressure and are the harbinger of rain or snow. They can move across all regions of the Earth except the equatorial belt. There are two types of cyclones- Tropical and Polar. Australia being located at 112.910 to 159.110-degree longitude and -54.760 to - 9.230-degree latitude is prone to the former one. Here our Geography Assignment Help experts have discussed more about this:
Tropical Cyclones in Australia
The northwest region of Australian coastline has been rated as the most cyclone-prone zone is the country. The Cyclone Tracy that took place in 1974 was the most devastating. It demolished the entire infrastructure of Darwin, the capital of Australia's Northern territory. It has been rated as a category four cyclone which killed 65 people, injuring a further 145 seriously. Another most destructive cyclone hit Australia in 1899 when more than 400 people died as the storm struck Cape Melville. The main reason for the occurrence of these cyclones is the temperature shift that results in warm and moist air to formulate.
Cyclone Season in Australia
As per the Australian Bureau of Meteorology, hurricane season in Australia ranges from November to April. The maps of cyclone tracks show that they can move in many different directions and those arising from the northwest coast have a preferred movement. Initially, they are driven to the southwest at speed of 5-20 km/h, and then drifted to the south. After crossing the Pilbara coast, they tend to move to the south-southeast and accelerate. Well, the path of a storm can vary as per the climatic conditions, and short-term fluctuations in the track are common for intense cyclones. For instance, Bobby (1995) made several made dramatic shifts in its direction before reaching the Pilbara coast. In fact, the southwest Pacific basin has the highest percentage of tropical storms having 'erratic' tracks which present the greatest challenge to weather forecasters.
Are Hurricanes in Australia Dangerous?
When you are looking to choose to study in Australia, it is important to know which areas are vulnerable to tropical storms. Well, the colleges have already taken various measures for damage control, so you need not worry about that. But, if you plan to visit the tropical coasts for vacations, then make sure you know all the safety tips. Although Australia has been so far hit by many cyclones, Australian authorities remain prepared to deal with such disasters. In the past, we have already witnessed how Cyclone Yasi in 2011 and Ita in 2014 caused up to multi-billions of dollars worth of damage. But it was due to the disaster management team's promptness that there were only a few serious injuries and no deaths.
Australian Tropical Cyclone Categories
The Australian Bureau of Meteorology Data has categorized cyclones into five categories on the basis of their severity- category "1" being the weakest and category "5" being the most violent. Let's focus on each of them one by one:
Category one (tropical cyclone)
The wind speed in these storms may range from 90 to 125 kph. They cause no damage to infrastructure but may affect crops, trees, caravans, and watercraft.
Category two (tropical cyclone)
In this type of storm, the wind speed may vary from 125-164kph. While they cause minor house damage, they severely affect the crops, trees, and vehicles.
Category three (severe tropical cyclone)
This type of cyclone carries very strong wind whirling at the speed of 165-224 kph. They may cause severe damage to old building, monuments, and may even form cracks on roofs of newly built. Moreover, they can also destroy the roads and farms.
Category four (severe tropical cyclone)
A category four cyclone's strongest winds may vary from 225-279kph. They may cause significant damage to houses and may create dangerous airborne debris.
Category five (severe tropical cyclone)
This is the worst type of hurricane that swirls at the speed of 280kms/h. They are so dangerous that may even demolish a building in seconds.
We hope this blog was informative enough to tell you about the nature and intensity of tropical cyclones in Australia. To know more about this, you should go through the journal published by the Climate Change Research Centre, Climate Institute of Australia, and Centre for Australian Weather and Climate Research.